Pike Brothers is a firm favourite of mine. Period.
The brand takes inspiration from both European and American workwear and focuses on making beautiful authentic clothes. In doing so they are eschewing the trends that seem to govern the denim industry in favour of simply producing what they like.
Most Pike Brothers jeans are made from a 11 oz. denim – a trifle light by selvedge standards. However, they did cause a bit of a stir with the 'über' heavy 23 oz. 1958 Roamer, and this is where the inspiration for the new 1948 Roamer Pant came from.
As Pike Brothers' founder, Fabian Jedlitschka, says, "we had several people asking for a little bit lighter version and a wider fit." Clearly I wasn't alone in wanting them to do something in between the two, with a cut closer to the 1937 Roamers.
Let's take a closer look.
Simply put, these jeans are a thing of beauty.
Fabricated from 19 oz. right hand twill raw selvedge denim they're satisfyingly heavy. The indigo really is quite a deep, well, indigo. The contrasting blue and golden stitching on the selvedge, replicated again on the coin pocket, is a great touch.
With their regular mill in Turkey only capable of working with denim up to 16 oz., Pike Brothers had to turn elsewhere. For Fabian, only Kurabo Mill in Japan could deliver the quality needed.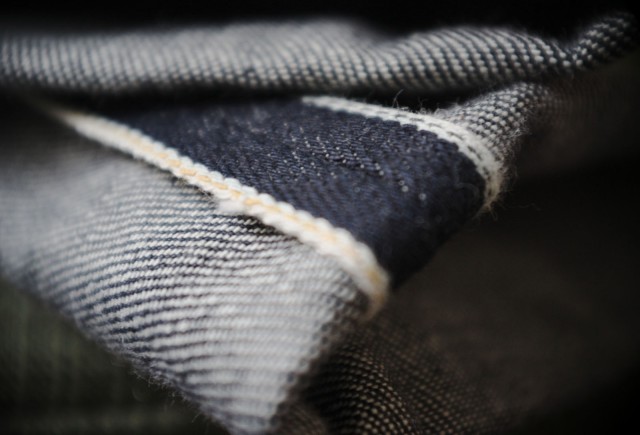 The 1948 Roamer has lost the cinch and brace buttons of their 1937 cousin.
Fabian argues that by 1948 manufacturers had ditched these in favour of belt loops. "We looked at our archive and also studied pictures from the 40s and decided not to outfit the 1948 with suspender buttons and a cinch. These features are hardly found during that era."
By way of comparison the 501 lost its brace buttons in 1937, younger workmen preferring to sport a belt.
In cut the 48s retain an authentic "anti fit" feel, with a decent rise and a wide, un-tapered leg; again entirely accurate for the era. All the other details you expect to see from Pike Brothers are present and correct: The honey yellow stitching, the heavy bar tacked belt loops, seam ends and pockets. Also present is the watch chain D ring; as men stopped wearing waistcoats somewhere else was need to stow your pocket watch.
The lock stitched hem is also still there.
In an earlier interview with Denimhunters, Fabian argued that European work wear manufacturers would not have had access to Union Special sewing machines capable of chain stitching.
Maybe an issue for some people, but I don't see a problem.
My one quibble is that it would have been nice to see Pike Brothers dispense with the light zinc finish buttons and rivets in favour of something worthy of such heavy denim. In all other respects they've gone the extra mile with these jeans. A minor point though. The quality of this Kubaro denim is such that it's not deal breaker.
Pike Brothers recommend that you break in the jeans from dry.
It's been covered before in our How To Rinse Your Jeans-guide, but I always give my denim a pre-wear soak. Not only will a soak make your denim last longer, it will prevent them from shrinking after the first wash. There's not much point investing months of your time breaking in such beautiful jeans only to have them not fit you afterwards. That said, post-soak the jeans had lost only an inch off the leg and nothing off the waist.
Thank Christ it's winter though – these baby's are heavy!
I'm genuinely excited at the prospect of breaking in my 1948s over the next few months. At 19 oz. this will take some work, (just buttoning the fly is a challenge), but that's why we love raw denim, right?
Pike Brothers have surpassed themselves here. Clearly a lot of hard work went in to developing the 1948 Roamer Pant, and the end results are impressive in almost every way. Tempted? You should be.
Available direct from Pike Brothers in two inseam lengths, 34" and 36", you can order them here.