How A Successful Chef Became a Bespoke Tailor
One of the most enjoyable things about the denim industry is that the folks involved tend to be genuinely passionate. It was passion for beautiful early 20th century workwear, combined with frustration of what was available, that led Bela Ujhazy to give up his successful career as a chef to re-train as a bespoke tailor. No an easy task when you're in your 30s and with limited opportunities for apprenticeships. But Bela did it. Today, he turns out fantastically well made garments under his Hepville Custom Clothing one man brand from his home near Bremen.
Bela works with each customer to ensure a perfect fit. If you can't make it to his workshop he'll give you detailed instructions on taking correct measurements. After the first fitting he tweaks the garment so it's absolutely right for you. The process is quite labour intensive and Bela can work up to 15 hours on one pair of dungarees. But jeans are far from the only thing he makes. The Hepville selection also includes jackets, shirts, coats, caps, bow ties, neck ties, and much more. And Bela can make it all with the fabric and custom detailing of your choice; everything from design to pattern drafting, cutting, tailoring, and sewing.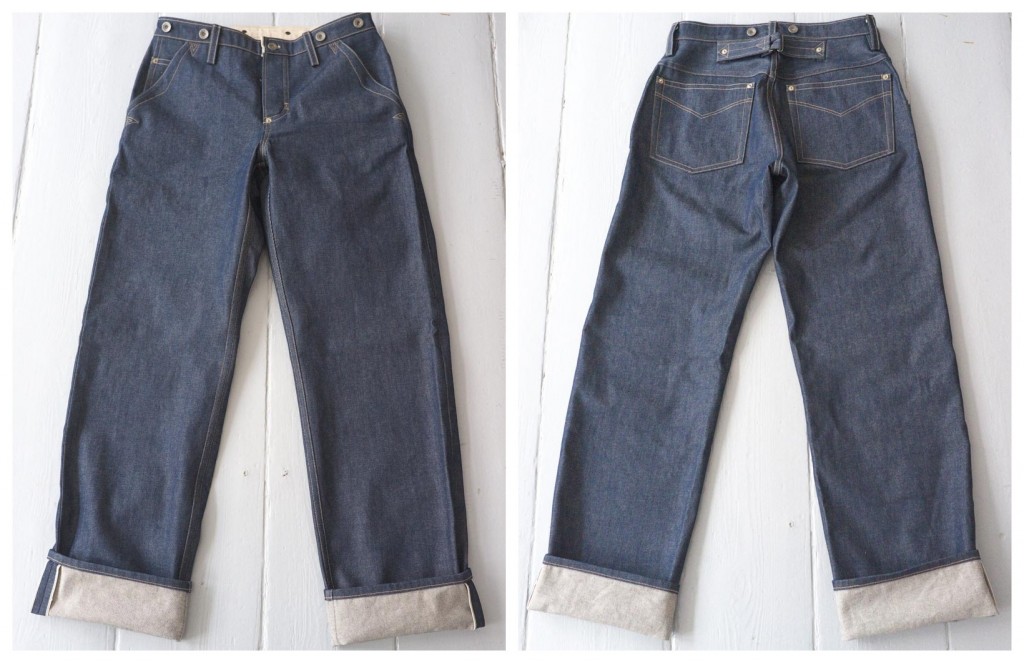 Custom Made Jeans With An Unmatched Level of Detailing
The detailing on the dungarees is superb. I love the decorative stitching on the front pockets, a forerunner of the back pocket arcuate. It doesn't stop there – the piping on the hickory pocket bag seams is beautifully done. Each belt loop has a selvedge end, as does the fly.
"I have no special machines for felled seems or folding over edges or other construction details. I do this by hand using my skills and tailoring techniques. My garments are all made with single needle construction. I'm a big fan of cleanly finished stuff," Bela enthusiastically explains with a smile across his face.
In terms of fit, the dungarees are broadly similar to a 1933 501XX; a wide legged jean with a decent rise, sporting both suspender buttons and belt loops.
Enjoy the Craftsmanship of the Entire Hepville Range
The dedication to craftsmanship extends to the rest of the range. The stitching on the waistcoat is fantastic. The selvedge detailing on the pockets may be slightly over-doing it for my taste, but it's a minor quibble, and just my personal preference. I feel that the sheer quality of the workmanship should speak for itself.
Bela collects vintage haberdashery – some of which makes it's way on to the clothes he makes. The Bakers Boy caps is beautiful; made from a selection of chambrays, denim or tweed. Aside from material you can specify things such as a leather headband or whether you'd like a cinch, complete with vintage buckle.
Until I'd tried on one of Hepville's denim Engineer caps I'd never considered wearing one before. The silhouette is spot on – obviously Bela has spent a lot of time doing his pattern research. He suggests you size up by a centimetre to allow for shrinkage after the soak. Quite right, any new cap needs a soak to mould to the shape of your head properly.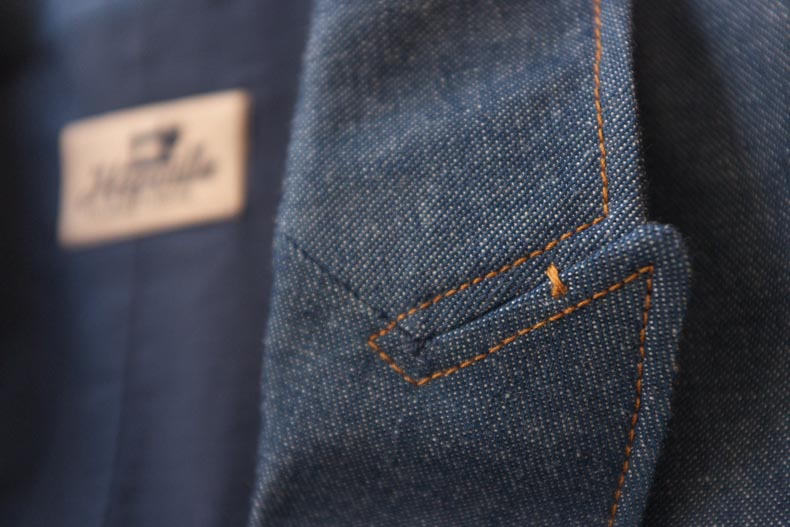 Why Fair Trade Is Important to Hepville Custom Clothing
You can select what weight and type of fabric you'd like. For selvedge, Bela uses either Japanese or American denim. He's the first to admit though that, as a small scale  craftsman, you're limited as to what material you can order by the excessive yardage most mills require. For the tweeds and other fabrics he tries to source from German or other European countries.
As Bela makes clear, "fair trade is an important thing to me: sourcing from first world countries with better wages and better social environments. As I'm a small player on the market, I don't invest millions in advertising. You still get my items directly from me, which means I can offer them at reasonable prices."
New Hepville Projects Will Also Be Honestly Handmade
It may be a small business, but the quality of what Hepville produces is self evident; something that the larger players often lose sight of. We discussed how Bela sees his business growing over the next few years, and for guys like him the answer would seem to be collaborations with shops and larger labels, something that he hopes will come to fruition soon.
Bela is working on several exciting new projects, not the least of which are a duck cotton waistcoat and pea coat that he's currently tweaking the pattern for. So we can look forward to Hepville's range expanding in the near future. One of Bela's main motivations is simply to grow consumer awareness of bespoke tailoring,
as he says, "almost all early workwear would have come from a tailor's shop or have been made in someone's home."
Hepville Custom Clothing is very much in this tradition, simply producing beautiful garments that are handmade and honest. You can check out the full selection here.