Interview With Douglas Luhanko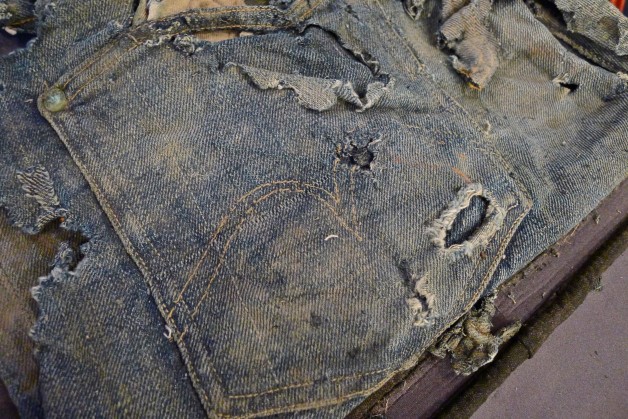 When I visited Unionville and Sivletto in January, I actually spent almost four hours talking to Douglas, the younger of the Luhanko brothers. We talked about his shop, the Blue Highway brand, a little about his past, and why he loves denim. But all of that I've already covered in previous articles. What I haven't really touched upon yet is his vast collection of old pieces of denim. More on that here.
To learn how to separate the wheat from the chaff and only pick up the true treasures, Douglas and his brother Hampus went through a lot of denim books, Japanese magazines, and most importantly talked to people who knew a thing or two about denim. Just like learning by doing, talking to people is undoubtedly the one thing you'll get the most experience from, and it will help you understand how the dots are connected much easier than studying one book after the other.
Another great and fun way of learning about vintage denim is to get your hands unto some of it; this is how many collectors start out and the Luhankos have especially been interested in collecting denim jackets. They've found the jackets mostly through eBay, and they started out hunting for pieces that could help them learn more about the history of each brand, and the history of denim in general. Below is a very old pair of Levi's jeans that Douglas keeps in a laptop sleeve, which they've also learned a lot from.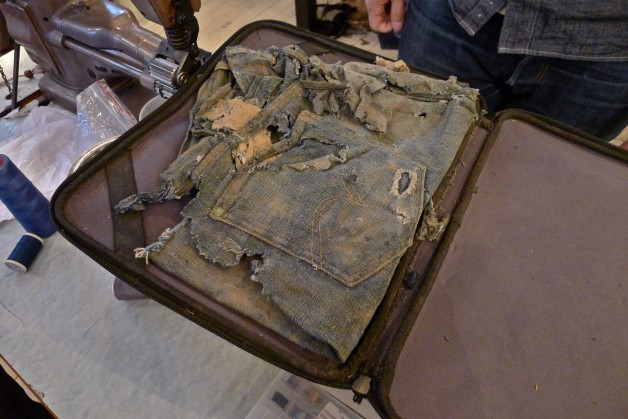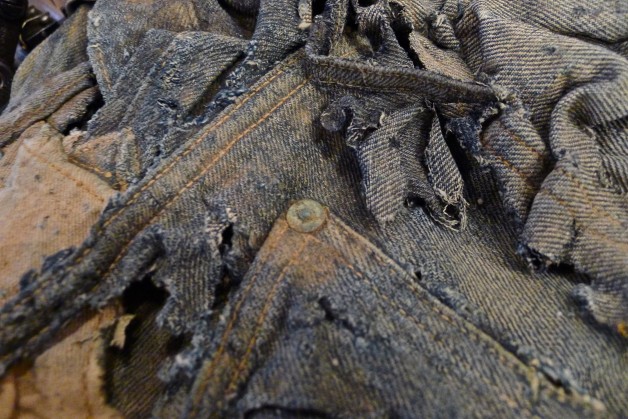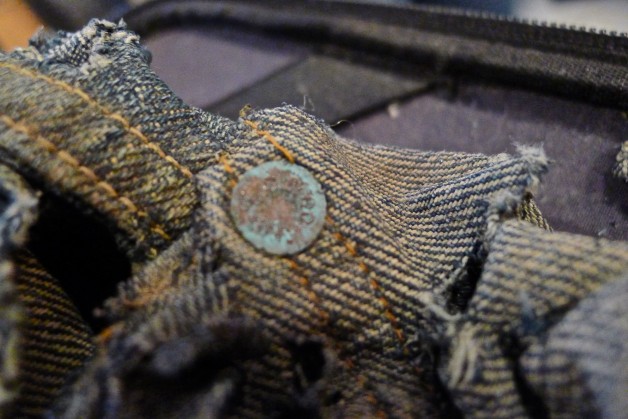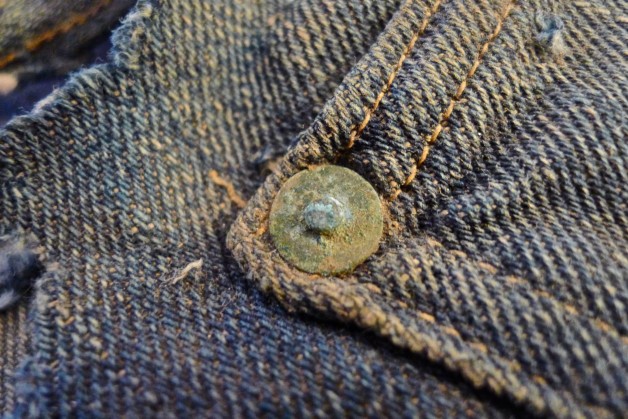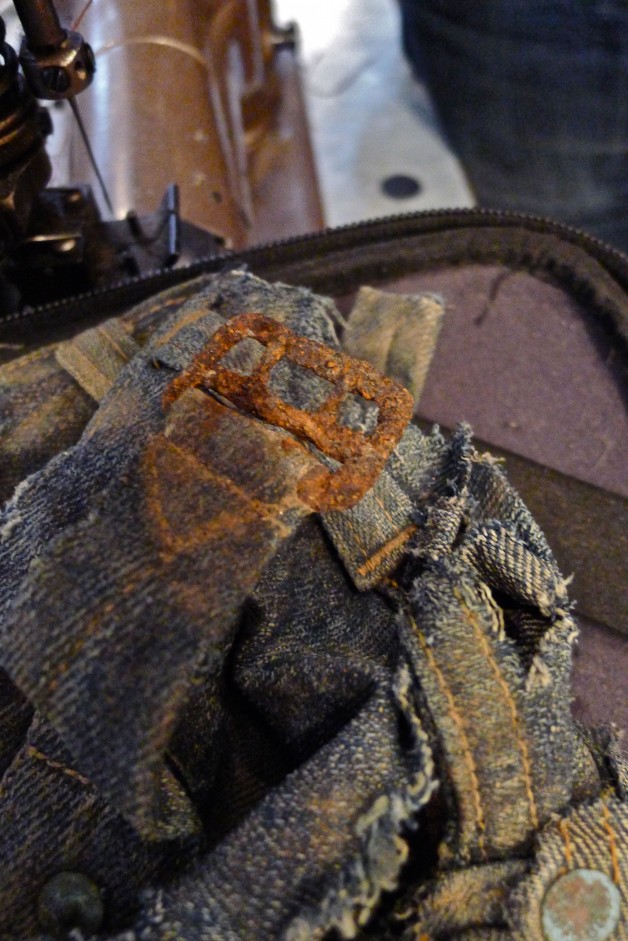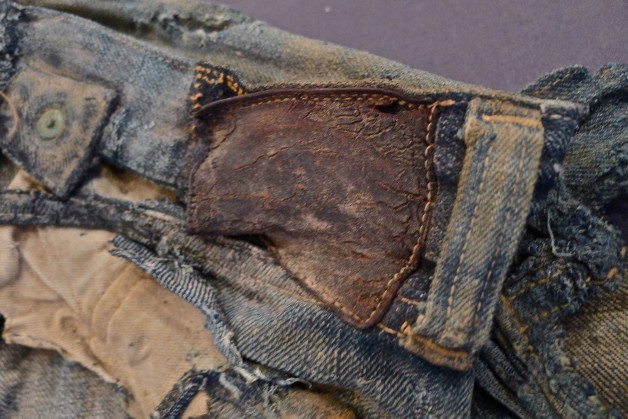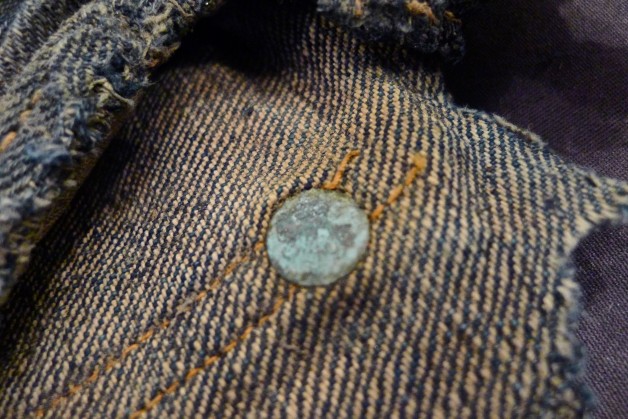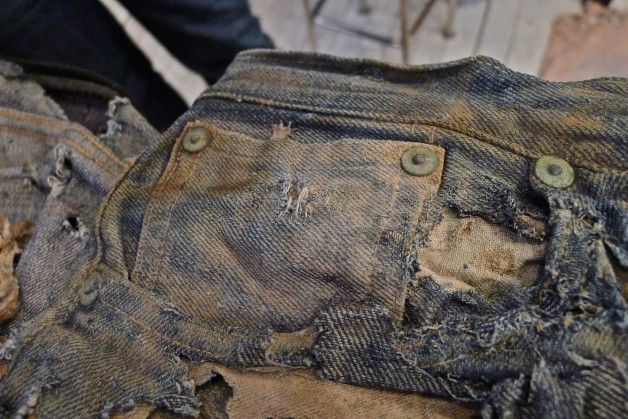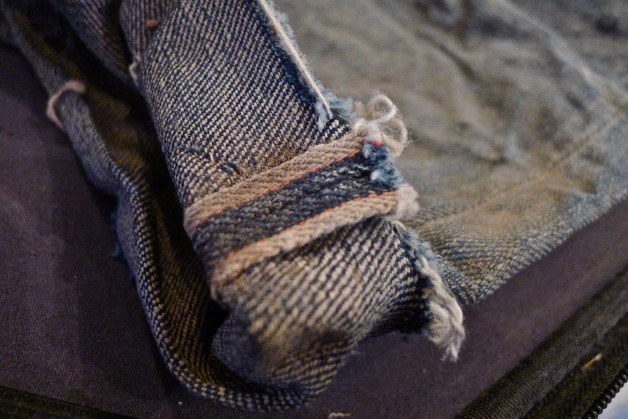 The Luhanko brothers use the old denim pieces as inspiration to their Blue Highway brand. Below is a scrap of another pair of Levi's jeans.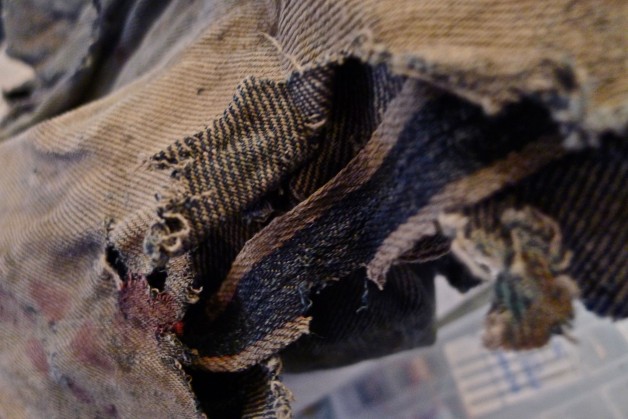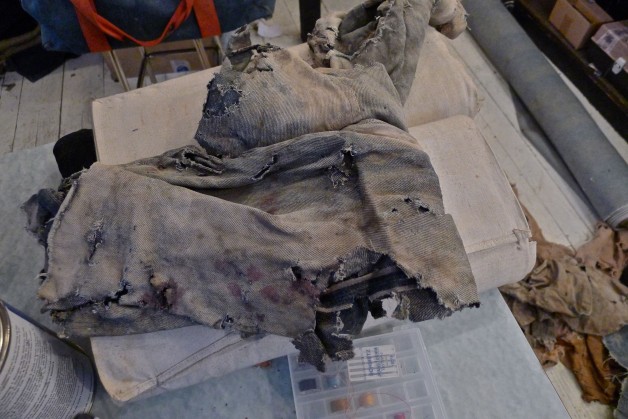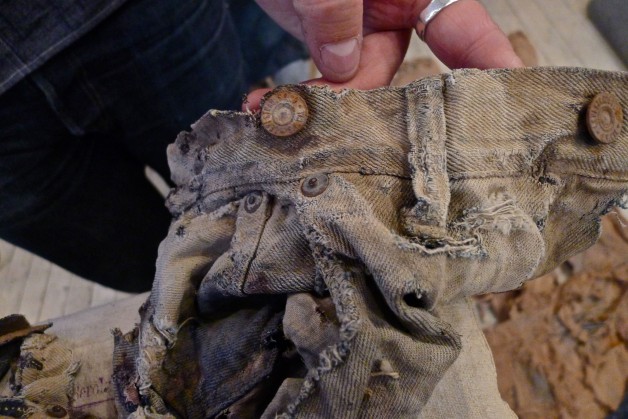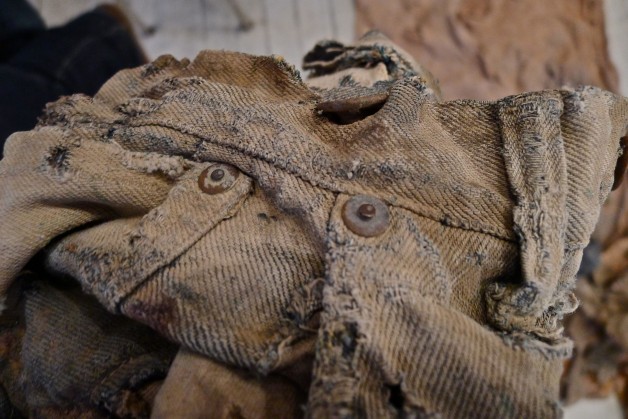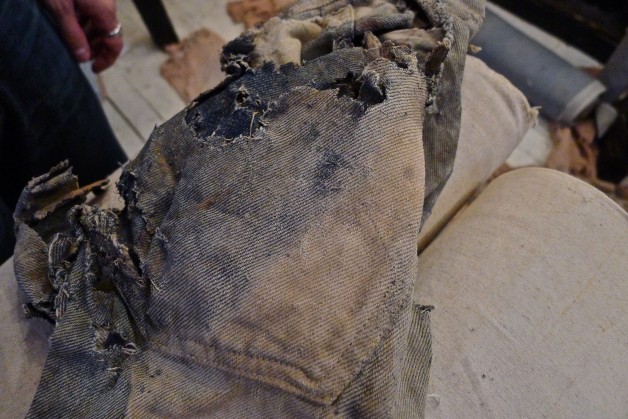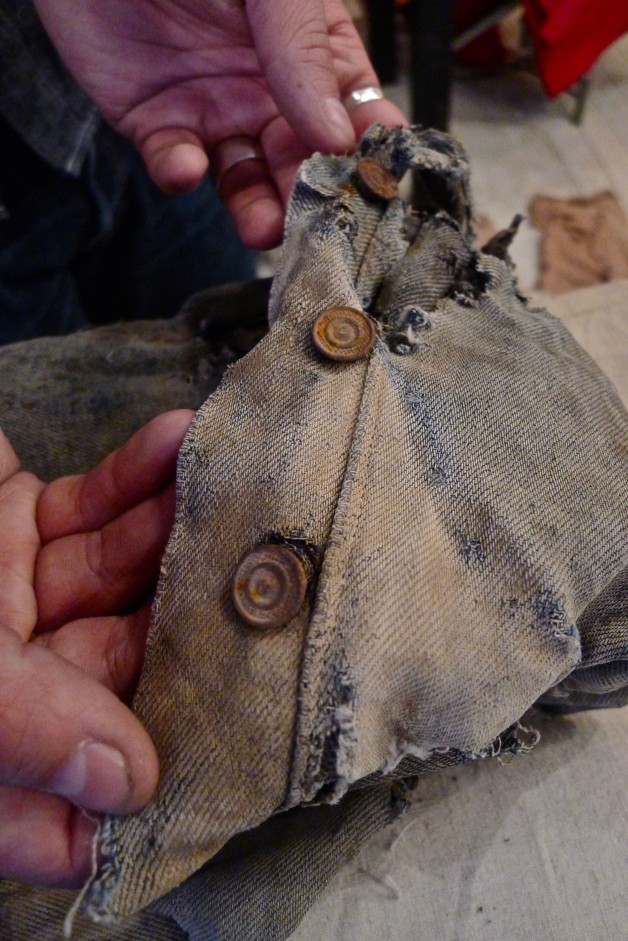 The Luhankos have visited denim researcher Michael Allen Harris in his home in California.Harris introduced the boys his denim collection, which among other things includes a very early pair of Levi's without letters of the rivets. Unlike in the Levi's Archive Harris doesn't store his treasures in a fire proof safe, but has them lying in a Tupperware-like plastic boxes – and it was the most natural thing that Douglas and Hampus could touch it, even without rubber gloves.
As Douglas pointed out to me, it actually also makes sense that the fabric won't be harmed by a little touching, after all much of it has survived lying in the rough desert for more than a century. Of course you should show a certain amount of respect for the fabric, but as you might have experienced yourself it's easier to learn and understand textures when you touch them. It's basically that simple. Needless to say, you can get your hands dirty touching the vintage denim that the Luhanko brothers keep in Unionville.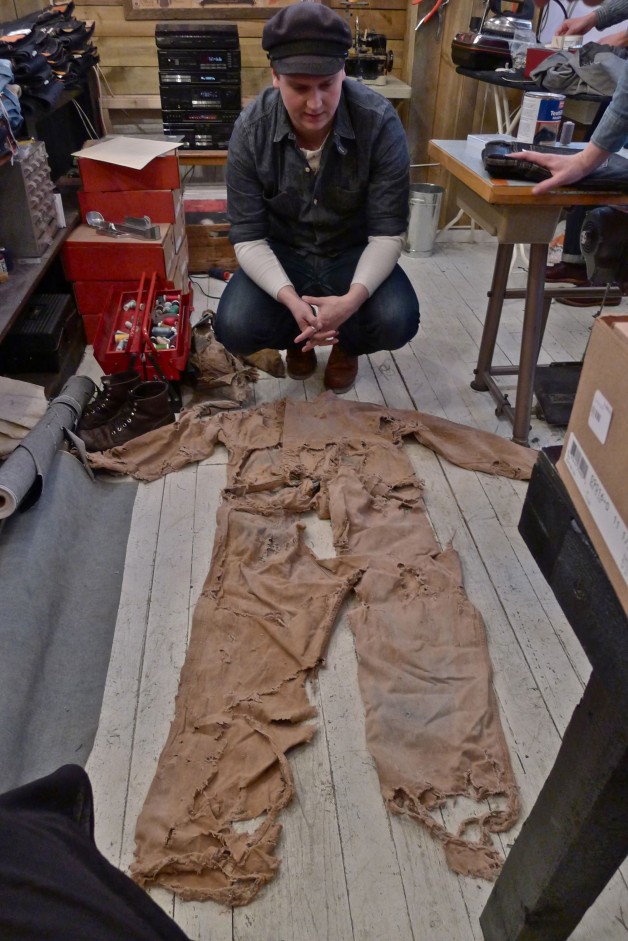 Douglas is explaining about this protection suit that he got from Michael Harris for his 21st birthday. The suit was used around 1910 when miners went back to the abandoned mines in Nevada to mine every last scrap of ore with chemicals. The suit has become brown by lying in the desert sand for almost 100 years, but underneath it's still slightly blue.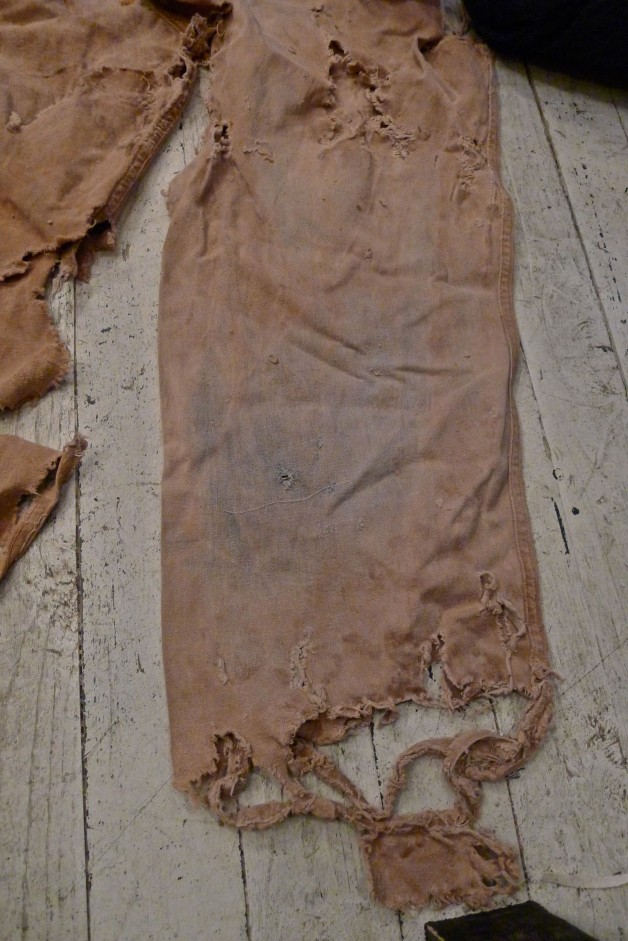 From what he has learned, Douglas questions the possibility of putting an exact date to some of the changes that you for instance find on Levi's 501 jeans. The changes may very well have happened over time rather than all at once, and there may have been inconsistencies between the different factories. However, when dating the pieces of denim that Douglas found together with his brother and Michael Harris around old mines they use the history books.
Based on data of when the different mines were in use (which was normally two or three years) combined with Mike's knowledge of the evolution of brands like Levi's, Douglas can actually put a rather exact date on his founds. To find out when the different mines were used, Douglas and Mike used books like the Ghost Town of Nevada. Additionally, Michael Harris' father-in-law proved to be very helpful with knowledge of the Nevada mines.
The pair of Levi's below also used to be blue once.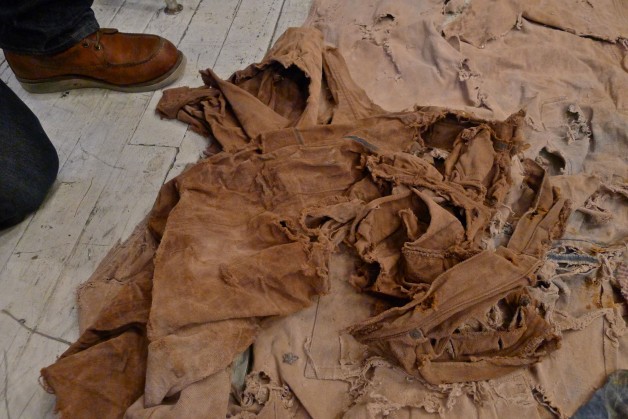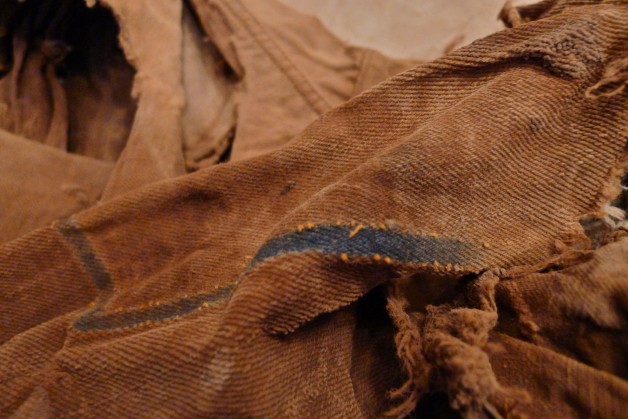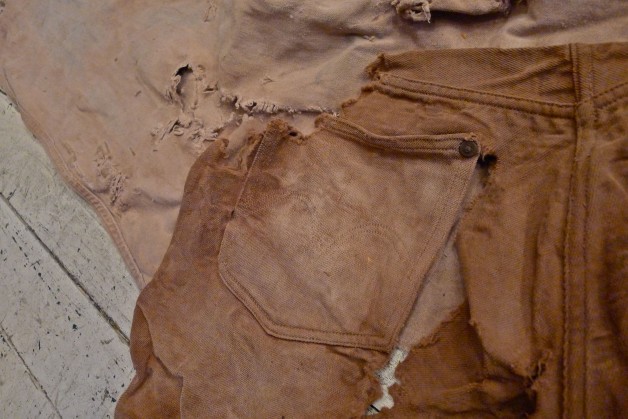 It's easy to spot where the arcuate used to be.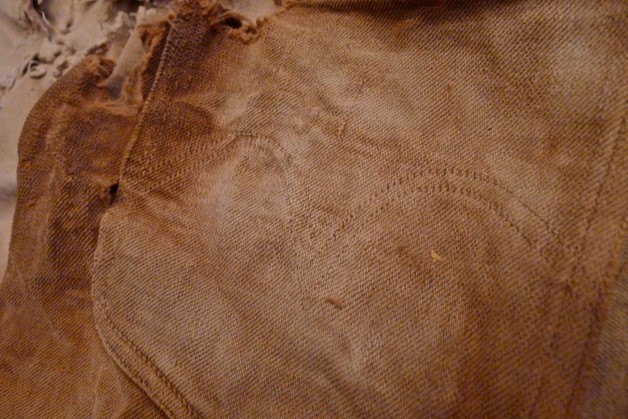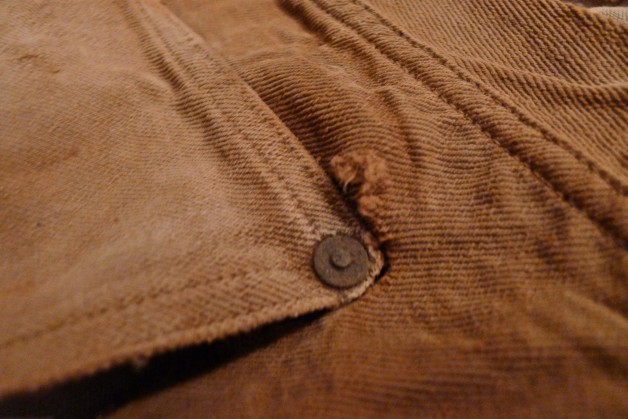 Based on the cloth patch, this may very well be a pair of 201 jeans.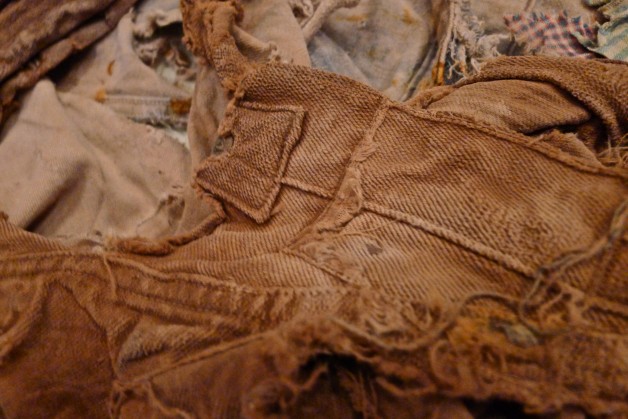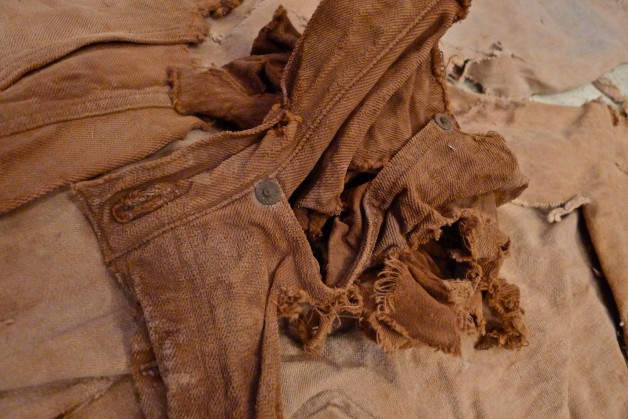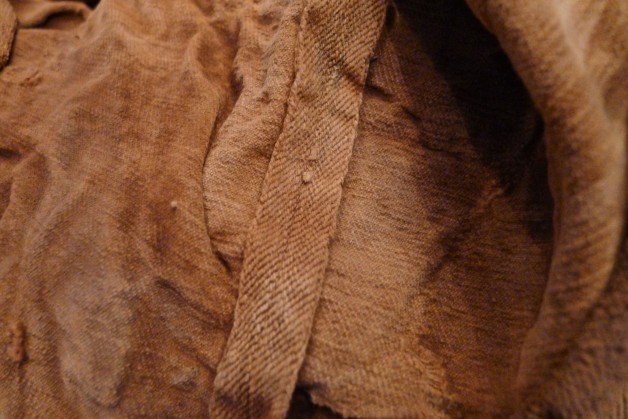 Below are some of the pieces of vintage denim that the Luhanko brothers keep in Unionville. Just ask politely and they'll probably let you have a look for yourself.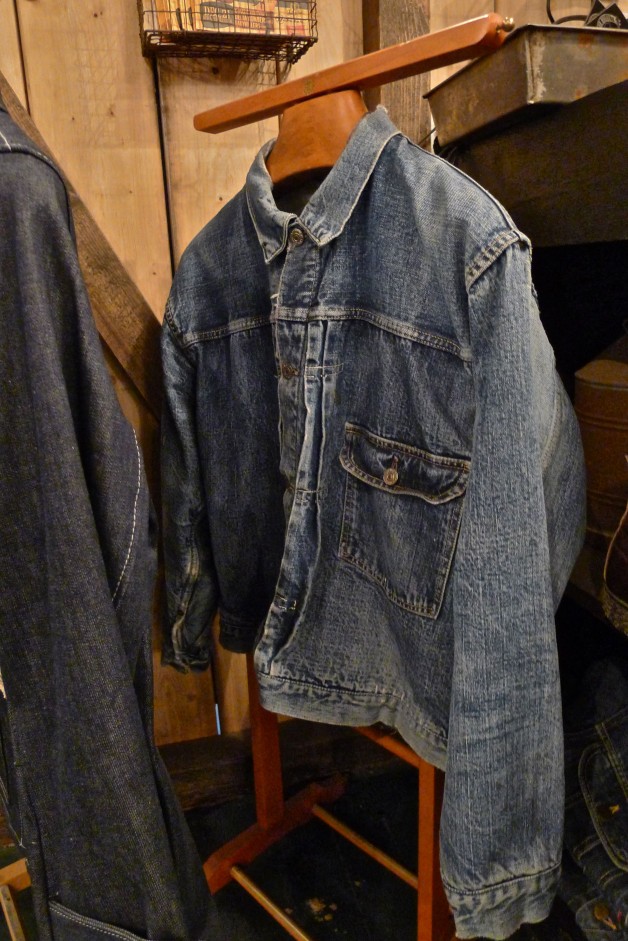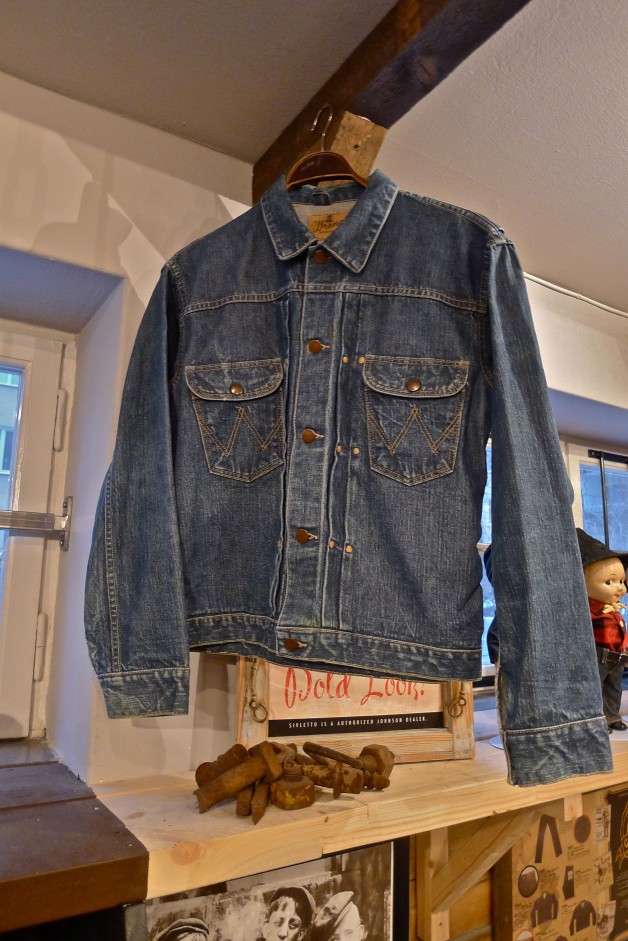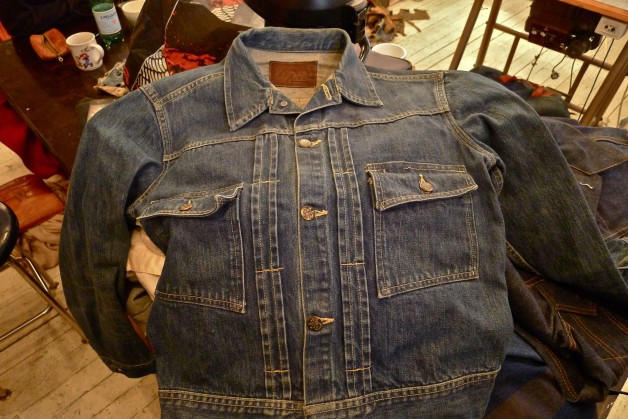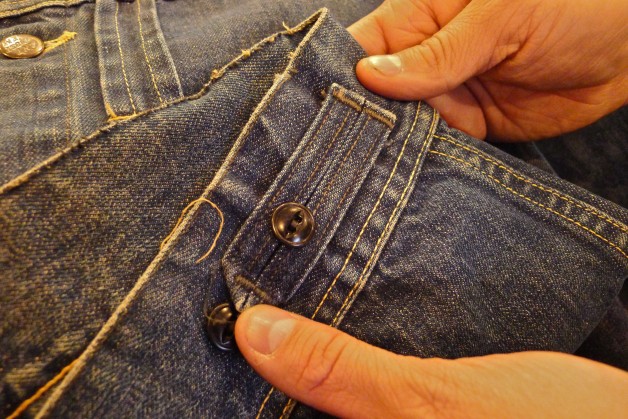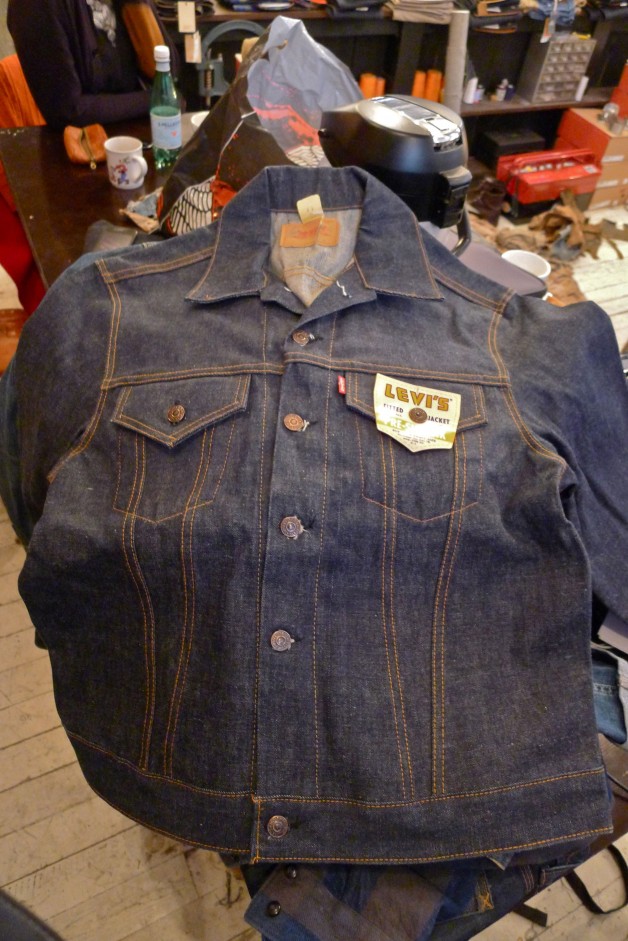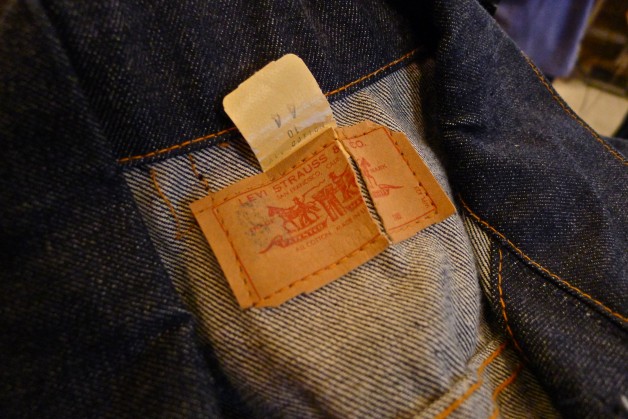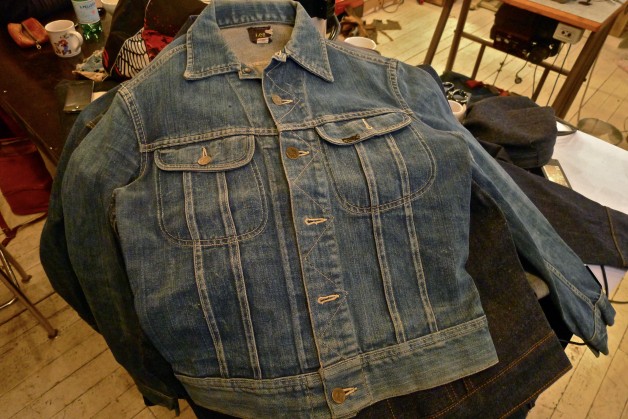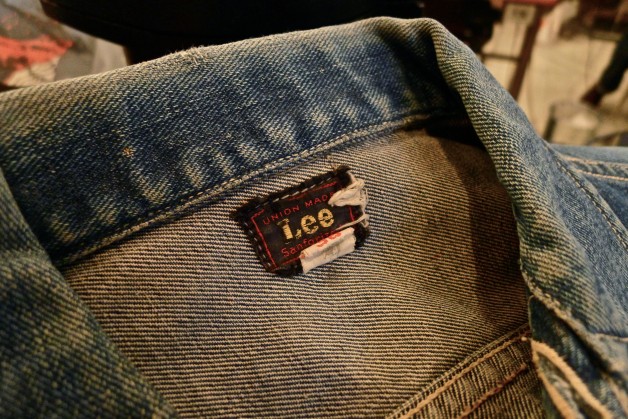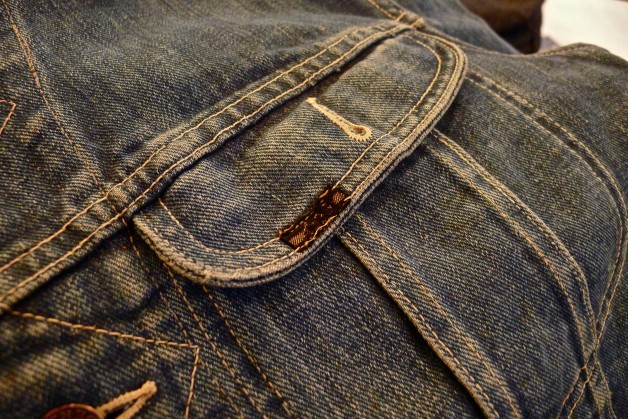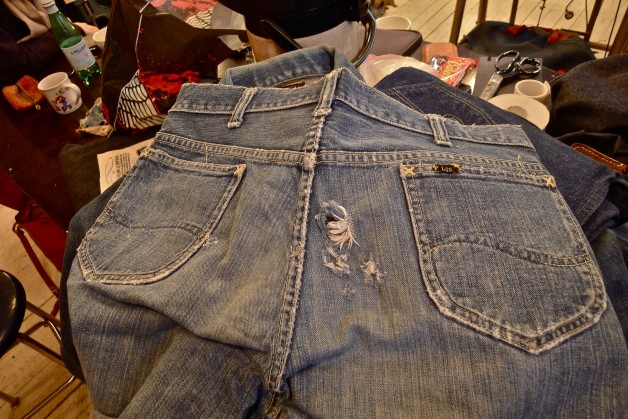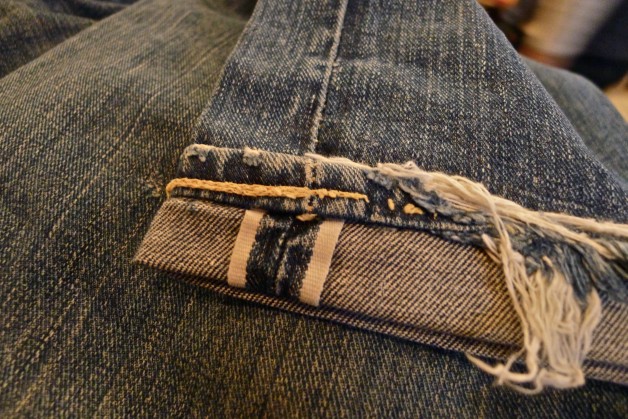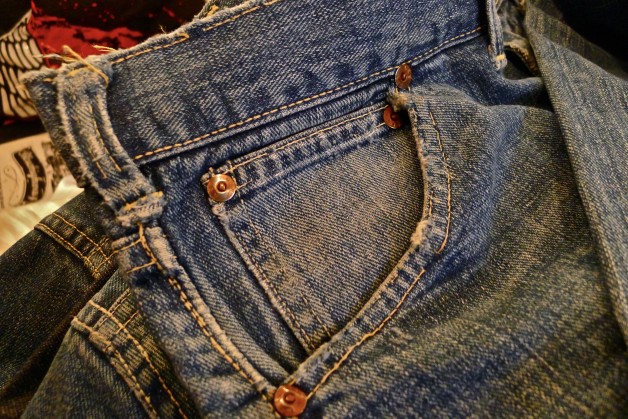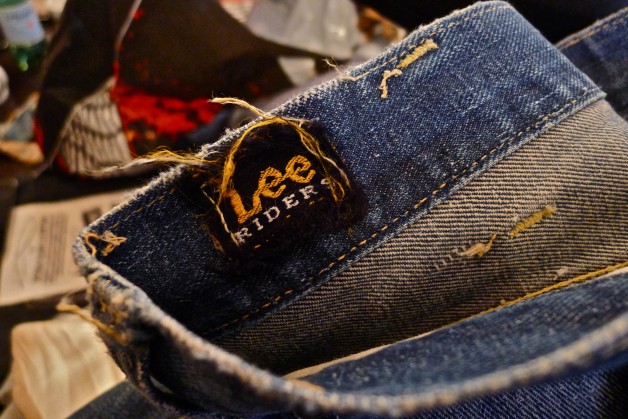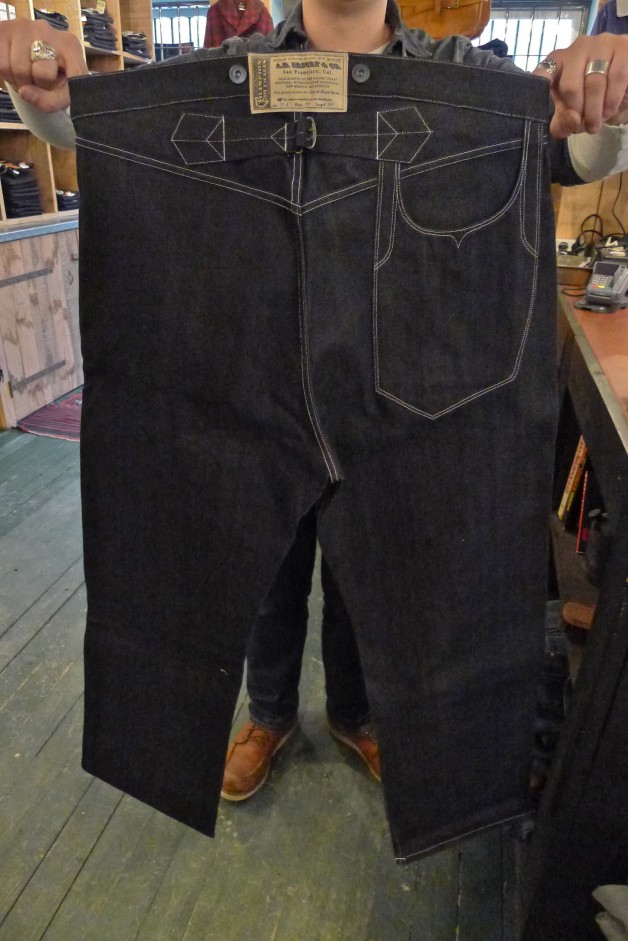 This is a reproduction of a pair of A.B. Elfelt & Company jeans, one of the brands that Harris write about in his book. It's made by Rising Sun & Co. in Pasadena, and Unionville is the only other shop in the world that carries the jeans. They retail at 6000 Swedish Kronas.
Similarly, another friend of Michael Harris, the founder of Swedish jeans brand Pace, has also made a replication of one of the brands that Harris writes about. You can read more about that here.