DWC Announce Exclusive Iron Heart Jeans and Wesco Boots
The Patron Saint of the Denim World Championships Once Again Brings Contest Iron Heart Jeans – and This Time Also Wesco Boots
If there is one company that over the years has embraced the Denim Championships in all its forms it is Iron Heart. And if there is one man who has lent his support to help establish the Championships as the premier denim contest it is the face of the company outside Japan, Giles Padmore.
Since the inception of the first HWDC back in 2011, it became clear that Iron Heart would be an important ally. The first championship was almost a straight shoot out between Iron Heart and Samurai, and Giles believes the contest influenced the entire denim community:
"The HWDC1 really brought the denim scene together in a way that no other contest had before; the DWC looks like it could take that a stage further," he says.
The First HWDC Dedicated Jean, the Beatle Buster
For the HWDC2, Iron Heart offered something truly unique by creating a competition specific jean. It was sold at a heavily discounted price to competition entrants only. "We really wanted to support the HWDC with something a little bit special", Giles recalls, and what could have been more special than using Iron Heart's heaviest denim on a cut it had never been used on before. The HWDC2 Beatle Buster, as it is known, is both super heavy yet surprisingly comfortable, and it has incredible fading potential, as has been shown throughout the championship.
The UHR MBB2 Takes Fading Up A Notch
For the Denim World Championships it seemed appropriate to challenge Iron Heart to develop something even more special. As the contest itself takes things up several notches so have Iron Heart with the UHR MBB2 (the ultra heavy raw Mega Beatle Buster 2, also referred to as the DWCxUHR). It's cut from the ever popular Buster to make a comfortable and modern pair of jeans, but instead of the super heavy 25 oz. denim they will come in Iron Hearts most "evo friendly" denim, the 21/23oz UHR.
As you would expect from a raw denim made in this weight, it has immense fade potential as evidenced from the worn examples of the 634S cut. The denim is tightly woven, deep indigo dyed, and constructed to the usual impeccable Iron Heart standards. "The UHR denim is quite probably Iron Heart's most dramatically evolving denim" says Giles, which makes it ideal for a denim contest.
Once again the jeans will be made contest specific with a few tweaks and details such as indigo arcs and a specially designed patch. They are available in a strictly limited quantity of 125 pieces worldwide and can be secured with just a $100 deposit from IHUK now at a heavily discounted price of $375 for contestants only. These jeans promise to be a major player the in DWC, and with pre-order closing on December 14 now is the time to secure your pair. Click here to pre-order.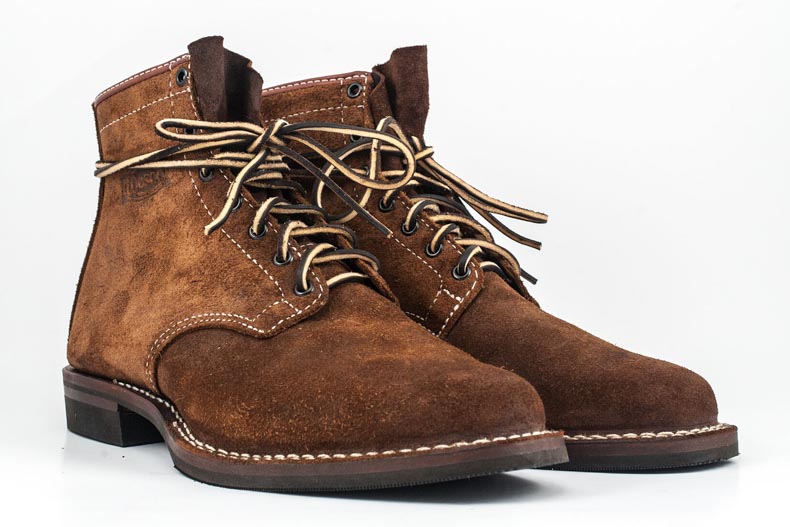 BWC Special: The Wesco Foot Patrol
The evolution of the DWC has led it into other areas than denim, and Giles also lends his support for the Boot World Championship. In my opinion, nothing goes better with worn denim than a pair of broken in sturdy boots – and boots don't come much sturdier than those made by Oregon's own Wesco Boots, distributed in Europe by The Bootery, run by Giles and Sascha Kempmeyer and Tobias Pflug of Hamburg's retailer Vater&Sohn. For the BWC, Wesco and The Bootery have developed an exclusive design; built to be the ultimate utility boot it is simply known as the "Foot Patrol."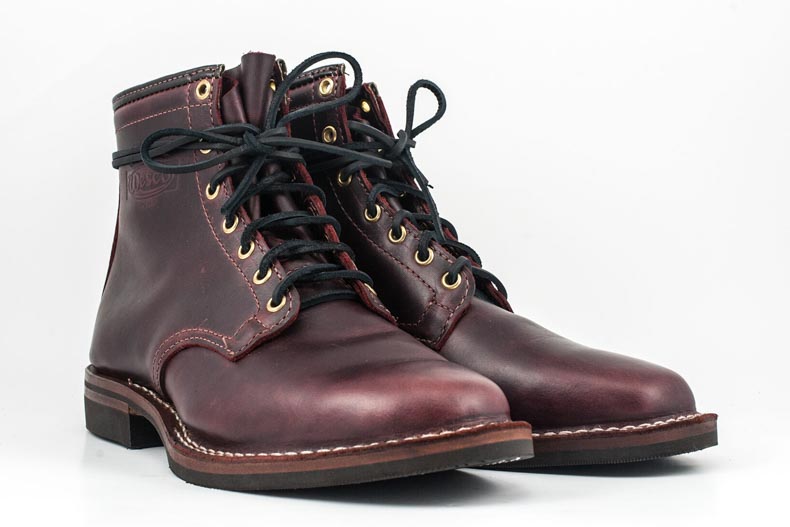 The 7″ Foot Patrol was designed to be absolutely multi-purpose whether worn at work, around town, in a bar or out walking the miles of either pavements or fields. It's a "one boot fits all situations" and it is as striking as it is comfortable. "I wanted a boot that looked back at the service boots of mid-last-century but updated for today's lifestyle; selfishly I wanted the perfect boot for me. I'm over the moon with what Wesco came up with," says Giles.
For a two year contest you will need the reliability that a Wesco build gives. The Foot Patrol is made with Wesco's double stitch down construction and built on the Motor Patrol last, sits on a Vibram 430 outsole, and is lined for comfort. It will be available in three colours of Wesco's own "Domain" leather, both smooth and rough out. For a "Ultimate Evo Edition" it can also be ordered in complete rough out Burlap leather.
The world of top quality boots is not known for giving discounts on its wares but The Bootery has secured a $100 discount for all BWC contestants. This makes the boots quite a deal at $700. The Foot Patrol can be pre-ordered for an extremely reasonable $200 deposit, but like the MBB2 jeans the pre-order will end on December 26, so move fast! Pre-order here.
If you're not yet convinced that a Wesco is the boot you need, or maybe you're not familiar with the company, watch this video.
Move Now To Secure Your DWC Weaponry!
With contributors and supporters like Giles Padmore, the DWC promises to be quite a spectacle. The pre-order nature of contest specific products will surely appeal to people who like to plan ahead and select their competition weaponry early. The nature of securing with a deposit allows people to get their funds in place, and the discount certainly helps to make items of the highest quality more affordable.
This is a two year contest so it is essential that you are able to rely on your gear, with names like Iron Heart and Wesco that reliance will come naturally. Sign up and register for all DWC contest here.
Photography courtesy of The Bootery (taken by Dylan Mayes).