Exclusive Shop Review of Hamburg's Vater&Sohn
From Day One, Vater&Sohn Set Out to Join the Big League of European Denim Retailers
After months of industry buzzing, on the 1st of March, 2013, Hamburg's new premium denim retailer Vater&Sohn finally opened for business. The shop is located in the fifth largest city in Europe, and it had an impressive start up selection of brands including 3sixteen, Rising Sun & Co., Indigofera, Red Wing Shoes, and Filson. The shop is run by three hardcore and perfectionist denim enthusiasts with more experience than you could imagine. Vater&Sohn is the realisation of a dream; although the concept may at first seem familiar, no one has done it quite like this before.
Contrary to what you might think when you first encounter the name of the shop, there is no 'father and son' in Vater&Sohn, at least the three founders Stefan Kudla, Sascha Kampmeyer, and Tobias Pflug aren't father and sons. But one thing is for certain, they all have burning passions for authentic high quality clothes, especially denim and boots.
As Stefan describes it, "Vater&Sohn is just the synonym for men because all men are sons, and we carry stuff that you can hand down to the next generation". Let's get to know who these three guys are.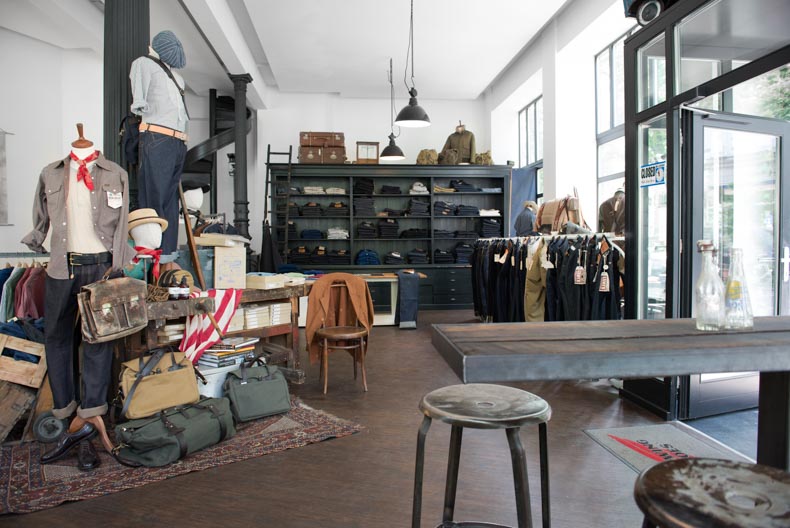 Tobias Pflug
Tobias, also known under his nickname Moc To, has been working as art director on commercials and fashion catalogues, as a sales guy in the Rider's Room shop in Hamburg, and most recently as store manager of the Red Wing Store in Hamburg. He bought his first pair of Red Wing 2268 Engineer boots 20 years ago, and since then he hasn't been wearing anything other brand on his feet. Along with Red Wings, deep blue denim jeans and vintage flight jackets were just always part of Tobias' rock 'n' roll lifestyle. Today his collection counts original B3, A2, and B10 leather jackets, some various army and naval jackets, a ton of boots, and lots of other vintage clothes.
Sascha Kampmeyer
Sascha has a master's degree in business administration coupled with long time experience with retail stores. 25 years ago, his grandpa gave him an old pair of 501 jeans that he had been wearing since forever working his garden. Since then Sascha always loved old and well-made clothes. Thinking back to another fond childhood memories that shaped his taste and sparked his interest, Sascha recalls wearing his father's Rockport winter boots around the cellar when his father was out of the house. In addition to denim, Sascha collects shoes, paintings, music, tattoos, and books.
Stefan Kudla
Stefan is a trained photographer, but for five years from 1994 to 1999 he worked for Edwin Tokyo Co. LTD as area manager of Germany. During his time with Edwin he met product manager of the brand, Masakazu Kobayashi who taught him everything there is to know about vintage denim, old looms, and a lot about different washing procedures. Since then Stefan's passion for denim has been burning. Stefan collects denim, black and white photos, longboards, Vespa scooters and Honda Monkeys.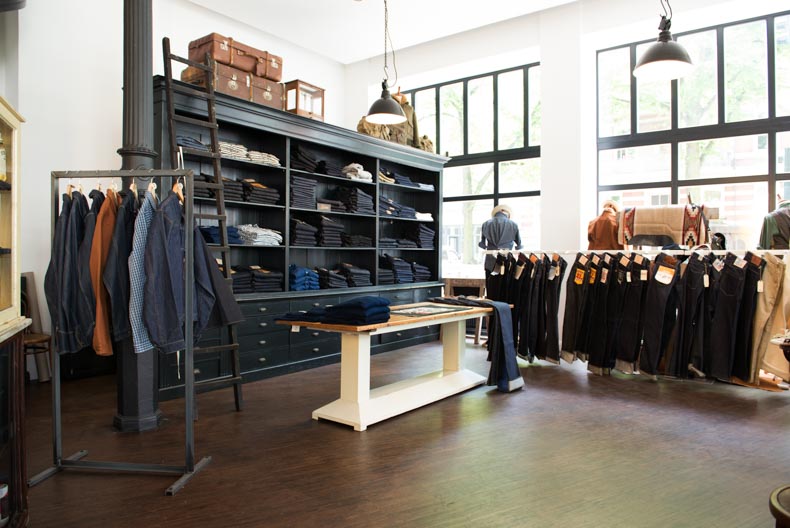 Vater&Sohn Owners Talk About Denim
To get to known the three founders even a little better, we asked them five quick questions about their relationship to denim, which in our experience tells quite a few things about the mindset of a denim enthusiast.
DH: Why do you think denim has become so popular recently?
V&S: "Denim is one of the few true and let's say honest things that you can buy to wear. It never gets out of style cause its timeless design fits you in every kind of situation and in the right combination with a wonderful shirt, a tie and your boots, it will let you look well-dressed no matter what."
What do you love the most about denim?
"Denim is a real 'men's thing', a pair of jeans shows the life you have been living while wearing it."
How do you wear and treat in your dry denim jeans – any special routines?
"Wear it as long as possible, rub your dirty hands on it, clean your knife in it, cold wash it (no tumble dry), and let it bleed!"
What do you recommend your customers to do regarding breaking in their jeans?
"Wear it."
Are there any up-coming or unknown brands that you think are worth looking into?
"3sixteen, Indigofera, and White Horse Trading Co."
The inspiring merchandising of the shop with vintage chairs, lamps, signs, and so on is mainly put together of antiques that belong to Tobias, and it fits perfectly into the concept. Vater&Sohn consider their customers not just as someone who loves boots or denims; he's also into everything from knives to soaps, coffee to snaps, and he likes to take care of himself while looking sharp.
Vater&Sohn does not have a webshop yet, but to stay connected we recommend following the shop on Facebook.
Contact information of the shop:
Eppendorfer Weg 54, Hamburg, Germany
[email protected]
Opening hours:
Mon-Fri: 11-19
Sat: 10-17
Pictures: Ann-Kathrin Kampmeyer.