Why Crary Boots Are Tearing Up Kickstarter. It's The Detail, Stupid
Direct Is Best For Crary Boots
Almost a quarter of a century ago, Bill Clinton famously boiled down to three simple words the issues facing the USA, "it's the economy, stupid." And now, in February 2016 Crary Boots are ripping Kickstarter a new one with a remarkably similar strategy.
Sure, they aren't being quite that direct but they have smashed their crowd-funding targets by explaining quite why their planned boots are superior to the competition. In one simple graphic, they detail the essential anatomy of a great boot.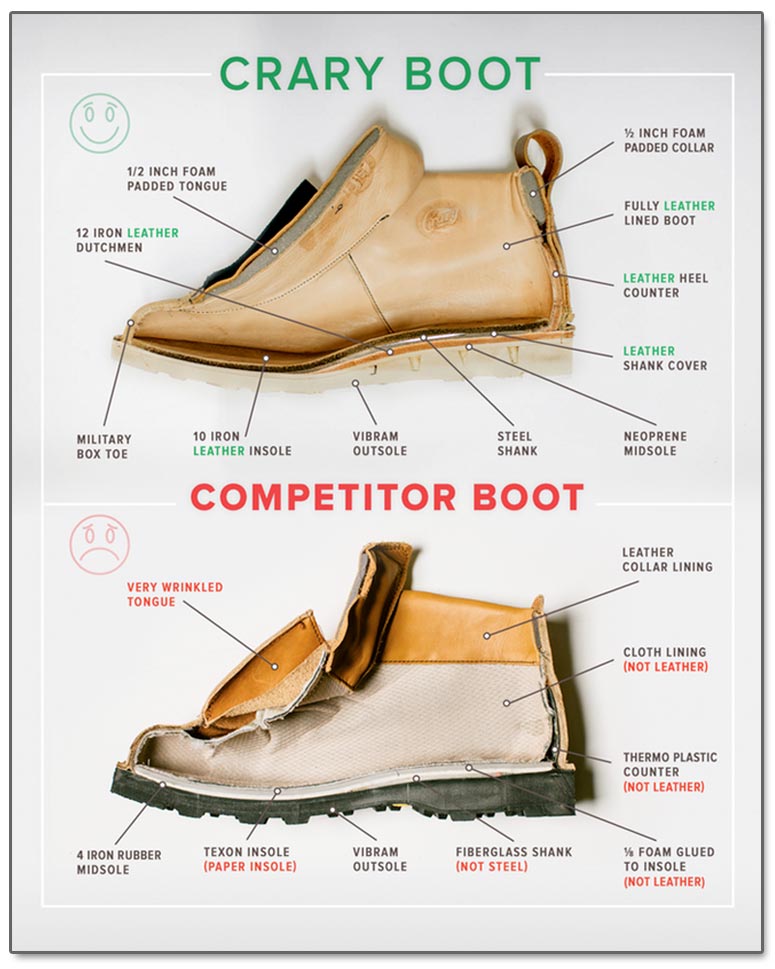 So Far, So Good
We all have our favourite style of boot and Crary speak for themselves. They either appeal or they don't and that is the long and short of it.
Style-wise, and with the Burnside especially not being a million miles from a Red Wing Classic Moc, we are rather taken with them so it's well worth drilling down on the back story. Who and what is / are Crary Boots?
Bill Crary, president of the firm, has dubbin in his blood. His dad, Bill Danner, comes from a line of bootmakers that stretches back to 1932 and has been around the boot business just about all his life. According to their Kickstarter;
At the age of 13, Bill Crary began working in his father's boot factory, Danner Boots. For 18 years, Bill worked his way up through the factory, learning every aspect of crafting quality boots through practice and detailed instruction. In 1978, Bill started his own custom boot making business.

For the last 38 years, Bill Crary and his family have been hand-crafting custom boots and shoes catered to the individual needs of their clients, including disabled veterans, rock stars, professional athletes, diabetics and anyone with a taste or need for custom footwear. It has been Bill's lifelong dream to bring this same quality directly to consumers. Now, with the help of his family and business partners, and with support from backers like you, Bill's dream finally has the opportunity to become a reality.
Funded. And some…
Crary Boots set an initially modest target of $20,000. This would allow the business to tool-up and begin manufacturing in consumer quantities. However, that was blitzed on Day One and, at time of publication, is nudging $80k and allowing more styles to be added to the range.
It is worth dwelling on that for a moment; regardless of all the posturing and noise at the present moment about "being American", this is a story of a man who can and does. A man who is inspiring people like you and us to put their faith in his ability to deliver something special.
It is also a story of creating worthwhile, sustainable jobs which, in turn, keep local communities together and allow them to thrive and prosper. Bill Crary is a modest and measured man, and we wouldn't be so precocious as to guess his politics, but we doubt that he would disagree that it is indeed the economy, stupid.
Next Steps
Get a pair of kick-ass boots at an early-bird price with a visit to the Crory Boots Kickstarter or dig deeper on their website here.