Selvedge Denim Jeans. In Review: Joe & Co. JCS-COLLIER-369 RAW.
Going in depth with Joe & Co. in our first ever video review! We take a close look at Joe's new jeans and discuss fabric, fit and detailing.
Arriving in the post the other day was a pair of Joe & Co. JCS-COLLIER-369 jeans. So what better time to start something I have had in the back of my mind for a little while now.
Rope Dye Review!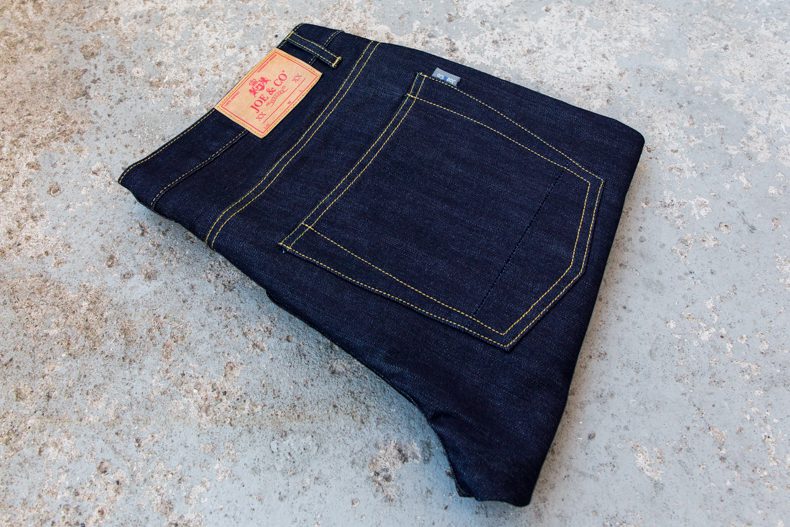 Joe & Co. is a brand out of North England. I am not 100% sure how I came to know about them. I was meant to meet the man himself, Joe, way back in April at the Amsterdam Denim Days but sadly we missed each other. Since then I have been keenly keeping an eye on what they have been up to and we have been chatting on and off.
Joe & Co. started with what looked to be some really nicely executed jeans and have quickly grown to include some very nice looking accessories, shoes, boots, shirting and outerwear.
But this is the first time I have actually had my hands on a garment from Joe.
The Details
Let's take a quick glance at the stats.
Handmade in the NW of England
This 11.5oz dark indigo fabric has been specially woven and produced by BLUE SELVEDGE part of the BERTO INDUSTRIES GROUP in Italy.
RED & GOLD selvedge ID
Handmade in locally sourced factories in the old mill towns of NW ENGLAND
Mid-rise slim tapered fit with a 14″ hem.
The pocket bags and the lining of the back pockets are made from 100% yarn dyed 7oz hickory stripe chambray
Individually printed 1-50, with a branded calf leather embossed label
All belt loops are sewn into the waistband with a royal blue line inseam
All buttons, rivets and rivet pins are branded with our signature sewing machine, with leather doughnut washers behind the fly buttons
Hidden back pocket rivets
Chain stitch hems, felled seams, gold selvedge coin pocket
Check out the video to dive, in-depth into the fabric, fit and details that go into the JCS-COLLIER-369 RAW!
TL:DR