The VLOG: How to MEASURE SELVEDGE DENIM Jeans for the Perfect Fit!
Finding the right size of jeans can seem a little daunting, but with this guide, we show you the essential steps to getting it right the first time.
A few weeks ago we discussed fit. So, just to be really clear here.
Size and fit are two entirely different things.
A Gentle Reminder
If you are still unsure, check out the vlog from a couple of weeks and all will become clear. And also check out the series on denim weight, this is also important before you start looking at specific jeans.
Now you have nailed the fit you are looking for and the denim weight. It's time to decide on the jeans that you'll be donning for the foreseeable future.
Bricks and Mortar
I will prefix this by saying that your best best best way to get jeans is a bricks and mortar store. A good jeans store will have a plethora of brands to choose from in a variety of different fits. There will be a member of staff there with in-depth knowledge of the jeans the store carries and he or she will be able to help you find not only the perfect fit but the perfect size as well.
Don't be afraid to try on multiple pairs and in different sizes, just to compare and contrast. And also be open-minded. Maybe you went into that store because they carry a specific brand you were after. But take a look at the alternatives and listen to what's on offer from the guy behind the counter. They have sold, you'd hope, hundreds if not thousands of pairs of jeans and know what's right for a customer.
Keep trying, trying, and trying. Have a pile of jeans stacked up till that one pair just pops onto your frame. You will know it when it happens. Kinda like falling in love. You can't exactly say why that person, but it just is. It will be the same for your jeans.
Don't be a Sissy
Do not be nervous! I don't quite get it, so many of you guys out there are terrified of shopping. If you are lucky enough to have a good denim store in your town.
USE IT.
Be Part of the Community
It just seems to be the nature of raw denim that it builds up a community and these stores tend to be the hub of this community. I cant tell you how many times I have been hanging out with my mates at a store and get introduced to another customer and we have become fast friends.
Reality Check
Sadly the reality is that we are not all so lucky that we have a store around us that has a great selection of denim. Or maybe you have your heart set on that collab jean only sold in Blue n Green in New York but you live on the moon. Well, that's why God invented mail order.
Take Your Time
And this is where you have to take a little time to find your perfect size.
Whatever you do. Do Not Go Off the waist measurements.
I don't pretend to understand the logic behind the waist measurements. It seems kinda arbitrary… in some brands, I am a 32, in others a 36. In some fits from the same brand, I am a 34 in one fit and a 36 in another… And the numbers seem to be aimed more at vanity. The jeans I am wearing now are a 34. But my fat ass actually measures 38.
Point is, you need to get your measuring tape out.
Go off and find a pair of jeans you already have that fit you well. This is your starting point. Now, go off and bring up the website where your dream jeans are sold.
TL:DR. Click now to watch the video

A Measuring Guide is Essential!
If they are at all worth their salt, you will find an in-depth guide on just how they measure their jeans. If they don't, I would really recommend not buying from them.
No cats Were harmed in the making of this Vlog!
The trouble is. There is more than one way to skin a cat… Which has nothing to do with jeans but there is also more than one way to measure jeans so it is important you look at the measuring guide of the shop you'll be buying your jeans from.
For example. Say I wanted the 3Sixteen 32BSP Shadow Selvedge Straight Taper. The jeans stores in Berlin don't carry this particular model so I head over to Self Edge's webstore. Where I bring up the Jeans Finder.
Self Edge has an awesome infographic showing how they measure their jeans. Study it and measure your existing jeans in the same way.
You will have a list of sizes you can compare with the size chart for your specific jeans.
Use an Existing Pair
I am going to use these Levis Vintage Clothing 501 1919 jeans. They fit me well but maybe they are a little too roomy at the leg opening. Denim is awesome but a little light for me at the moment. But the waist, rise and thigh are pretty spot on.
How Self Edge Measure their Jeans
So I will button them up, lay them flat and measure the waist. Times 2, and take a note.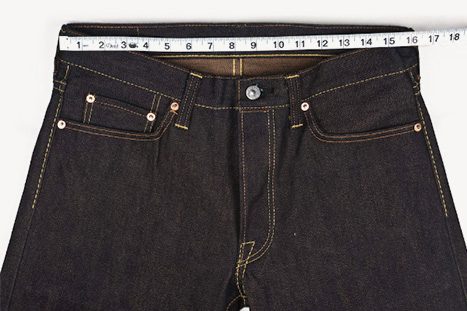 Front Rise, find the bar tack and measure up from that to above the button.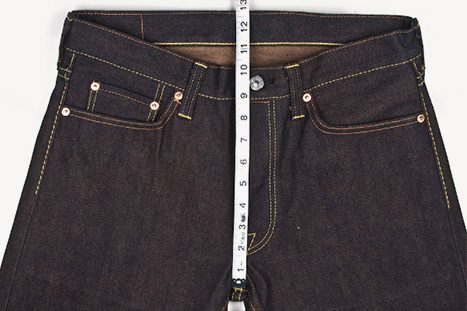 Thigh, one inch down and straight across.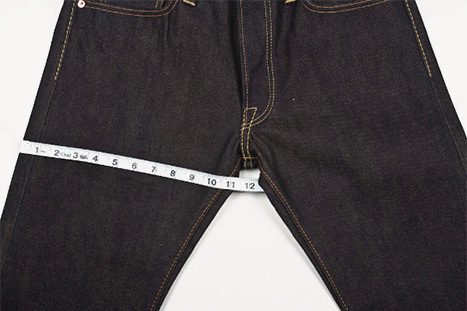 Knee, 14 inches down and straight across.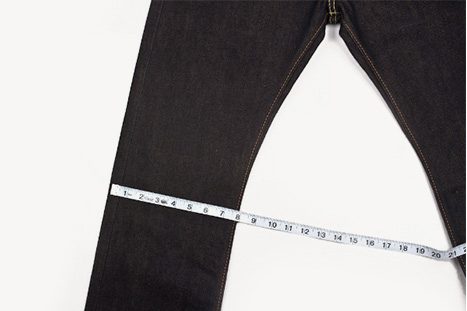 Leg opening, or hem. Lay it flat and measure across.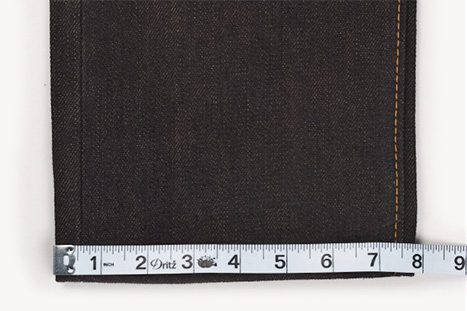 Now, for some reason, they don't have an inside leg here.
Might be because all the jeans sold here only come in one length which is kinda common in the world of raw denim. But for the sake of completeness, I will show you.
I got this from Rivet and Hide webstore. Seems a sensible way to me.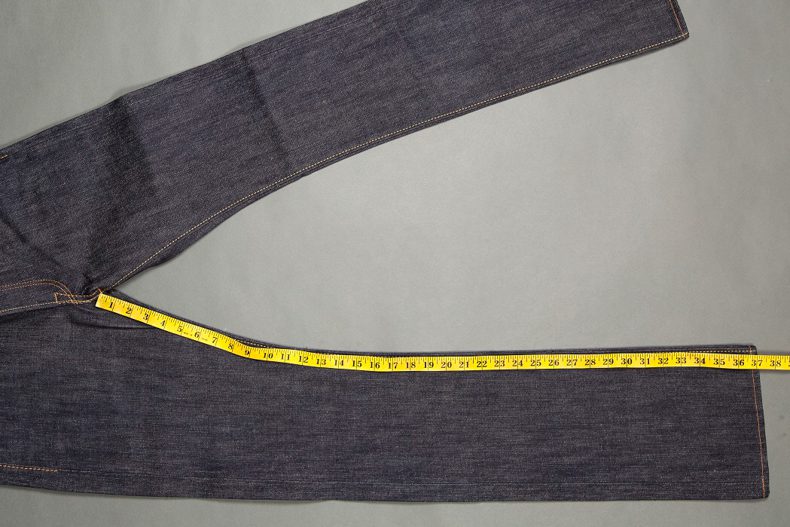 Lay one leg of your jeans flat and turn it so the inseam is lying straight. Measure from the crotch to the hemline.
All Set!
There we go, with these numbers I can go over and look at the measurements on the 32BSP page and I can choose a size and make sure they will fit me.
Variations on a Theme
Now, I mentioned that each store has variation on how they measure jeans. When I was looking around I did find that they were much or a muchness. But I would encourage you to take a look. Make sure the methods match if you are looking at various site.
If we head over to Denimio for example. They do measure the waist in the same way as Self Edge, but they also note another method.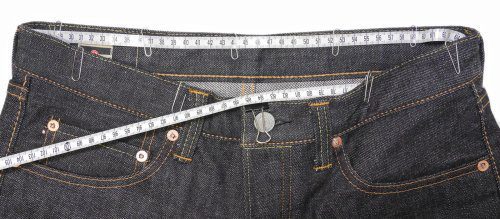 We see here how they paperclip a measuring tape to the inside of the waistband. This is the method preferred by the Japanese. It is super accurate, but also a bit of a faff. But, keep it in mind if you are looking East.
So armed with these numbers I can now have a good look round. Check the measuring methods and then look at the sizing charts.
Worth the Extra Effort!
There we have it. I know it may seem like a bit of a faff, but this is an essential step and will save you time and money in the long run. You don't want to be sending your new jeans back and forward time and again. This will just end up costing you time and money. Time you could be spending in your new jeans and money you could be spending on beer.