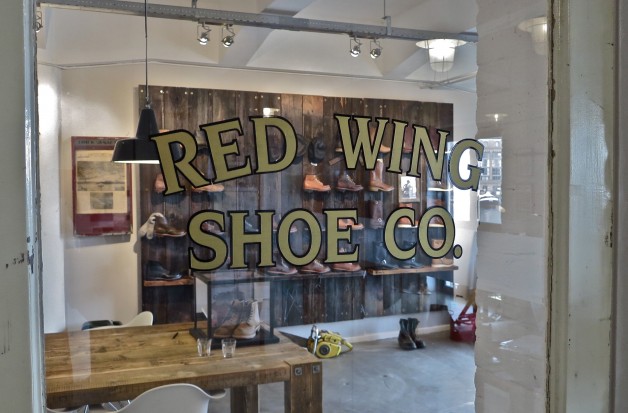 When a denim and Red Wing lover is visiting Amsterdam – where the headquarters of the America footwear manufacturer is situated – it's hard to turn an invitation to have a closer look at next seasons collection down. Actually, my visit with Red Wing in Amsterdam was first considered when I met with marketing manager, Wytse Hylkema in Berlin back in January, and it gave me a chance to find out what's going on with Red Wing in general. In their showroom Red Wing has brought in some very interesting props to recreate that authentic workwear feeling the products deserve.
This summer Red Wing have invited representatives from selected European shops to visit the factory in Red Wing, Minnesota. Of course Henrik Brund from Brund in Copenhagen is going. I visited the European headquarters. As part of a strategy to get in touch with the "average customer" and provide him with insights about Red Wing and well-crafted footwear, Wytse has arranged media coverage of the visit from more serious media like newspapers. Other than that you'll soon be seeing the first Red Wing shop-in-shops.
In just two years the number of staff in the office has grown from one and a half employees to a the team of five full time employees.
But there is something going on in Europe. People are a bit anxious and they are saving their money instead of buying. Even though it's been almost four years since the economic crisis was set off with the crack of the Lehman Brothers bank in New York, now is the time when the consumers really feel it.
It's tough times out there, still Red Wing Shoes is growing. However, instead of increasing the number of shops they are working with the existing shops to help them give the customers even better experiences. Like with every product from Red Wing focus is on improving quality instead of quantity. Consistency and long-term orientation characterises the reputable family-owned business; it's not about many as much money as possible.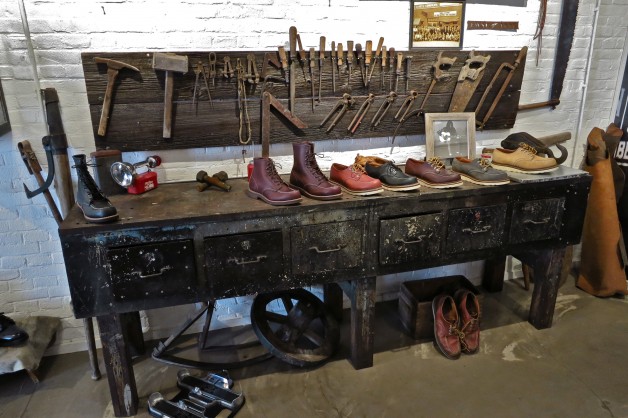 The 877 Irish Setter in size 20 makes the regular 877 seem like something you would have in your key chain. Red Wing has actually sold some of these to customers in America, even though it was originally meant as a promotional piece.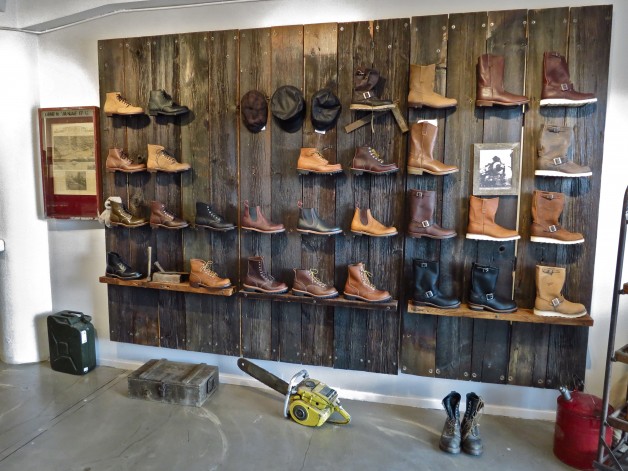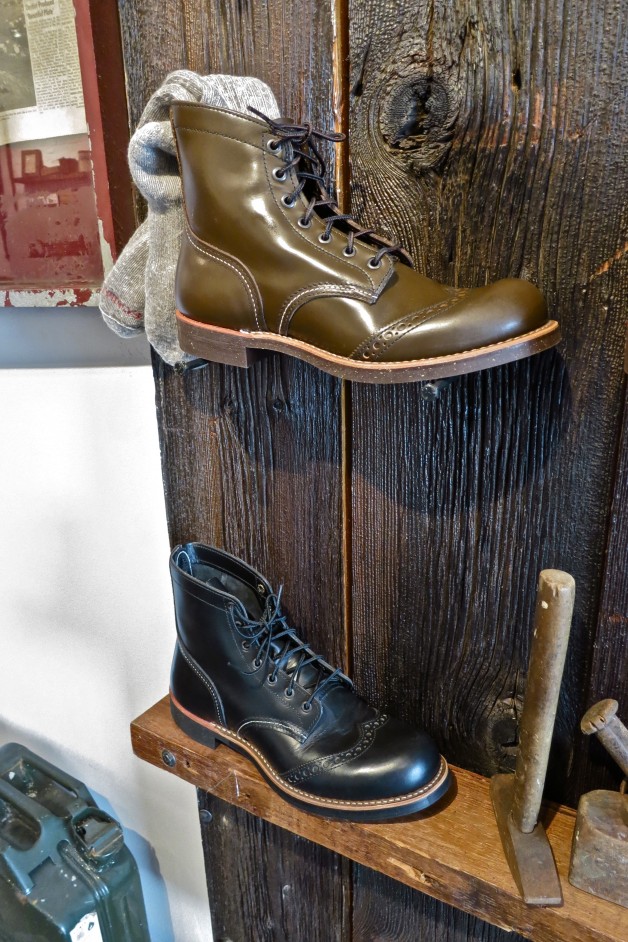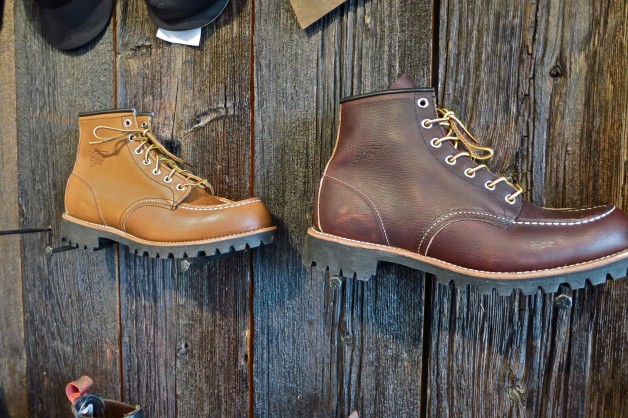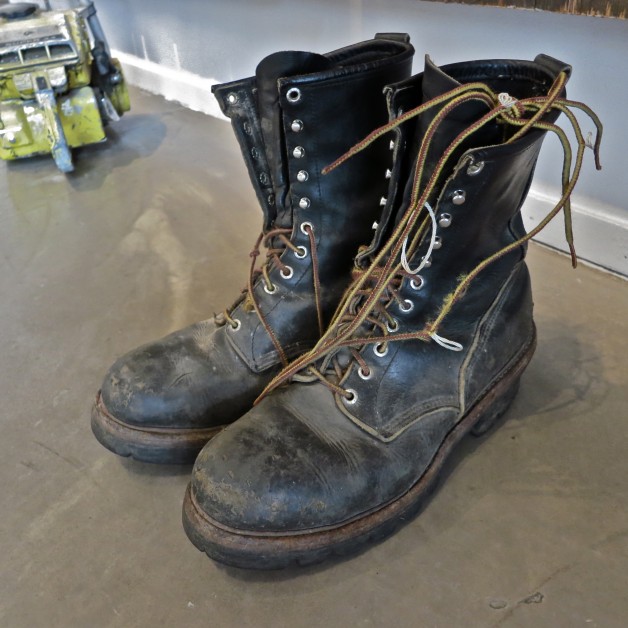 Authentically worn.
Red Wing is still struggling to convince customers in Europe that Moc toes and Iron Rangers can be worn all year round. Often Red Wing are associated with winter and snow, and true be told they are excellent for such conditions with a thick wollen sock, but they work just as fine during spring and summer with a thin sock. The new hand sewn in Maine collection is a response to demand for lighter shoes from customers.
The underlying question is how to improve Red Wing sales in the summer? The answer may very well be education and in time we may changing the European "boot culture," but it takes time and a lot of hard work.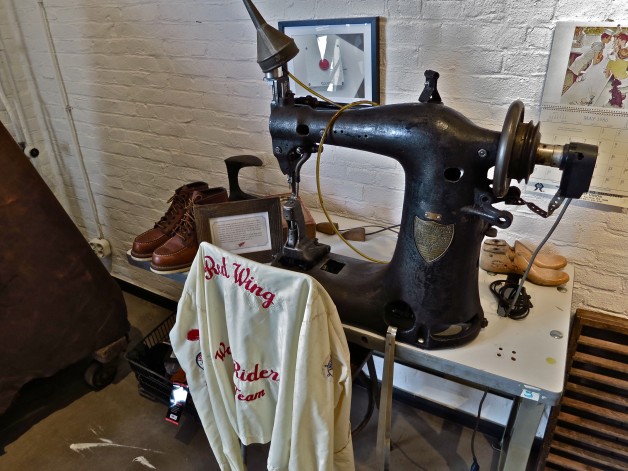 This is an old Puritan triple stitch machine.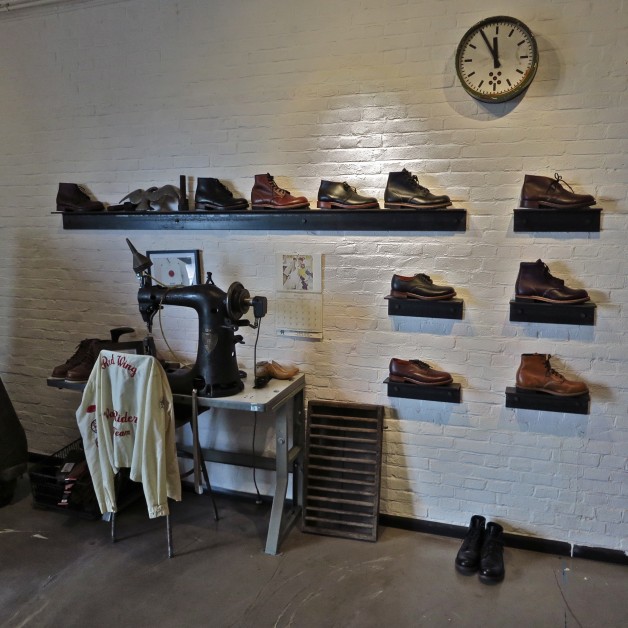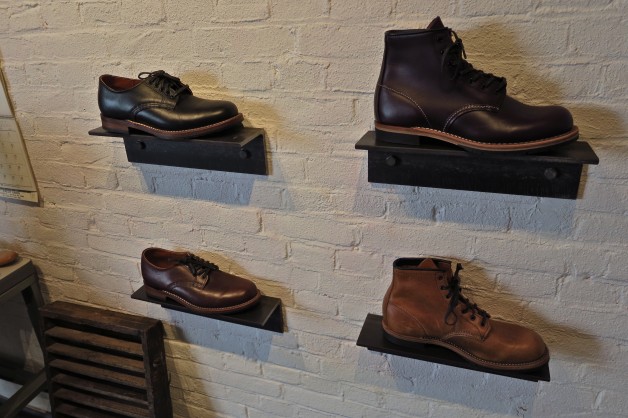 The Beckman collection.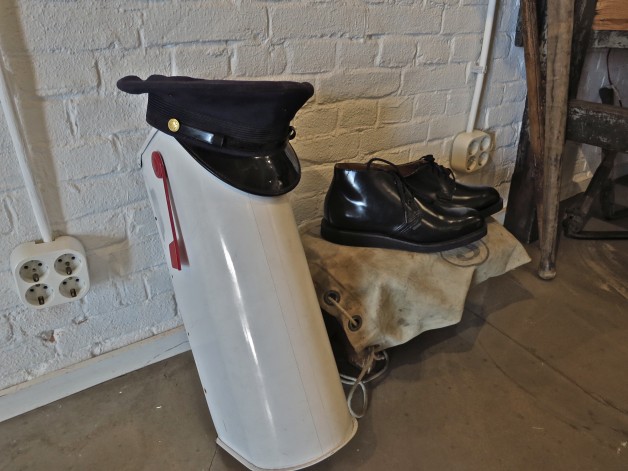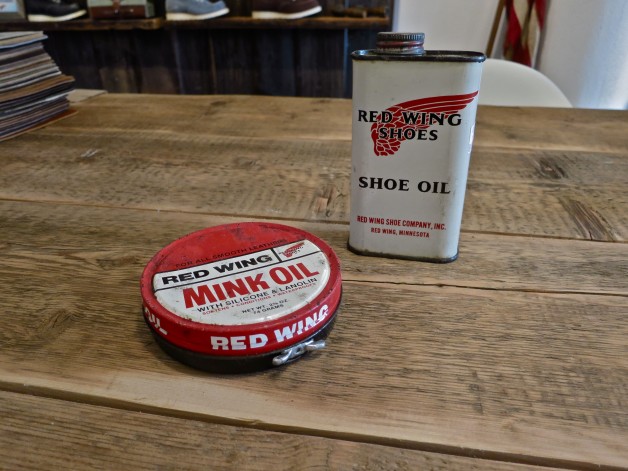 Original containers for care products.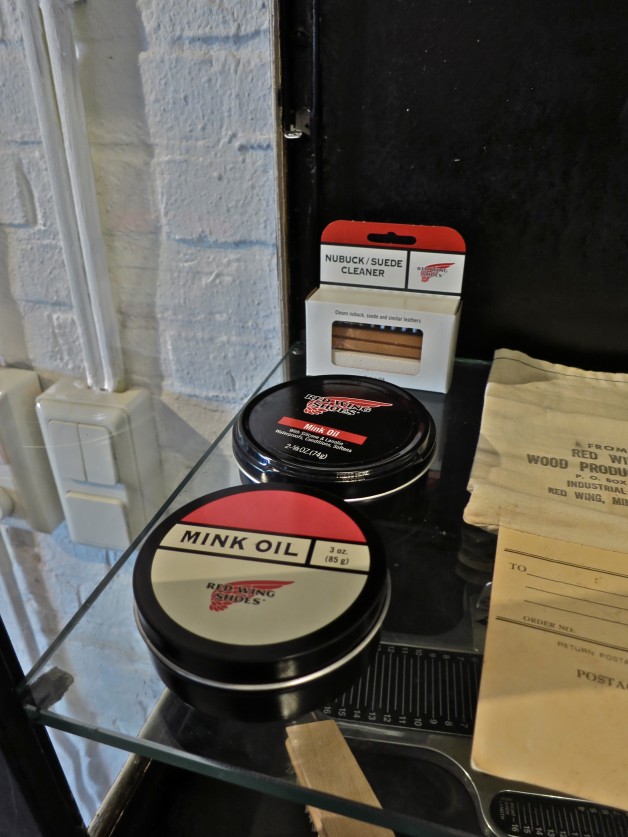 Designs of the new containers were done by the Japanese Red Wing division.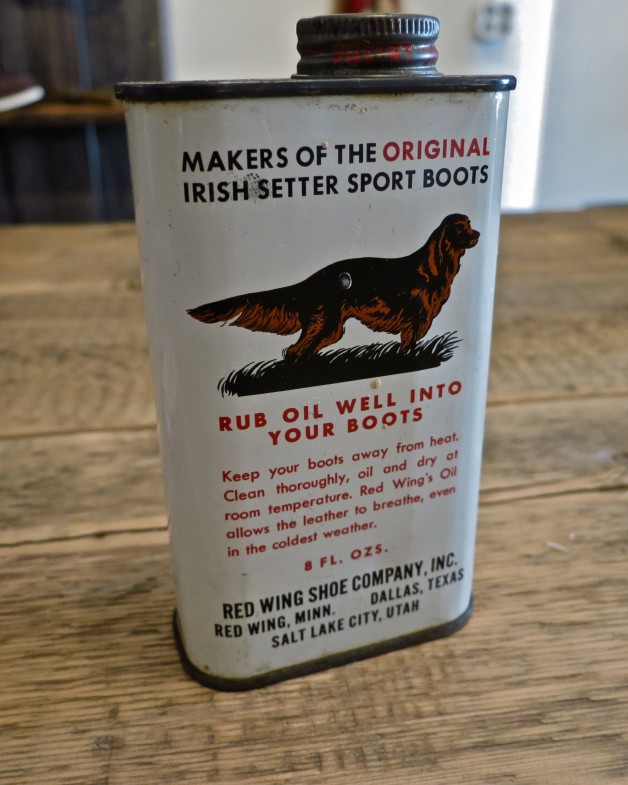 This container was bought in a vintage store in the town of Red Wing for $20 – without content. That's probably ten times original price.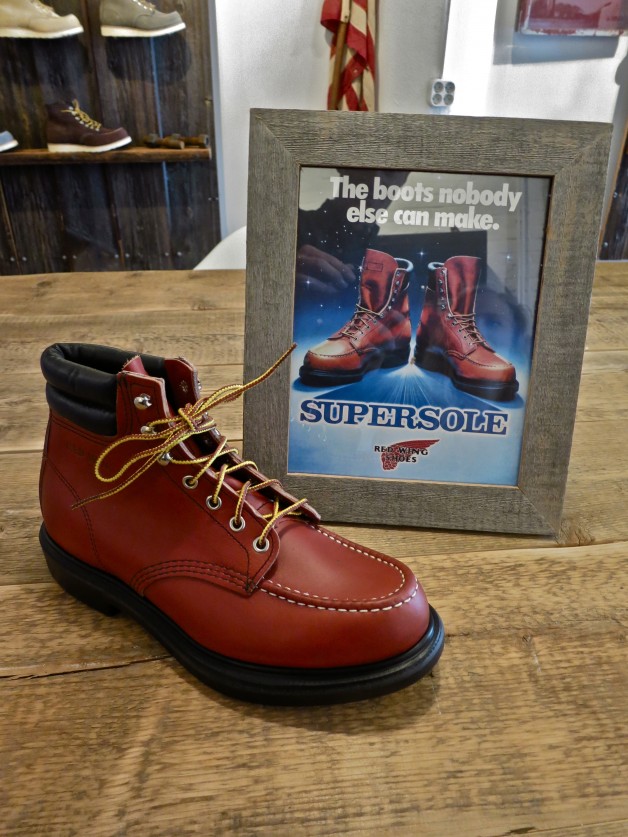 The Super Soles are back. These boots are made using a production technique unique to Red Wing. The sole is made from a mold to which a liquid material is added and the upper leather of the shoe is then put on top of it, and when the mold is then removed the liquid stiffens within one minute.
The SuperSole has high durability, improved cushioning and flexibility. Also but not least it is oil resistant, which led it to become the industry leading work boot platform soon aftter its introduction.
"We developed our SuperSole as a lightweight alternative to rubber many years ago. Besides lightweight, benefits are cushion comfort, good slip resistance, oil, gas and chemical resistance. As you probably know, we have had great success with it in the oil & gas industry as well as several other industries. It's a polyether urethane compound that is resistant to hydrolysis. We attach the sole directly to the welt which (as far as I know) is still an exclusive way to attach urethane to a welt."
It was first introduced in 1977 as the "Super-Durable Blown Urethane", and is a technique patented by Red Wing. The SuperSole® name is also registered by Red Wing. Today's Supersole® , which was introduced in 2000 has a unique dual density construction: cushioning interior with a tough outer skin. The combination yields all-day comfort with long lasting durability.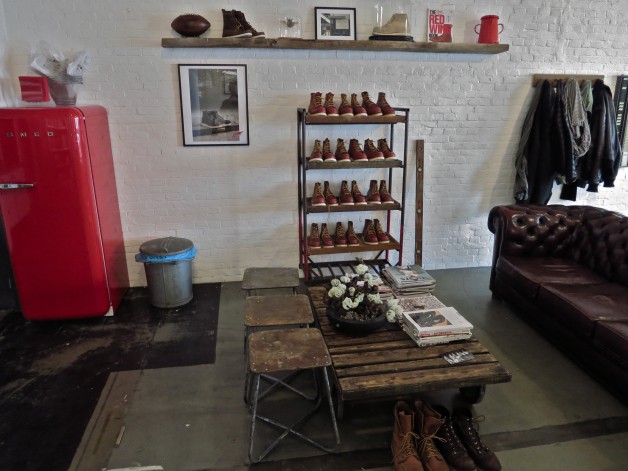 The office outside the showroom.
Written by Thomas Bojer.