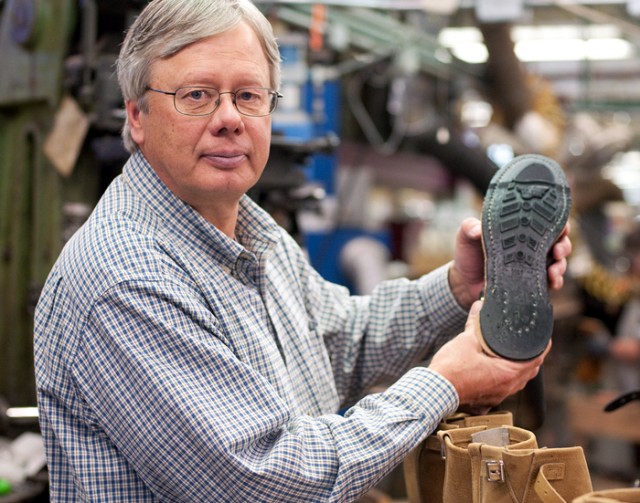 'What's going to be the next new thing from Red Wing Shoes – how is the brand going to stay ahead of its competitors with new innovative styles while remaining honest to its core values?' The man with the answer is Dave Hill, director of product development for the Heritage division of Red Wing Shoes. In 2005, with 31 years of experience under his belt indirectly taking part in the production of Red Wing boots, Dave left the S.B. Foot Tanning Company and joined Red Wing to help build the international business with the Heritage collection. Back in October, I met Dave when he visited Copenhagen. Here's his story.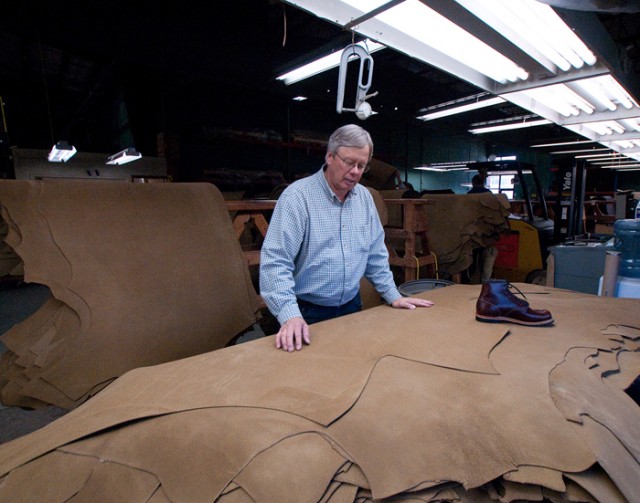 "They brought me over to Red Wing to have me help them with product development", Dave explains. With a background in industrial engineering, Dave started working for S.B. Foot Tanning in 1974. He has worked as a sales representative, then marketing manager regionally in the East, and finally director of marketing for the company, and through the years he built valuable relationships in the business. "I travelled Europe a lot in the 80s and the 90s along with the east coast of America, so I had a wealth of experience working with the shoe business, the leather business, shoe finishes, suppliers and all that. They thought it would be a good fit to have me help build the international business with the Heritage collection."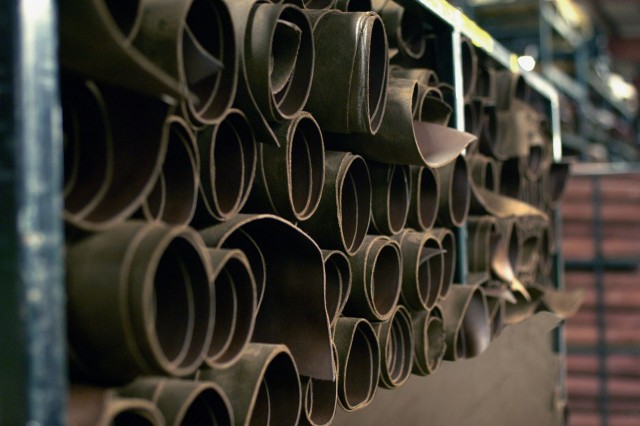 "Like most companies to this day, the Red Wing Shoes Company was trying to figure out how to grow and how to become stronger. We were really ahead of a lot of American companies as we decided to grow internationally. So in 2004, Red Wing Shoes decided to have a separate Lifestyle division (called Heritage today), which was going to capitalise on all our core products."
"Red Wing had a presence in Europe, there was the store in Frankfurt, which was doing great, and between Frankfurt and Hamburg Red Wing always enjoyed a nice, steady business with Heritage-type products. We've also been very strong in Europe in the oil and gas industry with performance work footwear. And we had a long-standing, loyal and profitable relationship with Midori, the distributor of Red Wing Shoes in Japan." Historically, Japan has been the largest market for heritage-type Red Wing products, a position the country upholds with the Red Wing Heritage division. The Red Wing Shoe Company-Japan was founded in 2005; it has grown by operate with complete business, sales, marketing and repair teams.
Ironically, America was the last market for the Heritage division to enter, and because there's so much price sensitivity in America Dave and his team thought, 'who's going to pay for this stuff?' But with great retail partners and a the general shift in values, the Red Wing brand is now resonating with people as they've realised the value of the 'Made in USA' label. "Some think of Red Wing as a fashion brand, we don't try to be that, we just are," as Dave puts it. Today, North America is growing very strongly with double digit growth rates every year.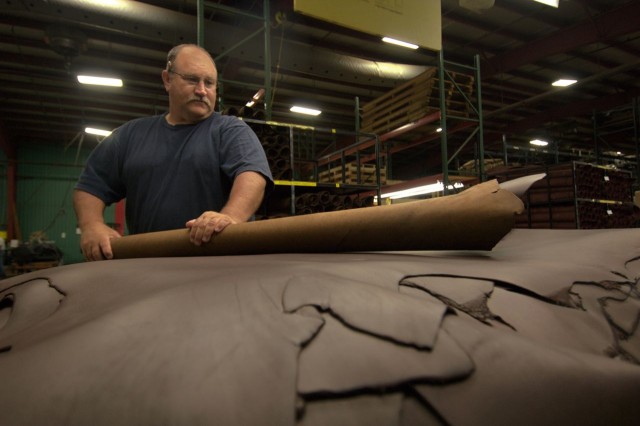 What's the next big step for the Red Wing Shoe Company?
"For Heritage, we're constantly looking at what makes sense for the brand. If it doesn't look like a Red Wing we have probably missed something. Soon we will be introducing a new construction type and new outsoles that allows us to take some of our silhouettes and make them lighter and more flexible. It's probably going to appeal to a slightly younger audience that grew up wearing sneakers. The challenge is to create something new without straying too far away from who we are. But we've got some really cool products that we are working on right now that will help grow our business and still be true to the brand."
"For the company, believe it or not information technology is very important. With all the components it takes to make the shoes it's a challenge to have it all fit together. Also, we now have three full-time demand planners doing forecasts."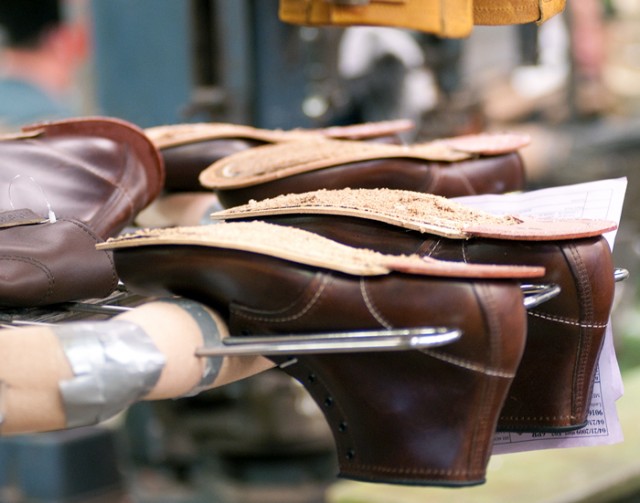 Do you remember your first pair of Red Wings?
"Yeah, and it goes back to 1968, I believe, I had a pair of hiking boots that my family gave to me as a gift and I still have them – they don't fit me anymore as my feet grew as I grew older."
How many pairs do you have in your private collection?
"I should know that, probably somewhere between 15 and 20. What happens a lot times, because I'm a size US13 I get asked to 'wear test' the size and as I have creative license I'll also try out new and different combinations," like he did with the Copper Rough and Tough Chukka below.
Do you collect anything else?
Golf stuff, I love golf. I've been very fortunate with my health and it has allowed me to continue to play golf. I collect all the scorecards – sometimes the numbers aren't that good, but I keep them anyway. I played basketball for a long time, so I've kept a lot of the programmes related to sports."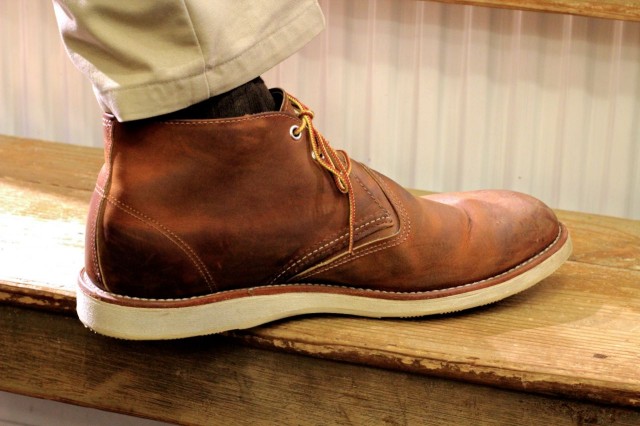 What do you love the most about Red Wing?
"I love all of it. The town of Red Wing has been my home for several years; I met my wife there and raise a family in Red Wing. Working for the Red Wing Shoe Company, it's such a powerful brand and it means so many different thing to a lot of people, but the fact that we're still in business for this long, doing the same thing for so many years and that we've stuck to our core values that's what I love."
"Another thing I love is the loyalty in the work force, there have been generations of families that have worked at the tannery and the factory, and that to me speaks that they must be doing something right."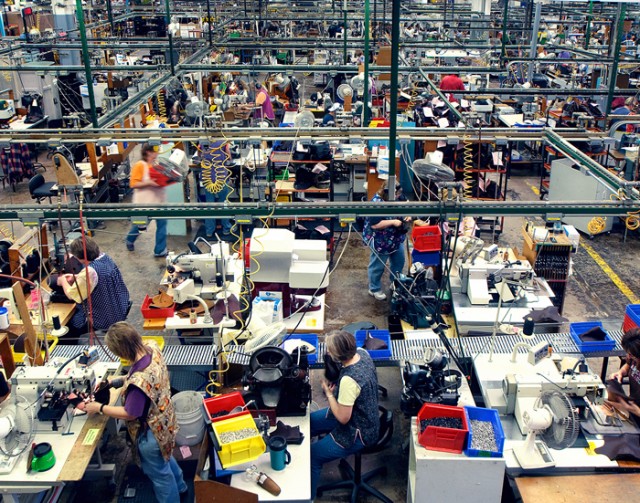 Photography credits: the S.B. Foot Tanning Company archives and Randy Douglas of the Inventory Magazine.