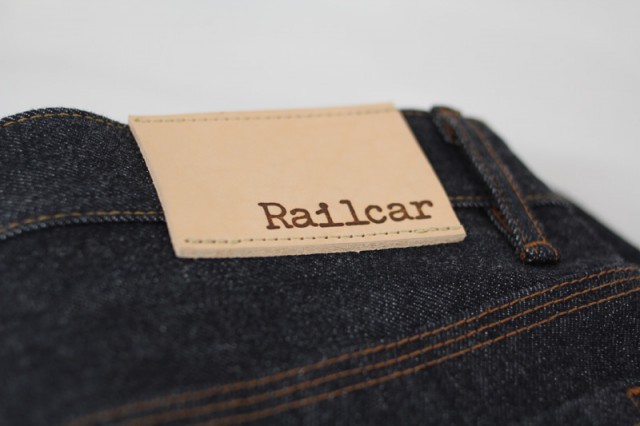 Over the last six years Steven Dang has been busy. He has built a brand that employs 5 people full time with a dedicated factory space, which produces several cuts of jeans for both men and women, graphic t-shirts, bags and accessories. Railcar Fine Goods has gained a well deserved international recognition for its resolute adherence to quality and craftsmanship. An impressive feat I am sure you will agree. It is even more impressive when you consider that Steven also has a full time job as an engineer repairing passenger trails. Coming from an engineering background however gives him a unique perspective when it comes constructing a garment. It is truly the old adage that form follows function. Even stitch in a pair of Railcar Fine Goods garments has a function; there is nothing superfluous, nothing whimsical. Steven had a chat with us to further explain his concept of a "built" pair of jeans.
You clearly have a passion for clothing, how did it all begin?
"I have passion for clothing, but not just clothing. I have passion for everything made well with style. Whether it's cars, or motorcycles, or the remodel of a house; I like things made well. As for the clothing part, it's the same. I like having high quality, nice looking clothes. So that's what I bring with Railcar. Well built nice clothes."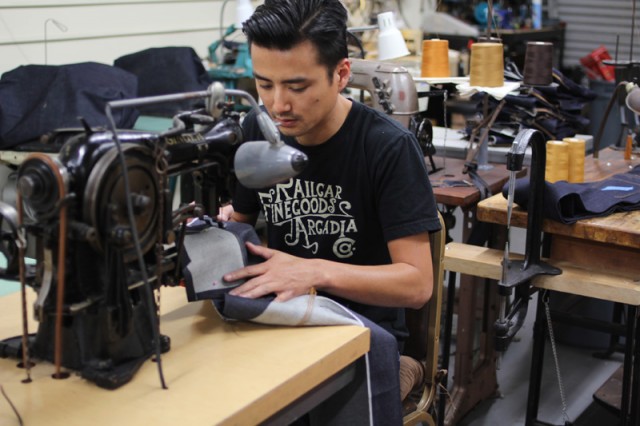 Do you remember your first pair of jeans?
"I actually don't! I really don't have a cool story of my first pair of jeans or a pair of jeans that changed my life as a child. And that's why I make jeans now as an adult. I think the only thing I can say about having jeans before I made them is that, before I made jeans, I really couldn't find a pair of jeans I really liked. I can remember packing to go on vacation, looking in the closet, and having nothing I really wanted to pack. Just crap in my closet."
What do you love the most about denim?
"What I like most about denim is its strength and style. As for the strength part, I'm a mechanic, builder, and blue collar worker. So with everything I do, I need a pair of pants that can take my day to day work life. Something I can abuse. For the style, I like it because the more jacked up and worn it gets, the better it looks. It's not suppose to be a perfect fabric. The denim top surface dye is actually pretty delicate. That's why every pair of jeans worn get different fades. You can rub it with a white piece of paper and the blue will come right off. But the cotton yarn under it is very strong and breathable. So if you put both the strength and style together, and use the jeans for what they are intended – just wearing the crap out of them – it's pretty much automatic you'll get style out of it. Best of both worlds."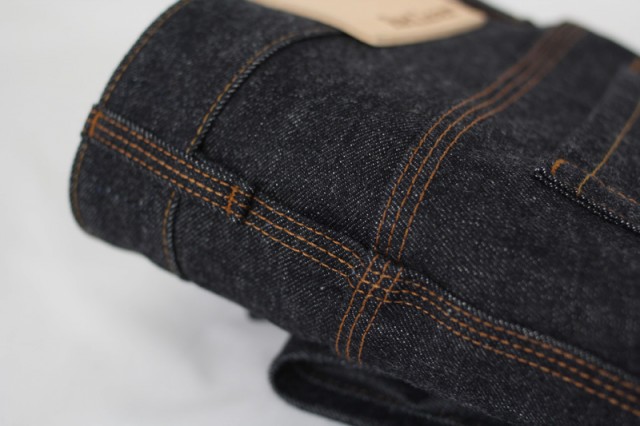 What is the concept behind Railcar Fine Goods?
"Railcar Fine Goods concept is very well built goods made traditionally on manual and vintage industrial equipment that uses the best materials in the world. We stand proud of this. We make all of our goods in our own workshop in Arcadia, California. It's open to the public; to visitors. We don't just have some subcontractor make our goods and slap a "Handmade" label on it. We actually are the builders, and do what we claim. The concept with Railcar is that the customer gets the real thing."
What is your background?
"My background is not in clothing or textiles. I was not born into the garment industry. My mother retired as a government worker and my father is a mechanic. As for me, I am also a full bore mechanic at the Los Angeles Metro fixing passenger trains and studied Electrical Science by trade. That's currently my day job. Back when I was thinking of the name for my upcoming jeans company, I was at work. And I looked at a train and said, "Railcar!" And that's where the brand name came from. 6 years later, I have a 50 hour work week jeans factory, 35 industrial sewing machines and 5 full time employees while still working the Metro day job. Hopefully sooner than later, I can make Railcar Fine Goods the full time gig."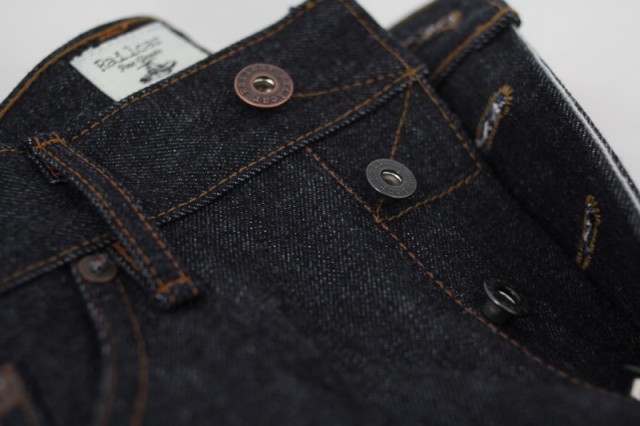 How did you get into the denim business?
"Through really hard work. 15 to 16 hour days for the last 6 years. Not even exaggerating. I still have 15-hour days."
What was your motivation to launch the brand?
"Making the best jeans at a reasonable price built better than other companies that cost more."
Why do you think denim has become so popular recently (over the past decade)?
"I don't think denim got more popular. I think the public just got more aware with the quality. Although the 'denimhead' brands of jeans are still in the $200 range, I think the public knows they are getting more quality of them. Instead of just looking at the price tag of any brand jeans and automatically assuming it's good quality because its expensive."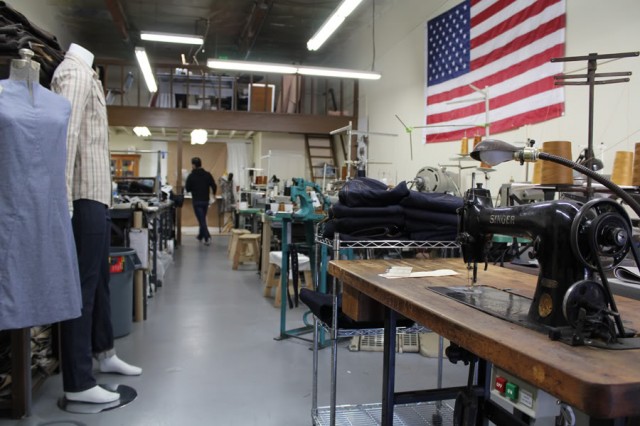 How do you wear and treat in your dry denim jeans – any special routines?
"Wear the crap out of it. The more they are worn the better they will look. Wash them in the sink by hand and lay out to dry when they are dirty. The time it takes for you to do a hand wash in the sink should take less than 5 minutes. If it's taking you longer than 5 minutes to wash your jeans, you're doing it wrong. Don't go years without washing your jeans. That's not the point. The real point of this whole thing is seeing your jeans fade to your normal life."
What do you recommend your customers to do regarding breaking in their jeans?
"Buy the jeans so they fit snugly. But not so snugly that you can't eat with them buttoned up. If your voice is at a higher pitch when you get fitted, then it's too tight. Wear them as much as you can so you can start the bleeding process. Don't sit on white couches. Also, if you have light coloured automotive upholstery, lay a towel on your seat for the first week or two so they don't bleed on your seats. After about 2-3 weeks you're good to go! Wear them doing everything. Do your first hand sink wash at 2-3 months with only two table spoons of detergent, and lay them on the counter to dry."
Do you collect anything (other than denim)?
"I collect classic cars, motorcycles, and tools."
How many pairs of jeans do you have in your private collection? 
"Actually, I don't have a huge private jeans collection. I only have about 5 jeans in my closet. I wear Railcar Spikes X001 nearly every day."
Which pair are you most proud of?
"The Railcar style I'm most proud of is our men's Spikes X009. That jean really tests our skills at the shop. It's not too crazy heavy, but its 16 oz. with a tight yarn weave. Very hard on the machines and needles. Very difficult to make."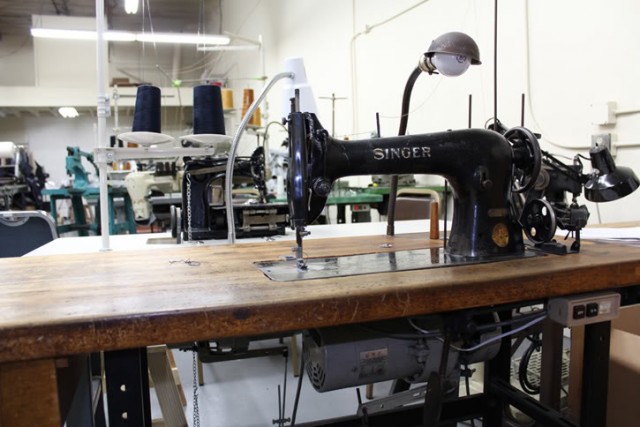 Are there any up-coming or unknown brands that you think are worth looking into?
"I really don't know. We spend so much of our time in the workshop everyday that we don't really have time to see what other brands are doing. We are also pretty far away from downtown Los Angeles, so we're really not too exposed to other brands."
Where will Railcar Fine Goods be five years from now? 
"We will be doing the same thing! Hand-built, high quality goods! But hopefully on a larger scale."
All Railcars products are available through their webshop as well as a wealth of information on the jeans fit and sizing. There is also an active community springing up with a competition pair for 2013 (sadly already sold out) having been specially produced.