Filson: Made For Life In the Open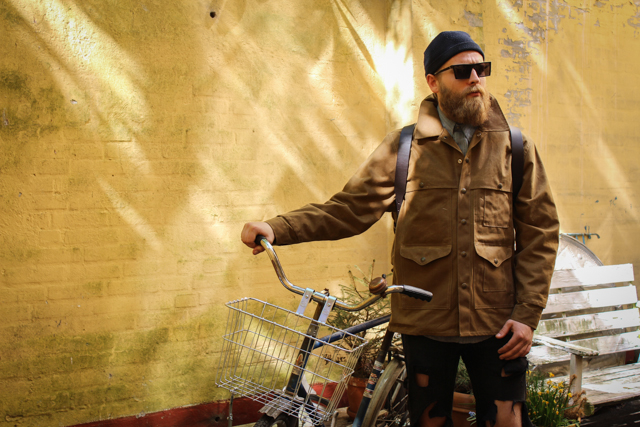 'You Might As Well Have the Best' is a slogan that says it all. Well, now 'the best' got even better. The historical American outdoor and workwear brand Filson relaunched itself earlier this year with a discretely and contemporarily updated luggage and apparel collection comprised of both their iconic classics and all new designs. We visited Filson to have a closer look at the offerings, and let's just say we're impressed.
The revamped concept builds on Filson's heritage, including an even stronger emphasis on 'Made in Seattle' products – and don't worry, you'll still be able to get all your favourite classic styles. The complete collection of both luggage and apparel will be grouped into three conceptual collections: 'Core' focusing on the iconic core styles of the brand; 'Seasonal Core' comprised of essential Filson styles in updated fits and fabric; and 'Concept' that offers completely new styles. The clothing line has also been subject to a tripartition and is now divided into the classic looser 'Archival fit', the standard 'Guide fit', and the leaner tailored 'Scout fit'.
The diverse luggage collection offers almost any imaginable bag including backpacks, tote bags, duffles, and of course the orange gun case (which as been renamed and repurposed to an iPad case).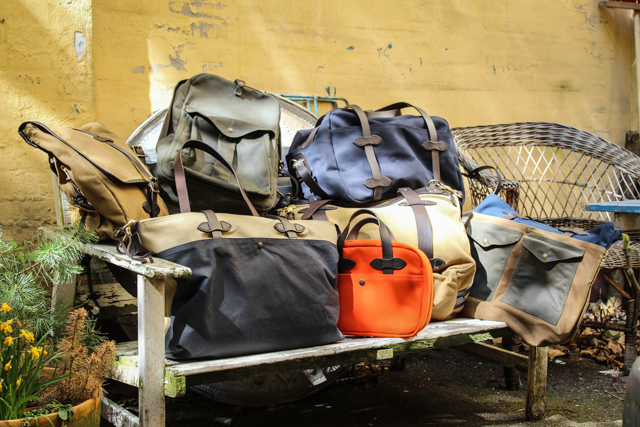 The man with the ideas is former Senior Vice President of Levi's XX, Maurizio Donadi, who quit his corporate Levi's job last year, moved from Amsterdam to sunny California and founded his own consultancy firm together with his wife. Donadi was brought in by the Bedrock Manufacturing Co., owner of Filson, and in a matter of a few months he has turned the brand around to allow it to evolve in an honest way that simultaneously pays respect to both the past and the future. As Donadi puts it,"our responsibility is to bring that quality to even more exceptional levels and build stronger hunting and fishing stories but, at the same time, play in the urban landscape because the world is changing and Filson is not to be confused with a trend."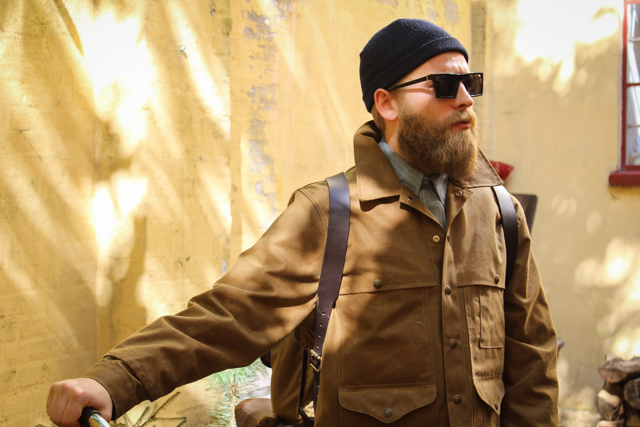 The shotgun pocket on the 12.5 oz. Tin Cloth guide fitted Cruiser jacket is a prized Filson detail. If you don't own a shotgun to stuff in there the pocket also fits your gloves, beanie or similar, which may come in handy when biking. The Tin Cloth backpack comes with a detachable iPad or tablet case.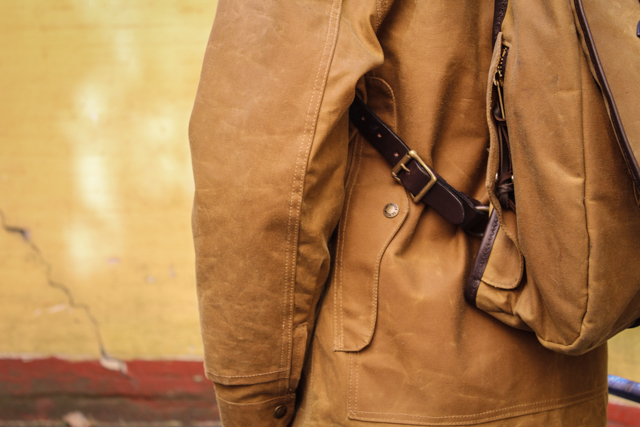 The Pullman bag below is a functional classic of the Filson Core luggage line-up, it's big enough the fit whatever you may need for at least a week on the road, but it can get heavy as hell. The famous 22 oz. Rugged twill fabric and the bulky bridle leather guarantees that the bag will withstand even the toughest wear.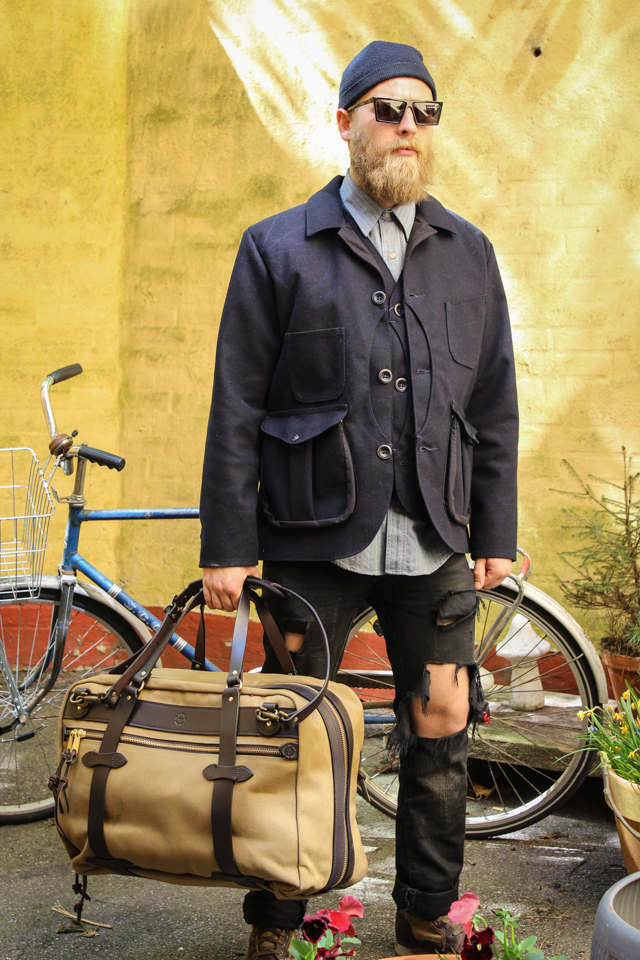 The Medium Tote With Pockets from the Seasonal Core luggage line combines all three of Filson well-known fabrics, Tin Cloth, Shelter Cloth and the Rugged Twill in a functional and understated tote for the urban outdoorsman – be careful your girlfriend doesn't nick it for shopping.
The tartan Guide vest of a 6 oz. oil finished 100% cotton fabric is part of the Concept line while the indigo dyed herringbone Scout shirt is found in the Seasonal Core line.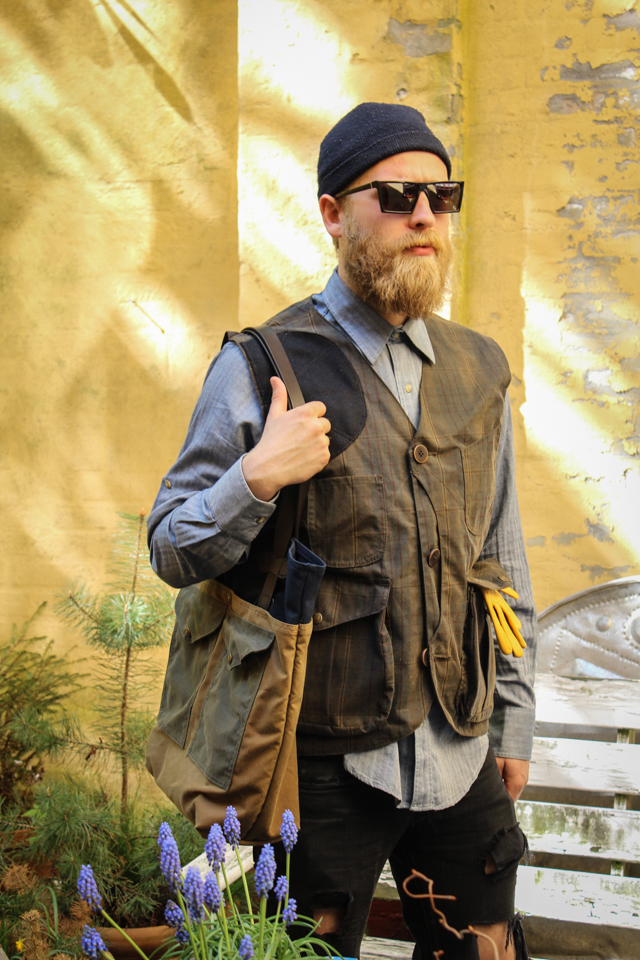 Filson's 'one hand snap pocket opening' detail gives you easy access to whatever you might be carrying in there.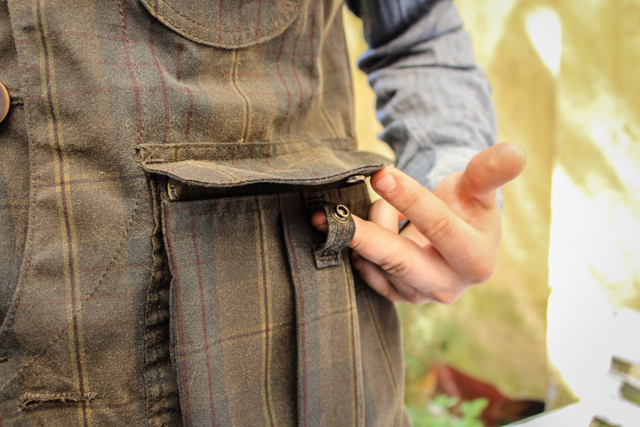 The guide fitted 6 oz. Cover Cloth Weekender coat of the Seasonal Core line is the obvious candidate to become a new-classic Filson bestseller. The collar and the handwarmer pockets are lined with moleskin and the heavy two-way brass zipper allows you keep the jacket firmly in place while getting a little air under it.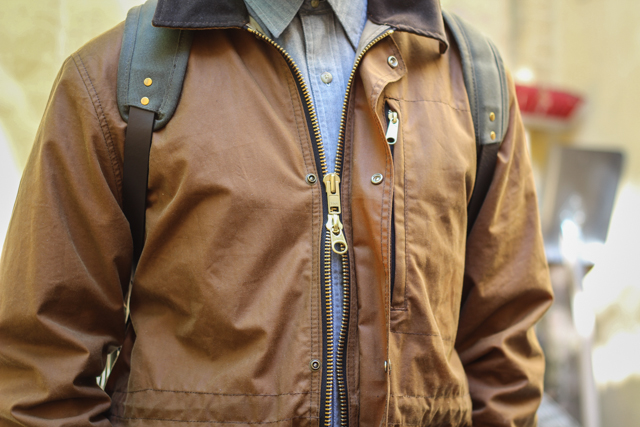 The Twill Backpack of the Seasonal Core luggage line has a padded built-in computer sleeve to keep your laptop save and it fit very well on your back.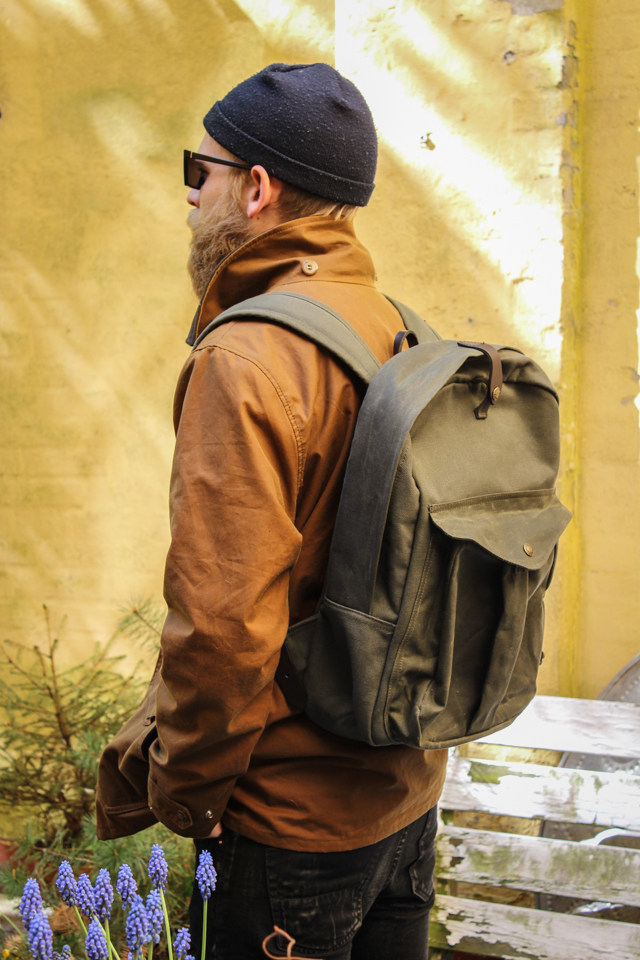 Have you ever dreamt of a blue Filson bag? Well, now you can have it. From fall 2013 the medium Duffle bag, the Original Briefcase, the Padded Laptop Bag, and a few other Core luggage icons will be available in a fresh navy that matched the dark brown bridle leather very well. The lined guide Cruiser jacket is made of Filson's 24-26 oz. virgin Markinaw wool.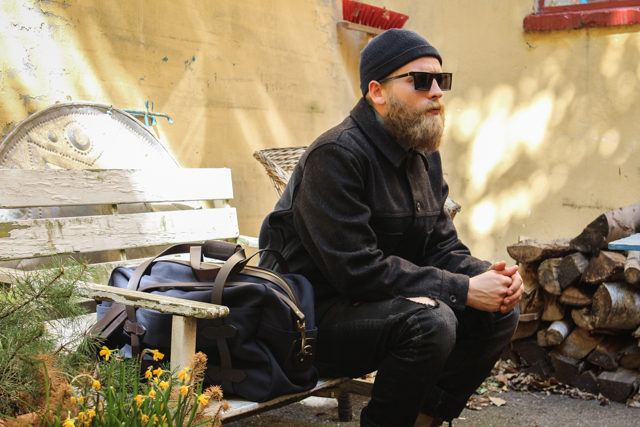 The Large Zip Tote gives you even more room to carry all your belongings while the two-way zipper keeps them from falling our or getting wet.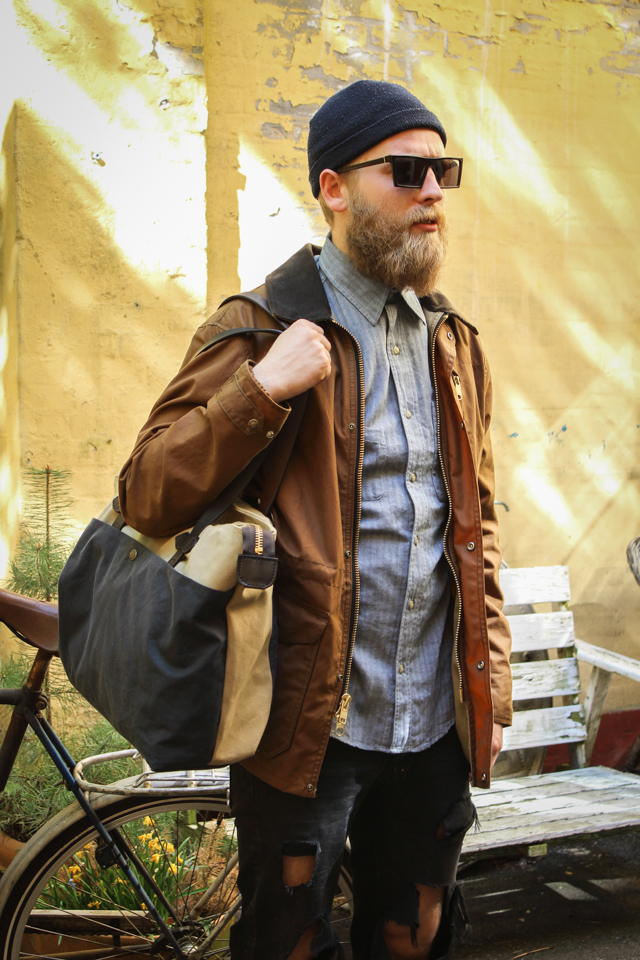 The Oregon Trail jacket is part of the Core line while the orange gun bag has been repurposed as an iPad case with moleskin lining.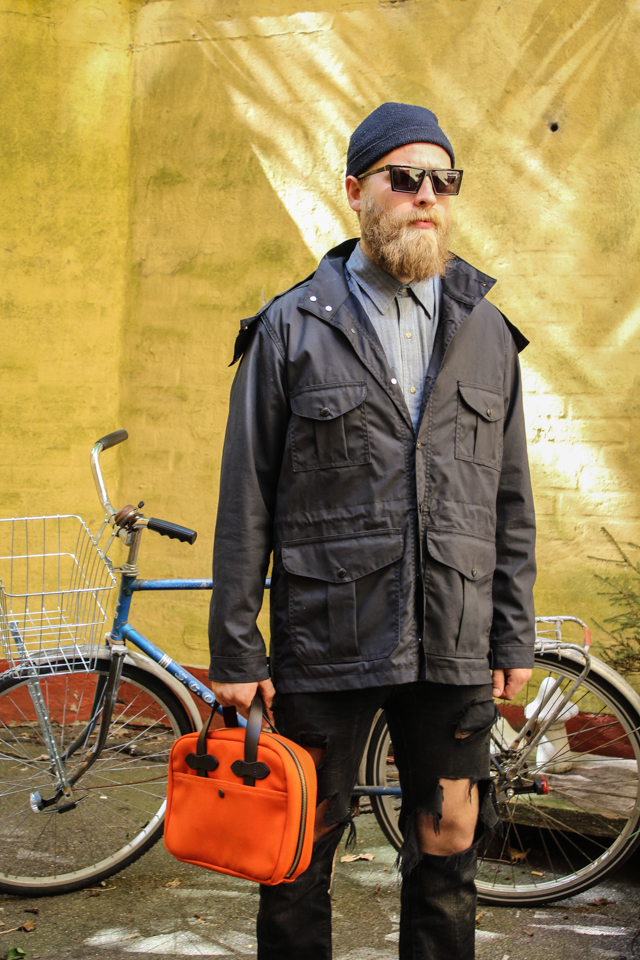 The new Filson collection will hit the stores this fall, so watch out for updates by your local supplier. Of course everything above will also be available in Filson's website.
Filson Giveaway (May 13 – June 2)
To give all of our readers a chance to get their hands on a Filson bag we are giving away a Tote Bag With Zipper style #70261 in tan sponsored by Filson.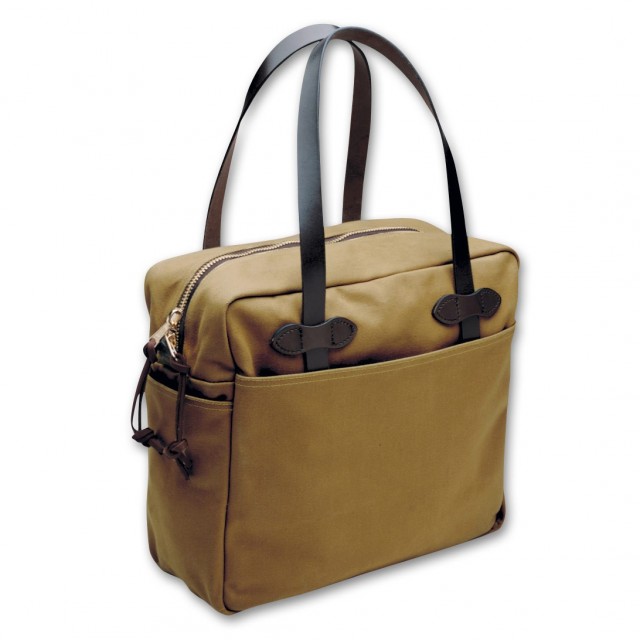 All you have to do is:
1) Follow Rope Dye on Instagram (here)
2) Upload your best "life in the open" picture to Instagram
3) Write #filson giveaway at @denimhunters in the caption box along with a short description of the picture
4) Share the picture on your Facebook profile
Your picture could be of your recent early morning fly fishing trip, of your visit to the Grand Canyon or even of the setting sun from your rooftop terrace. In other words, anything related to the great outdoors. Pictures will be judged based on creativity and photo style, so be creative! The giveaway ends on Sunday 2nd of June, and the winner will be found through a "like"-vote on Facebook of 10 runner-ups. 2nd and 3rd place will each get a Filson wallet or cardholder.
It is very important that you put in the @denimhunters, otherwise we won't see your picture on our profile and we won't know that you're participating – and to get the link working you first have to follow Rope Dye on Instagram, which we're sure you won't regret.