Warehouse label Heller's Café Merge Heritage With the Contemporary in their New Jeans
As if more proof were needed that there's great denim coming out of Japan, Warehouse label Heller's Café have further cemented their reputation with the new jeans collection. I caught up Heller's Café founder, the "King of Vintage," Larry McKaughan to find out more about it.
Four New Fits in 12 oz. Denim
Heller's Café have released four new fits – ranging from the cinch-back 1930s cut of the Lot 1 to the skinny contemporary silhouette of the Lot 4. All fits are available in both washed and unwashed versions.
The jeans are all cut from sanforized 12 oz. denim. The fabric itself is alive with slubby character and has a wonderfully rough hand feel – something Warehouse have lovingly reproduced through tweaking the chatter on their looms.
Clever Details Such as Felled Selvedge Seam
As you'd expect from these guys, the attention to detail extends to the fabrication. One of the standout details is the single needle stitching throughout. Another nice touch is the felled outer leg seam, giving a single visible folded selvedge edge – a detail seen on vintage workwear, the felled seam makes it much stronger.
On Lots 1 and 2 there are also a riveted crotch panel. Across the range you find the one-piece selvedge fly. The scalloped back pockets are a nice touch and they're also lined with the same cotton used for the front pocket bags. The light yellow patch is deerskin and we're sure it will age beautifully.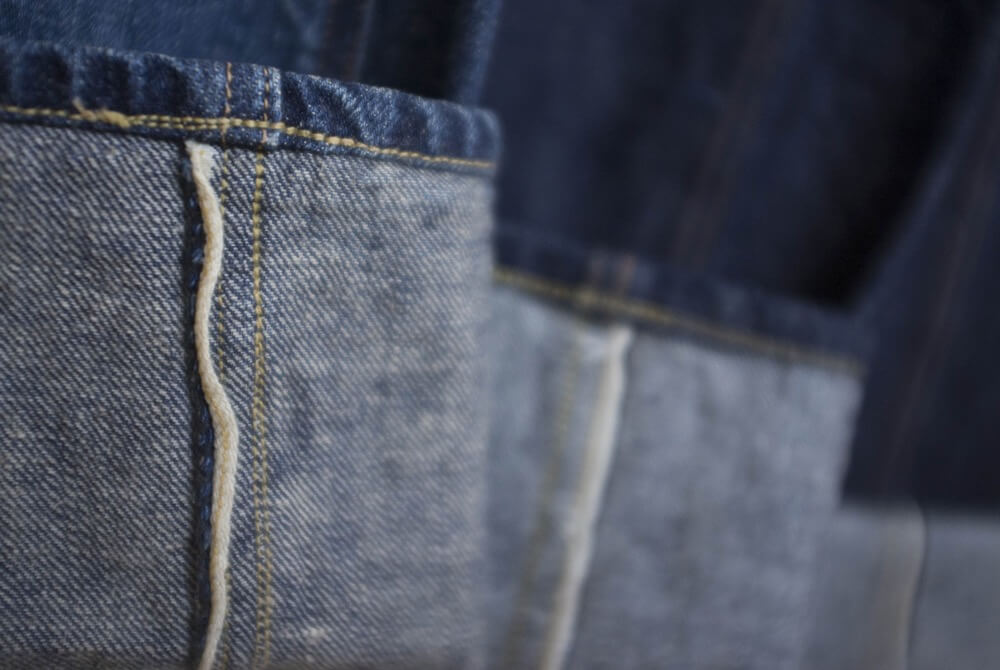 How to Tweak Vintage Into Contemporary
The collection may wear its vintage detailing on its sleeve, but as a whole it still has a very modern feel. As Larry explains,
"My inspiration behind Heller's Cafe collections has to do with what I sense is exciting for the market – and not only the vintage market. I look for what I find unusual and exciting in our collection and I temper that with what I think might be interesting or appealing for the new clothing market."
This translates in garments that have had the fits tweaked slightly to make them more contemporary. Like my favourite in the collection, the Lot 1, which sports a slightly higher rise at the back and a cinch, yet it has a much slimmer cut than the 1920s period jeans that inspired the design.
Getting a Vintage Feeling From New Garments With Washes
This idea also partly inspires the washed versions of the jeans. Normally we like to keep things raw here at DH, but this is very much Larry's way of experimenting with the Heller's Café range; to replicate the details of some of the pieces in his vintage collection.
As the man himself puts it, Larry wants to imbue, "some of the feeling to the new pieces that the vintage pieces have and to add life to them." The detailing on the washes even extends to heavily oxidizing the rivets and buttons. Whether you're a fan of prewashed denim or not, it is this dedication to perfecting the smallest detail that has always separated most Japanese labels from the others.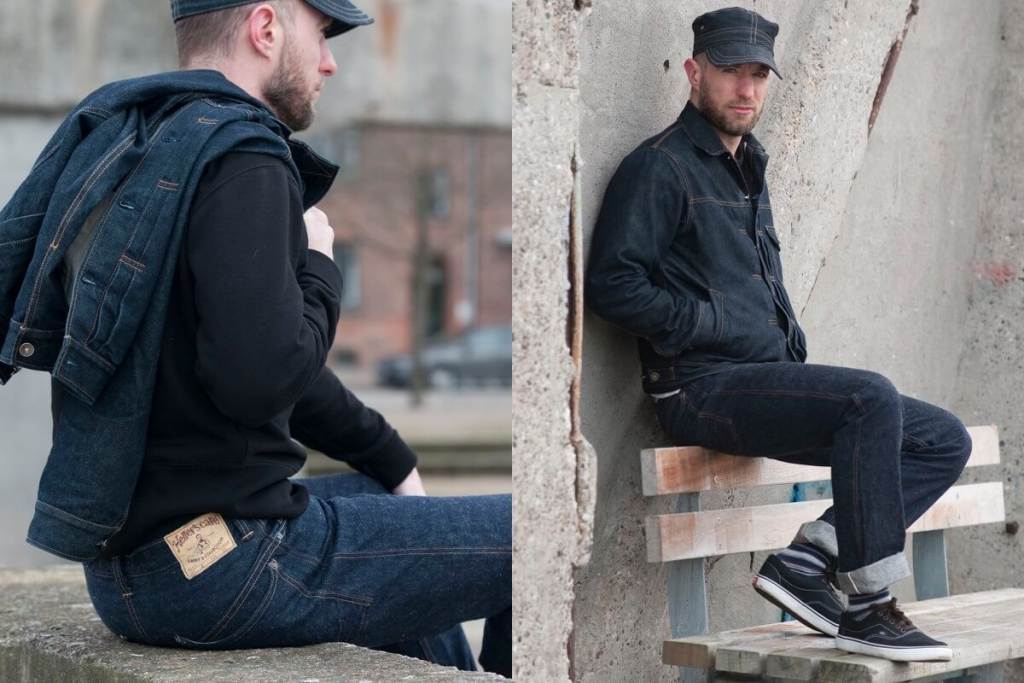 It's Not a Costume!
With so many heritage brands focusing on workwear, you might wonder what is it that sets Heller's Cafe apart? For Larry the answer is simple; he has dedicated his career to finding the best, most unusual and rare pieces in the world.
The Heller's Café collections are based on those samples and offer a line of clothing that is based entirely on authentic design from actual pieces in Larry's collection. As he argues,
"We commit ourselves to recreating that feeling. No other line of clothing has the experience in vintage and know how with production to do what we have done."
As you'd expect from the "King of Vintage," Larry has struck this balance perfectly with the new collection – giving us beautiful jeans with the all the period detail that vintage buffs will love, without falling in to heritage fashion trap of just producing costume.
The Future of Heller's Café Looks Bright in Europe
So what's next for Heller's Café and Warehouse? Larry wanted to keep future projects under his hat, but he did say that his anticipation is that Heller's Cafe will become a permanent part of the Warehouse brand and that HC, "will occupy a part of the brand that continues to offer the most unique and exclusive designs to the vintage lover and collector."
Excitingly Larry is also looking forward to opening more stand alone Heller's Cafe stores as well as "continuing to offer our product through other venues and expand." As a Europe-based denimhead, Japanese denim can be hard to get hold of, so this is good news.
Visit Heller's Café online here.
A big thank-you to Larry McKaughan, Masiki Fujiki & Keita Senzaki at Ebbets for all their help and time. Words and photography by Mark Larner.