The All-New Black Rabbit Menswear Collection, You Found It Here First!
To be honest, we're stoked. Totally, stoked. When we recently became Black Rabbit Menswear's first online partner, we saw the orders start to come in after about ten minutes, but we were absolutely thrilled to receive the green light to exclusively launch their new collection – Tranche II – not just online, but anywhere in the world!
Shop the Full Collection Here!
You can browse the full Tranche II collection here, but you shouldn't wait too long to put in an order for the gear you like as stocks are limited! As always, each of these beautifully tailored garments is backed by our best-price promise and there's free delivery anywhere in the EU and UK.
This spring/summer collection is, well, even better than the one Black Rabbit launched with last autumn, which our illustrious Deputy Editor, Matt Wilson, excitedly described like this when he first discovered Amsterdam's new menswear brand;
"I got a sneak peak and, man, it was hard to keep a lid on it. This gear is just downright f*cking cool. No other way to describe it. The fabric, the detailing, and the hardware is on point.

Combine this with the tailoring, silhouette and sheer practicality and you have a series of unique garments you just don't see the likes of."
The driving force behind Black Rabbit is the ultimate desire to create something entirely new using building blocks from the past. "To stand on the shoulders of giants", as they say. Series III military clothing with its mysterious, classically Soviet, cold-war era styling – is their "giant."
Black Rabbit's Tranch II Is Worth Every Penny
Quality tailoring comes at a price and Black Rabbit is no different. That's why it is good to know that the vast majority of these pieces are timeless and can be worn whatever the season.
With the launch of Tranche I last year, Black Rabbit manufactured a series of reissues from their Series III archive. With Tranche II, they continue in that direction while introducing remixed versions of their first collection.
As an example: their Torque shirt remains a 1:1 reproduction of the Series III original, while the Hokkaido pant, with its clever oriental pattern-cutting, becomes the much bulkier Hokkaido II, which has big cargo pocket placed right across the back.
In the same spirit, they have taken a Series III chino and added cuffs and a thick elastic waistband to create the Regulus. Likewise, Tranche I's Devil's Reef coat is lengthened to a 3/4 raincoat as the Devil's Reef II, executed in a highly-advanced synthetic "memory" fabric, while the Devil's Reef III is made from a soft cotton-linen fabric.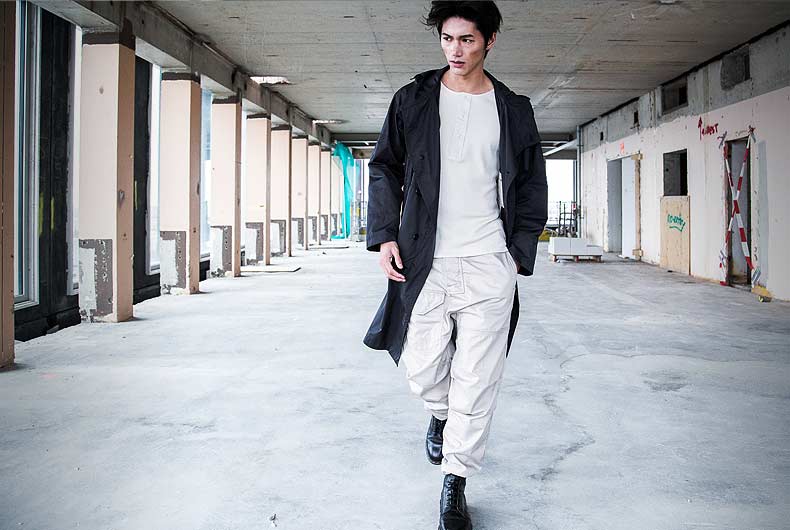 The Perfect Match For Your Jeans – But Don't Wait Too Long!
As time goes by, Black Rabbit's garments will further evolve, keeping their best characteristics and inheriting new ones. Appearing bluntly modern at the macro level and full of craftsmanship, detail and know-how when viewed up close.
Wear Black Rabbit with your best denim, wear it to impress and, above all, wear it with attitude.
As mentioned above, stocks are limited. Go on, treat yourself now in Denimhunters' boutique!