The Greatest Jeans Never Told: Norse Projects Jeans
This is a story that should have been told a long time ago, but wasn't.
It's a story about a superb line of jeans that strangely slipped through the cracks of an entire industry. Somehow denim bloggers across the globe just never got around to doing that one brand profile. Alas. But, let the sins of the past rest for now, because all that is about to change.
After three years in the dark, Rope Dye is here to flip on the lights for you. And no sir, we are not bringing you three year old denim news wrapped up as the new indigo. This is the story of the just updated line of jeans from the good people at Norse Projects. And the story about their line of jeans as such.
Read along for exclusive insights into a brand that is world-renowned for three things; functionality, quality, and tradition. All mixed with a twist of casual coolness, served to the world from the cold cold north.
It's all about ultra-modern classicism
Since the Danish brand was established in 2004, each Norse-collection has challenged the set standards in men's fashion. Reinventing classics with state of the art functionality, artisan quality, and a keen eye for the understated detail has been the main objective. All the while, managing to walk the thin line between the ultra-modern and traditional menswear.
Enter: The Norse Projects line of jeans.
As Norse explains, "the brand is very much built upon classic archetypal designs, so the first jeans were intended to reference the raw, dry goods feeling of the original American denim brands. We stripped away anything we found unnecessary and offered the jeans in three different fits."
This was back in 2010. The jeans were made in a plain white-lined Turkish selvage denim. With the recent update, which launched in November 2013, a redline denim has taken centre stage, and a fourth modern fit has been introduced.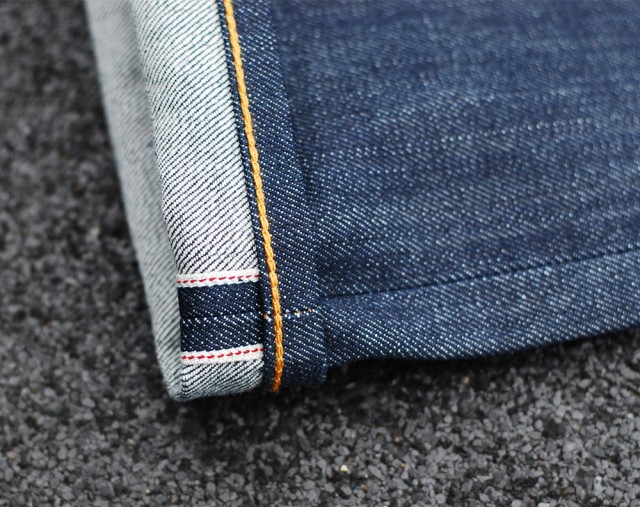 The four Norse fits:
– One Jean – Straight leg fit. This model has the most relaxed fit of all the models
– Two Jean – Slim fit. A lower rise and slimmer leg and hem
– Three Jean – Tapered fit. A mixture of One and Two, relaxed seat with a tapered leg and hem. This fit is based on the well known and very popular American icon.
– Four Jean – Skinny fit. A new fit introduced AW13. It's made of a Japanese 11 oz. black denim with 2% stretch. For occasions when indigo isn't right. This is the slimmest model.
The real biggie in the update is neither the introduction of the fourth fit nor a new selvage-line colour. It is the choice of fabric and the little details that truly stand out. Each fit has unique design details, like the shape of the back pockets, which set them apart from each other. The buttons and rivets have all been updated and simplified. A heavier pocket bag fabric and lined back pockets provide greater strength and durability. Other small changes are more subtle – such as raised fabric in the middle of the belt loops, to prevent excess wear on the stitching – but are equally as important for the overall quality. And the jeans are still made in Europe with a specialized denim factory.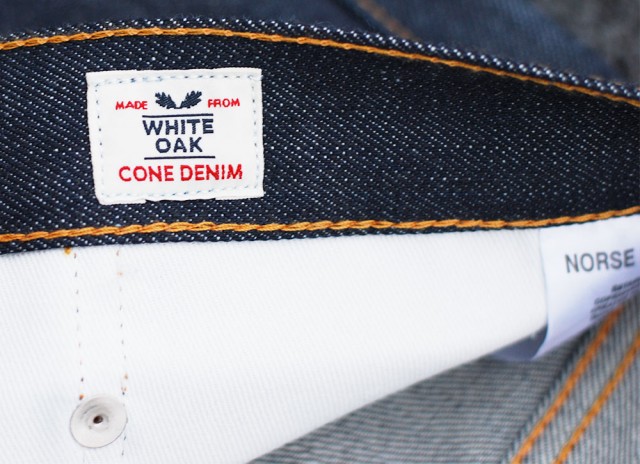 And oh yeah, the new redline selvage denim of the Ones, Twos, and Threes, is sourced from Cone Mills White Oak in North Carolina.
As all true denim heads will know, Cone Mills have been supplying some of the best American denim brands, such as Levi's and Lee, for decades. So it comes as no surprise that Norse Projects, with their focus on tradition and quality, have chosen this last American producer of denim for their jeans.
As explained by Norse Projects, "updating to Cone Mills White Oak denim was an important step for us."
"The idea was not to replicate a pair of old jeans one-to-one, but to use this classic denim which is in some ways the 'benchmark' fabric for such an iconic pant. When you see the White Oak fabric up close after some washing it breaks into an amazing deep blue colour, the fabric is a little rough and has great depth. We wanted to frame the unique rough feeling of the fabric in a clean and simple modern design."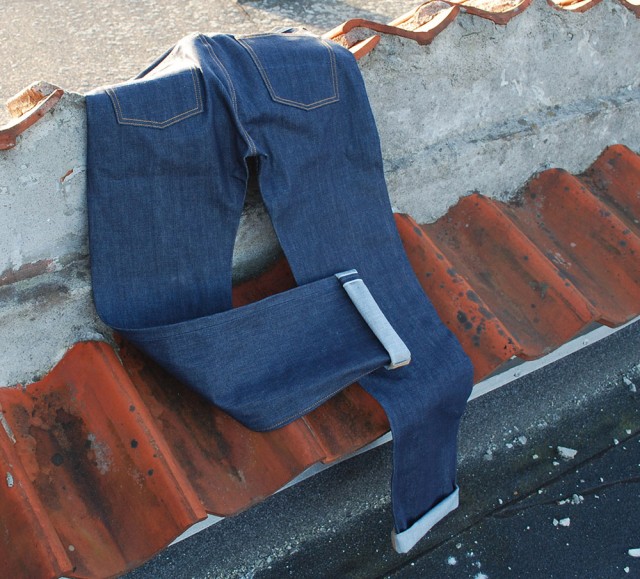 Facts about Norse Projects jeans (One, Two, and Three):
– Cone Mills White Oak denim
– 13.75 oz. 3×1 RHT (right hand twill)
– Raw, sanforized redline selvage denim
So, there you have it. Everything you need to know about the new Norse Projects jeans, which are all available for €161 (DKK1200/$218).
And for those of you who just can't be bothered with raw denim (if such a reader exists) Norse tells us that they will be offering the selvage denim in a rinse come AW14. But rather than waiting a full year to get the pre-washed jeans you could get the raws now and just rinse them yourself. Smart, huh? Or maybe just wear them raw for as long as possible before the first soak, as I will be doing with these Twos.
As if that wasn't enough to strengthen their denim profile, non-selvage jeans and additional black denim is also in the scope for the future.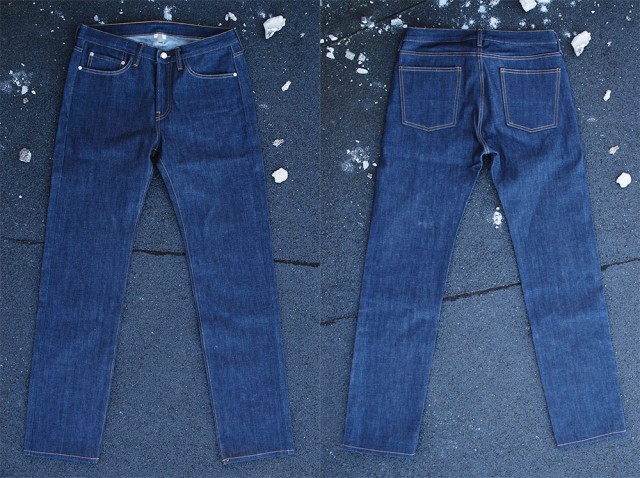 Conclusion: Three years in, Norse Projects have all but perfected the traditional jean. And from the looks of it, they are just getting started on their denim production.
In our opinion, this is truly something to be excited about!
Thus enlightened, will you be checking out the new line of jeans from Norse Projects? They're available at Norsestore.com, at the physical store in Copenhagen, and at premium retailers worldwide.
On that note I'll leave you to it.
Well, not before this small tip regarding sizing: The jeans do run a bit big, so my advice would be to size down one size. Or simply learn how to take your measurements properly (note to self).