How To Be Prepared For the Outdoors Even If You Live In a Concrete Jungle
How do you bring hiking and camping to the people living in a concrete jungle? Gene Han is a native Brooklynite with a penchant of the outdoors. Earlier this year he opened the shop Hatchet Outdoor Supply Co. in his hometown neighbourhood – a shop that seems to offer a solution to the question above.
Hatchet provides everything that one could want – not only be ready to venture into the wild, but also be able to do so in a practical and stylish way; something that is key for the area of Brooklyn Heights where the shop is situated.
Having a keen interest for the outdoors and coming from a big city myself, I was enthused to find out more about Gene's own experiences with the outdoors, what made him open his shop, and how he picks the items to sell there.
Read on and you'll find out.
A sound foundation
"The core concept behind Hatchet is to be a purveyor of quality gear and equipment for the outdoors," Gene explains.
The mission of the shop is to provide customers with high-quality gear that have a compelling story. Gene and his crew also seek to provide knowledge and help related to camping and hiking.
Gene acknowledges that shops like Recreational Equipment Inc. and Eastern Mountain Sports already offer something similar in Manhattan – but as he says "there's nothing of the sort in Brooklyn." Setting up shop Gene was very attentive to do it 'right' with the fashionable, knowledgeable, and sophisticated Brooklyn customer in mind.
But how do the Brooklynites react? As Gene puts it, "customers and neighbours who have discovered us love the concept!" And I can see why.
The shop surely resonates with many people as it reminds them of their youth. Many Brooklynites, like the inhabitants of most major cities, are transplants who are originally from more rural areas. They are usually pleasantly surprised to see an outdoor shop in their adopted borough, Gene argues.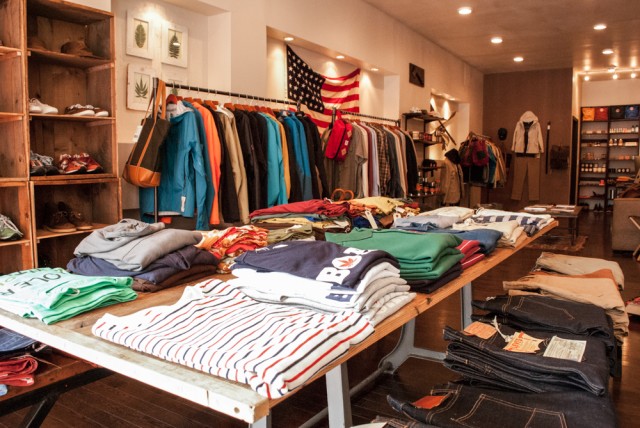 How do you decide to open an outdoor shop in very urban setting?
Gene had had the idea for an outdoor inspired shop for a few years. Yet it was this particular retail space that made him breathe life into the concept.
Gene makes sure that all the products Hatchet sells are made for the outdoors – or have an outdoor element to them. He also focuses on products that are made with quality and care. They need to be well designed and aesthetically pleasing too. And finally, all products the shop carries need to have a story that we can relate to or be inspired by.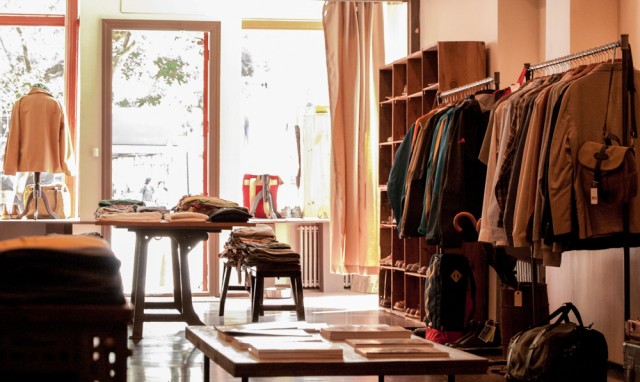 Boy scout memories
Gene was a boy scout growing up so he was naturally exposed to camping, hiking and the outdoors. Among his many fond memories of the outdoors he recalls one particular incident involving a bottom-less tent, chocolate candy bars, and a group of skunks.
"I was at a now defunct Boy Scouts of America summer camp called Treasure Island near Frenchtown in New Jersey. We'd sleep in old canvas tents that were more like tent flies. They had exposed bottoms. My tent mate at the time, Andy, had forgotten about the candy bars he had on him while going to sleep for the night.
I woke up to see Andy sleeping peacefully as 3-4 skunks were congregating around him looking for the source of the chocolate-y scent coming from our tent. They simply wouldn't leave and I was too afraid to try and shoo them away for fear of a skunk spray shower."
Needless to say, after staying awake for a few hours I fell asleep with Andy and the skunks in the tent for an uncomfortable night."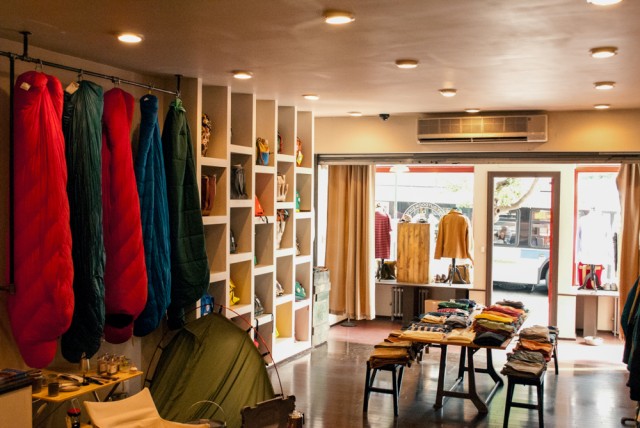 But how do you get latte-sipping fashionistas out in the great outdoors?
To give the city folks a taste of camping and hiking experiences, Hatchet plan to host clinics and events to make the customers more familiar with the gear they sell – eventually to make them feel more confident in the field.
Customers are already enthusiastically sharing the stories about their experiences with the gear they purchased from Hatchet, Gene explains with a smile on his face.
Where to start?
All right, you feel like giving it a go. But what should you bring?
No problem, Gene was kind enough to list the 5 key pieces you need for a day's hike. If you're spending the night in 'the wild' you would need a few extras, but these are the fundamentals:
A great light weight backpack: For a day trip, you can use a basic day pack from a brand such as Fjallräven or Kletterwerks. For a longer trip we carry very technical packs from Osprey. We can get you fitted for the right Osprey pack and if we don't have it in stock at the moment, Hatchet can get it in within a few days.
A quality multi-tool: Hatchet has a selection of Gerber knives and Leatherman's, most of which come with a life time warranty.
First Aid Kit: The shop offers a wide selection from Adventure Medical Kits.
Light weight jacket: You can't go wrong with a high-end jacket like the Arcteryx Theta which uses Gore-Tex or a Westcomb Mirage jacket that uses E-Vent. For a hike during fair weather, having a Patagonia Torrent Shell should give you enough protection in case of rain.
Footwear: For a day hiker, a pair of New Balance 989 Hikers with Gore-Tex will provide great comfort. A longer hike may require a pair of Lowa's.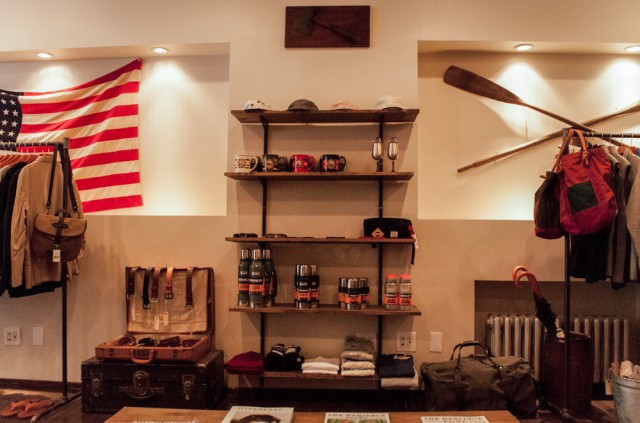 It will be interesting to see how the shop does over the next couple of years. If the passion that Gene has for the outdoors and bringing it to a completely different environment is anything to go by then Hatchet should have a very successful future not only in Brooklyn but beyond.
For inspiration and more information visit Hatchet online.
Photography: Hatchet Outdoor Supply Co. and Racked.