Newest Kickstarter Brand Offers Bespoke Denim for $99
Have you also been wondering what the next big thing for startup brands that are cutting out retailers will be? Well, if you asked OriJeans it's bespoke denim.
OriJeans – it took me longer than I'd like to admit to get the pun – isn't the first company to crowdsource their start-up through Kickstarter and offer direct-to-customer selvedge denim at an affordable price.
This is well trod ground with brands like Gustin, arguably the grande dame of this approach at nine months old, and RMPWest hitting their funding goals by offering classic denim sewn in the United States.
What sets OriJeans apart is the bespoke elements of their product – that retails at 99 bucks! How is that even possible? I got in touch with Mike Avdeev, founder of OriJeans, to find out.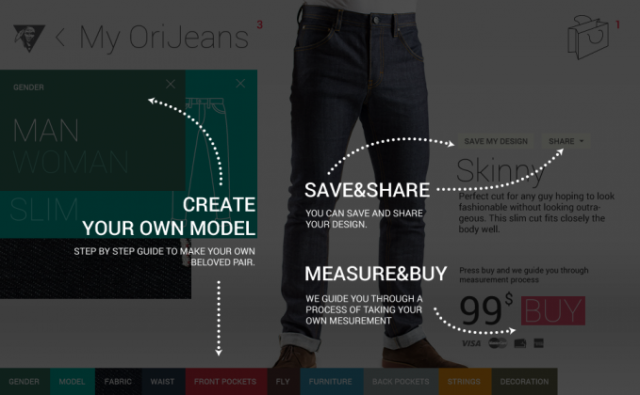 OriJeans' ambitious plans include letting users customize their jeans through what they're calling the Web Constructor. Customers will first select one of four fits before selecting from six denim choices.
The initial offering features denim from a few Japanese mills; the Americana will come in Cone Mills denim, naturally. Fly and pocket options will also be available in addition to a section where you can enter custom measurements; all for $99.
They'll also scuff, fade, lighten and rip the jeans for you ahead of time on a digital model that updates as you work on it so you can put the scuffs, fades and lightening exactly where you want them.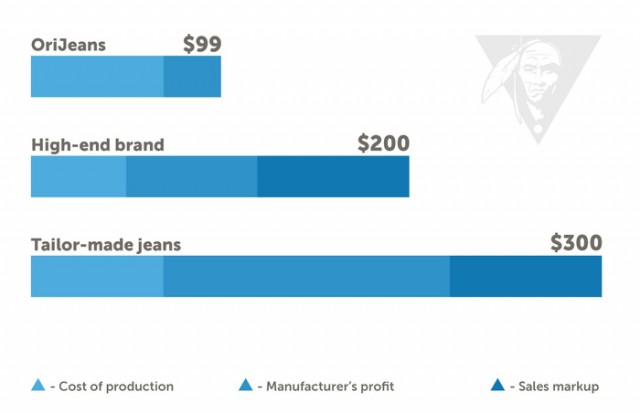 OriJeans have big plans for the future. Adveev said they plan on expanding into Europe once they're established in the States. OriJeans has hit its initial funding goal of $25,000; though you can still get in on the preorder until December 11, 2013.
Visit their website and Facebook page for regular updates. You can also still back the Kickstarter project until December 11, 2013 here.