We are seeing an ever increasing number of black denim on the market. Not just from some of the big players looking to expand their product offerings but also from the smaller artisanal brands as well. Black denim, rather fairly, got a bad rep for a long time. As well as the over associations with Metallica, it would not hold its colour and after a time it would become a sludgy grey. Dying black differs in the dying process from indigo, it is an entirely chemical dye that penetrates right to the core of the cotton so the fading possibilities for black denim was rather limited. You had whiskers, honeycombs and stacks yes, but not in the high contrast you found with indigo. However things are changing. We will look at three black denims that will provide you with the full gamut of black denim.
Railcar Fine Goods
First up is the Railcar "over-dyed black over indigo over slub", a mouthful we know but necessary to describe the denim. To put it in simpler terms, a slubby cotton was first dyed with indigo and then woven into denim fabric. It was then dyed black in a process known as over-dying. The indigo creates a slight barrier for the black dye preventing it from penetrating right to the core of the cotton yarn used in the weft threads, whereas the warp threads will be fully dyed black. This allows the fading process to fully take advantage of all the hues possible, from the black, through indigo blue to the white. Really interesting fabric both woven and dyed by Kurabo in Japan on wide looms.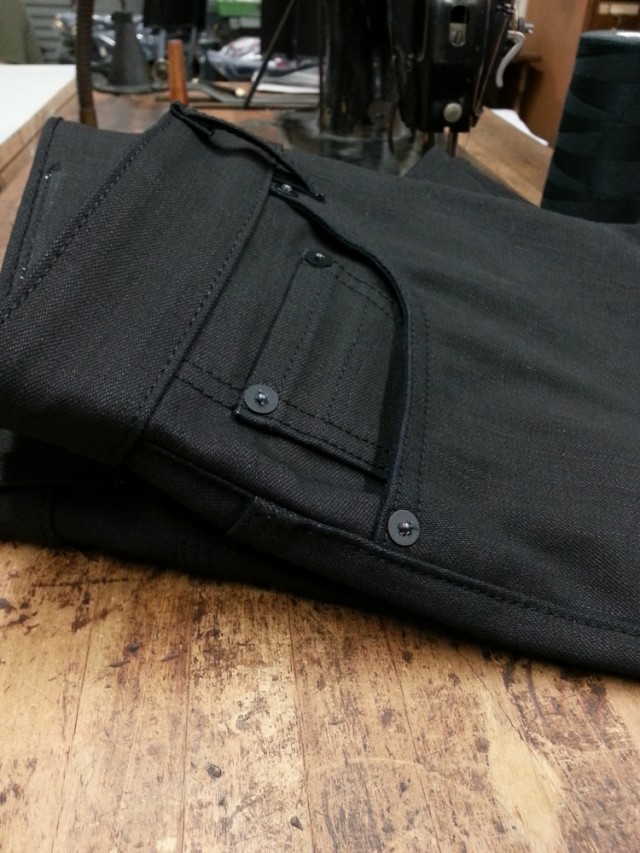 The denim was originally intended to be used for their first jacket release, however due to popular demand they decided to do a run of jeans as well. Since neither the jackets or the jeans have hit the stores yet there are no examples of time worn fades, to give an idea of the possibilities, Steven from Railcar got out his sand paper and did a little time travel. I am sure you agree that fading these naturally will give some fascinating and impressive results.
Retails for $228 at railcarfinegoods.com.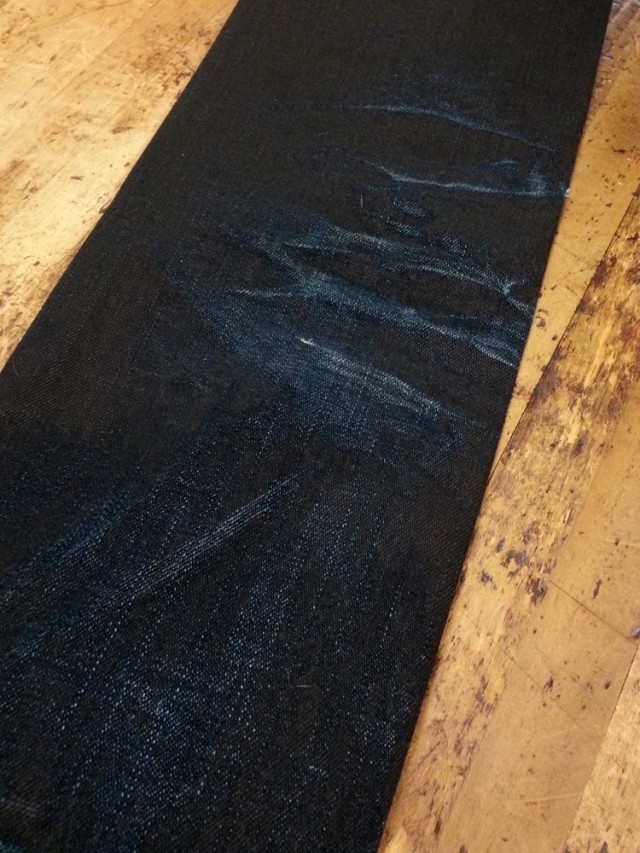 3sixteen
Next up is a denim that is not strictly black but is so interesting in its construction that we feel it is important to included it here, 3sixteen's Shadow Selvedge. Although 3sixteen do a fully black denim we think this construction and fading possibilities of the Shadow Selvedge warrant a mention in this article. If you have seen this denim in person you will know the feeling of not being entirely sure about what you're actually looking at.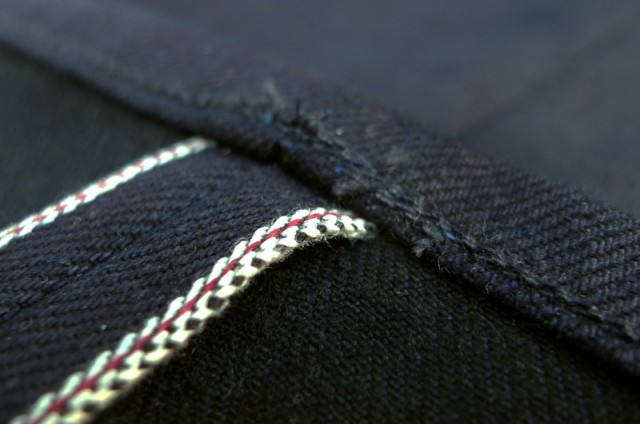 From a distance it looks black, coming closer it looks deep blue, hold it up to the light it may look a deep shade of purple. The reason for this is the way in which the denim is woven. Developed exclusively for 3sixteen by Kuroki Mills in Okayama is has a indigo warp thread and an black, sulphur dyed weft thread. Combined they give a really unique look to the denim and also unique fading possibilities.
Retail for $240 at 3sixteen.com.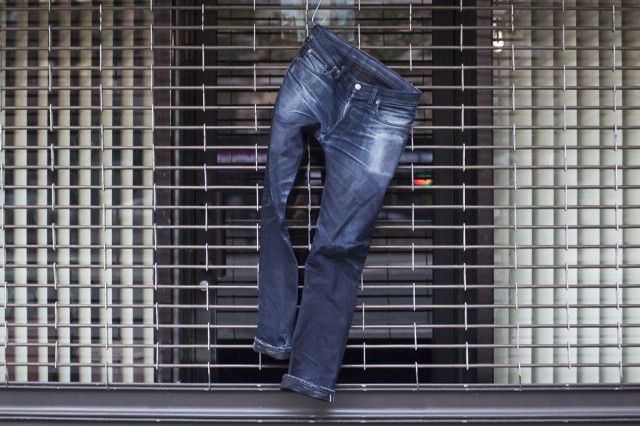 Eat Dust
Last up we have the very black Eat Dust Bloodline denim. There are three pieces in the range, a pair of jeans, a vest and a jacket, all constructed from the same back selvage denim, the Bloodline is almost a premium range within an already fantastic brand. The fabric and construction is incredible and the detailing down to the individually stamped back plates for the buttons is superb. I have personal experience with this denim in the form to the vest. This denim holds its colour!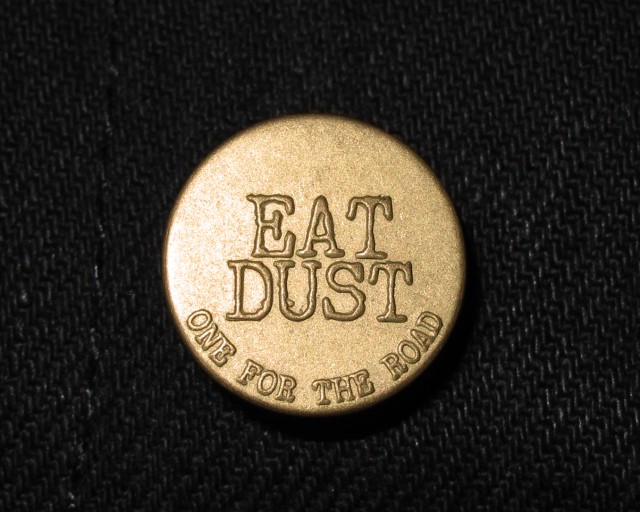 The Bloodline is just as black as the day I bought it and there is no evidence of fade lines or wear of any kind. The deep black comes from both the warp and the weft being black sulphur dyed and then woven into the denim fabric with a traditional white/red selvedge edge. There was no bleed in the first weeks of wear and it has not seen any reduction of tone from considerable wear. Like everything from Eat Dust, it holds.
Vest retails for €215 on Eat Dust's webshop.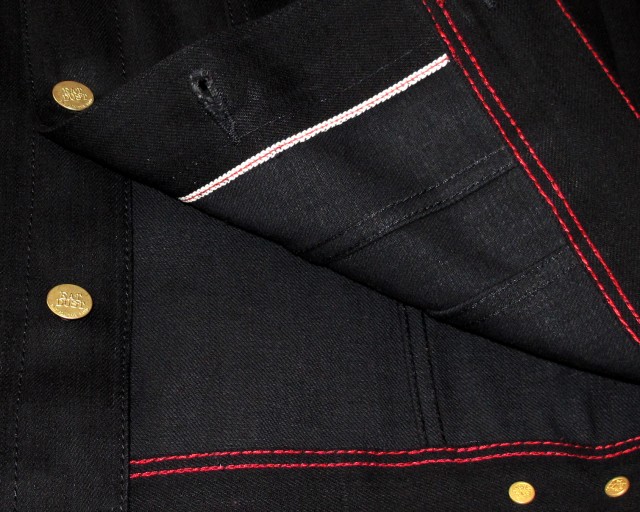 So there you have it, whatever you are looking for from your black denim you can find it. Fast colour, fast fading or unique fades. We have covered just some of the many examples out there, we should also mention Iron Hearts Superblack for super heavy black denim as well as Naked and Famous also have all their fits in a black selvedge offering.
Images from Railcar Fine Goods, 3sixteen and Matt Wilson.