Iron Heart doesn't really need too much of an introduction, unless you have been living under a rock the last few years you will know them as producers of some of the finest denim, jeans, tops and accessories to come out of Japan.
But how did this Japanese biker brand come to be in Europe? How did they come to be one of the most fascinating innovators of denim? What motivates Iron Heart?
The Kersting and Henschel x Iron Heart party a couple of weeks ago was not only a good excuse to have a beer (or four), listen to some great music and catch up with friends. It was also a chance to ask Giles Padmore, the face of Iron Heart International, a few of these questions. Over a beer he gives a fascinating insight into the brand in this exclusive interview.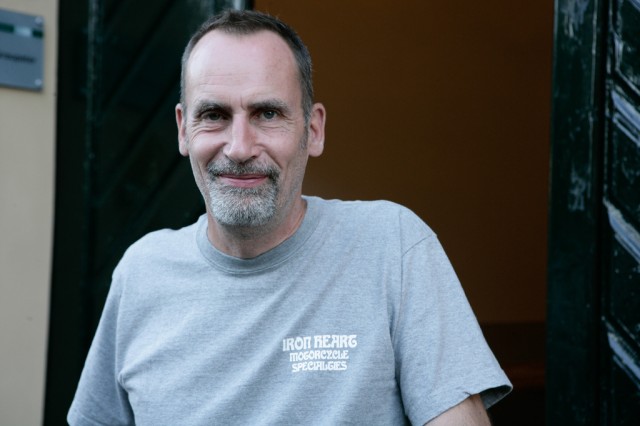 You clearly have a passion for clothing with history and top quality items how did it all begin?
"Well for me personally it was selling a pair of Levi's about 8 years ago on eBay. I'd got a lot of Levi 501's that I had been collecting over the years and just thought I better sell a few. I realized that what I had were not particularly valuable. What I had noticed since I was 14 was that the quality had been getting worse and worse but I had not really been able to articulate or intellectualise the reasons. So I started to do some research and realised what had happened to Levi's through the decades. So I did a little more research and discovered the Japanese "repro" business that had built up with a lot of Japanese brands doing some really, really great stuff and very few of them are represented outside of Japan. So I approached one or two of them. When Haraki opened the e-mail he had someone in the office – purely by chance – who could speak English and he said 'yeah.'"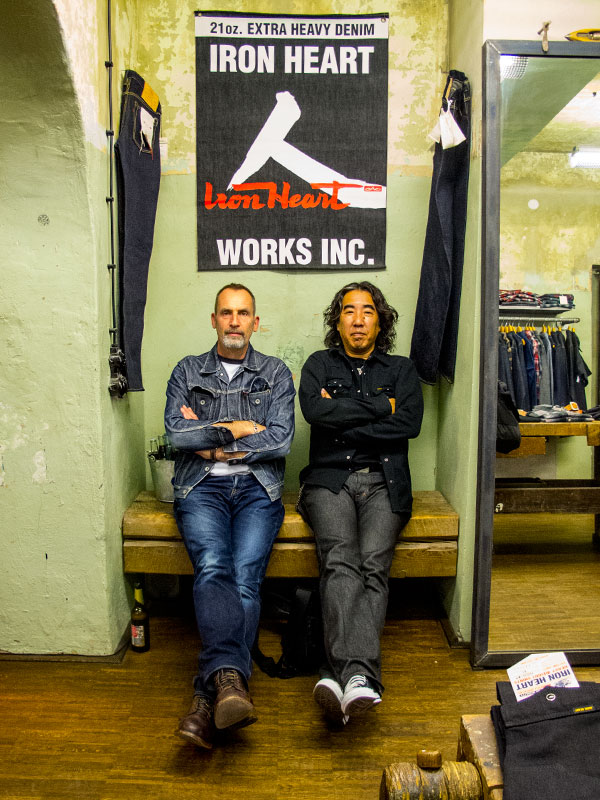 "Haraki worked for Edwin for a number of years and designed over 5000 jeans for them during his tenure. Then he went out on his own and started consulting; advising people how to set up indigo dying and weaving factories as well as the production facilities. Then ten years ago, this year marks our ten year anniversary, he decided to start Iron Heart."
"We are not a repro brand. We don't try to do a 47 or a 55, or whatever, but we look back to the good stuff that was made in the 40s, 50s, 60s, 70s and 80s and try to redesign it for today's lifestyle. If we do an N1 jacket it is not a repro N1 jacket. It looks like an N1 but it has a lot of details that just make it more usable for our lifestyles now."
This is only going back 8 years, what is your background?
"I was an IT salesman."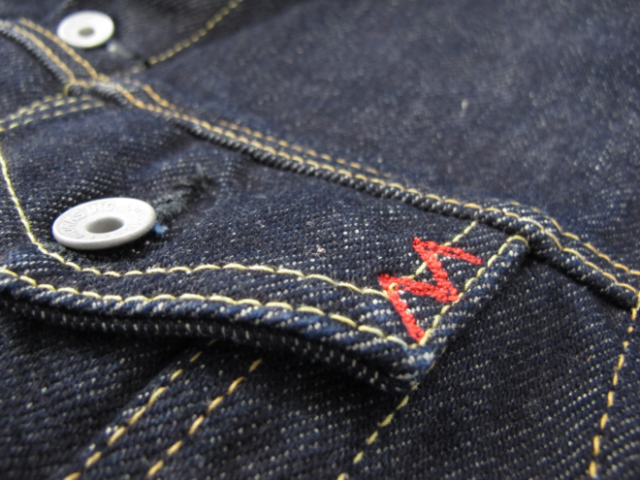 How did you get into denim?
"I bought a pair of shrink-to-fit in the early 70s, 501 shrink-to-fits and that's all I ever wore."
Tell us about Iron Heart, you had mentioned previously that it is perceived a little differently to the fashion denim over in Japan?
"Yeah, it may have changed recently but certainly a couple of years ago brands like Warehouse, The Flat Head, D'artisan didn't see us as a competitor. I actually don't like the word 'competitor' in our business because I don't think we compete with anyone. And that's not arrogance; we just all do our own things. However, a lot of the established Japanese brands D'artisan, Warehouse and so on, they see us as a motorcycle brand, not a jeans brand. In the same way as they see Dry Bones as a Rockabilly brand, they don't see them as a jeans brand. So we are perceived very differently in Japan. I think it is different in the West."
"Perhaps we are perceived differently because of our forum, it changed everything. It's given people a voice. We release stuff that these guys have dreamt up if it fits in with our aesthetic. It gives our customers very, very direct access to me, and by extension to Haraki. So, I think the whole way we do that is very different from anyone else, and it gives Iron Heart a different vibe. I mean, some people don't like it because they think we are too 'culty.' Some people love it and it allows our customers to become really really involved with the brand."
What was your motivation to bring Iron Heart to Europe?
"The truthful answer was that Haraki was the only one who responded to the e-mail (laughs)."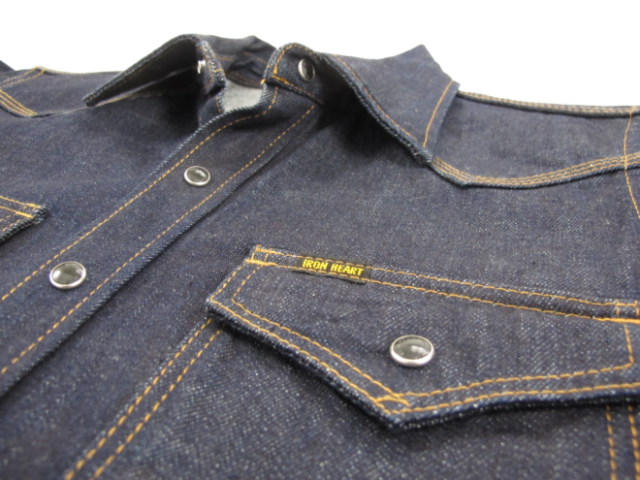 What was the biggest hurdle you had to overcome?
"Personally I am quite lucky, I spent three decades travelling the world, working for large corporation, working for small start-ups selling to the former Soviet Bloc. I spent years in Europe and I spent a lot of time in Japan. Without me really noticing that gave me a really great understanding of people and cultures. I mean, people are different and the Japanese way of doing business is so completely different from the way the West do business. But I just roll with it because that's what I have been doing for 30 years. So I empathise with the Japanese more than a number of my friends and colleagues do. So, to get back to the question, no. There were not too many hurdles but if I had not had that experience I am certain there would have been many pitfalls."
Why do you think raw denim has become so popular recently?
"I think raw denim is growing almost accidentally as a result of people's appreciation of stuff that's actually made well and ethically made. You can say that pretty much anything that's made in Japan is ethically made. I think we have a lot of intelligent, well educated people that love the fact that the stuff we make is good, it's made well, made ethically. And yeah; it's expensive but there is a reason for that."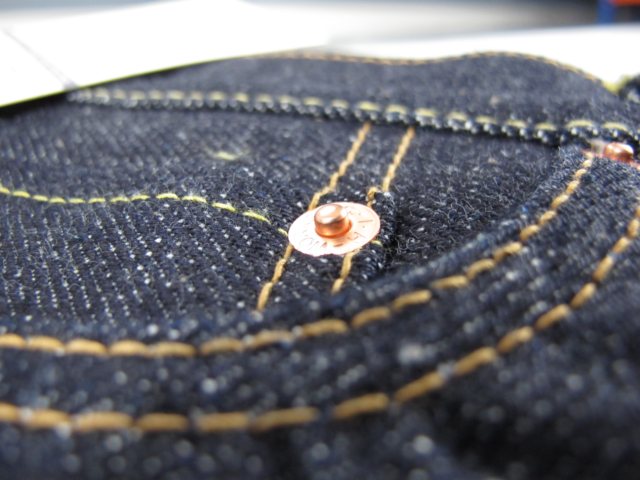 How do you wear and treat your dry denim jeans – any special routines?
"I don't think I do anything particularly special. If it's raw, I will soak and agitate it, dry it put it on, when it gets dirty I'll wash it. If it's sanforized then I will put it on, wear it till they're dirty then I'll wash it. I wash it inside out and I hang dry. I try to wear them as long as possible before washing because I like high contrast fades. But that's me, there're a lot of people who don't."
And what about Iron Heart?
"Hakaki actually doesn't like high contrast fades and on the 21 oz. denim we do a process that retards the fading capabilities."
Ah interesting, have you had any backlash on this? Most people coming into this for the first time are very interested in the fading process and how to achieve those high contrast fades in as short a time as possible.
"We've had never had any negativity. We have had a lot of surprise from people when they find out that we one wash the 634S. We one wash them and then process them, but they are so dark that nobody believes that we did."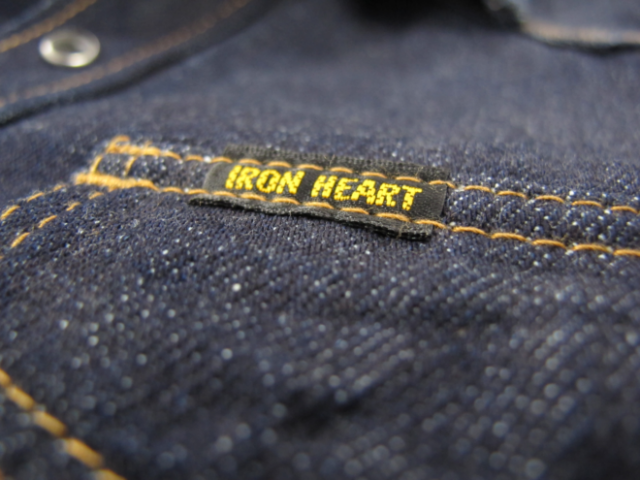 Do you collect anything?
"Well denim, old clothes. I've got a collection of watches I am about to get rid of so I can buy one I really want. Old apothecary jars, Pestle and Mortars, old fishing tackle. Got a lot of that."
How many pairs of jeans do you have in your private collection?
"Not that many, maybe 40 or 50. There are people who have a shit load more than that. I mean, I don't go out of my way to collect. I wouldn't say I am a collector. I like to understand the different cuts and the way people put together a good pair of jeans."
Which pair are you most proud of?
"If you exclude Iron Heart from a construction point of view. Roy's are just in a different league really. When you consider one guy does everything on that pair of jeans it's just extraordinary."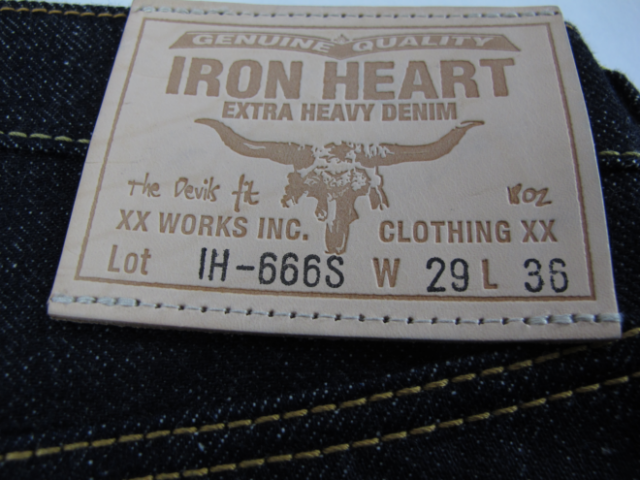 What's your favourite Iron Heart fit?
"666, it was the first slim-ish jean we did. It was my idea so I have a lot of personal passion invested in it. I didn't think they would work on me, I am an older guy and slim jeans just seemed like something I wouldn't do but actually I love 'em. The pair I am wearing just now are a natural indigo that we are releasing in about two months. These have seen about six weeks, no washes yet. I am really interested to see how this goes. We have done natural indigo before but we are launching three new jeans. 634 in this denim which is 17 oz., 666 too and we are also releasing a hank dyed, natural indigo, So basically you put a hank of thread, yarn into a vat and dye it as a hank rather than rope dyeing which is when you take it through indigo baths and the indigo oxidises on the outside of the yarn and doesn't penetrate the interior, that's why a rope dyed denim like this fades to white, its exposing the white. Hank dyed actually soaks into the body of the yarn. It will fade, but on this denim, we don't know how yet. It's quite a pale denim too. It's got quite a 70s 80s vibe to the look. My son Alex is wearing the crap out of a pair just now so we can see how they go."
Are there any up-coming or unknown brands that you think are worth looking into?
"Well I know Jelado is coming to the West. There is another brand called Trophy, very similar to Iron Heart in its aesthetic."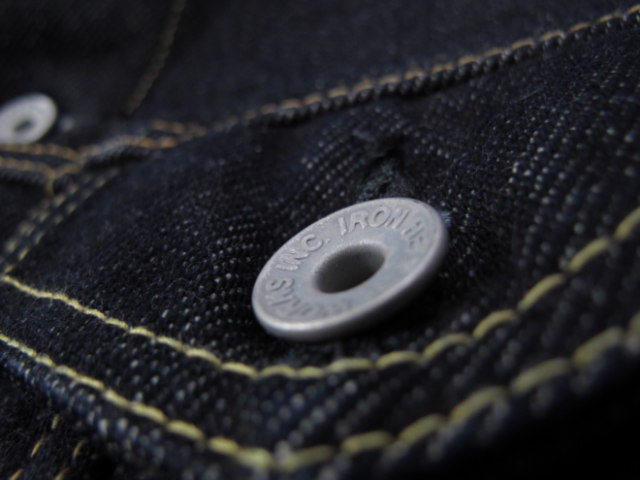 Where will Iron Heart Europe be five years from now?
"More of the same. Probably won't release any more cuts but we will release the same cuts in a lot of great denims. We have some really great left hand twill; we are doing some really sexy stuff for Self Edge. So let me modify the answer, Self Edge will continue to come out with different cuts. But Iron Heart as an Iron Heart only branded jean probably won't come out with any different cuts. Maybe tweak them. We've got the 1955, the 634, the 666, the 555. We've got baggy 1955's if you like through to pretty slim. I just don't think we need any more at the moment."
"It is the new denims that will come out that will really make the difference. We are experimenting at the moment with a blue weft, blue warp. Same structure as we use in the 18 oz. 666s but the warp and the weft will be rope dyed. I am really excited about that."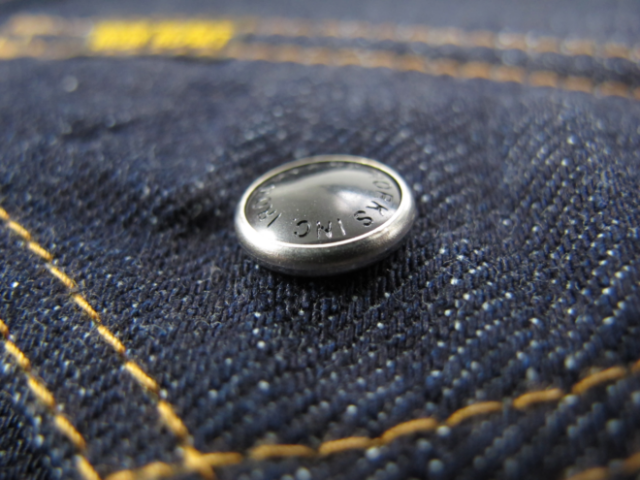 "We use two factories, both owned by the same company. We use one factory for the heavy stuff, it's got a production line which is entirely old union special machinery and really that's the only line we can do the heavy stuff on. Of course it can do the light stuff also but we have the other production line for the 17 and 18 oz."
There have been rumours that manufacturing companies are looking to get away from producing the really heavy stuff because it was putting too much strain on the machines.
"We have massive problems doing our 25 oz. denim, typically when you weave a denim you get a known percentage of second or third rate denim coming out of it. For instance, the 21 oz. we always get 10% wastage. With the 18 oz. we always get – and I'm picking numbers out of the air – 12% wastage. With the 25 oz. we get between 10-60% wastage, and we never know how much until the end of the run. We buy all the wastage back from the mills so it doesn't reach the secondary market through another route. We don't want people using our denim. On the last run of 25 oz. denim we paid 12,000 dollars to the mill to buy back the second and third rate denim. We had a lot of discussions with them about whether they would continue doing weaving the 25 oz. We were paying for it so we didn't see what their issue was? Eventually we understood that it offended their sensibilities so much that if they couldn't do it right then they didn't want to do it, even if we paid for it."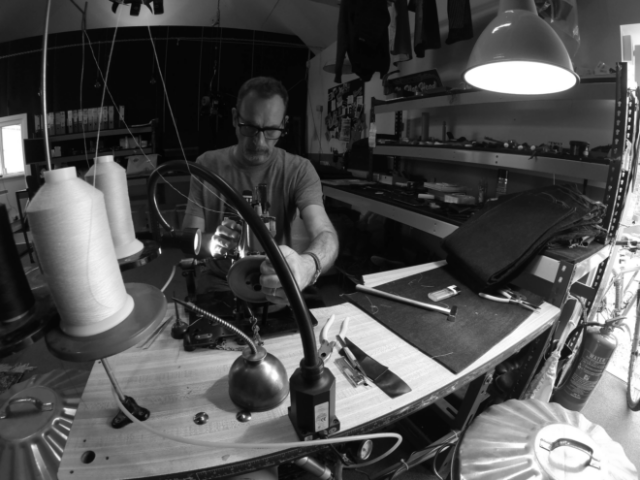 "When it came to making the jeans we had to modify the production line. We had to change components on the sewing machines to cope with the denim. Haraki basically lived in the factory for a month whilst they were experimenting with it. It's a fantastic denim, people love it so we're really happy. But we won't go higher than 25 oz. Haraki had said that he would not go higher than 21 oz. but I got drunk one night with Roger from VMC. He mentioned that he was having a 25th anniversary so I thought oh, let's do a 25 oz. jean for 25 years. So I went to Haraki and said I have a really really really difficult question, and you're going to fucking hate me asking it but can we do 25? So it's my fault, but Haraki thrives on that kinda shit, he loves the challenge of doing it. That is one of the beauties of working with him; he is open and receptive to an awful lot of stuff. Especially if it is pushing boundaries."
You can keep up with all the new releases from Iron Hear on their website here and if you are not already a member we encourage you to join the forum. It is a veritable goldmine of knowledge about all things denim, not just Iron Hearts.