It's not often we see something new in raw denim, but Jasper van Impelen at The Damn Good Soap Company has done it with denim wax
Raw denim has been around for a long, long time. Maybe it lost its way for a while but in the last couple of decades, it is really back on track. Because of the popularity and the sheer amount of time it's existed, innovation in denim, along with all the products and paraphernalia, comes in small, iterative steps.
Evolution rather than revolution.
Seeing something entirely new is a rare thing. But that's what Jasper Van Impilem, founder of The Damn Good Soap Company has jut done, He's created something entirely new.
It Ain't Denim
Ok, it's not denim, but it is a product that just might help you with that tricky problem that all denimheads at one time of another have faced. The stink!
I met Jasper on his stall at the Amsterdam Denim Days. We got to chatting about this new denim balm and I'll admit, I was sceptical. What looked more like runny beard balm, or something to fix your car was meant to be rubber into my jeans. No way! Then, and all of a sudden, this big, friendly Dutchman sticks a sizable ball of gloop in my hand. "Try it!" he tells me.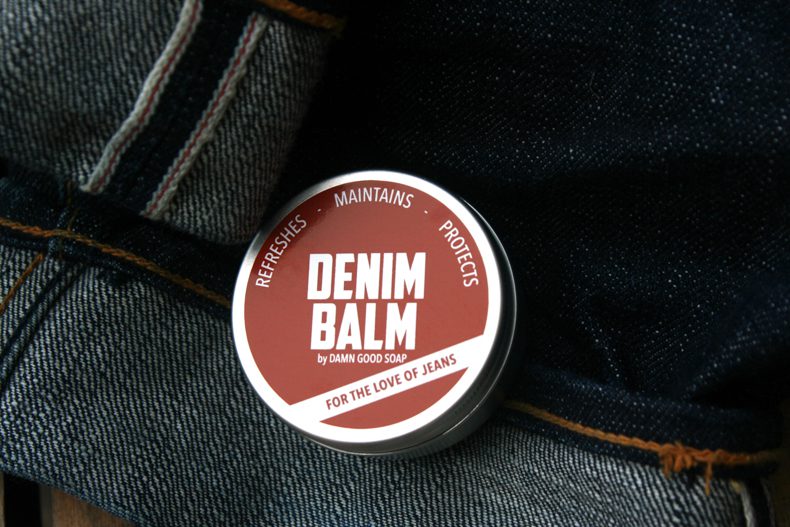 He Did What?
"Damn!" I thought. But, in for a penny, in for a pound, I rubbed it between my hands to soften it up and then massaged it into my precious jeans.
I was shocked. The denim just soaked it in. None of the shiny, waxy feel, none of the darkening of the denim where the wax was used. I was left with my jeans smelling fresh but looking and feeling the just same.
Right, I thought. Time to find out more about this alchemist.
Time to Talk
After the madness of the Amsterdam Denim Days was behind us, Jasper and I found a quiet moment to have a chat and discover just how this amazing product came to be.
Rope Dye: How did you get started making soap?
Jasper: Back in 2012, I decided to quit my previous business, realistically I could see it was not working out. I had a list of things I could do, small businesses that you could do from home, soap was one of the things that was on this list.
One morning I took a shower, I accidentally used my wife's shower gel. I ended up smelling like daisies. I thought to myself, this isn't exactly what I'd call manly… nothing bad smelling like daisies but is it what you want in the morning?
Nothing Unnatural!
But more than this, I took a look at the ingredients on the back. It was all just chemical! Most of the ingredients are unpronounceable and I didn't have a clue what they were. And I thought I could do a bit better. There and then I decided to make soap for men.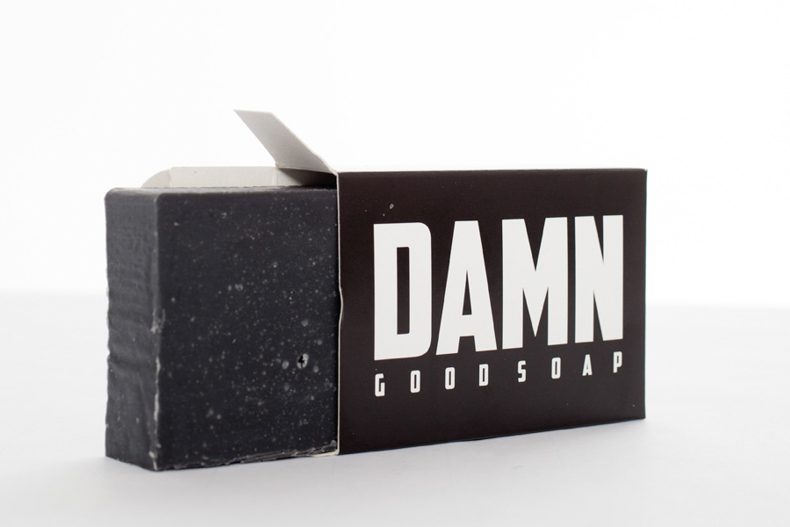 The first product was a big chunk of black soap with all natural ingredients. I then tried to think of a manly name, Damn Good seemed pretty good.
I went to a barber in Amsterdam to sell my soap. I'd developed shaving soap by then as well. He asked me if I could make a line of male grooming products for them. Including Beard Oil, moustache wax and those kinds of things. At that time I didn't even know what they were, I'd not heard of them before. But I had all the ingredients lying around, it's the same ingredients as the soap basically. It was good timing, it coincided with the big wave of up and coming barbershops and beards seen everywhere on the streets. Suddenly I was very hip and trendy.
Back then the only place you could get things for your beard was the US or England. I was the only one in the Netherlands who made that kind of stuff. It just spun out of control.
Blowing Up!
My initial plan was to have a small webshop and sell my own stuff. But all of a sudden I had five dealers across Europe. Things certainly changed. Now the Damn Good Soap Company is a well-known and well-respected brand around the world.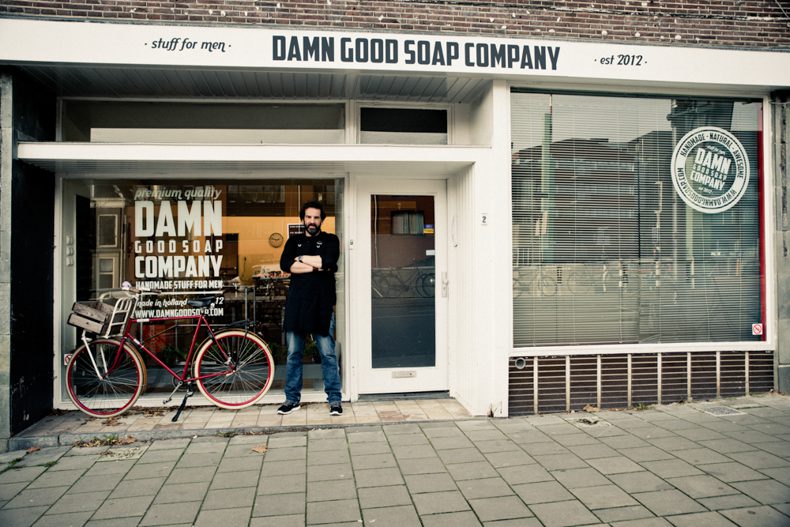 We are still a small company based in Utrecht and I like it that way. I have a small factory in town but I still keep it a relatively small company. And that was the beginning of Damn Good Soap Company,
RD: Tell us a little bit about the product range that you have?
Jasper: It all centres around male grooming. So we have beard oil and beard balm for styling your beard. We have some pomade for styling your hair, moustache wax, shaving soap. Ordinary soap, and some cologne to keep you smelling good. All kinds of things for the awesome man that you are! (Laughs).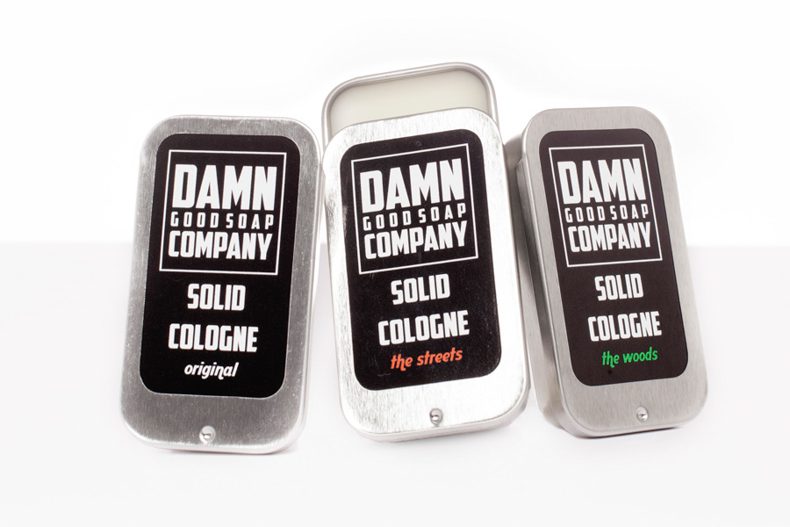 The thing is. I'm quite easily board so I am always looking for things to make or create. So, I recently invented the Denim Balm.
Good Enough to Eat!
RD: It sounds like you have some rules and a philosophy behind what you are going to put in your soap. Is it all natural ingredients?
Jasper: Yes. I was working in sustainability in my first company I ran. I did communications and plans for companies who wanted to be more sustainable. So when I started the Damn Good Soap Company I wanted to be honest. If you are making things by hand you have to be open and clear, everything I make is with natural ingredients, plant based. Basically, you can eat all my products without any problems. So that's good!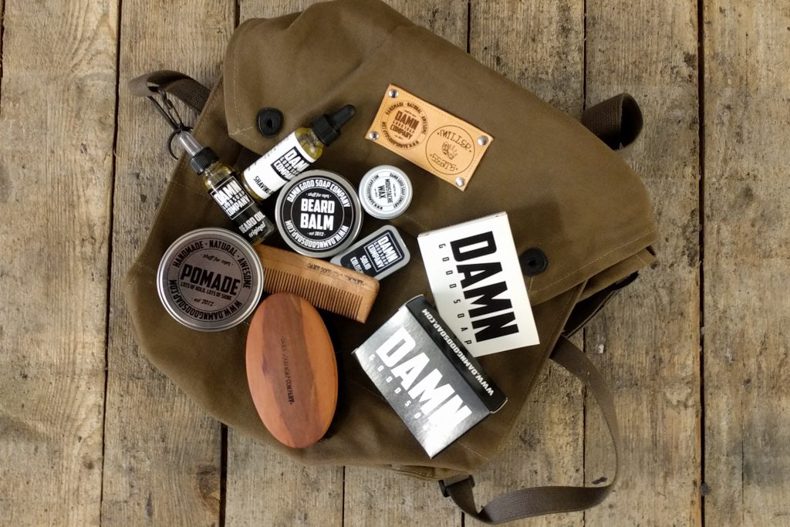 That New Something!
RD: So this denim balm you mentioned earlier, that is something pretty special. I have not seen anything like that on the market before. How did this come about?
Jasper: I met Tom Broekman, he is the owner of De Rode Winkel, that's the big denim store in Utrecht and incidentally the oldest denim store in the Netherlands.
Tom just remodelled the whole store and we were talking about putting some Damn Good Soap products in there. When we were discussing the denim scene, they were telling me that the whole thing is that you don't wash it, and you rub your whole life into it. So we were looking to create something that you could rub into your jeans which would keep them smelling nice and keep the denim healthy.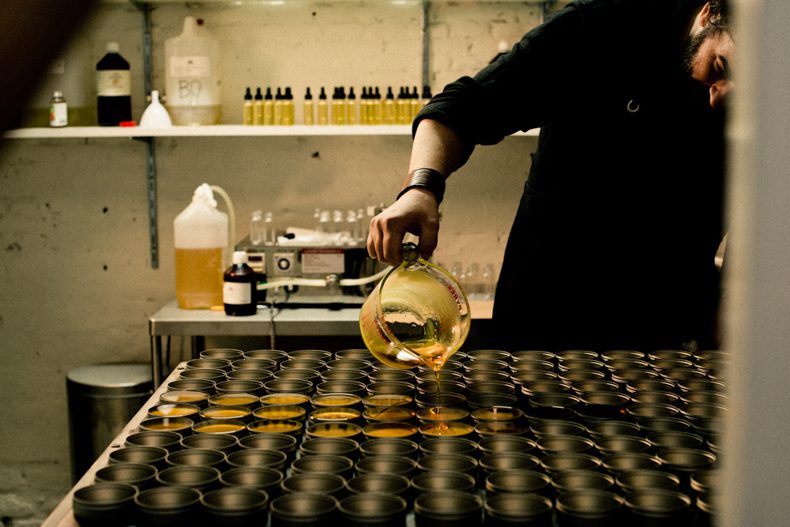 I have been working with all kinds of balms and waxes for the past five years so I decided to see if I could make something for raw denim. We set some basic parameters. You don't want your pants to be shiny; you don't want them to be greasy or waxy.
So we developed some testers and together with the guys from the store we went through a process of developing the Denim Balm. In the process, we noticed there was no other product like that on the market. So I am really excited about developing something new and unique. There are a few ways of keeping your pants from stinking too much; this is just a new way to do that.
We are delighted about the result. During the Amsterdam Denim Days, I was rubbing it into my pants the whole day, demonstrating it to people. At the end of the day, yeah. my jeans were pretty heavy with it. But by the next morning the fatty, waxy feeling had all gone. It had been absorbed by the fibres and the fresh smell remained.
I'd heard from a lot of the guys that it is essential to wash your denim to keep it healthy, to keep the fibres from drying out. Many denimheads hate to wash their jeans, so this fatty formula will help keep the fibres healthy. And also, a lot of the guys don't like the stiffness of dry denim, some love it but most just find it too uncomfortable.
The Denim Balm makes the denim a little smoother, less rough. It is easier to wear, especially in the first few weeks.
I am super curious, given that this is such a new product, about the reaction to the Denim Balm. We had a really positive reaction at the Amsterdam Denim Days. So we have to see. Yeah, it is a bit different. You have to rub something into your precious jeans. It's new, I think people will have to get used to it but I think in they end they will appreciate the benefits.
Are you Brave Enough?
So, who's brave enough to face the new frontiers with their raws? I for one have a tub of this stuff and will be bringing you a comprehensive review in the next few weeks. If you would like to try it yourself. Head over to Jaspers website. Along with the Denim Balm, you will find all his male grooming products. Well worth a look.
Oh, and one last important thing…. Don't eat the bloody soap!