Mohsin Sajid is a Designer, Consultant, Lecturer, and Most of All a Warm-Hearted Denim Friend to All
He is often recognized as the founder and designer of his private label ENDRIME, but Mohsin Sajid's playing field stretches out far beyond that. I decided to fly up to London to meet Mohsin once again, a good year after our first encounter in Hong Kong. What followed was an exciting and detailed talk in which he shared his background, how he got to where he is today, and what he expects the future to bring.
From Schoolboy To Leading Denim Designer At oki-ni
Mohsin began his career doing an internship for nine months at oki-ni, which was probably one of the hottest design and retail companies around in the early noughties.
At oki-ni, he assisted Vicki Driver, the company's Head of Press & Marketing, with her projects and helping out as much as he could. Without getting paid!
He did everything you can imagine; from parcel packaging to designing. He found the internship extremely exciting and his hard work eventually paid off: upon finishing the internship, he had made such an impact that he was offered a position at the oki-ni design department; this time with a salary.
Can you tell us how you started your career, and especially your design work at oki-ni?
"First of all, I was very lucky. Secondly, I was one of these hard-working students, and I came from Westminster, which is a smaller college in the UK where designers such as Vivienne Westwood and Christopher Bailey also studied.
In 2002, Vicki Driver, who is also a Westminster graduate, asked my tutor for interns to help at their marketing department; ideally someone who was good at Photoshop and Illustrator.
Back then it wasn't much about using computers; people mostly drew by hand. Luckily for me, I was one of the only students in that year group who were really into Photoshop and Illustrator. So that's how I managed to get in at oki-ni."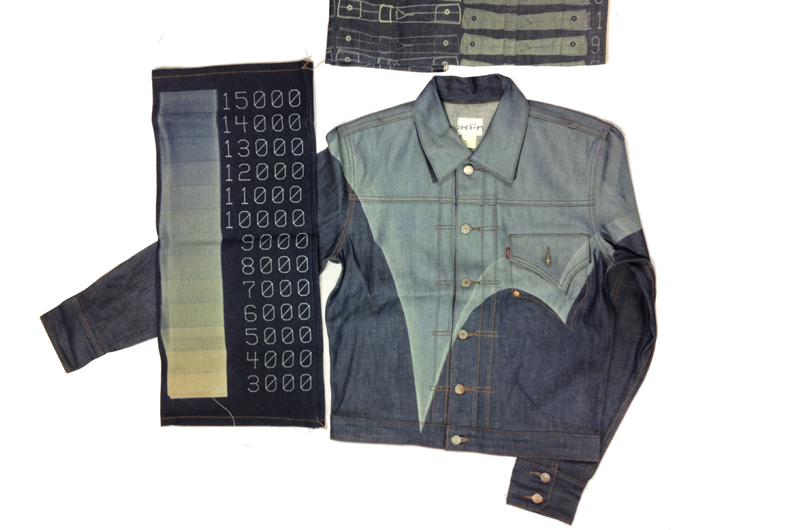 How oki-ni x Levi's Kickstarted Mohsin's Denim Journey
Mohsin ended up staying at oki-ni for nearly three years. That was when he really got into denim.
"Back then, oki-ni was a much more different company than what it is now. It was an aspirational brand; if you wanted to be in oki-ni or sell at oki-ni you had to design products for oki-ni."
oki-ni had it's own design team, which Mohsin joined. He was given the Levi's Japan and Europe accounts and Aquascutum, plus a few other smaller ones.
"The ideas used to come from the fabrics. For instance, Levi's had this paper fabric that they used for their very first Red collection. They said, 'wouldn't it be amazing to use up this fabric and have you design something amazing with us?'
The following season, they wanted to work with more tailored designs. So we happened to come across Timothy Everest, who is an amazing British designer and tailor. So we ended up doing a Levi's tailored collection, inspired by the Bing Crosby tuxedo."
The oki-ni for Levi's collection was regarded as one of their most innovative projects and Mohsin's work gave a whole new dimension to Levi's.
"There were lots of concepts and even Levi's regarded their oki-ni collection much higher than their own Red collection."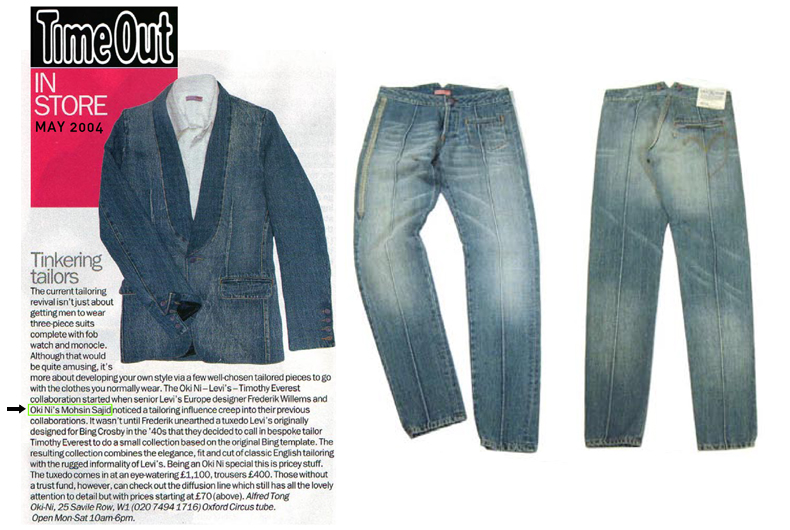 The Resurrection of Cone Mills Denim
Mohsin ended up designing about four Levi's Europe collections, and about the same amount for Levi's Japan. Digging through archives every season, he had the privilege to meet Lynn Downey (former Levi's archivist), and after designing the collection he had to send samples to Lynn for their archives.
"We did some amazing collaborations with Duffer of St. George and Cone Mills as well. Around that time, Cone was bankrupt. Duffer was an amazing company back then and they were saying to us that they would only do a collaboration with oki-ni if they could use Cone denim."
This was in 2004. Mohsin went online, got the details of Cone, and contacted them. They ended up making the denim from scratch with them.
"Amy Leverton and I did the Duffer collaboration. After that, Cone Mills invited us to their Denim College (which no longer exists) and technicians taught us all about denim starting from cotton-fields to production; literally from the ground up. We spent a whole week there; it was denim college from the godfathers of denim."
Exit oki-ni, Enter Edwin and the Birth of the ED55
After oki-ni, Mohsin did some freelance work and ended up working for Edwin Europe in Basel.
"This was after most of the design team had left, so there was a big shake-up. I was asked to come in and do a seasonal contract. While I was there, I designed the ED55. Details from that design are still being used today."
After Edwin, Mohsin went to work for John Richmond in Italy followed by Pringle of Scotland back in London. Then, he and his wife were asked to come work for Puma in Germany, which they did for about a year and a half.
Eventually, Mohsin and his wife got headhunted to work their magic at DKNY Jeans in Singapore. She did the graphics for the women's line while Mohsin did the men's denim. This was perhaps the most important step for his career, as in that role he really cemented what he wanted to do for himself: denim.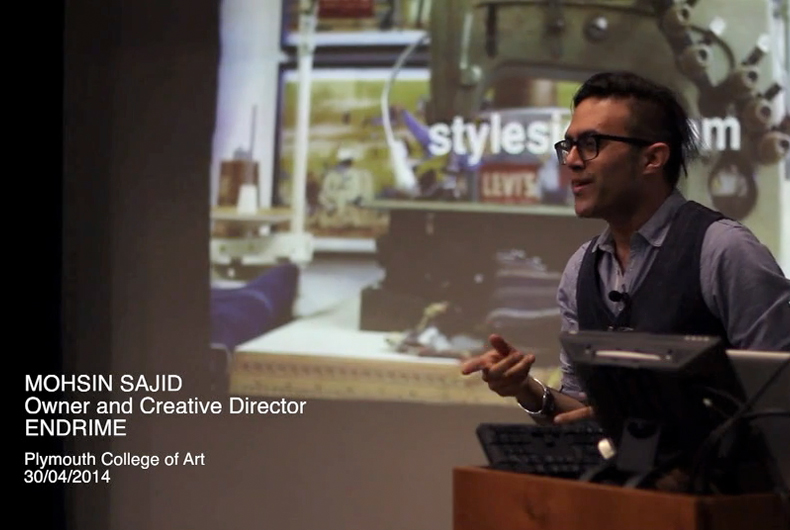 Multitasking Alongside ENDRIME
Besides ENDRIME, you design for Timberland and also teach at the Royal College of Art. How do you manage to deliver the best work possible for all parties involved?
"My current role with Timberland is quite astonishing. I feel very fortunate to be given the responsibility and trust to design for them and help realign their men's and women's denim and pants business."
Naturally, Mohsin designs within the guidelines of Timberland. He has been able to establish their new back pocket stitch and help improve all their fits.
"I have had the opportunity to make a mark on the brand right now; I've managed to improve their business. The stuff I've been doing the past two and bit years has been skyrocketing globally."
Mohsin is the hands on type of trained designers. He can pattern cut and sew at the same time. This saves whomever he works time. On top of that he has a vast knowledge of both weaving and washing.
In the rare spare time Mohsin has, he frequently gives lectures at the Royal College of Art and gets invited to share his design knowledge at the likes of IKEA, proving that his design skills can be well adapted to various industries.