Indigofera channels that 70s vibe with their latest collection, a collaboration with Texas-based musician Israel Nash. And yes, ruffle shirt included!
One of the true success stories of European denim is Indigofera. Starting off in 2009 as a "small brand with big ideas", they quickly established themselves in the denim scene with their dedication to quality and craftsmanship, building the brand to include shirting, outerwear, accessories and more.
Over the years, this dedication and reputation for quality have allowed them to take part in a number of collaborations with renowned artists such as Wes Lang and Richard Colman as well as the Iconic Collection with Berlin's Burg & Schild.
On a Different Tack
For their latest collaboration, they take a slightly different tack and collaborate with the Texas-based musician, Israel Nash. We catch up with Indigofera founder Mats Andersson to learn how the collaboration came about and the inspiration for this top to toe collection.
Israel Who?
Rope Dye: Introduce us to Israel Nash!
Mats Andersson: He is a singer/songwriter originally from Missouri. He moved from Missouri to New York to develop his skills and years ago he moved to Texas, just outside of Austin. Nowadays he has his studio where he records and meets with his session musicians.
I met him a year and a half ago, but I have been listening to him for quite a few years. He came to Europe on tour, where he played in the bar of some friends of mine in Sweden. It was just for a small crowd, maybe 100 people.
At that location, we had a small pop-up for Indigofera. So the guys from the band had seen the pop-up and were eager to meet the guys who made the great denim. We had a really good meeting and a coffee before the show. They played a really great show and, afterwards, we started drinking beer.
The guys are inspired by music in the same way we are. A lot of the same bands like George Harrison, The Band, Neil Young, Pink Floyd, Dennis Wilson, Gram Parsons and so on. We talked a lot about the music that evening.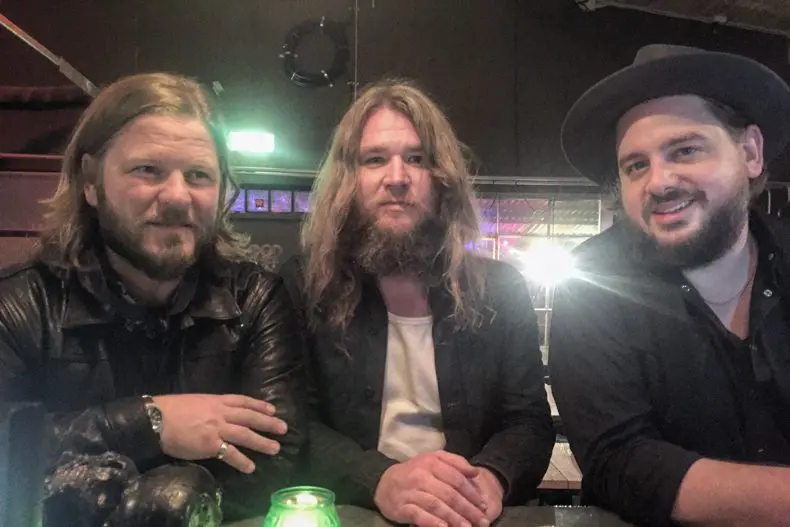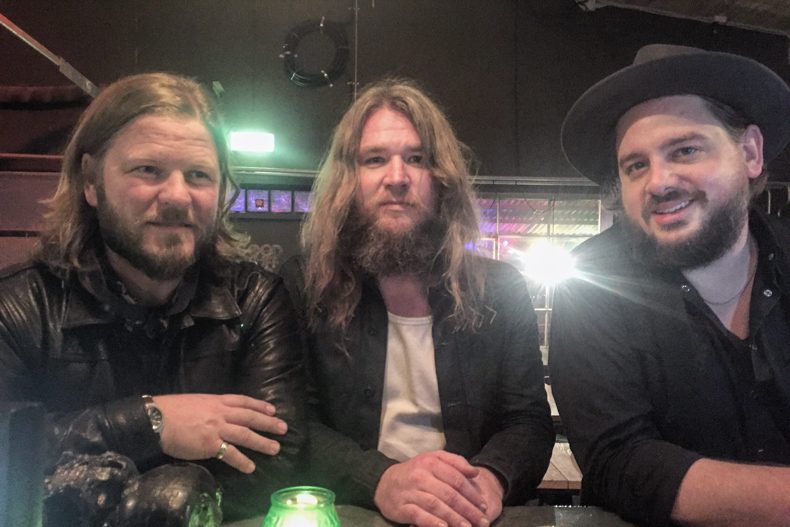 Israel had this jacket on him, with this really nice insignia. We were just looking at it and thought let's try and do a blanket. Israel was into the idea.
Backstage is where the action happens
The next week they were playing in Copenhagen and we drove down to see them. We were invited backstage after the show, had a few drinks and continued to talk about music and influences. Before long we started to talk about clothing.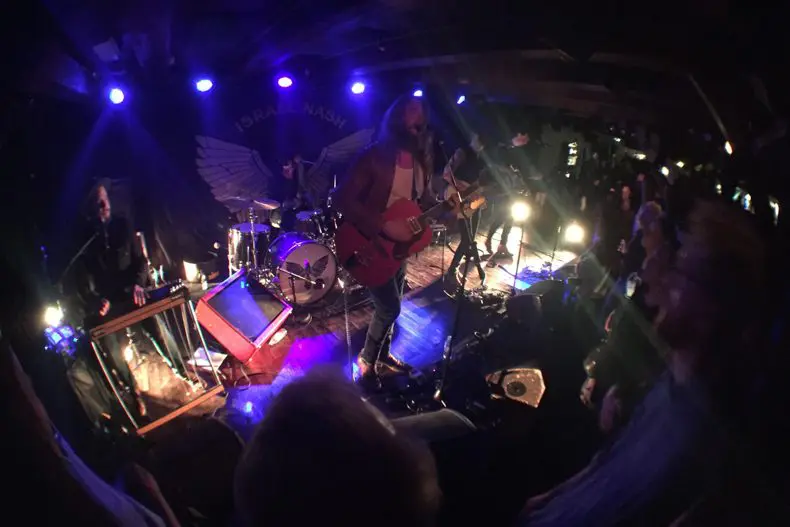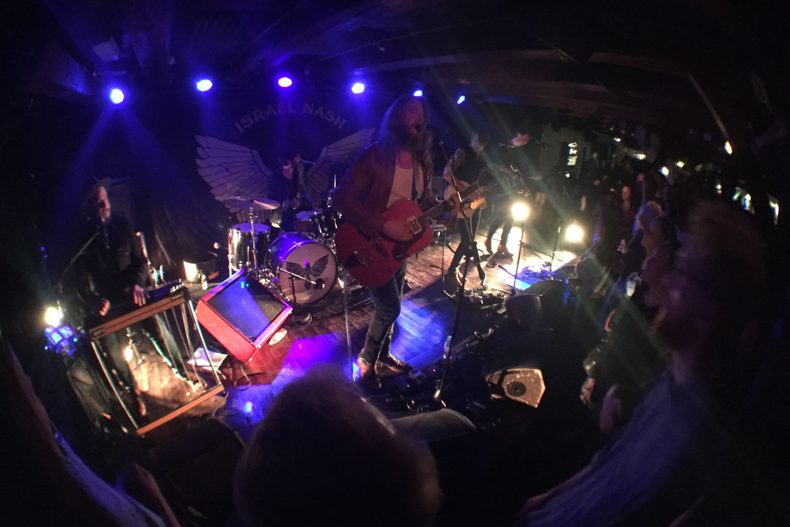 We have done the Iconic Collection and blankets with Wes Lang and Richard Colman, but we've never done an artist collaboration, with a full collection. So the whole concept evolved to him having and outfit he could have on stage.
Don't Ruffle Your Feathers
RD: So the key pieces, what are they?
Mats Andersson: The collection consists of five pieces. First off, we made a ruffle shirt. If you go back and look at the rock stars from the 60s and 70s, they all had Ruffle Shirts. Nowadays you really don't see that a lot. Israel was like "I want a Ruffle Shirt!". So ok! But instead of making that in a thin Nylon we, made it in a Mock-twist Japanese selvedge fabric. So a little bit heavier.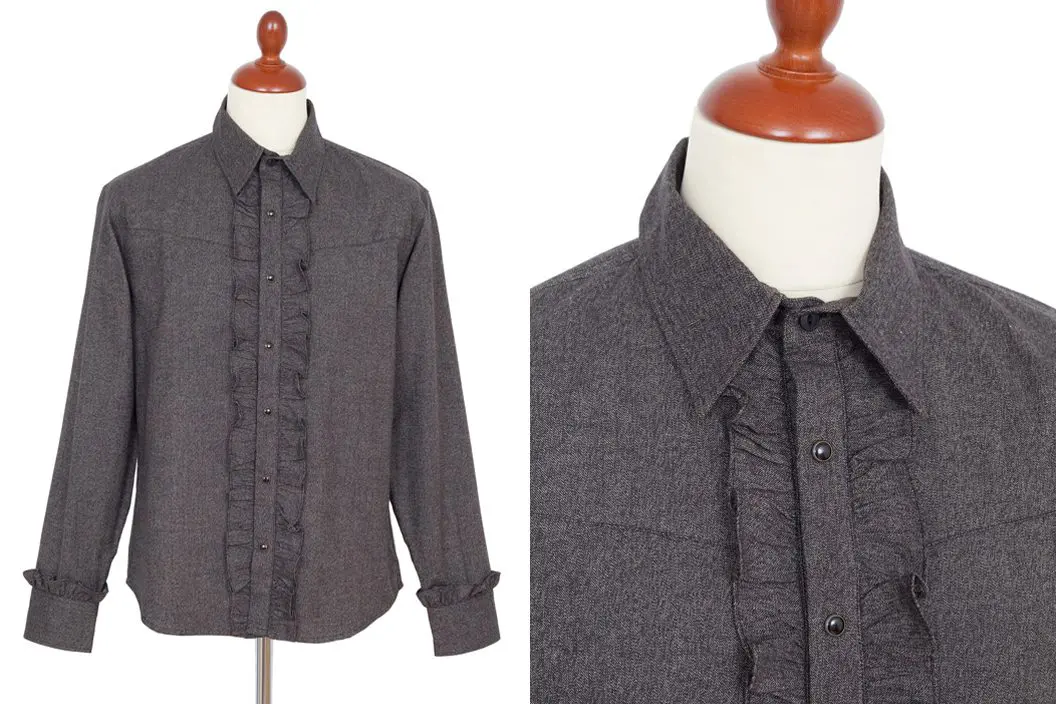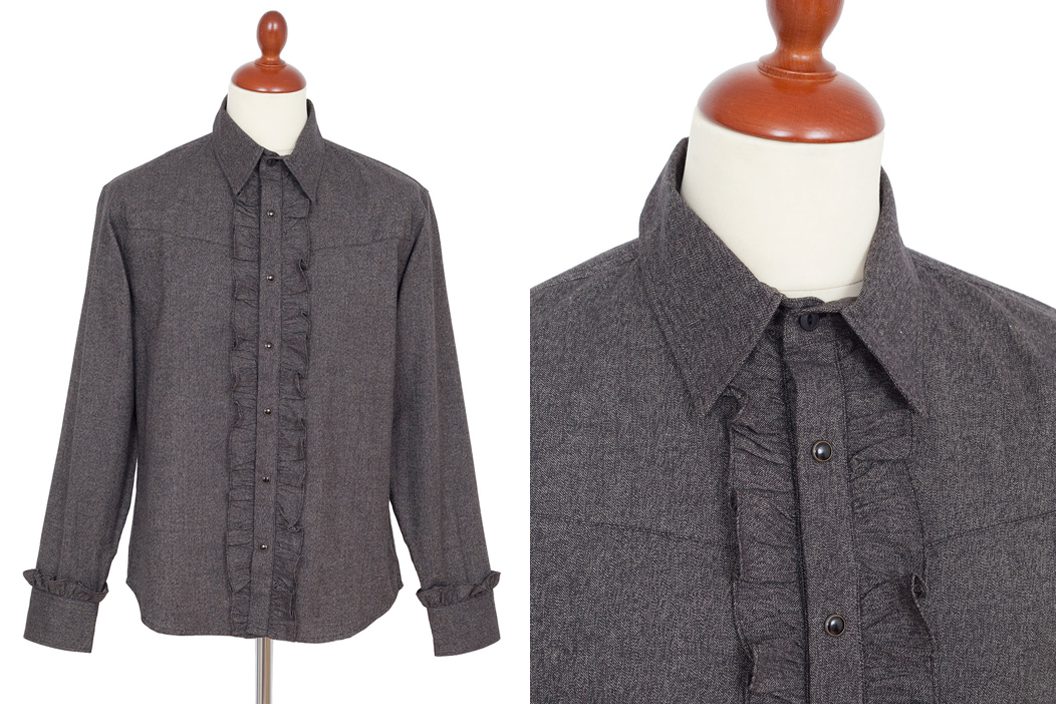 Next up, we made a leather vest with embroidery that was very much inspired by Grant Parson – just what they were wearing in the early 70s. We used Israel's tattoos as the designs for the embroidery.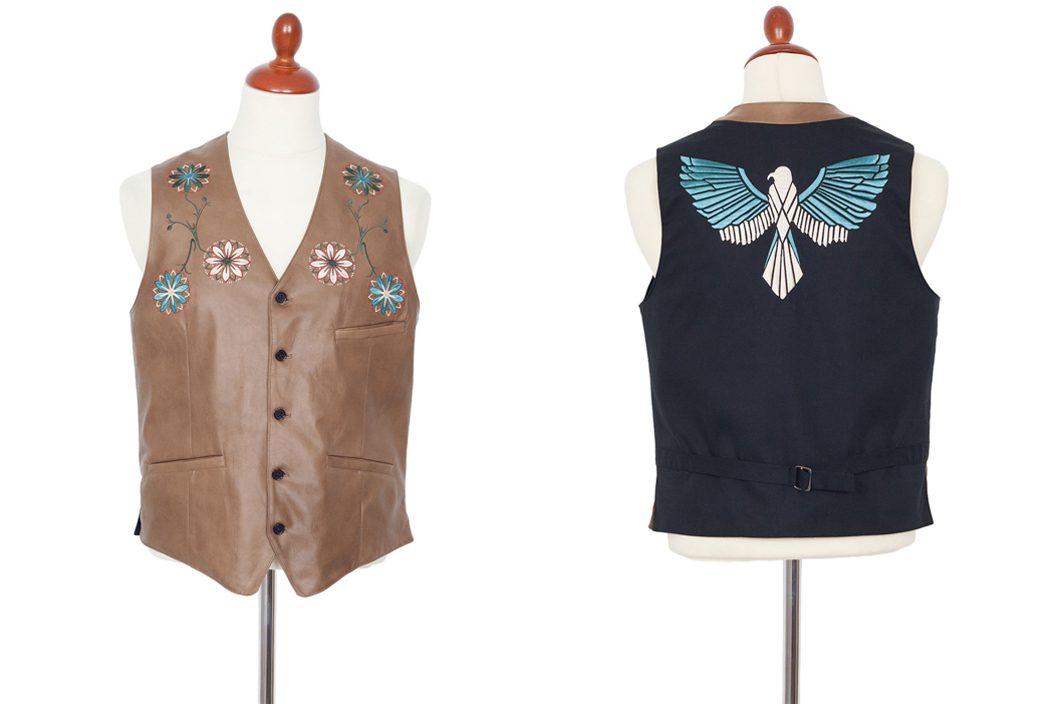 East meets West in this double denim jacket
We wanted to make a 70s denim jacket. We have out Fargo Jacket and our Copeland Jacket (slimmer more fitted than Fargo) but we wanted this one to look even more 70s, so we made the shirt collar longer and more dropped and added waist side pockets.
We also made the jacket in two different types of denim. One is the Cone Mills 13.5 oz Selvedge that we have in our collection. And then a broken twill from Japan, one of the major ways of weaving denim, but the broken twill is not so widely appreciated.
The Cone Mills denim has a little bit of a red cast, and the Japanese has a little bit of a green cast. They work out really nicely together and they wear in a little different.
So it will be really interesting to see the path for this jacket. It's detailed with the big bird, embroidered on the back with this three tone deep red combination.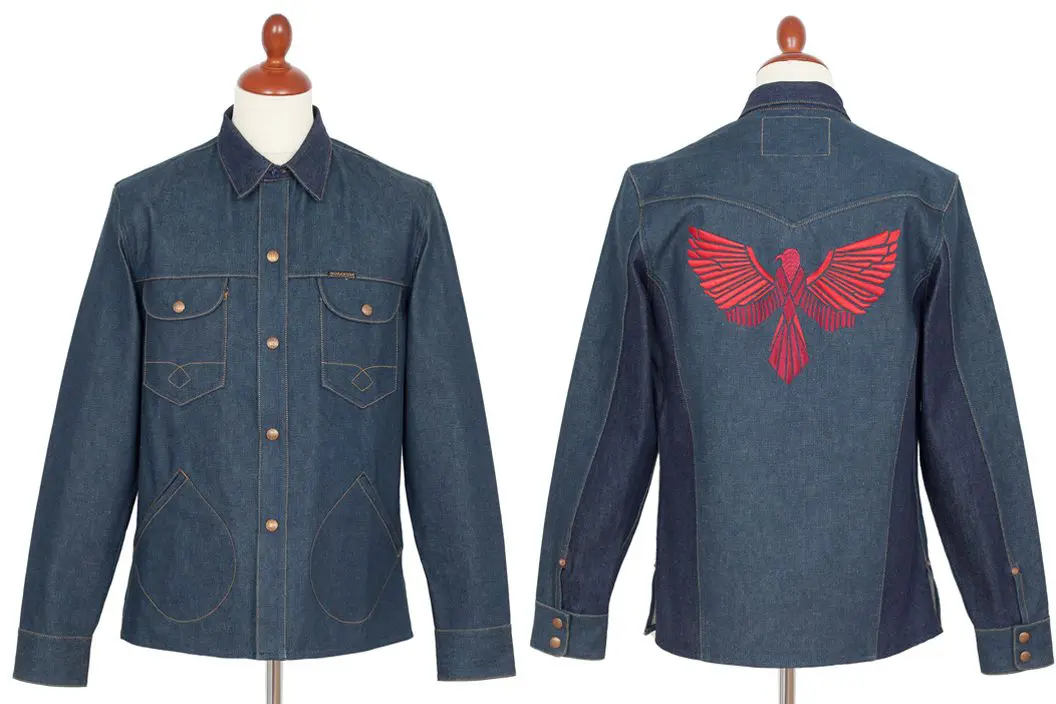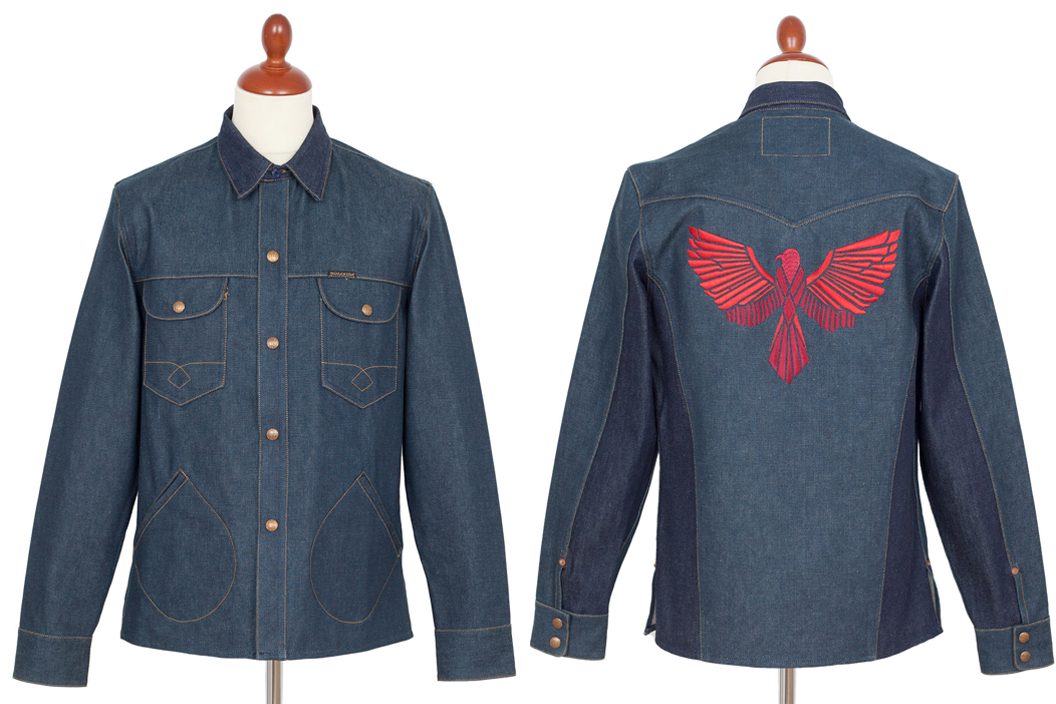 Where is all began
Then we have the blanket that kicked this whole thing off. It was a little bit inspired from that area. The blanket has 7 different colours if you also count the white base and has that Southern US desert feel and the colours reflect this. We also use the Thunderbird that Israel has for his insignia.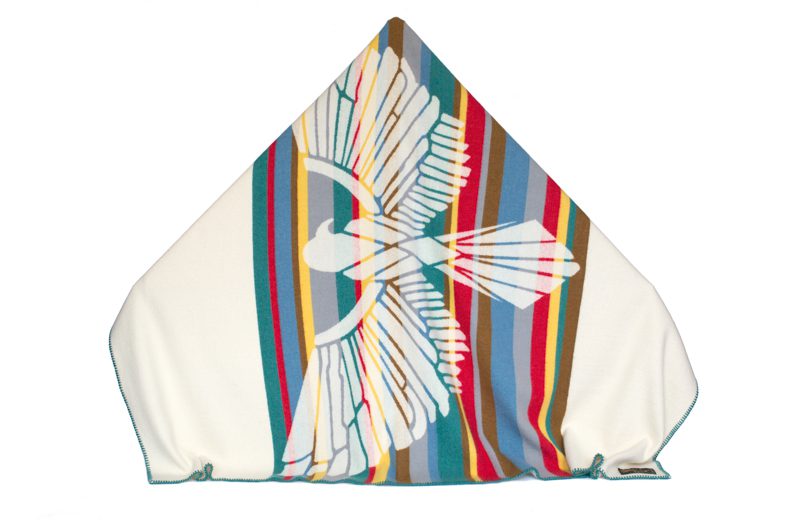 That's Tight!
The last piece is the Nash jean. We didn't have jeans this narrow, ever. Israel wanted to move away from this tight, stretch fabric. He wanted 100% cotton, but tight!
We made it as tight as you can go while still being able to get your foot through it and wear your Red Wing Boots. It's not too skinny over the hips and thighs so you still have that movement. It's a Rock 'n Roll pant, but it is comfy. For the Nash collection, we made that in Brick Red Japanese Selvedge Denim. Red selvedge, red jean.
We also have that in our normal collection in the Thunder Black.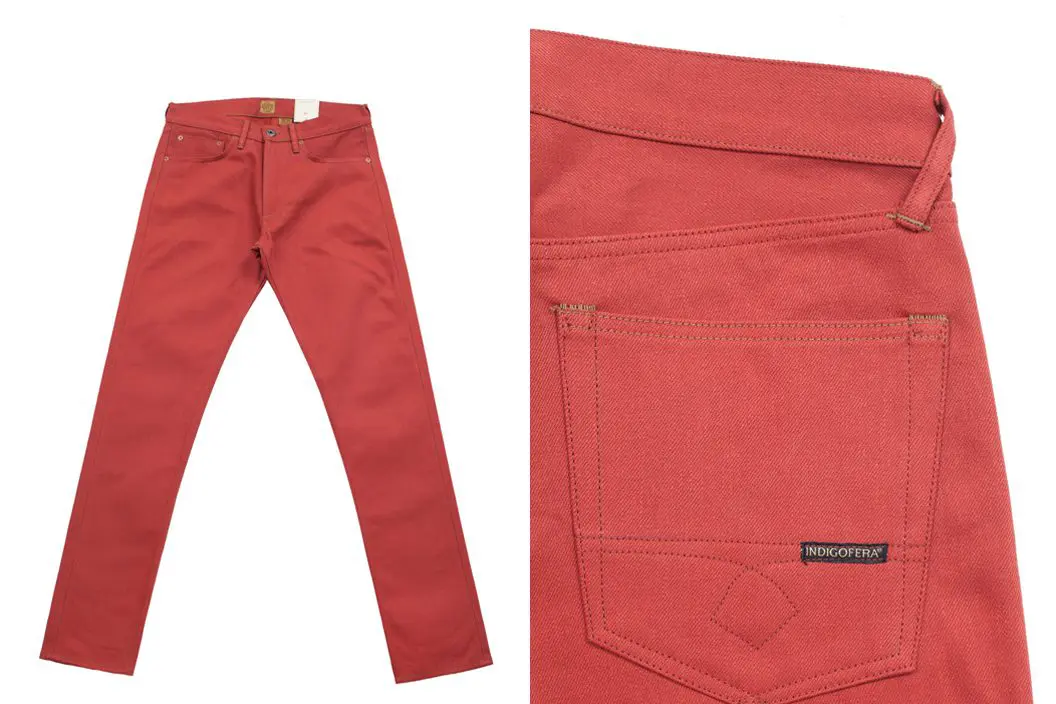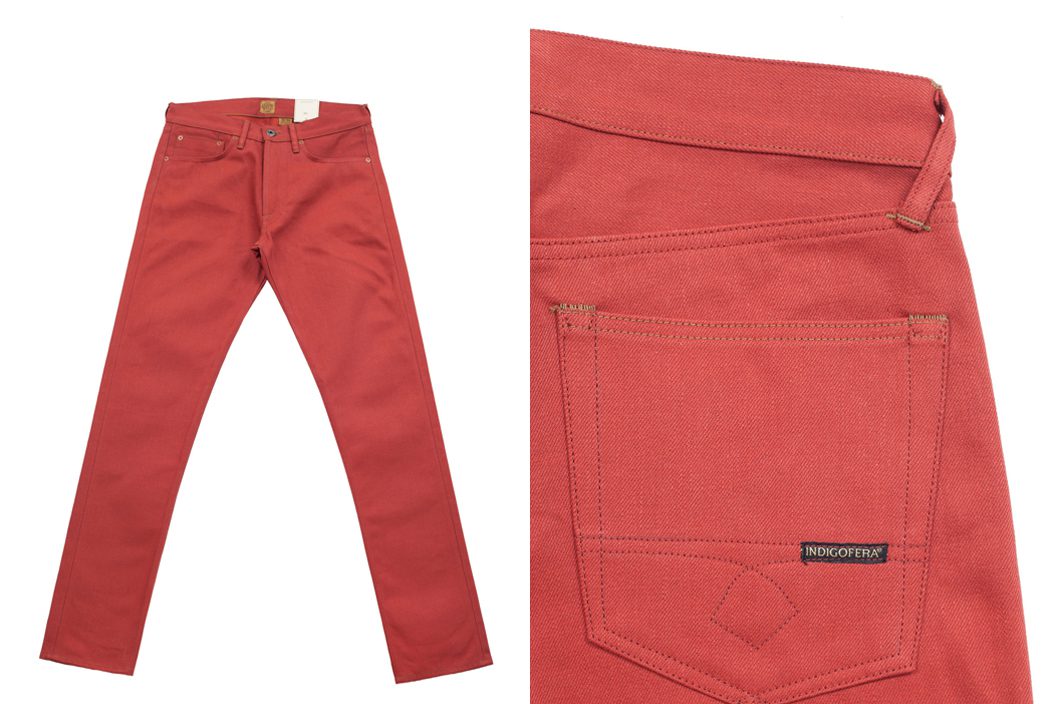 Hidden Details
One thing we discovered while working on the collection was that Indigofera and Israel Nash have the same amount of letters. We have done the whole font from A-Z from the Indigofera logo. For the tag, if you look closely you will see that instead of Indigofera, it says Israel Nash.
You could totally wear it as an Indigofera garment and no too many people will notice, but it is a nice little detail to it and a nice idea coming from a simple coincidence.
Rope Dye: And will you be continuing the collaboration with him in the future?
Mats Andersson: I hope so. At one point he expressed how happy he was to finally find himself a tailor. We did two exclusive items for him. One was a black suede shirt, without front pockets and we made a Nash Jean with kind of the tuxedo pants style, with a black suede leather strip down the outer seam.
We see him on tour with our garments; he has a whole wardrobe from us. He was just really happy. Maybe you can find stuff from the 60s or 70s but maybe you can't find your true size, or there might be something that makes it look a little cheesy. So to have the chance to really identify the elements that go into it. I
t should look a little contemporary but keep this sense of the late 60s/early 70s rock star in California.
Rope Dye: This is quite a departure from your "normal" range. How has the reception been?
Mats Andersson: We only launched it a little over a month ago. We had some back stock but that is almost sold out. I was very happy with the amount the buyers and stores ordered. Most of them knew who Israel Nash was and they also liked the clothing in itself, it's not too far away from what Indigofera is about.
Right now, we are travelling about a little bit. We are picking up on comments and gauging what people are saying about it. Ask me in a month and maybe I know more. It's moving.
And we certainly will catch up with Mats and find out how things are running. In the meantime, if you want to channel that 70 vibe, head over to Pancho and Lefty to shop the whole collection.
Or, just stick around for some pure-ass rock n roll…