California is known as the birth place of the surfing and skateboarding cultures.
But when the surfers and skateboarders grow up and find themselves required to suit up, which shoes do they wear? Possibly this brand.
Doing my research about this new footwear company based out of Long Beach, California I naturally visited their website. I found my virtual self at a California bonfire beach party and rolling down a California highway on Harley Davidson motorcycles.
"We're not a heritage brand that's been around for a hundred years, but we are conscious of being locally made," said one of the founders in an article brought by the Wall Street Journal. "We consider ourselves a new generation of American craftsmanship."
BROKEN HOMME was founded in 2012 by longtime friends Joshua Johnson, the designer, and Jim Leatherman.
These guys seem to have the knack of taking something useful and necessary and making it even better – thus the concept of their shoe line.
Josh and Jim take their inspiration from classic workboots and shoes made with characteristic 20th century construction methods. Something that denim heads will appreciate – and probably collect.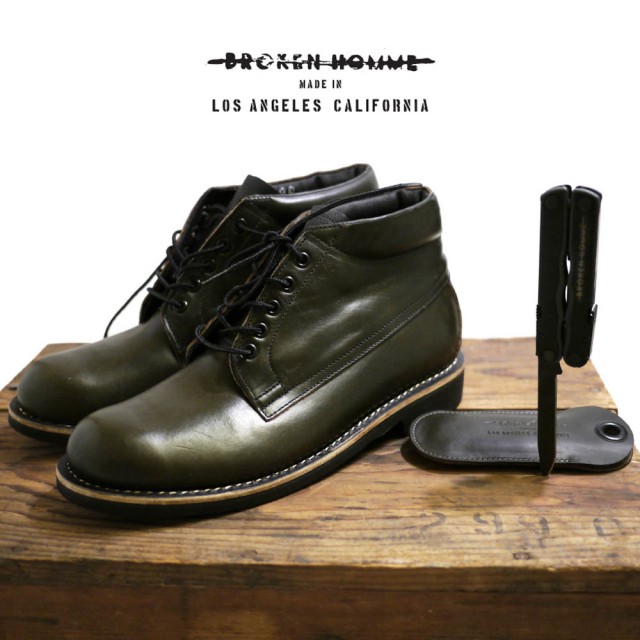 Their stuff is built to take whatever your lifestyle is, Harley rider or not.
Designed in California, each pair is proudly handmade in American unionised factories using Goodyear welt construction, metal shanks, and cork filled midsoles.
BROKEN HOMME delivers traditional silhouettes, "sturdy enough to work in but sleek enough for formal affairs," as the WSJ reporter put it. The brand represents a slight fashion edginess without overdoing the look.
Having been a custom sandal maker myself, I can truly appreciate the level of craftsmanship of their footwear.
It molds to your foot, the cork filling helps it breathe, and the metal shank ensures durability. The heavy black Vibram outsole, the rubberised sole used by thousands of brands around the world, is what leaves their footprint. The robust yet polished feel is a result of the full-grain hides sourced from American tanneries in the Midwest and Southwest.
For international customers, be sure and visit the stockists page on the website to find a retailer near you. BROKEN HOMME does have the foresight to be expanding worldwide – shop owners take note.
European retailers can contact BROKEN HOMME Europe directly:
Mathieu Tourneur, +49 163 717 6913, [email protected], 101 Agency, Berlin.