In the Market For Some Below Retail Price Raw Denim? This Is Where you Should Start Your Search
The price points for new, raw denim can be intimidating for first timers and some veterans might balk from time to time at paying $300 for a new pair of raws. Luckily for all of us, there are a number of secondary markets to shop for raw denims and all the other stuff we obsess over.
Grailed
Grailed is the new kid on the block. Built by Reddit user Arun Gupta, a 25-year-old Yale grad, to "make high end menswear more affordable and accessible to the community", the site has only been live since December 28, 2013. Gupta is intent on keeping the selection at a premium level.
"It would be frustrating and reduce the usefulness of the site if you had to slog through pages of Uniqlo and American Apparel to find those Momotaros you've been looking for,"he wrote on Reddit. Grailed users can sell their gently used menswear to other users free of charge.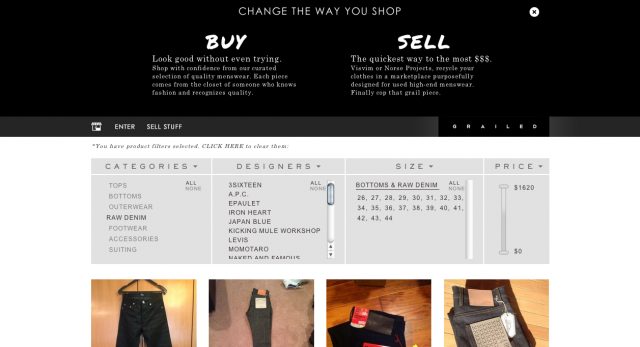 The interface for Grailed is easy and appealing, though the sort function is still a bit wonky. At the time of writing there were 31 pairs of raw denim for sale, featuring: Unbranded, APC, LVC, Naked and Famous, and Momotaro. Grailed also has tops, outerwear, and shoes at reasonable prices.
While still new, Grailed has potential to be the go to online secondary market for all things raw and men's fashion.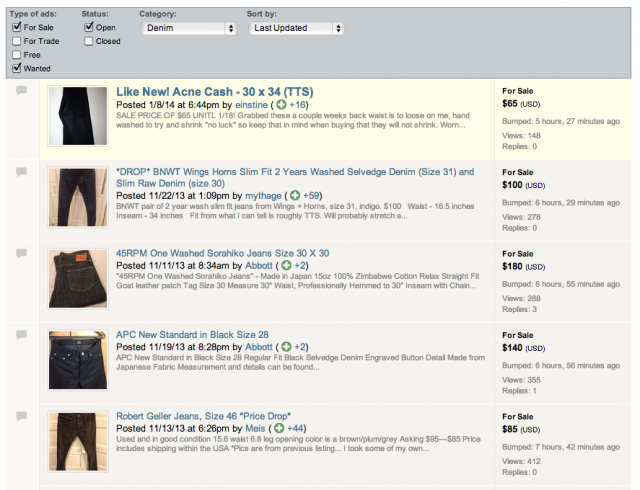 Styleforum Marketplace
In the interest of full disclosure, I'm partial to Styleforum's marketplace. It's been my first stop when I've been looking for jeans and shirts below retail prices and I've made some good purchases there. You can sort the marketplace by category, but the search functions at Styleforum are notoriously sub-par. Still, the selection and prices make it worth the time.
At the time of writing there was denim from Dior, APC, Iron Heart, 3Sixteen, Imperial and RRL available. Transactions are conducted user to user through the forum (you'll have to register) and while there's no absolute guarantee you're not going to get ripped off, I've never had a problem shopping there.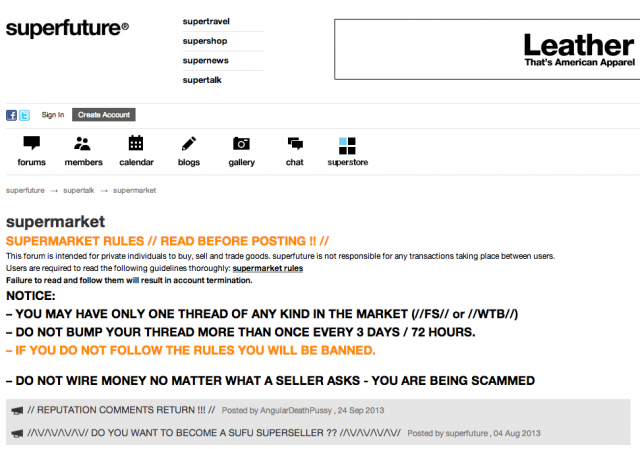 Superfuture Supermarket
The Superfuture marketplace takes some digging. You'll have to register and search since there aren't any category search options; but, there are bargains to be had here too. On the day I searched, I found: Ande Walls, Iron Hearts and Flat Heads.
Again, since this is a forum, transactions are conducted user to user. Sufu does a pretty good job of self-moderating its community and outing scammers, though, so look for a decent post count and a seller who actually looks like they're a part of the community before buying.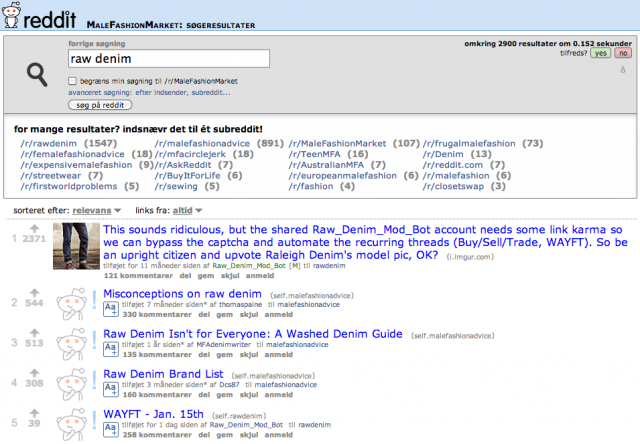 Reddit
There are three basic spots to check on Reddit for aftermarket raw denim and associated ephemera.The first, and most obvious, is the subreddit /r/rawdenim. The "Denim Debaters", their term, over there post a weekly buy/sell/trade thread every Sunday.
The selection tends to drift toward Naked and Famous and Unbranded, though everything from LVC to 3Sixteen to Railcar pop up from time to time.
The second option on Reddit is the weekly buy/sale/trade thread at /r/frugalmalefashion. This thread, while geared more to all sorts of clothing, does feature raw denim from time to time. And finally, there's an entire subreddit devoted to selling menswear at /r/malefashionmarket.
You'll see a lot of reposts here from the previous buy/sell/trade threads; but the good news is that you can search here and only get threads devoted to denim or what you're looking for (I highly suggest doing this as "fashion" is interpreted pretty liberally here and you may have to dig through some stuff from Gap and Vineyard Vines.)
Etsy and Ebay
We all know what eBay is, we've all used it. Pay attention to country of origin, especially if you're buying a frequently bootlegged brand, and seller rating, and you should be fine.
Etsy's search is a nightmare. There is a random assortment of raw denim available – but where Etsy shines is selling other stuff that denim nerds are into.
Here are some shops that might be of interest: