Everything You Wanted to Know About Red Wing Shoes: Part 3 – Care
How To Care For Your Red Wings
In this is 3rd part of our ultimate Red Wing guide, we discuss how to properly care for your boots.
Again, the guide is based on our readers' questions on the topic and presented with the help of owner of the Red Wing Shoes stores in Berlin, Hamburg and Munich, Kay Knipschild and his team.
Most of us Red Wing wearers are pretty unwavering in our choice of footwear throughout the year. This means that our Red Wing boots come into contact with a variety of things, which could potentially damage them. So we are going to take a look at how you can ensure your trusty companions will last for years, if not decades, to come.
In this 3rd and final part of our ultimate guide to everything you ever wanted to know about Red Wing we will show you how to care and maintain your boots.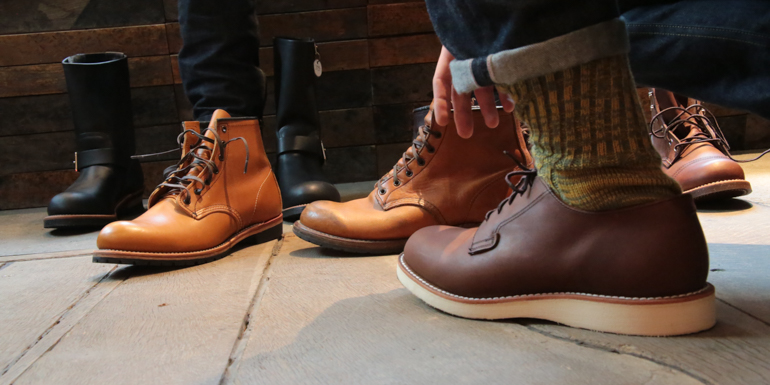 How Your Lifestyle Informs the Care of Your Boots
Red Wing is a special brand in so many ways. It's a brand that offers retailers a unique chance to build a relationship with their customers.
It is not simply 'buy your shoe and goodbye.' Customers come back tips about caring for your shoes and advice on the best ways and the possibilities for resoling. Let's look at some of the basic need-to-knows.

The Right Product For the Job
There are specific products for the specific leathers in the Red Wing range. For instance the Engineer 2268 is made from Chrome tanned leather, which does not allow the Mink Oil to properly soak into the leather. It will just sit on top. It will not do the leather any harm, but the Leather Conditioner is much better product for the job.
Here you can get a full rundown of the specific products and procedures to care for whatever model you may have.
During winter, salt from the streets is recognised as one of the biggest problems for leather of any sort. But not to worry, with a little forward planning your Red Wing Shoes will shrug it off without problem.
Before the winter season really starts, take some time to condition your boots with either the Mink Oil or the Leather Conditioner. This provides a barrier between the leather and the elements.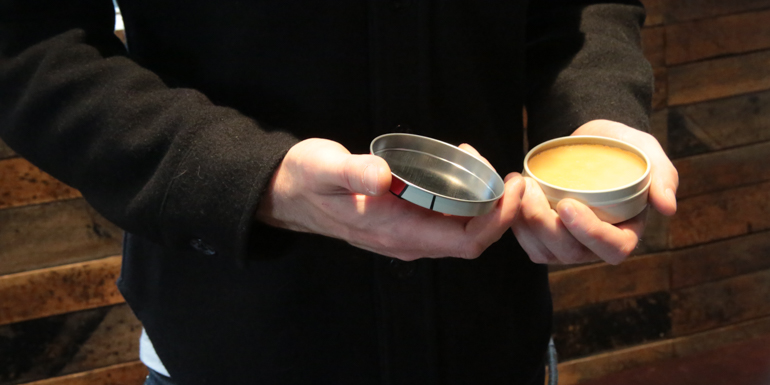 What to Use and What to Avoid
There are treatments you should avoid with certain leathers. One such combination that does not work is All Natural Boot Oil with the Beckman Leathers, especially with the lighter leathers. which will result in black spots.
Kay notes:
"With Mink Oil you really can't do anything wrong."
You should also avoid treating them too well. Instead, use them. You should not oil them each day.
Josh has seen the results:
"We have had a lot of customers come into the store lately with the 8111 Iron Ranger with the dark brown leather looking black. They over-greased it. Don't baby them, wear them."
Lastly, "never ever, EVER" use is these modern impregnation sprays. It's simply a no go.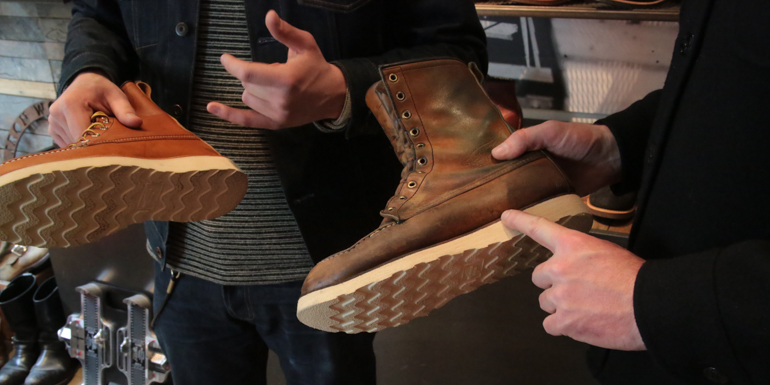 Topical Application
Naturally, some parts of your boots will come into contact with the elements more than others. The toe for instance will take a lot more abuse than the top of the boot.
Kay recommends applying the conditioner only where the boots see the most exposure. Too much conditioning of leather that is still well-oiled will result in the leather becoming overly flexible. This means that there may be some loss of support from the boot.