Red Cloud products are mostly inspired by vintage garments, but founder Mr. Raymon always tries to add in new features that are functional and more suitable for today. The R407BE is a redesign of the R407 jacket (below); both are perfect examples of Mr. Raymon's philosophy.
We're looking at a beautiful mixture of the Type I and the Type II. The R407 follows the design of the Type I closely with the wrist opening, where the button is located in the seam from the armpit. Another Type I feature is the cinch back; the Type II jacket, as you may already be aware, has the adjustable button tabs on the waistband.
Of Type II features the R407 features a second front pockets, which Red Cloud founder added for functionality. This jacket also has pleats next to the buttons and a tab on the left pocket.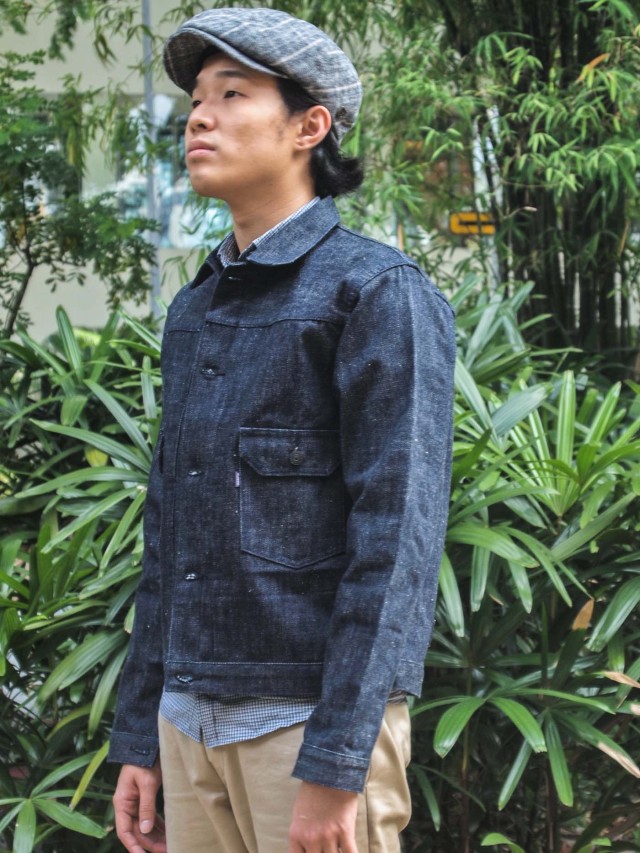 The R407BE is constructed of a 14.5 oz. denim and has tonal blue stitching. The combination of the blue denim and blue threads is what makes the BE-jacket stand out. The leather patch on the BE version is black, which matches its tonal theme.
The idea with the BE series (abbreviation of Blue Edition) was to make slightly more formal garments. Scrapping away the yellow and orange threads, which we normally see of these kinds of denim jackets, and replacing them with tonal thread makes the jacket suitable for dressy occasions and around the office.
All hardware and threads on this jacket is sourced from Japan and the denim is a Red Cloud original fabric, using Turpan cotton that is rope dyed and woven at the Red Cloud factories.
The jacket is available at Tuckshop & Sundry Supplies. In the BE series you'll also find the 424 and 425 jeans, which are Red Cloud's take on "business jeans." They match perfectly with a pair of brogue shoes, a dress shirt, and a jacket.
Pictures courtesy of Red Cloud and Jeroen de Wal.