Red Wing Resoling in Europe: Wijsman Cobblers (Part 1)
Witness the Netherland's Wijsman Cobblers Resole These Red Wing 699 Loggers
Anyone just slightly familiar with Rope Dye will know that in addition to denim we're also big fans of leather boots. Recently, our Dutch photographer and major Red Wing enthusiast, Micheal van Hal, visited the certified Red Wing Repair Center for Benelux, Wijsman Cobblers, located in Delft in the Netherlands. He needed to get his vintage 699 Loggers boots resoled and caught the action on camera for you to enjoy in this two-part mini-series.
A 699 In Need of A New Outsole
Last year, Michael bought a pair of vintage 699 Loggers in a nice Black Boomer leather paying only 20 euros!
Up until then he had only worn Red Wings with the Traction Tread, Nitrile Cork, and Roccia outsoles; these Loggers were a little harder to get acquainted with – especially the height of the heel.
So they were put back in the box and Michael started searching for a solution.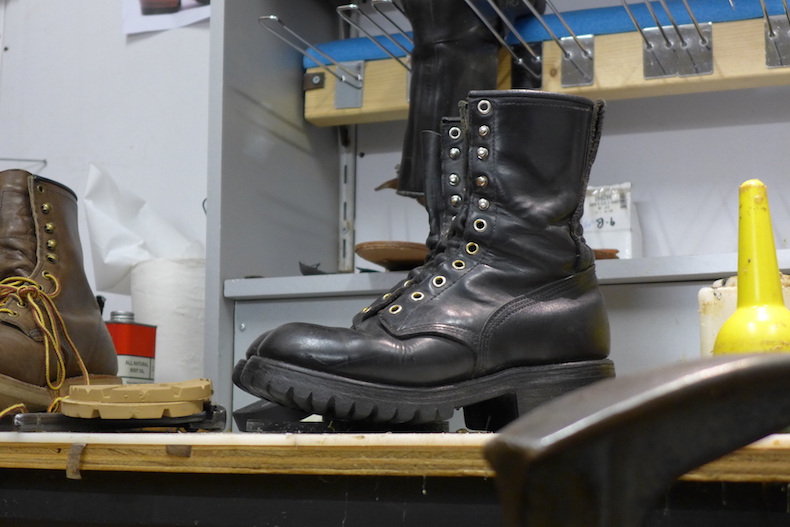 Red Wing Resoling In Europe At Wijsman Cobblers
In Japan, they have tons of cobblers who can resole your Red Wings. During his research he stumbled upon the inspiring cobbler Fukurokujuh in Tokyo. As much as he wanted to, sending the Loggers to Japan to get them customised would be both expensive and time-consuming.
Luckily, he discovered that the Wijsman Cobblers could do the job.
Owner Ger Wijsman is one of the best cobblers in Europe. He provides his services to the entire continent and even the rest of the world. Ger had already resoled Michael's 8118 Supersoles, so he knew how skilled Ger is.
Deciding What Should Replace the Original Vibram Outsoles
In the beginning of January, Michael went to Ger's workshop in Delft, just outside The Hague. He showed him around his small but impressive workshop, which houses the exact same machines (or similar ones) that they have at the Red Wing plant in Minnesota. This, in combination with his high skills, makes his repairs just as good as those they can do at the original factory.
While discussing the best options for the resoling the Loggers, Ger showed Michael his stock of outsoles, heels, leather parts for layering, and so on. With such choice, colours, and materials on hand, it was a slow process. After a while, he chose what should replace the original Vibram #109 outsole of the boots:
2x leather layers (giving the front 50% extra thickness)
Vibram #430 outsole
Vibram Mini-Lug heel (matches the profile of the #430)
US made leather stacked heel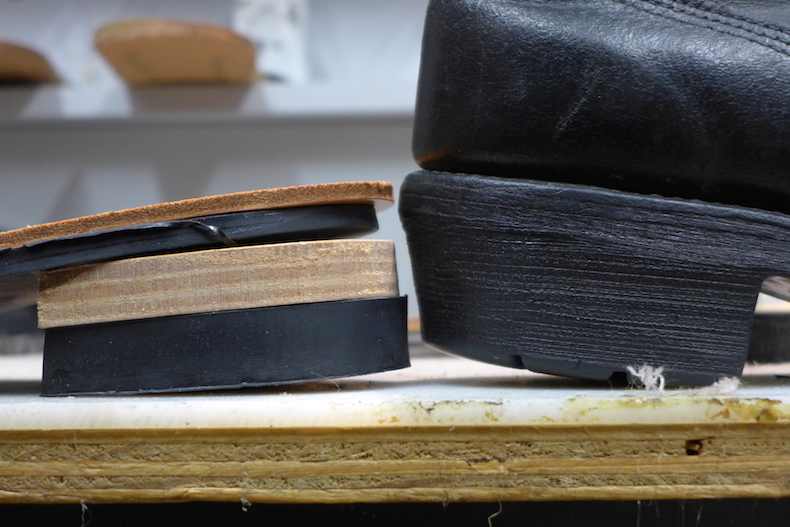 Next Step, Getting the Job Done!
So far so good. In the second article, you will see how Ger replaced the original outsole and what the 699 Loggers ended up looking like (spoiler: amazing!).
It was inspiring to witness Ger work; just wait and see – surely, even the most knowledgeable boot enthusiasts can learned a thing or two about how Red Wings are made.
Visit his Facebook page or follow him on Instagram to get the latest updates on his work.