How the Red Wing Foreman Chukka Fills A Gap In the Market
Ruggedness, Style and Comfort Come Together In the Red Wing Foreman Chukka
The Foreman Chukka is a new, exciting version of the Chukkas we know and love. By using a different outsole, a simpler derby construction and tonal stitching, the look of the boot is more formal without losing that original ruggedness. We take a wild guess at where Red Wing got the inspiration for the design.
Lightweight and Timeless
"All along the blue-collar backbone of America, one contingency of workers who took a strong liking to Red Wing's Chukka style were factory floor managers, also known as foremen."
This is what Red Wing writes in the press release we received along with the beautiful press pictures of this new edition to the brand's already impressive offering.
With its stylish design, the Foreman Chukka would probably have suited the authentic factory foreman. The construction combines a well-known leather upper with Red Wing's durable and comfortable neoprene cushion outsole. The result is a lightweight boot with the timeless design.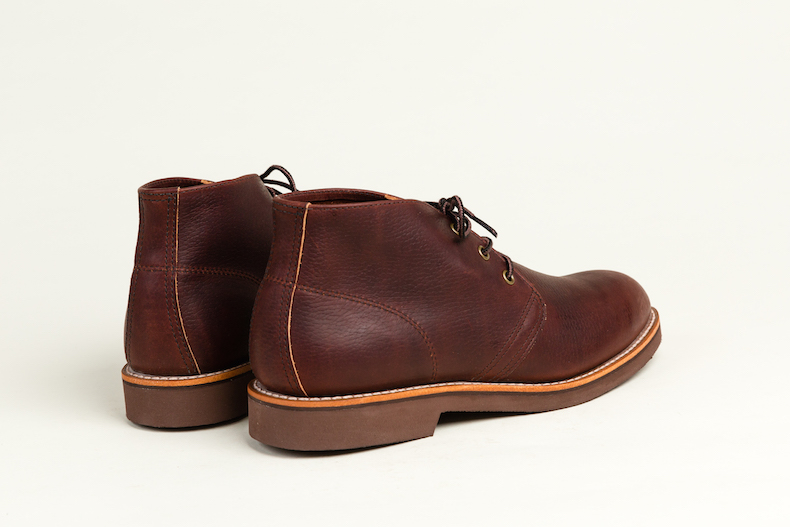 Drawing On Inspiration From A Customised Chukka?
The neoprene outsole was designed to provide traction and offer long-wearing support for workers and foremen who spent hours on their feet and move across various terrains.
This versatile sole is an ideal partner for this stylish and enduring chukka upper. An outsole with a heel also looks awesome on the chukka upper, something Dutch Red Wing fans and certified Red Wing cobbler, Ger Wijsman have known for a while. Just take a look at the customised 3141 below, which is fitted with the nitrile cork outsole known from the Iron Ranger.
Two Colourways In Classic Red Wing Leathers
The Foreman Chukka is available in two leathers; respectively the 9215 Briar Oil Slick and the 9216 Black Harness.
The boots are, of course, made in Red Wing's Minnesota factory and are available at selected retailers and the Red Wing Shoe Stores and retail for €260.