Phi Denim. French- Japanese Tailoring And An Ancient Twist
Phi Denim Mix Traditional Jeans With Kimono Fabrics
Phi Denim is a new brand based in Europe. To be a little more precise, they refer to themselves as French/Japanese and what sets this brand apart from the crowd is the use of traditional kimono fabrics as substitute for the right back pocket, giving the jeans a fresh yet traditional look.
The back pocket is the aspect that stands out in a pair of Phi jeans, amalgamating the look of an old and traditional Japanese kimono fabric to a more contemporary one.
The Team Behind Phi Denim
The Phi jeans team comprises four denimheads: Yukiko Suzuki (factory and PR in Japan), Alexis Ratajczak (administration, marketing and sales), Vincent Rousson (web, e-shop and PR) and Philippe Disdier (product creation and fabrics).
The brand is six months old and they have been busy spreading the word about their unique product via social media channels.
They produce in a small factory in Kurashi, Okayama. Phil said, "We made this choice as we didn't want to be just a simple customer in the middle of the others. We work closer from them. It was really important to stay true to the Japanese denim way of working: pure, craft, quality…".
Why The Kimono Fabrics Are So Limited
They present, at the moment, just one fit with four different kimono fabrics, each one with their own characteristics and in limited numbers:
PHI-RC-03: cotton Koushi style kimono fabric featuring authenticity and deep indigo
PHI-RC-04: Shimaoridashi featuring stripes, simplicity and also deep indigo
PHI-RH-02: Araregasuri style kimono fabric which is a minimalist weave with a dot effect and deep indigo
PHI-RS-01: Asanoha style kimono fabric featuring pure silk, deep indigo and ancestral weaving.
Depending on the kimono quality, they are able to cut eight, 12 or 20 pockets. But, because quantities are so limited, it is basically a case of, 'when it's gone, it's gone.' It is also worth pointing out that each jean is numbered and marked with the initials of the person who cut and tailored it.
New kimonos will come in time and Phil told us that a new batch should be released in February 2016 using premium kimono fabrics and targeted to premium retailers. "Those jeans will be just released to key accounts and in ultra small quantities. For the moment, we are keeping our cards close to our chest and we are checking the right shops to carry them", said Phil.
A Closer Look At The Jeans
The jeans are cut and sewn in Okayama, Japan. The  cut can be compared to a 47's fit. They feature a low rise, relaxed top block and tapered legs. The taper is very pronounced, giving to the jeans a contemporary look, which helps to highlight the mixture of traditional and modern.
The denim of choice is an unsanforized 14 oz. Okayama selvedge, rope pure indigo dyed. They use threads in tobacco and gold.
The jeans have five belt loops. All of which are rope reinforced and sewn under the waistband as is often the case with Japanese jeans.
The hardware is not pretentious; copper rivets and donut buttons.
A nice detail is the coin pocket fabric which is made of black cotton selvedge from Nihon Menpu mills. The same fabric is used to reinforce the kimono fabric on the back pocket.
The two front pockets' lining is made from a heavy duty cotton twill which is also used to reinforce the bottom of left back pocket. This pocket also features  hidden rivets.
One thing that had me puzzled was the way how they attached the kimono fabric to the jeans. Phil told me that they patch it on the denim and add two seams to reinforce the construction. Then they bond the outside part using a special film and process which all sounds very technical  but the finished product is very appealing.
Phi Denim places a great deal of emphasis on durability and the way the denim pieces hold together. They use the French seam technique on the whole jeans (except on the side seam, due to the selvedge) with cotton threads, leaving a pretty clean seam which is definitely easy on the eye.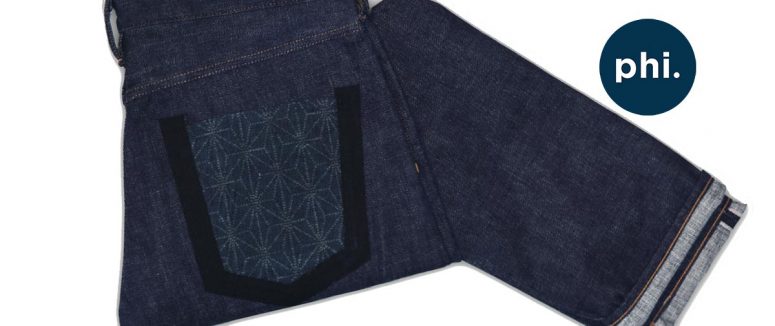 What Are We Getting For Our Money?
At €270 a pair, Phi are firmly in the premium price category and, in our view, Phi jeans is a unique product targeted to a more trendy group of consumers and open-minded denimheads. They are bringing the Japanese culture even closer, adding a subtle detail on one of most recognisable  parts of a pair of jeans. Are they for everyone? In truth, that is hard to say; it is a personal choice but one which even absolute purists will probably want to consider.
The denim, the other materials and construction are top notch and they are all crowned with an iconic part of the culture of the Land of the Rising Sun. They want to create a new product, remixing the codes and using the best from the past, present and future. Denim, kimonos and technology is their main story.
We can not wait for the second batch to debut and see what Phi have in the pipeline with the new fits and kimono fabrics. If you like Japan, get one and rock your kimono pocket with pride.
Phi denim can be found here. Also, you can follow them on Instagram and Facebook.