Rope Dye RoundUp: 5 Winter Jackets To Keep You Warm, Guaranteed!
There is no such thing as bad weather, just bad clothing. With this in mind, let's look at some jackets to get us through the winter months.
At this time of year, the weather in more northern climbs of Europe can be a little unpredictable, to say the least. Before leaving the house each day I religiously look at my weather app and dress accordingly. This morning I noticed that the temperatures are plummeting to decidedly Winter numbers.
Why not use this unwelcome news as a burst of inspiration and look at a few winter jackets that will sustain us over the cold and bleak winter months. After all, winter isn't coming. Its bloody well here!
First up, let's go visit our friends up in Copenhagen, Hansen.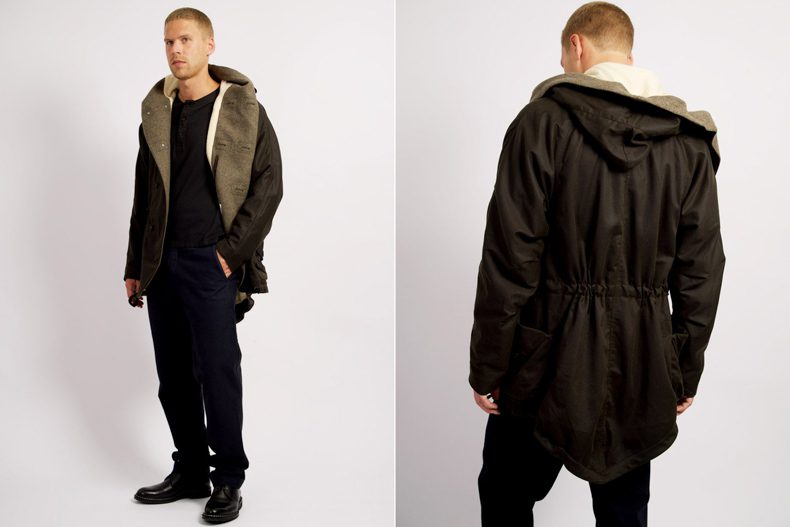 Their STORM is a hooded, mid-length jacket with a wax cotton outer shell and 100% wool lining. The wax cotton will keep you nice and dry in the rain while the wool will keep you warm. The double-breasted design and horn buttons will ensure that the wind and water stay firmly out and you can keep your hands warm in the deep, cotton lined flap pockets.
Silk waxed 100% cotton shell
100% wool lining
Horn buttons
Waist size adjusters
Lined front pockets
Felled seams
British fabric
Made in Europe
Loose fit
Available here.
The Scotts should Know a thing or two about shit weather!
Next up we have a Scottish brand, Simmons Bilt. Coming from Scotland myself, I can attest to the need for a good jacket and these guys make some of the best leather jackets in the world.
For the winter, there is little better than a sheepskin leather jacket to keep you warm. The Polaris seen here was developed with the needs of brave bikers willing to ride all year through. It needed to withstand cold and harsh conditions while still giving plenty of movement.
Using World War II flying jackets as a starting point the Polaris is made from North American Sheepskin at two different thicknesses (15mm for the body and 25 for the collar) and heavy-duty canvas is used to back the collar with stitch detailing giving rigidity. The very same canvas is used for the front cargo pockets with button closures. The jacket itself closes up tight with size 8 Riri zips for the front closure, zipped sleeves and side adjusters.
Aside from the very coldest days in most of Europe, you could probably get away with just a T-Shirt under this jacket!
Available here.
From Wool to Feathers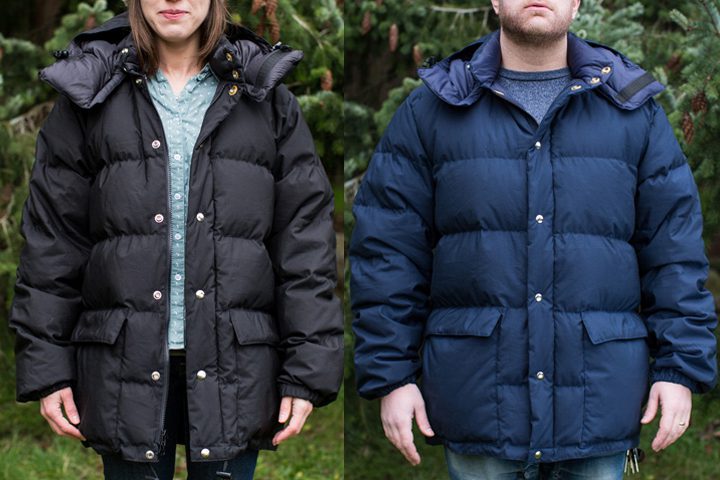 We are going to go over the pond for the next one, to Seattle. The Crescent Down Works Classico Down Parka. This CDW take on this tried and tested design provides exceptional warmth, durability and comfort in an amazingly lightweight jacket. The Classico is hip-length and filled with 14 oz. of 700 fill-power white goose down, even the large cargo pockets at the front are down filled! Further flexibility comes from the drawcord waist and hem adjuster, detachable hood and zip closure with an additional snapped wind flap all wrapped up in a Raymar 60/40 shell with 100% nylon lining.  Down, along with wool is truly one of natures perfect insulators and has been used for centuries in this way. The Classico as well as all other CDW jackets are made to order in Seattle and really will last you a lifetime.
Available here.
Naval Knowhow
If any institution knows a thing or two about keeping their members warm and dry, it will be the Navy. And that exactly where we'll go for our last couple of jackets.
Keeping sailors dry for 300 years
First up we have the Classic 32 Oz. Melton Wool Navy Pea Coat from Schott NYC. The Pea Coat is the classic of classics when it comes to jacket designs. The term Pea Coat has been mentioned since the early 1800's and the design has remained largely the same in all this time. It was initially designed for the crewmembers of tall ships. They would have to regularly scale the rigging to furl and unfurl the sails. The Pea Coats was developed with this in mind. Cut short to allow ease of movement, the double-breasted design worked twofold, the buttons were offset to ensure they didn't catch and it meant the wind had little chance of cutting through. The high collar could be turned up to keep the wind off the face and neck and the hand warmer pockets are on the flanks to once again reduce the chance of snagging.
The Schott version of the Pea Coat is one of the finest examples of the design we have come across to date. The double-breasted design keeps all the wind and weather out while the large buttons ensure that it is easy to close with cold hands or gloves. The Melton Wool is a modern mixture of 75% reprocessed wool mixed with Nylon and other fibres. The traditionalists may ask why not 100% wool. Simple, mixing wool with other fibres actually makes for a much more robust and practical fabric. The jacket is fully lined and has two inside chest pockets as well as the handwarmer pocket on the hips.
Available here.
If it's ok for Newman, its ok for you.
Our second naval design comes from slightly later in Naval history. The N1 Deck Jacket. Developed for the US Navy in the 1940s the N1 saw action in both the Pacific and Atlantic theatres during World War II as well as the Korean War. Much like the Pea Coat, it was designed with the needs of the sailor in mind. The jungle cloth outer with wool lining meant it was very water resistant and kept the wearer warm at all times. It saw a number of design changes over the years to improve its functionality. Including hidden storm cuffs, gusseted and vented armpit areas and changes in the pocket design.
There are a plethora of modern takes on the N1 and it was really a tough choice but we have gone for the Dehen 1920 N1 because it takes everything that made the N1 the archetype that is has become and brings it to the next level. As Dehen say themselves:
"this jacket represents the very best we have to offer"
It is warmer and more substantial than anything else in its class and built to last 2 lifetimes.
10-Ounce waxed cotton shell
Mouton fur lining and collar
6-Button placket-front closure with hidden #10 brass zipper with canvas pull
Added inner left chest pocket with same #10 brass zipper and canvas pull
100% wool knit cuff
Undercollar zig-zag stitching and neck closure
Eyelets at underarm
Available here.
Something for everyman.
There we have it, folks, we've picked a range of winter jackets that represent a variety of timeless designs. They are investment pieces which can be brought out again year after year and are guaranteed to keep you warm no matter what the weather throws at you.