Redefined Americana: The 2018 Fall/Winter Lookbook from 3sixteen
3sixteen have dropped their latest lookbook for Fall/Winter 2018. In it, they show us a redefined, refined version of Americana.
3sixteen made a name for themselves during those heady days of heritage. It was the late naughties and back then it was all about stiff raw denim, flannel shirts and rugged boots. But we are a long way from the days when the lumbersexual loomed large. This urbanite woodsman parody has given way to a more refined version if itself. It has evolved and thankfully so.
Show us the way!
Slowly, incrementally over the years, 3sixteen has shown us the way. Season by season they have introduced new items, styles and fits much more in keeping with our urbanite nature. All the while maintaining the quality, craft and style.
Setting style in cement
With the 2018 Fall/Winter lookbook, you can see that 3sixteen have really cemented their aesthetic. It is not a revolution, certainly not, but they have reached a point in which we can see a defined narrative that is distinctly 3sixteen. Yes, there's something for the lumberjack guy but this sits effortlessly next to an Athleisure guy, the creative agency guy and as much as it pains me, the normcore guy. It is redefined Americana. Or refined American… maybe both.
Rough instead of smooth and all camo everything
There are a couple of real stand out pieces in the lookbook. Top of the list must be the all camo everything outfit. A Dark Frog Camo Selvedge Fatigue Overshirt paired with a Dark Frog Camo Selvedge Chino. It is a bold look unless you are in dark fog, then you are a floating head. Also bold.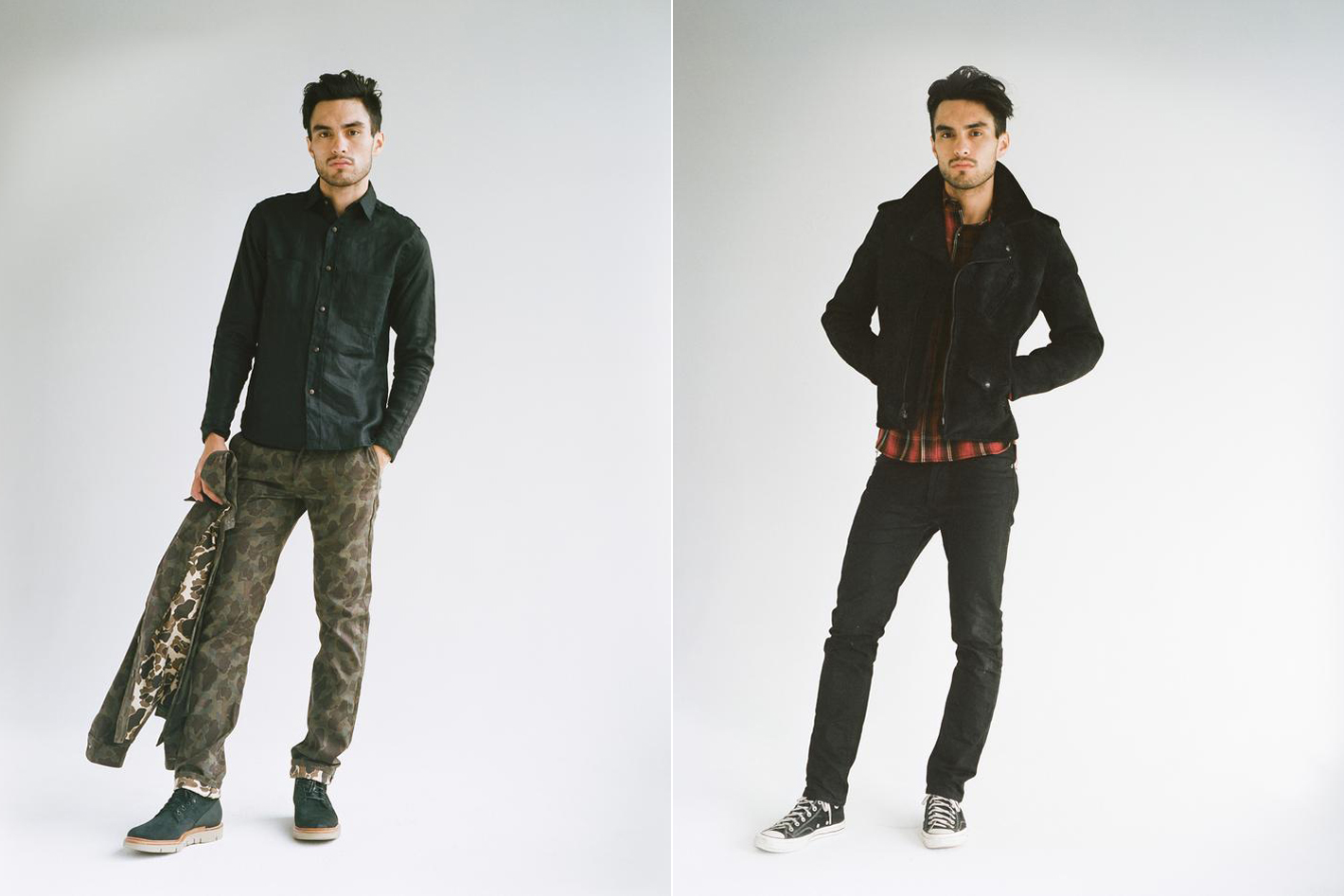 It's also great to see the return of the Schott collab that's been running the last few seasons. It's basically a Perfecto but like the whole collection, it is reimagined and refined. This time it comes in a roughout leather which is an interesting choice for a Perfecto. Its certainly unique and is bound to resonate with 3sixteens dedicated customer.
For more in-depth details head over to the 3sixteen website