Blood, sweat and terrazzo
How ancient terrazzo is being reborn in Berlin.
Even if you have never even heard of terrazzo stone, you are probably far more familiar with it than you might think. From flooring in grand municipal buildings and galleries through to the counter in your local coffee shop, this upcycled and remanufactured stone is everywhere.
And now, it is making waves in the high-end furniture industry as new, innovative operators move in and explore the world of infinite possibilities that terrazzo opens up.
Technically, terrazzo is recycled stone and hard waste, bound together with a cement compound. It's as simple as that. Its roots can be traced back to the time of the pharaohs and we are all familiar with the mosaics of the Roman era.
However, once the Renaissance era really started motoring in the 14th and 15th centuries, terrazzo also got its skates on as a by-product of the stone industry which was being driven by everything from cathedral construction to fine sculpture.
True Working Class art.
Basically, the stone masons were allowed to take home the off-cuts, odd chips and broken chunks which they then remanufactured in to their own flooring and work surfaces. As designs and creativity evolved, these artisans began to add pigments along with fragments of porcelain or glass.
From working class roots and with impeccable sustainability credentials, a new art form was born.
The terrazzo revolutionaries are here
Which brings us neatly round to a Greek-Australian former professional soccer player and Melbourne-born Berliner.
Meet Stacey Kent and his team at Kentholz, a Berlin-based furniture outfit which is causing quite a storm within the design community and in the bleeding-edge homestyle press.
Together, they are reinventing terrazzo and giving it a thoroughly contemporary twist with a range of tables which amplify the creative possibilities of the product as well as push the bounds of sustainability. (Even the base frames are made on-site with locally fabricated steel or finely-restored, centuries old Alpine oak.)
The difference with Kentholz terrazzo is that, rather than being poured from industrial-scale vats, each colour way is mixed by hand and the embellishments – alabaster, glass, porcelain, marble – are deliberately placed so as to build the artistic tableau.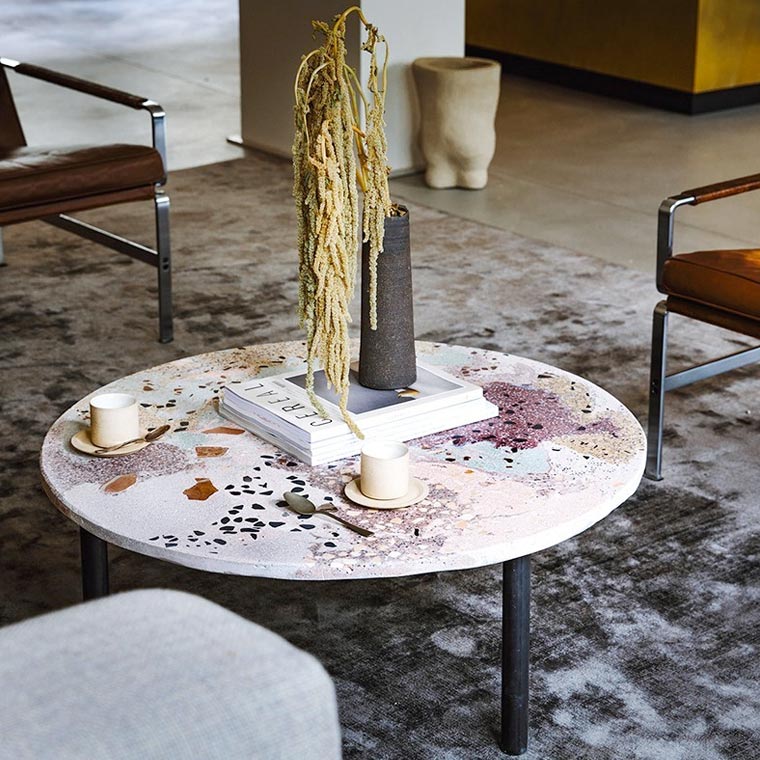 Think Jackson Pollock, only in stone.
Of course, this means that no two pieces could ever be alike, and each is a work of art in its own right.
This is what hard graft look like.
This is work, alright. Stacey tells us that there are a good fifteen hours of solid, demanding labour in each and every square meter of their terrazzo.
After a tour of the workshop, we would suggest that the result is worth every minute.
The moulds are made to exact dimensions. Then each mix is prepared and dyed while the various additions are carefully arranged before being set in place.

Once dried – after around three weeks – the team don industrial protection and disappear in to a cloud of thick, white dust while grinding and refining the finish. This is hard, gruelling labour in its rawest form.
Once the surface has been brought back to a smooth, matte finish, each piece is treated with a professional-grade stain repellent and then shipped off – all 150 kilos of it – to an increasingly wide customer base in homes and businesses across Europe and beyond.
You can find out more about their stunning terrazzo tables and work surfaces at kentholz.com
KENTHOLZ
Skalitzer Str. 43 
10997 Berlin DE

Telephone & WhatsApp: 0049 179 483 8585
General Enquiries: [email protected]
As of February 2021, viewings are not permitted under  lockdown regulations.