Gola; an English Icon, for better or for worse
Twentieth century boys. Revisiting Gola
If we mention Gola Sportswear, what does that say to you? The answer to that question probably depends on your own particular vintage.
If you are under 30 years of age, we would wager a crisp banknote on you wondering what we are banging on about. But for those of us with a few extra miles on the clock, Gola was one of the cornerstone brands of our youth.
However, now that they are doing what they always did best, we are fast coming to the conclusion that Gola sneakers have earned their place back on the shoe-rack.
How it all began
Gola has always been one of the quintessentially English brands, being initially produced from 1905 in the East Midlands traditional footwear manufacturing region, in and around Northampton, alongside British icons like Church's, Cheaney, and Doc Martens.
The company started life as the Bozeat Boot Company, and was based in the Northamptonshire village of Bozeat. This was quite some feat given that mains electricity was only installed in 1925, mains water in 1949, and sewerage as late 1950.
Still, Gola sneakers (or "trainers" as we called them back in the day) and accessories became as much of the fabric of 1970s youth culture as the Slade and Liverpool FC. Indeed, a Gola sports bag was the absolute must-have of the day and that link with football was as good as baked in.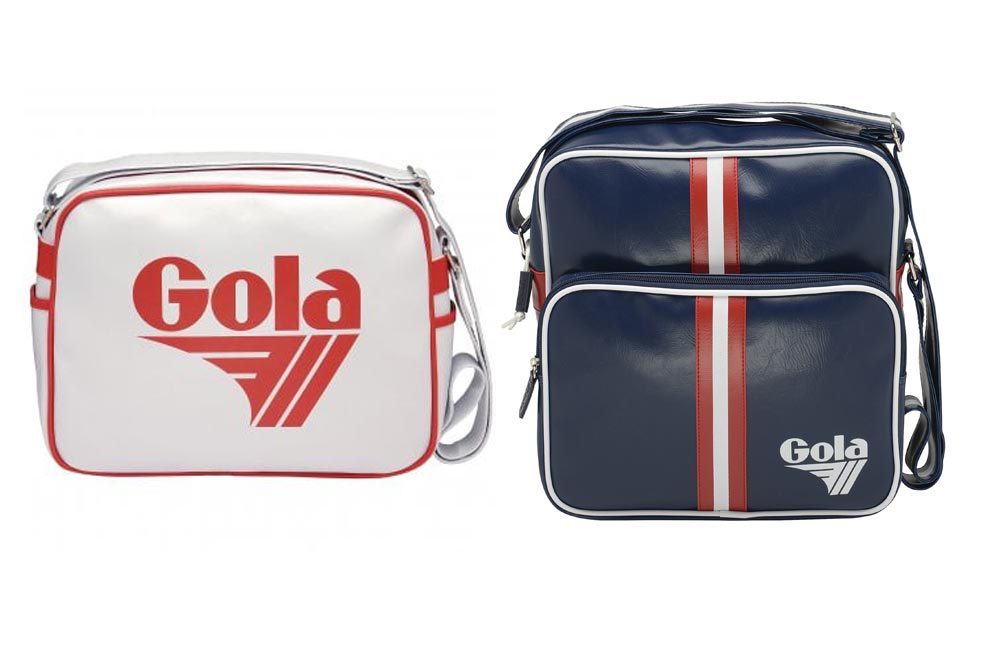 Football then, of course, was all about win at all costs, working-class tribalism, and local lads making good. Players smoked during the half-time break while making serious attempts on each others lives for the rest of the game. The spectators, ditto.
As a metaphor for civil war, it did a pretty decent job, and was a million miles away from the high-finance, celebrity-driven model of what is now the modern game.
Why are we mentioning this and why now?
That's a good question! Since losing its way in the 80s and 90s, when the violence and danger or even watching football became too much for most people to bear, Gola entered in to a twilight period. Football was uncool and so was everything associated with it.
However, as recently as the early 2000s, Gola sportswear was re-launched in the UK as a retro sports fashion brand, presumably selling to the same clientele, now grown up, who affectionately remembered the brand from their youth but now at premium prices.
So it's a Dad-brand, then?
Well, yes and no. It is worth remembering that denim brands, such as Lee and even Levi Strauss themselves, have all endured their wilderness years before coming back with rejuvenated lines which, paradoxically, recall their own heyday. In the footwear sector, Docs suffered the same fate when the brand became synonymous with thuggish, rightwing street gangs.
With the Classic Men's Harrier 317 sneaker, for example, Gola is targeting the younger, premium leisure sector which won't baulk at dropping north of 160 euros (or pounds, or dollars) on a pair. This is a Made-in-England, crafted shoe with the classic silhouette originally created in 1968, and features a leather upper with a self-coloured suede toe cap.
It is a handsome beast with a price tag to match. But styles like the Grand Slam Classic and the Indonesia-made Inca run rather more affordably with no apparent compromise with their authentic, court sports styling and stink-avoidant leather construction.
In fact, if the Adidas Samba is how you usually round off a selvedge denim look, the Gola Inca should be in play, too. The various red-white-and-blue colourway combinations make it a bit of a no-brainer, some might say.
Where to buy
We have seen Gola in quite a few men's boutique stores and, in this era of Plague-19 when we are all shopping a lot more online, the company has a slick ecommerce offer for both the United States and British customer. There is plenty of wider distribution in mainland Europe too via Zalando, Bergfreund, and the usual suspects.
Buyer Tip: They run small so, if buying online, order at least a size up.
Uncool Tip: Some serious savings are to be had on Amazon.