To Dye For: Ruedi Karrer and his Denim Tuxedo
Ruedi Karrer's Cornerstones of his Denim Tux:
Vintage Deadstock Lee 101 Rider, Blanket Lined.
Lee 101 Rider Blanket Lined.
Heavyweight Denim Championship Ironheart 25oz.
Benzak Denim Developers – 710 green cast 14.7 oz. LHT
We all know this lovable Swiss Jeans Freak and we all know his love for raw Selvedge Denim knows no bounds. A collection of 14,000 denim items sitting in his Zurich-based Jeans Museum will attest to this.
But what about the denim he wears daily?
He will be the first to admit that he wishes he had 14,000 legs to wear all the jeans but sadly reality means he is bound to just a few denim items that he wears everywhere. And we mean everywhere. He wears denim to work, to play, to party, to garden, to ski and even to hike up the Alps!
The Routine
He has quite a specific routine that goes something like this (Ruedi, correct me if I am wrong here). He will always buy his jeans slightly too big. He never washes the jeans, even the unsanforized ones, buying oversized will reduce the strain on the denim and allow the jeans to last a little longer.
He will then wear them to the office until they are too grubby and stinky, then to do his sporting activities and finally, when they are on their last legs (total pun intended) he will save them for DIY and gardening. This routine can last as long as the jeans do and the results are astonishing.
I was able to pull Ruedi aside and snap some shots of his most iconic wear projects.
The Denim in Detail
The Lee Rider outer jacket hails from the 60s and was a deadstock item Ruedi has been wearing from Raw. The Lee 101 Rider is or more modern origin and slightly newer, but also blanket lined. Check out the differences in the blanket lining, it's true, they don't make them like they used to.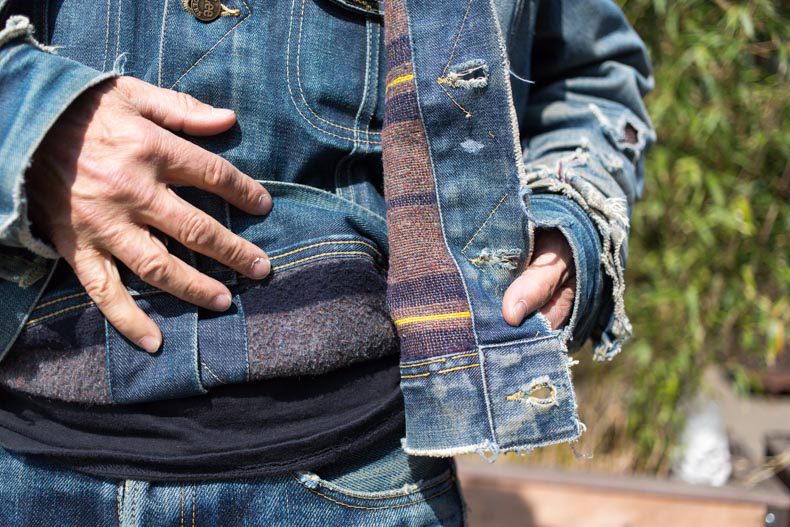 Some fascinating fading has occurred from the blanket lining shrinking from wear and sweat and pulling the un-shrunk denim in the body of the jacket.
The outer jeans here are the Heavyweight Denim Championship Ironheart 25oz which Ruedi has been wearing for almost 1,000 days. I believe at this point, he was about 7 days shy of the 1000, so he must be over that by now.
Denim Underwear?
Peaking through you can see the Benzak Denim Developers 710, Left Hand Twill Greencast. That's right, Ruedi uses them as underwear. The Benzak's will be his next project pair so I am guessing they are still in the office phase of their lives.
The greencast is a fascinating denim and I can't wait to see how they Swiss Jeans Freak evolves this denim!