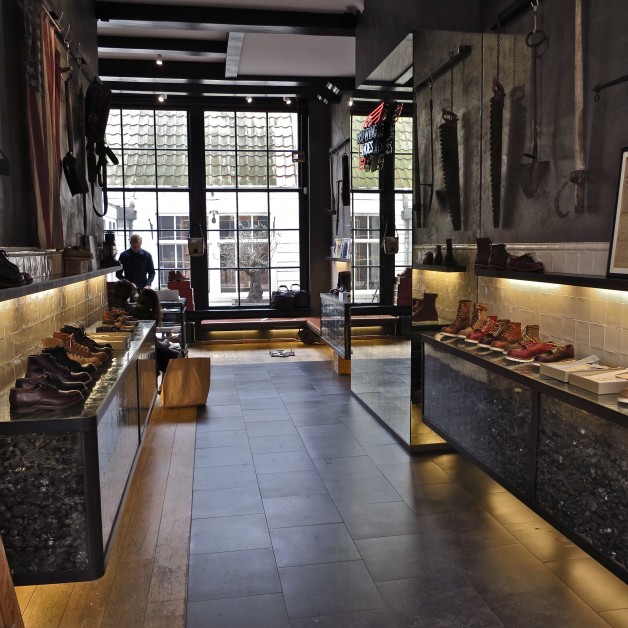 Visiting Amsterdam and reporting on the shopping opportunities you have in the city of course I had to stop by the Red Wing Shoes store. And what an experience. Even though I've seen most of the shoes and boots before and also own a few of them myself I was truly amazed of how inspiring the shop felt. This is a prime example of how to utilise and put into life the experience-shopping-culture. You simply have to put it on the top of your go-to-list.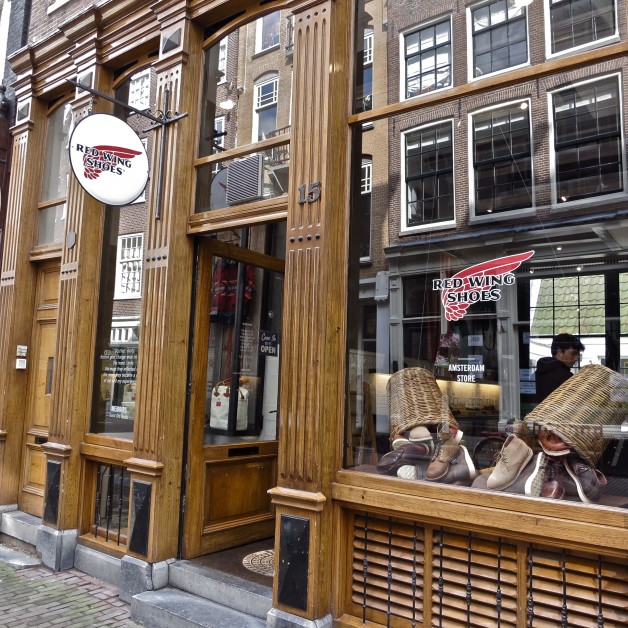 The shop is located in the area of the 9 Streets on Reestraat 15. The wooden facade makes it hard to miss.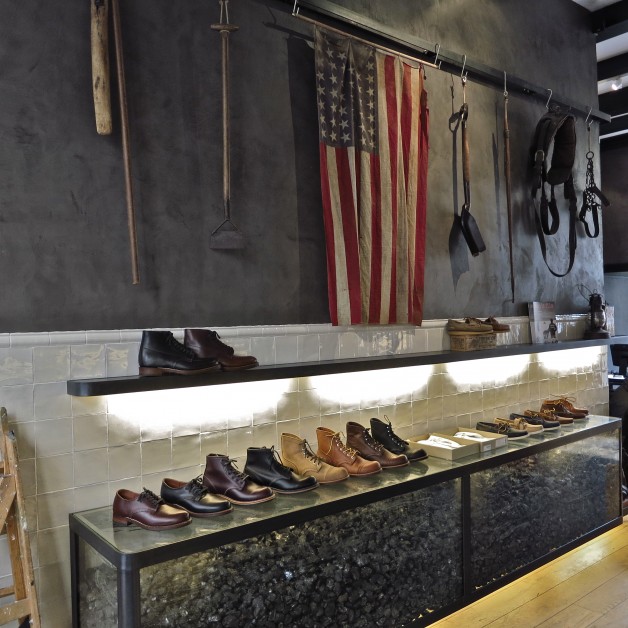 It's all about the small details that make up the big picture. Minimalistic visual effects like old tools, raw coal in the glass display cases, and a vintage Star & Stripes on the wall in combination with tiles and beautiful masonry work takes the experience and products to another level.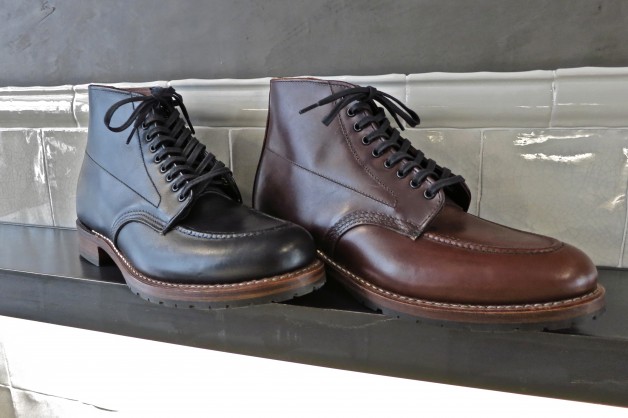 The 9029 and 9030 Beckman Moc boots.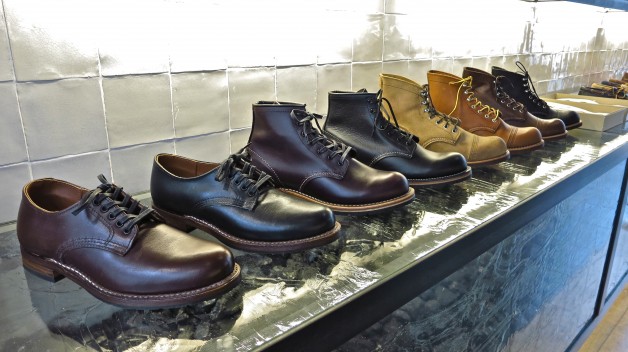 The Beckman Oxford are really something. Combined with suit and tie they'd make the perfect contemporary urban business man outfit.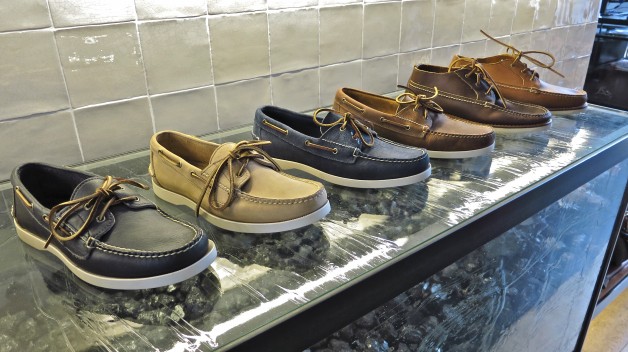 I've met a lot of people who would never dream of wearing their Red Wings during the summer. Personally I wear my Iron Rangers or Work Oxfords all year round, but if you like something more summer-ish pick up a pair of the Wabasha chukka or boot shoes that are hand sewn in Maine (read more about them here).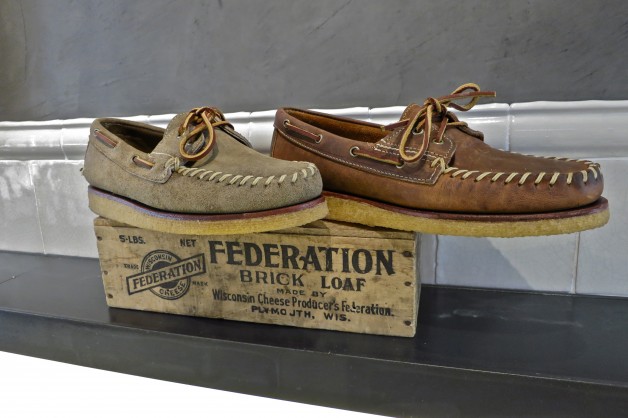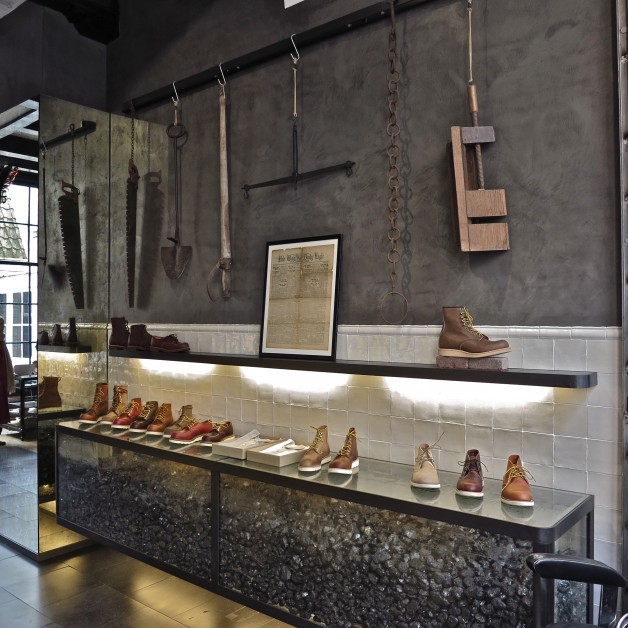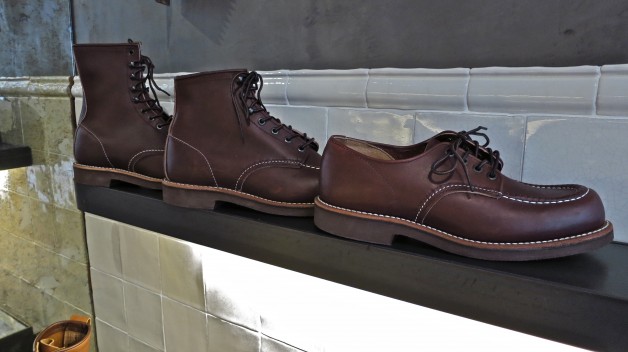 The 200-series of gorgeous dark red ox-blood leather and brown cushion sole.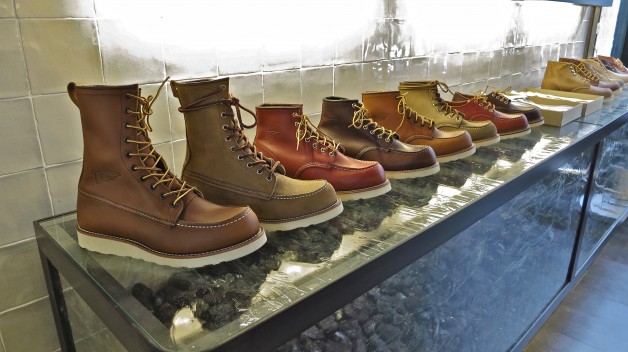 All your favourite classics are naturally there as well.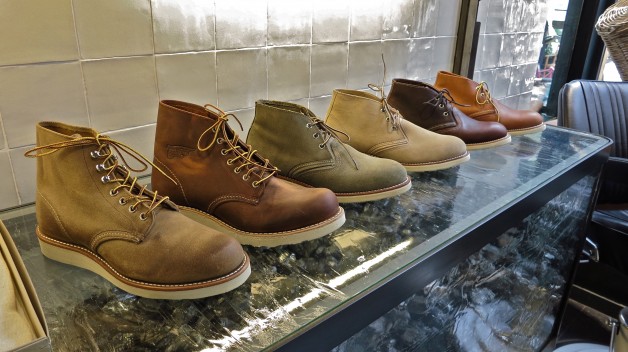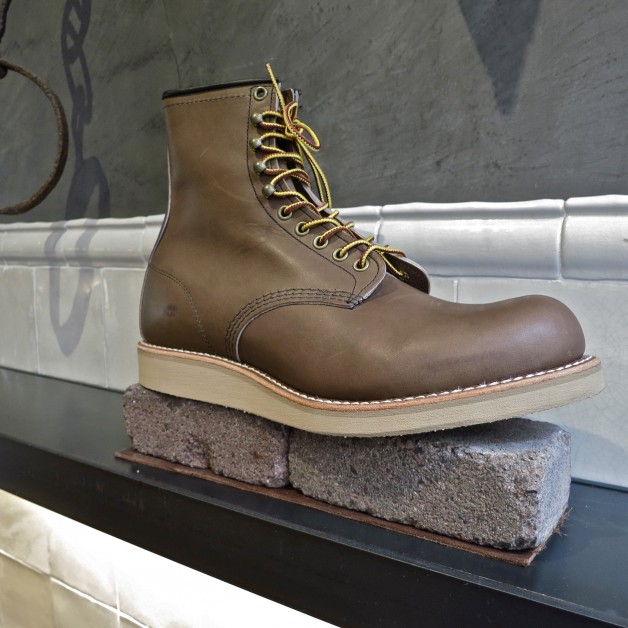 The 2941 7-inch round toe is really something special. It's equipped with speed hooks that will allow you to put it on fast even when you're in a hurry, and the coffee-colored cushion crepe sole makes gives it outstanding support and comfort. Until recently this model was exclusively available in Japan, but the European Red Wing Shoes stores (Amsterdam, Berlin & Hamburg) now have it on stock. For the fall of 2012 it will also be available in selected retailers throughout the rest of Europe include Brund.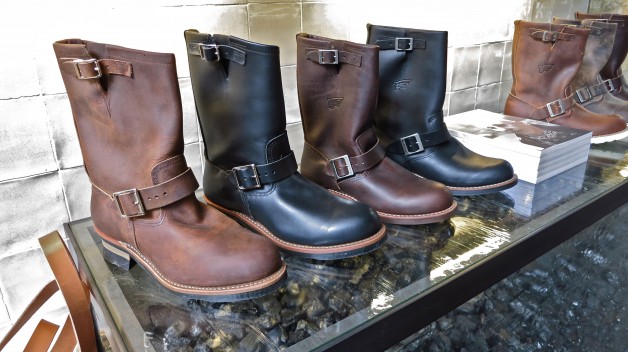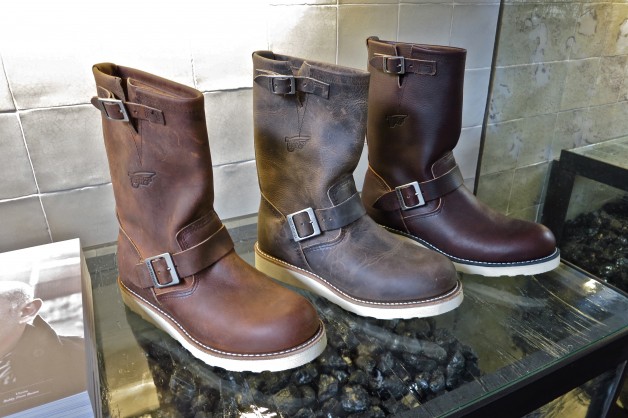 These boots sell very well with women.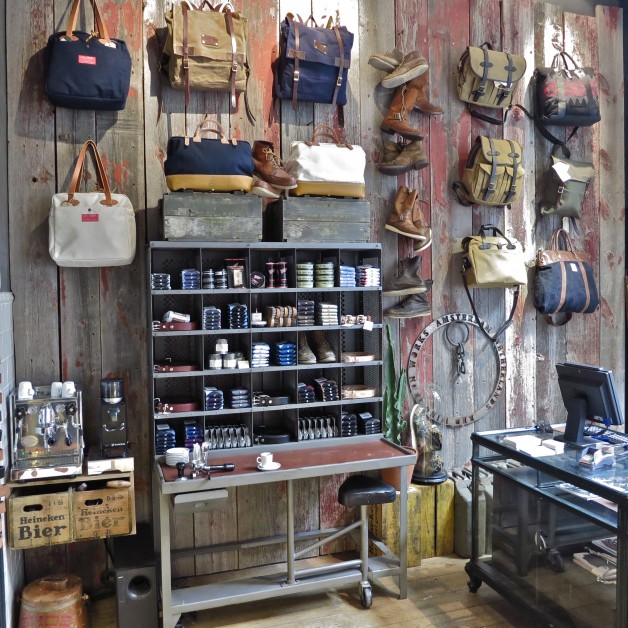 About 30% of the turnover in the is based on other products than Red Wing Shoes. These include wallets and belts from Tanner Goods, bags from Filson and Woolrich, shoes care products, and magazines like Lightning and Inventory.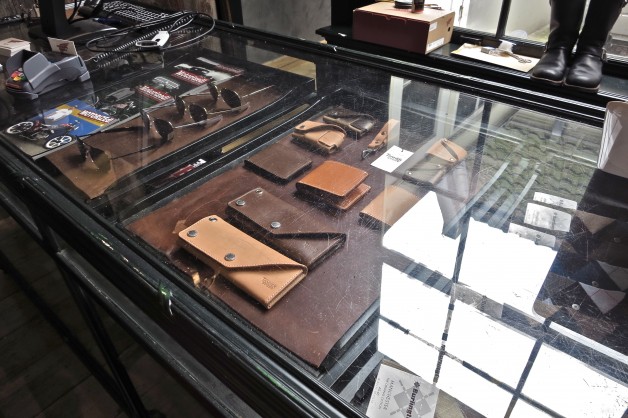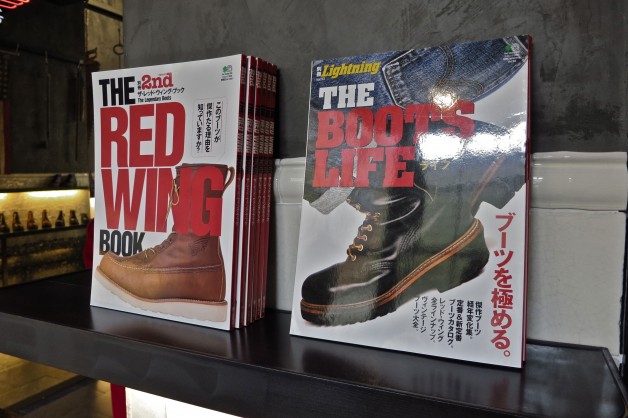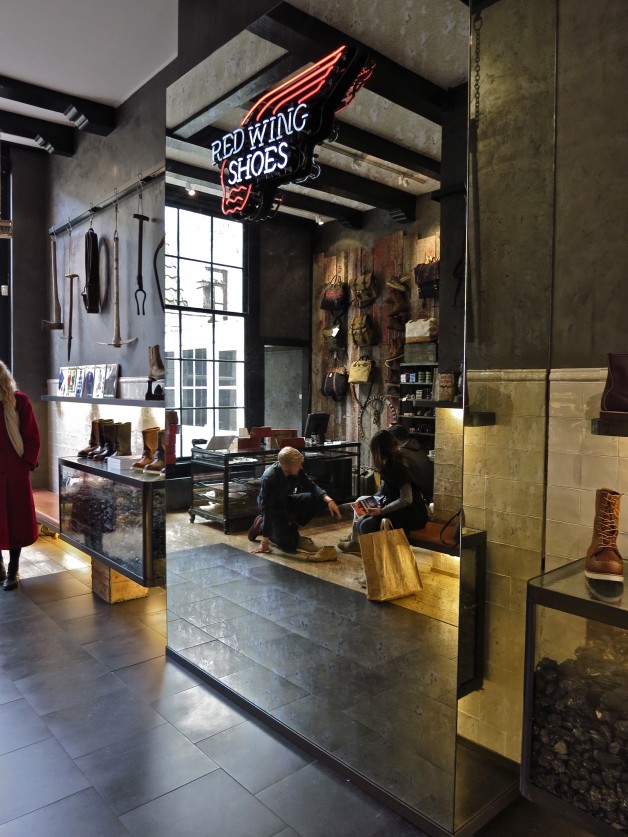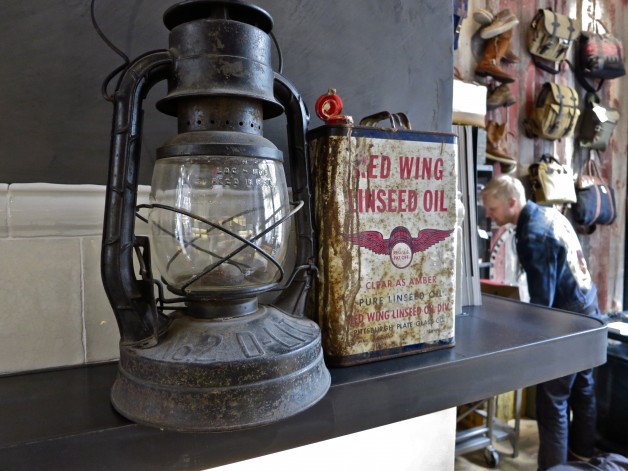 If you don't have the opportunity to visit the shop physically you can always follow their blog or have a look at their webshop. They ship worldwide for free.
Contact information of the shop:
Reestraat 15, 1016 DM Amsterdam, The Netherlands
You can read more about what I experienced in the Dutch capitol here.
Review by Thomas Bojer.