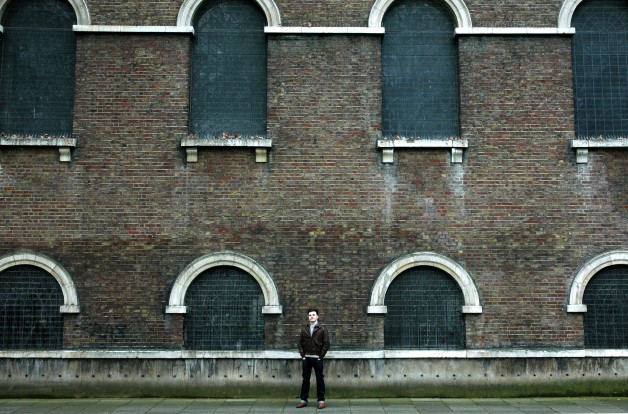 Denim is constantly gaining popularity and the old workwear pants have truly becoming big business. But not everybody is in it for the fame or the glory, to some hardcore denim hunters it's still solely about passion and fascination. Meet one such guy, Chris from the Blue Gold Blues.
You seem to be quite the denim hunter, but how did it all begin?
"I guess you could say it all began a couple years ago when I got a summer job at Marlboro Classics in London. My boss at the time was extremely knowledgeable about denim having previously worked at Evisu Savile Row. He took me under his arm and taught me all about 'premium' denim. Needless to say I walked into that job not even knowing what selvage was and walked out wearing bespoke Warehouse (Japan) jeans. My first experience with Vintage was at Ragtop Dave's stall in Spitalfields Market, London. After seeing the real thing and how superior it was to the repro stuff I was wearing, I was hooked!"
What is Blue Gold Blues?
"Blue Gold Blues was project I started at university for a bit of fun. It became a hobby to rummage through vintage and thrift shops looking for old Levi's jeans and I wanted a place to showcase my finds, but more importantly document all the little details that made vintage jeans resonate to me. It's almost impossible to find decent vintage in London, or Europe for that matter, which is why it's exciting when you find something cool. People regularly email me about jeans and jackets they have found too, I'm always glad to answer questions about this stuff."
What do you do for a living?
"Just graduated from University so need to start looking for jobs! Levi's XX? RRL? Are you reading this?"
Why do you think denim (especially vintage) has become so popular?
"There's unquestionably a buzz around 'premium' denim at the moment. Bloggers have pointed out that wearing a selvage turn-up has almost become into a little 'hipsters club' around town. But in all seriousness I think especially for men at the moment, they want to feel that there is some level of authenticity in the way that they dress, and 'fashion brands' (you know the ones I'm talking about) just don't cut it. For me, vintage denim is the next step up after that, yes it's expensive, but put it into perspective: people drop 200-300 euros on a pair of "repro" jeans all day long, and believe it or not you can get some killer vintage Big E Levi's for that sort of money. The quality of the denim, the fades, the character and most of all the heritage is just something that cannot be reproduced today, not even in Japan!"
What should you look for in a pair of vintage jeans?
"Depends what your after I guess. I always like to see a bit of character, something you can be like; "yeah that's cool". But then again it can be nice to wear a pair that are really dark and in good condition; the higher end stuff. But the problem with that is no one believes it's original when you wear it! That's happened to me a few times!"
Below is a picture of Dave from Ragtop Vintage inspecting a pair of vintage jeans.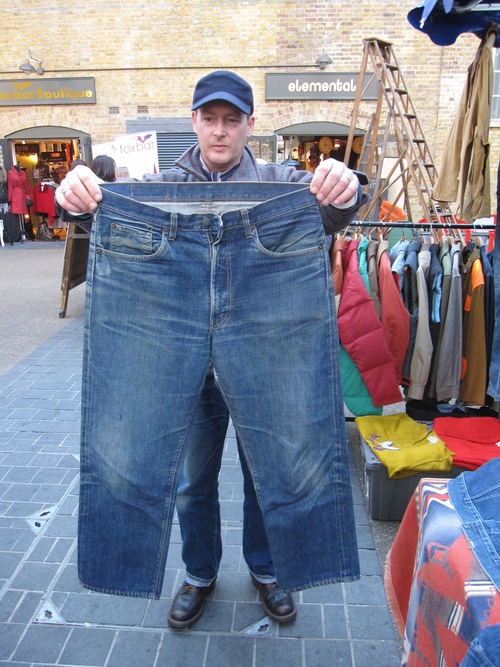 If you could only wear one outfit for the rest of your life what should it be?
"It would depend on a number of factors but generally I like to wear things that are well made, interesting and have a bit of heritage, but I think it's important to mix it up with something contemporary. There's a great quote about being dressed head to toe in vintage clothing by Larry Mckaughan (Hellers Cafe); "One has to be careful not to wear a costume," and I totally agree with that."
On the eternal denim hunt, which pair would who be most happy to find?
"In the words of the infamous Brit Eaton aka Indiana Jeans (picture below), "Buckle-backs Baby!" in other words anything Levi's pre-WWII."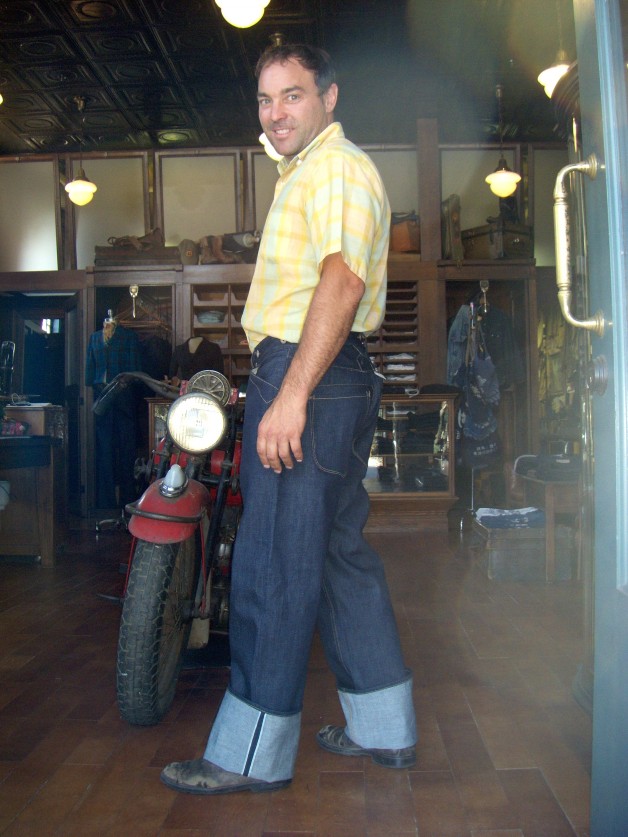 How many pairs do you have in your collection?
"At one stage I had something like 12 pairs of Big E Levi's, but I have since developed a bad habit of selling everything to fund new purchases."
Which pair are you most proud of?
"A couple of years ago I was in Berlin I found this really great rare model of 501."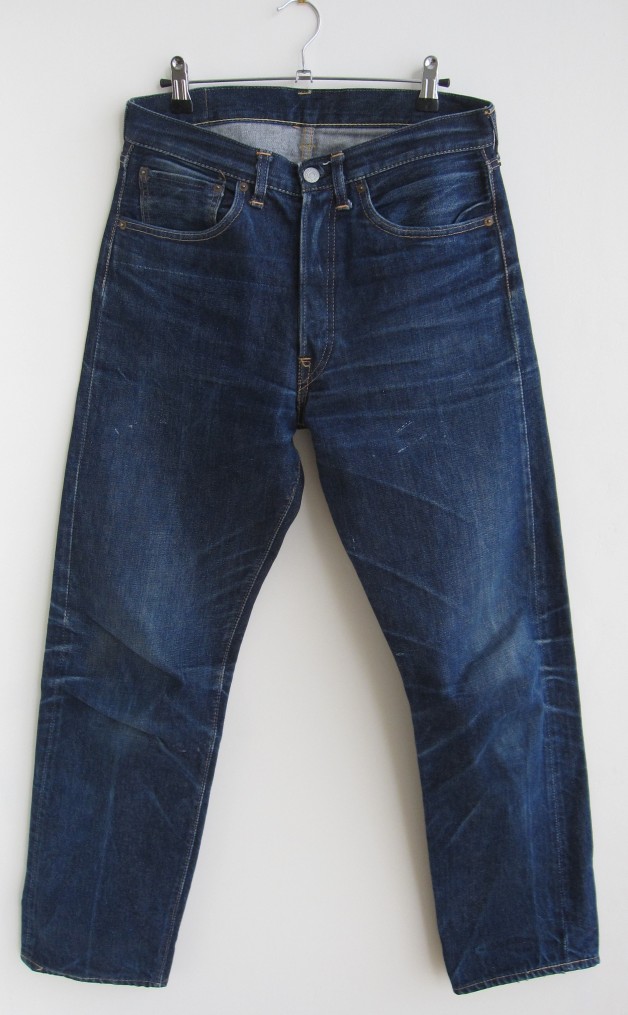 "They originally come from an old guy that bought them in 1967 at a US Army Postal Exchange (PX Store) in the American sector, during the Berlin wall days. They had some of the best fading contrast/whiskering I have ever seen. They were two inches too small for me and I kept them for a while but recently I sadly let them go. They paid for a vintage A-2 Jacket so its all good. Talking about Berlin, I would go as far as saying that it's the best place in Europe for vintage clothing, I have picked up big E Levis for 10-15 euros at flea markets there; the American influence of the past is still visible to this day."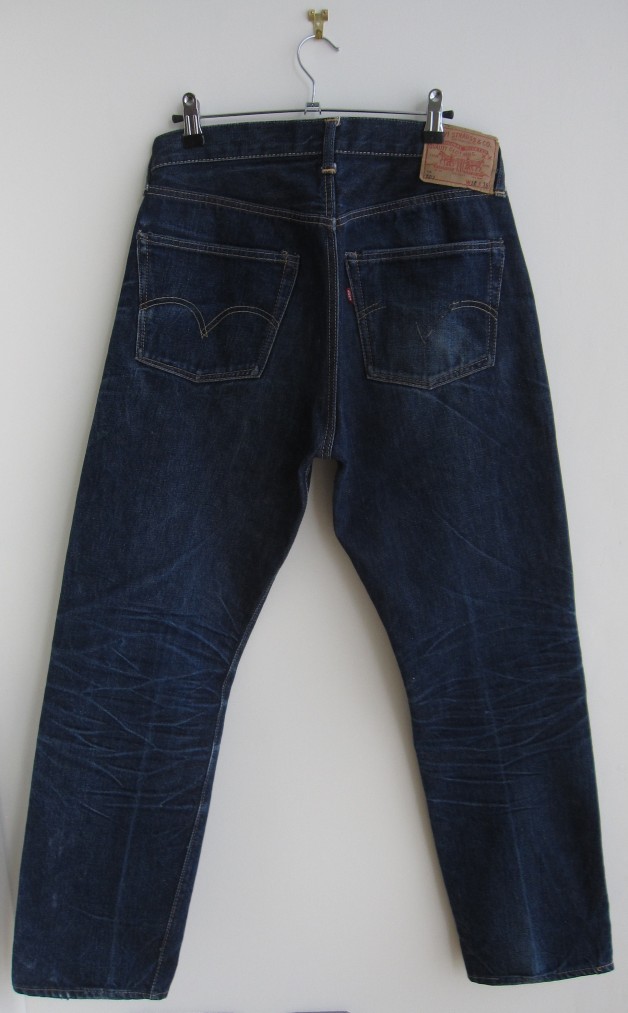 How do you wear in your (dry) jeans – any special routines?
"In my opinion a laissez faire attitude is the way to go, just wear them and you will get the results you want. People are putting far too much thought into wearing a pair of jeans these days. Depending on size and shrinkage I will give a pair of jeans a rinse to start off with and then wash them by hand when necessary, job done."
What did you dream of becoming as a boy?
"A musician – I'm also a vintage guitar enthusiast."
Are there any up-coming or unknown brands that you think are worth looking into?
"I wouldn't really know about up and coming repro brands, it's not my cup of tea. But having compared a number of repro jeans to real 50s and 60s deadstock denim jeans, Warehouse and Momotaro are only two repro brands that I feel come close to replicating the quality and look of the real thing."
Do you own every pair featured on the blog?
"Unless it's clearly stated otherwise I have owned each item at one point."