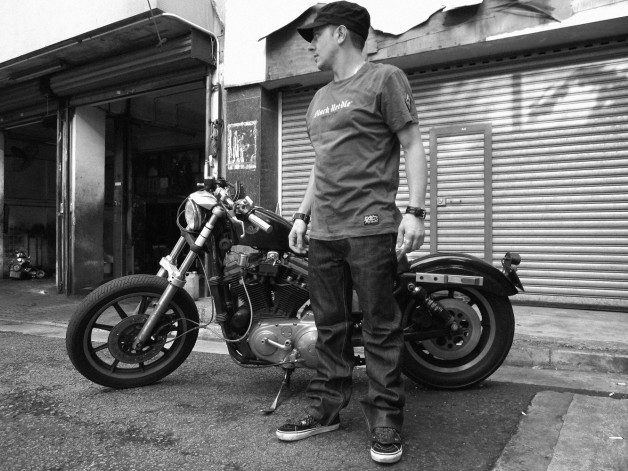 Black Needle is the story of two French brothers, Ben and Guillaume (Mr.G) Barras, the driving forces behind the brand. Mr.G has been living in Hong Kong for 13 years, Ben has been there for 8 years. They travel back and forth between Asia and Europe. "When we were kids there was a sewing machine at home and one day, my brother was 12, our mom told him to amend the size of his jeans himself – that's when we started making our own stuff." Black was the main colour then as it is now and the needle was the first and only tool.
In 2006, the Black Needle concept was created; rooted in the brothers' love for custom bikes, tattoos, hot rods and the Japanese attention to details. "We didn't like what was out there so we focused on mixing our influences, creating our own denim jeans and exceptional leather accessories, with a heavy dose of attitude. We don't follow rules or trends. We are just doing what we want in our own way. We don't compromise."
The Black Needle products are made out of the best fabrics and materials available today. Quality is all that matters to the Barras brothers. "In every detail we put our guts, brain and soul. We make products that we like, whether you like them or not." The denim used is from one of the oldest Japanese denim manufacturer, and it's made on old narrow looms. The unique touch, special hands feel and colour shades is the result of numerous rope dyes using Egyptian and American cotton. It took the brothers 2 years to finalize their first pair of jeans. Black Needle also makes leather accessories using raw materials from exclusive tanneries in France and Italy.
"A pair of denim jeans is the only piece of clothing that can age like a leather jacket. For me, your denim is like a proof of your own history: in the end it looks like what you did with it. I like that idea. I have jeans that are almost completely destroyed," Guillaume writes.
Below is the "Lucky Bastard," a classic straight fit 5 pocket jean.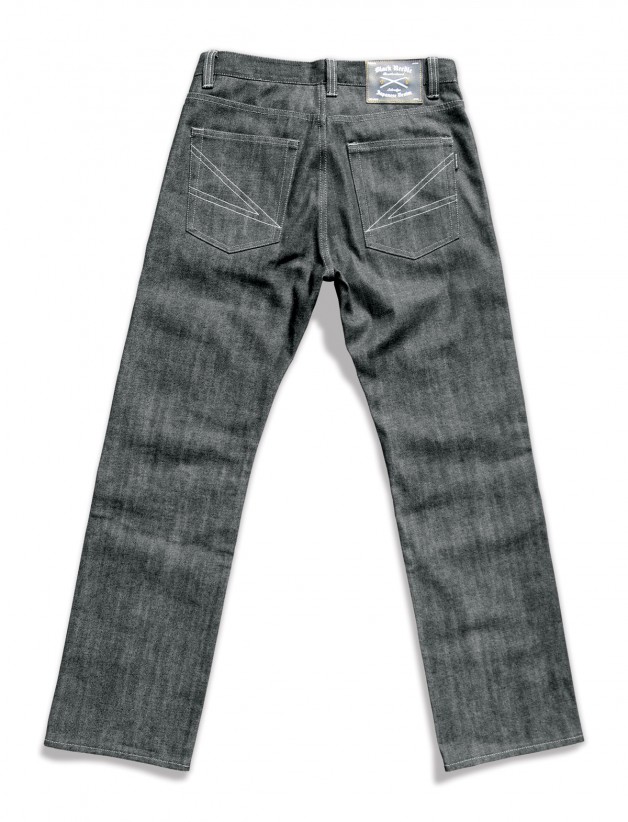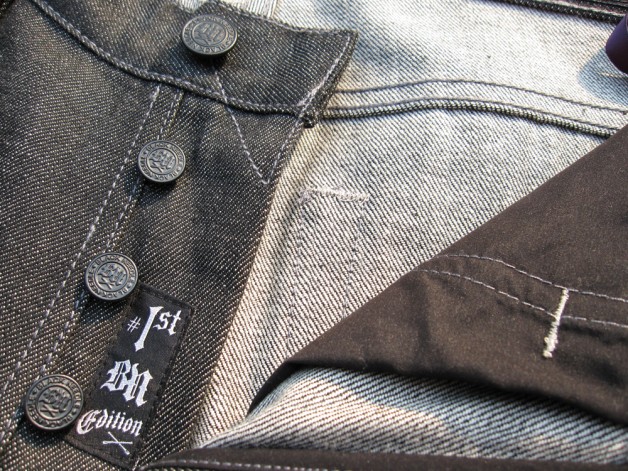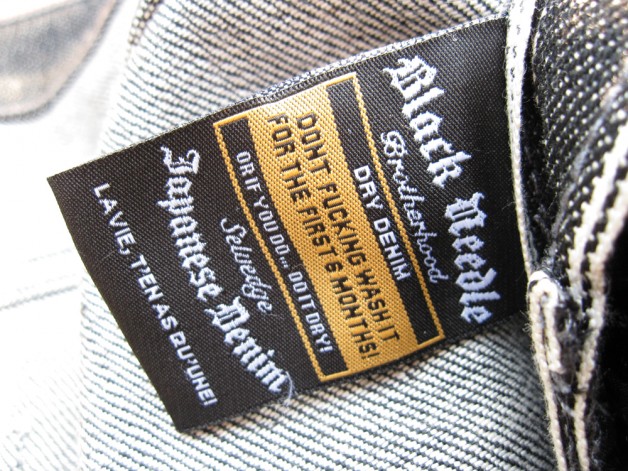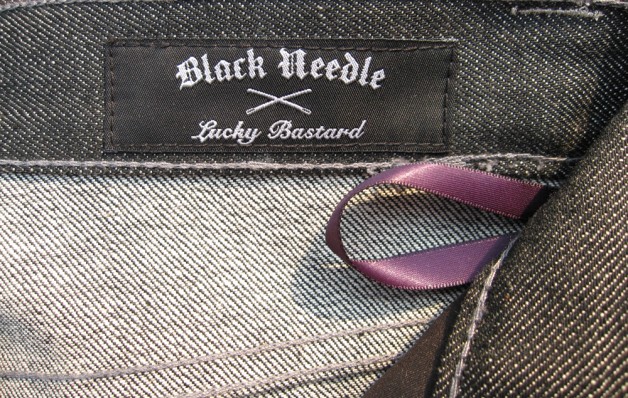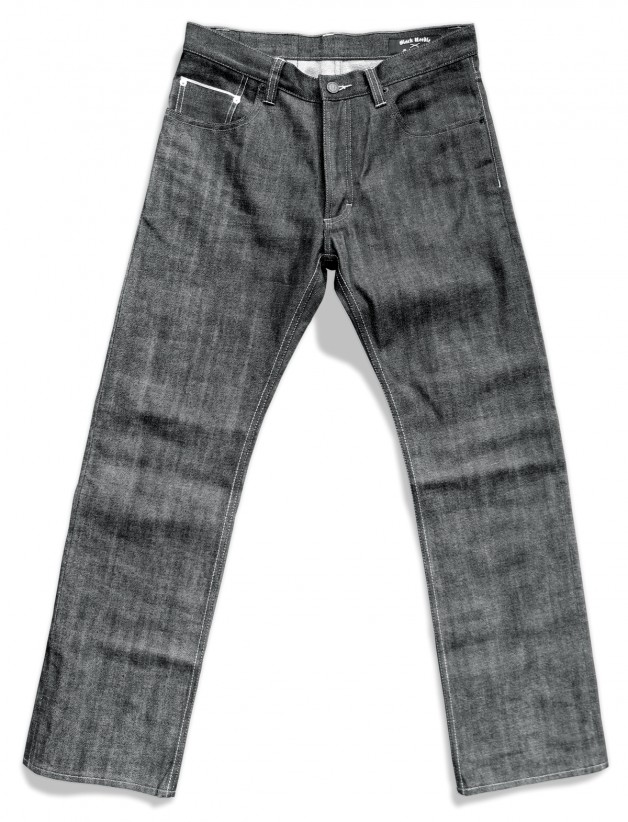 This is the "Cheaters Are false".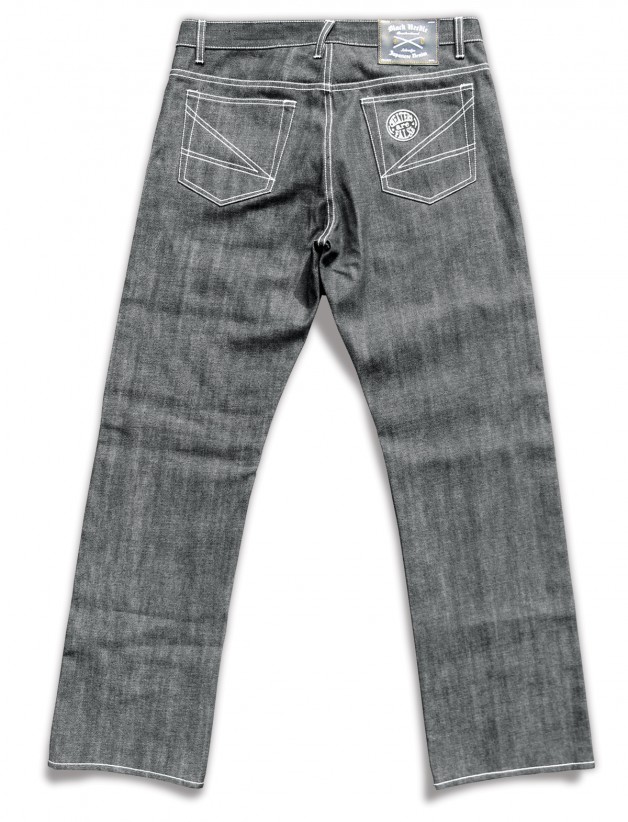 It's a straight fit 5 pocket jean made of 30-31″ black slubby selvage 13 oz. denim with a resin based finish. It has crossed stitches, printed pockets and patches.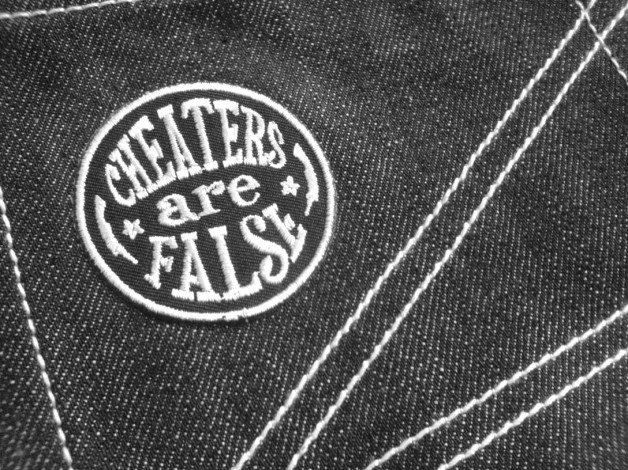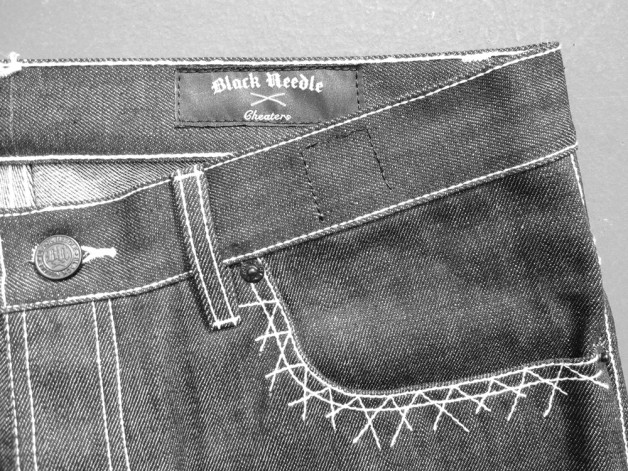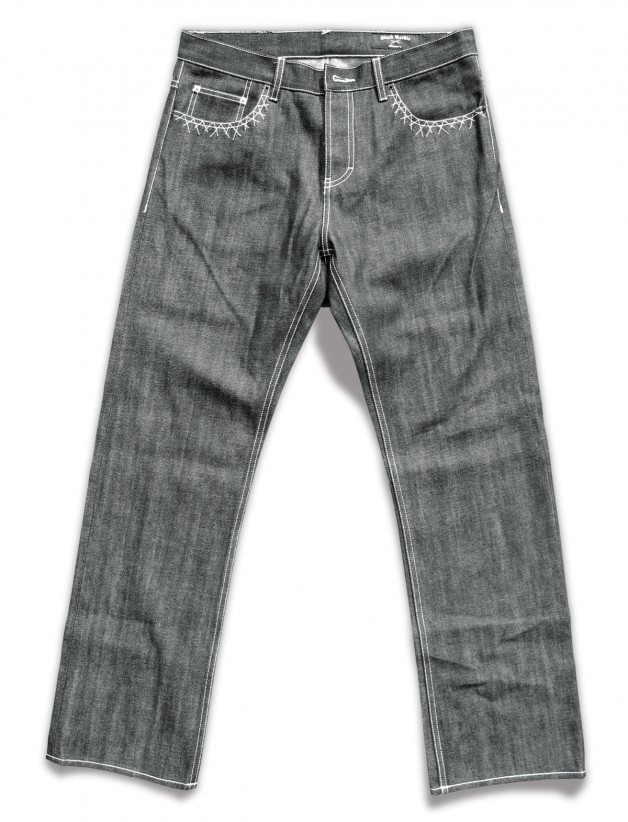 The "Wild Child" is something else.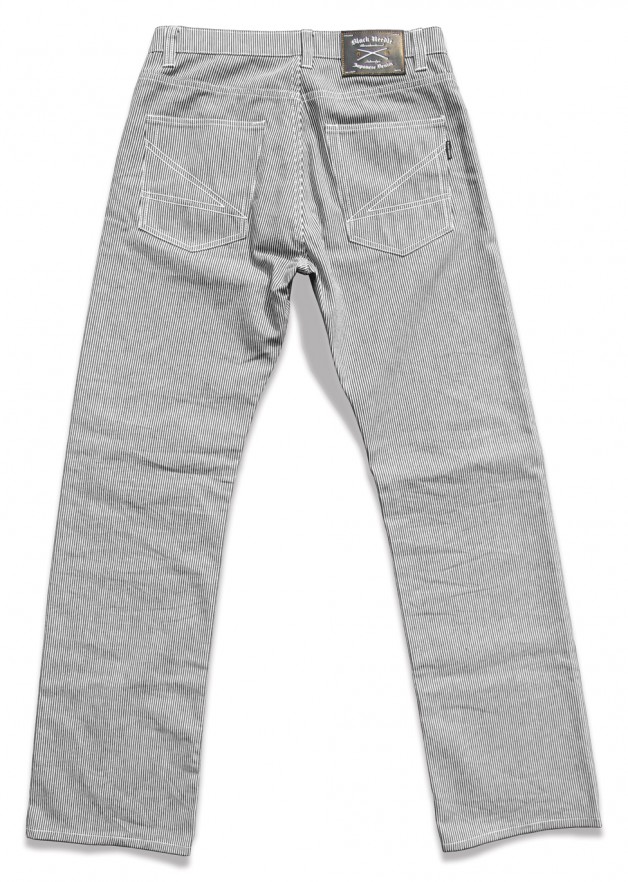 Like the other fits is a straight fit 5 pocket. It's made of a Japanese 100% cotton indigo/white striped 10 oz. denim.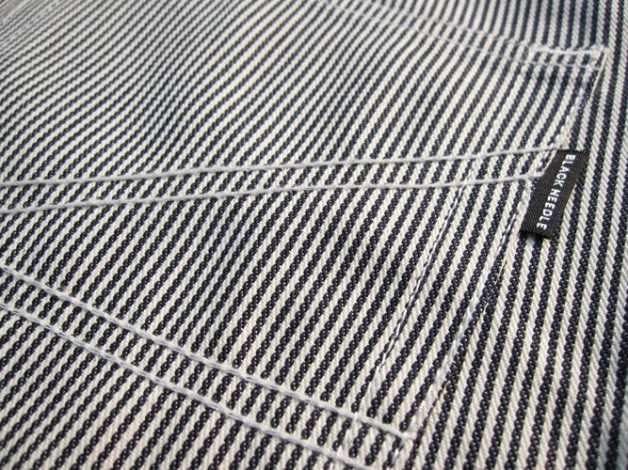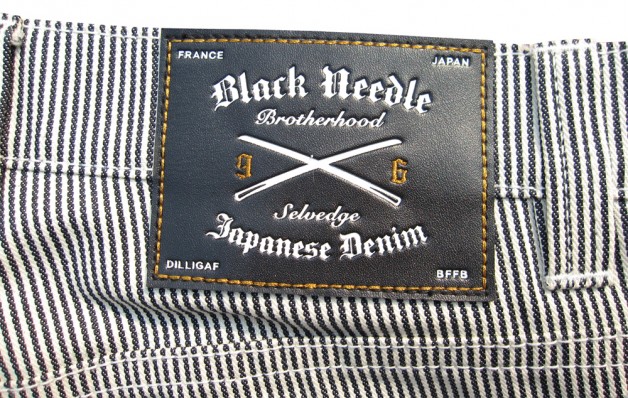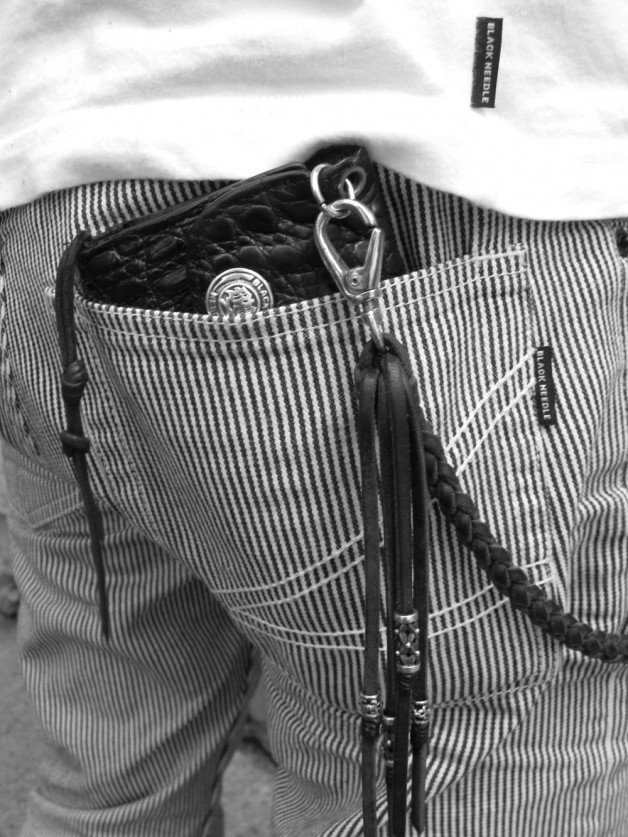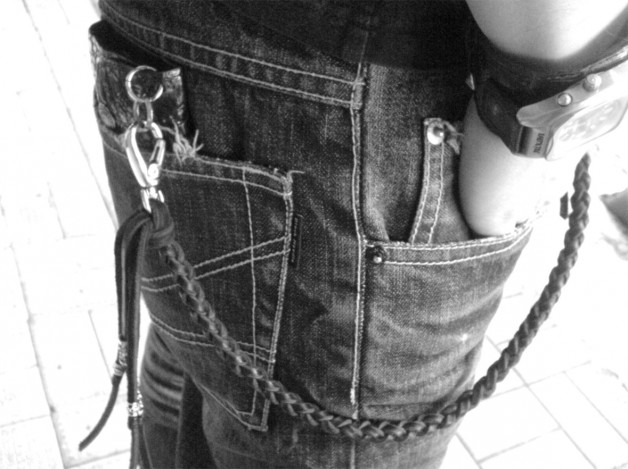 This is the F32. It has a lot of details, maybe a bit too many for my personal taste, but as the Barras brothers write, they don't care what I like.