Denim Collector: Kasper "Spacey" Weinrich Schübeler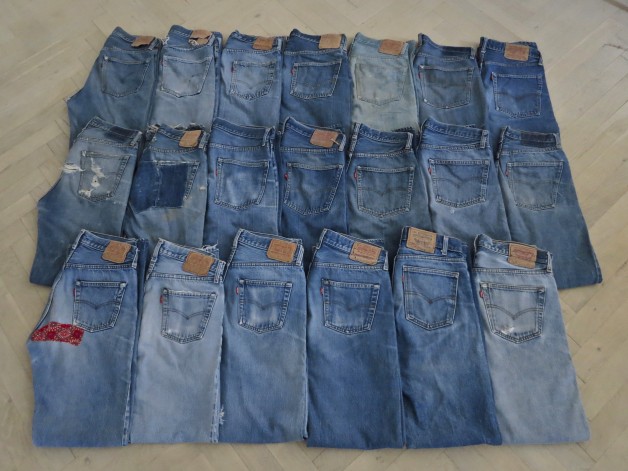 This is the story of a man with a passion. A passion that almost seems like an addiction when you hear his story. 29-year-old Kasper "Spacey" Weinrich Schübeler is a well-known face on Danish denim scene. He has been collecting for jeans, but it was his time with Levi's that really gave him plenty of opportunities to spend all his savings on Levi's jeans. Today receipts and bank statements reveal a staggering amount of more than 100,000 Danish Kroner (some 13,000 euros) spent on jeans; but actually his collection worth way more than that. Because like vintage cars and bordeaux vintage denim only gains value with time.
In addition to the 20 original pairs of vintage Levi's jeans in the picture above dating from the late 50s up to the 90s, Kasper owns at least one of every single pair of Levi's Vintage Clothing jeans that has been produced during the last decade or so. All in all about 80 pairs of denim bottoms. Add an almost infinite number of tops, shirts and leather jackets to that. The icing of the cake is some of the key pieces of the Levi's RED collection, some of the first Levi's Vintage Clothing catalogues, and an extremely limited pair of "regular" 501 jeans with gold trims only made in 100 copies. He guesses it all adds up to around 130 pairs of pants.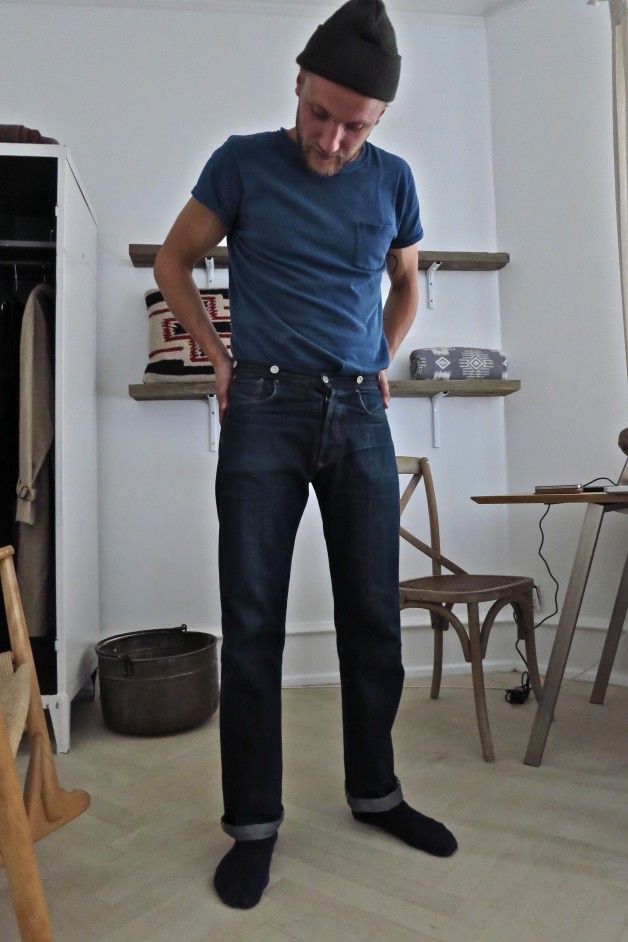 Kasper's passion started when he has working for the Danish commercial multi-brand chain, Quint, but it really took off when his greatest dream came true and he got a job for Levi Strauss & Co. about five years ago. A central part of his job was knowing technical and especially historical details about the Levi's products, a task Kasper took great joy in.
Now, almost two years and a couple of other jobs since he left his position as account manager for "the world's greatest denim supplier,"  together with friend and colleague Mads Hancock, Kasper has started his own agency called rich & hanc. The company will be in charge of sales of Han Kjøbenhavn, Eastland Maine shoes, and Pendleton in Scandinavia. For more information e-mail Kasper at [email protected].
But let's have a closer look at some of Kasper's vintage jeans, first one up is number four from the left in the back row in the picture above; a pair of the 60s 501 Big E's.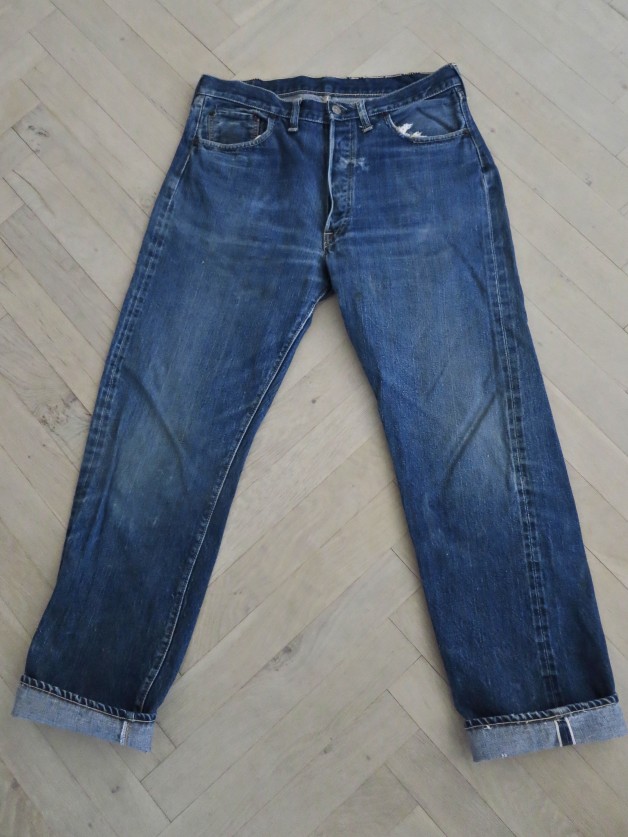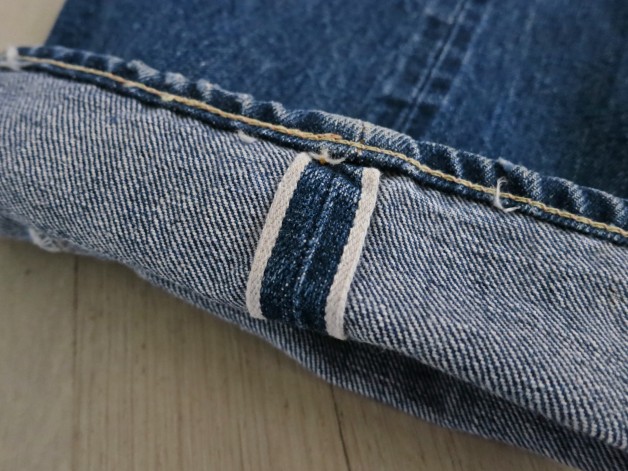 In Kasper's opinion the popularity of denim is first of all a matter of utility and durability. When introduced in the 1800s, the product (Levi's jeans) was simply superior to that of its competitor. But when the movie stars of the 50s famously wore the blue fabric demand and popularity blew the charts. Also, every decade has seen different fashions and cuts of jeans, and then there the eternal argument that like no other loomed product denim ages with beauty.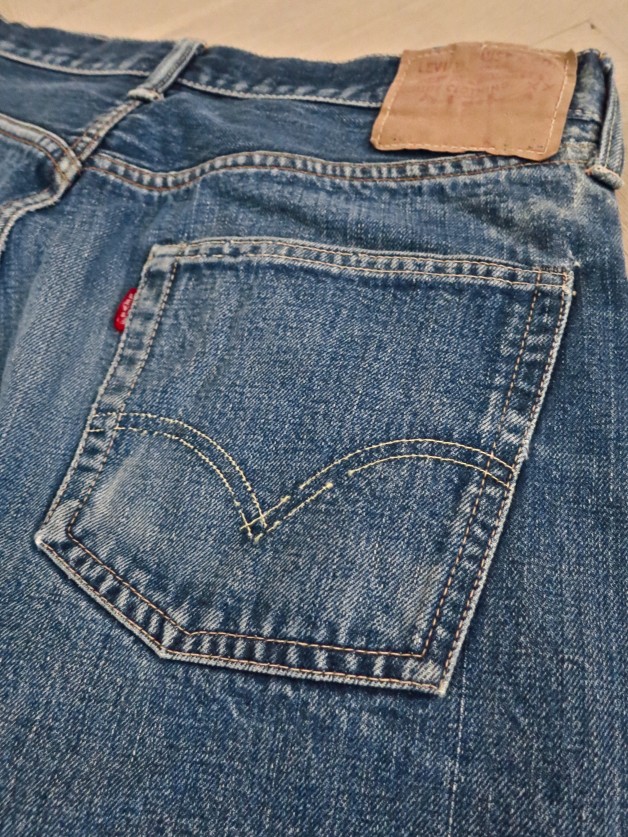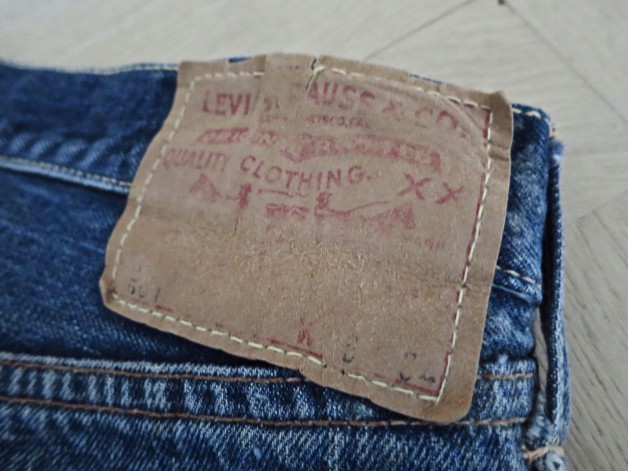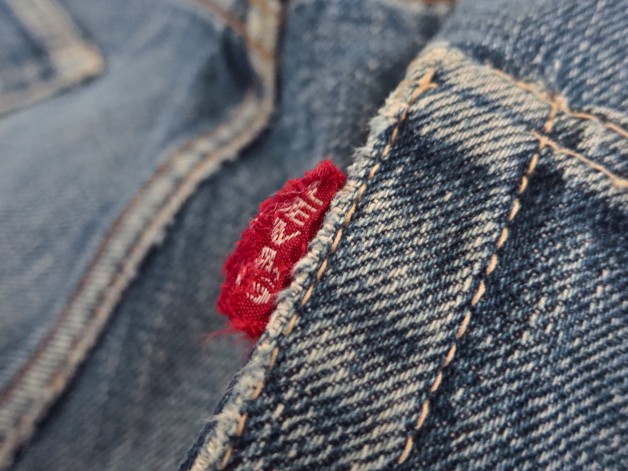 Kasper values the fact that today men are dressing more like men. The simplicity and quality focus really help this "trend" along. One of the great features of denim in Kasper's opinion is that you can create a completely unique and personal look. Being a huge fan of originality and Levi's he mostly wears shrink-to-fit jeans, which he usually soaks before wear. He doesn't insist on wearing his jeans for months or years before washing, as he said, "don't tell me the gold miners of the old days were battling about who had the greatest whiskers of their jeans," and added, "they were washed when they needed it."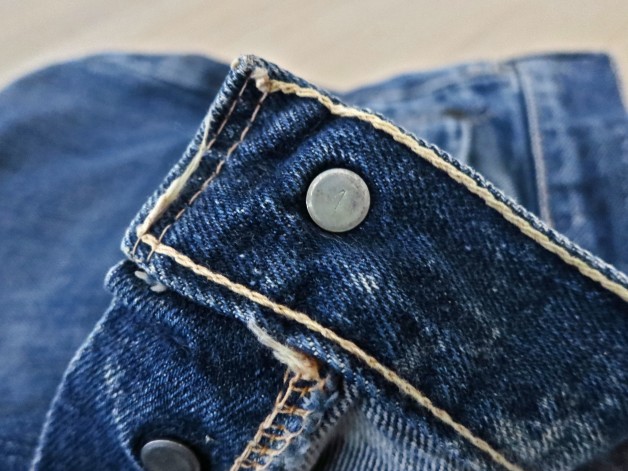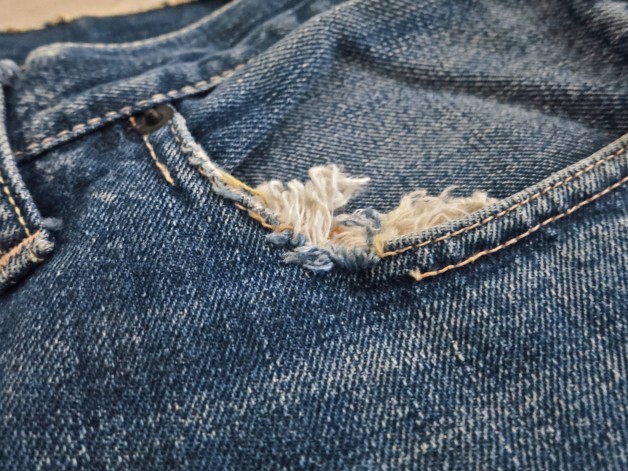 The key item in Kasper's vintage Levi's collection is a pair of 501Z jeans from the late 50s that Thomas Nissen (former Levi's sales manager in Denmark/Norway and later UK) brought home from What Comes Around Comes Around in NYC. Over the phone from Denmark Kasper requested a pair with hidden rivets, and preferably in a size that would fit him (measuring 31″ around the waist), which undoubtedly would make the price go up even higher.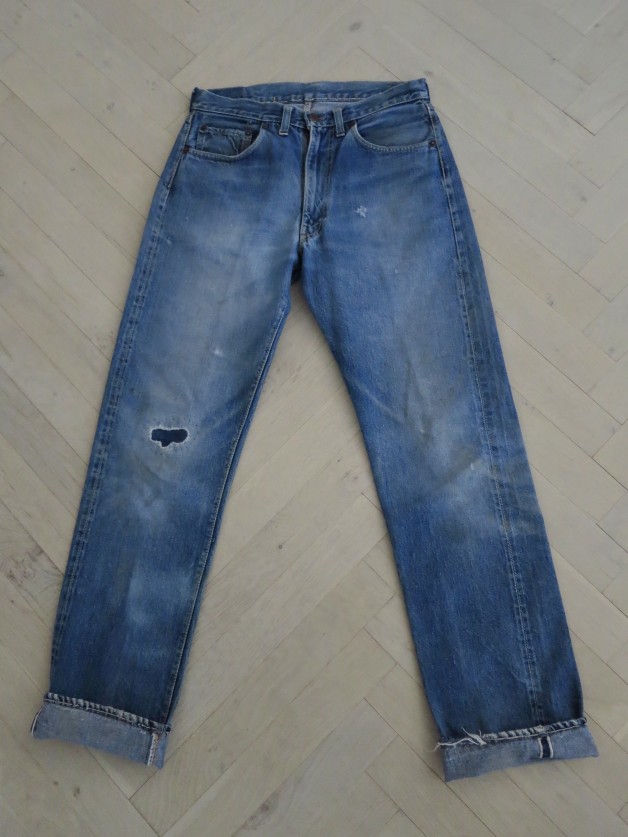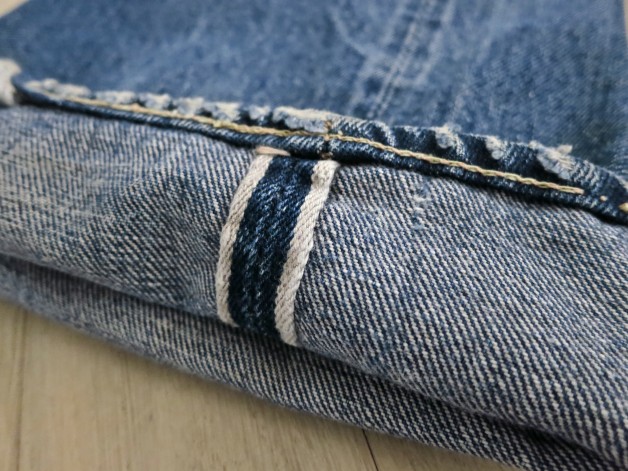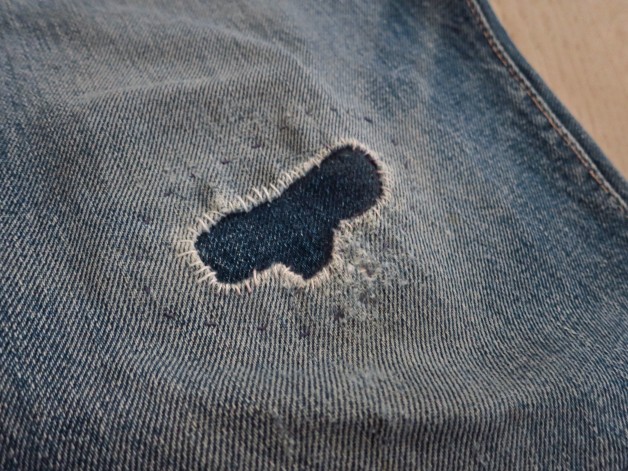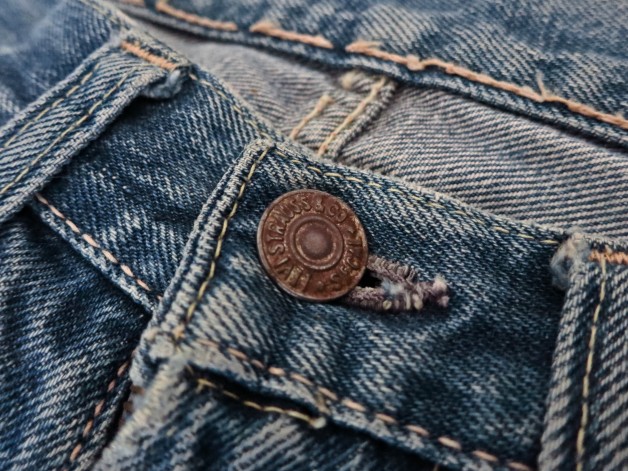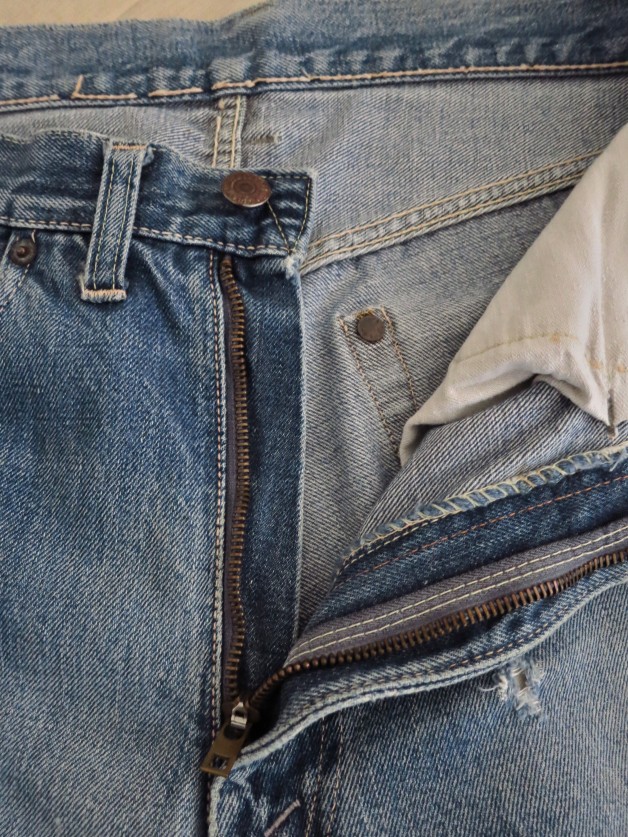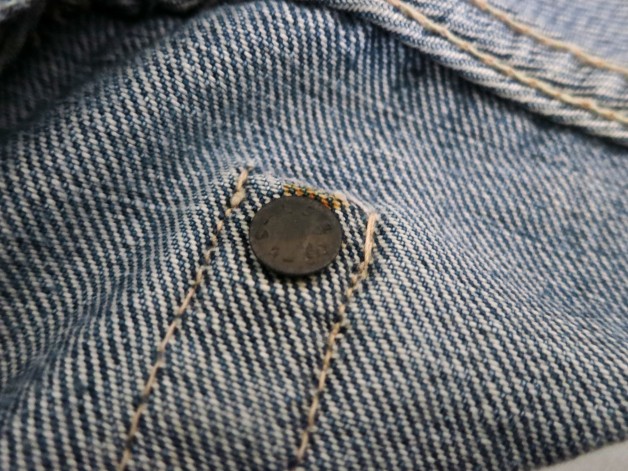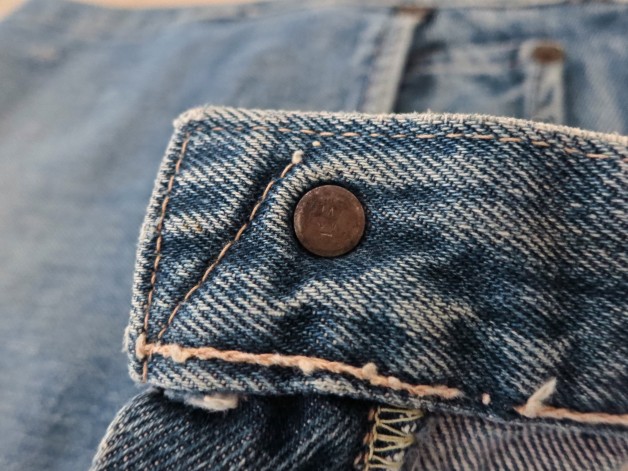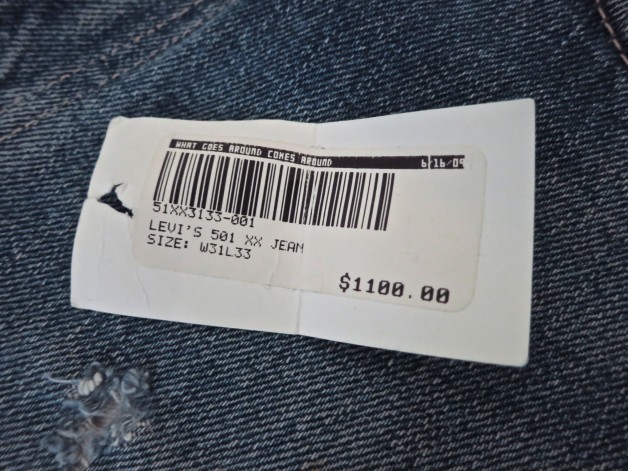 The asking price has a choking $1,100, but somehow Kasper made a bargain and got them for 900 bucks. It may have had a slight influence that Kasper sent a picture of his 501-tattoo to Thomas Nissen to show to the guys behind the counter in the store.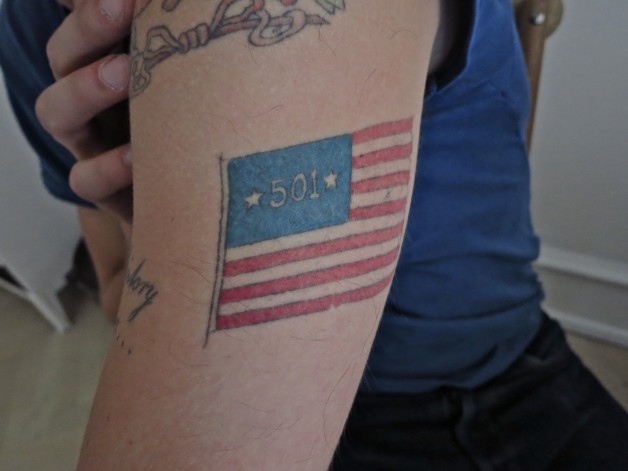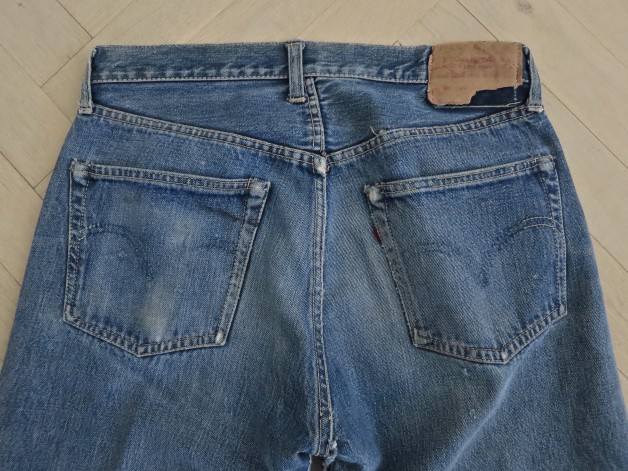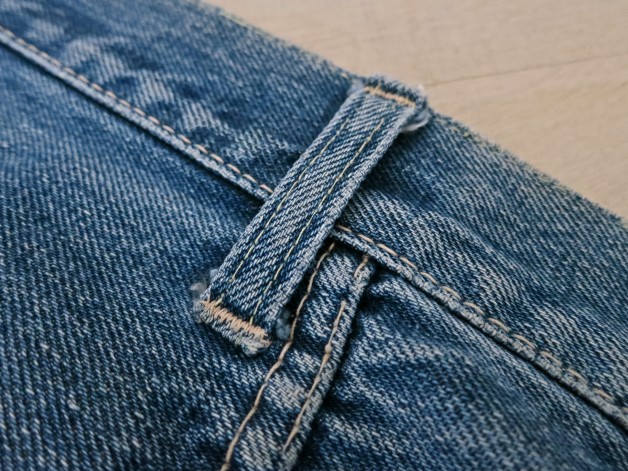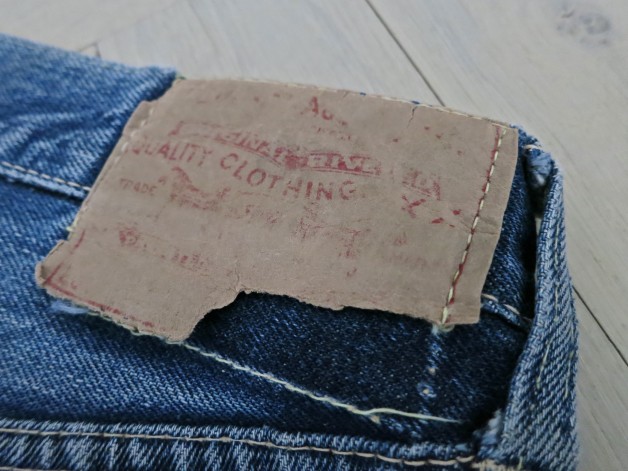 The red tab is almost completely worn off.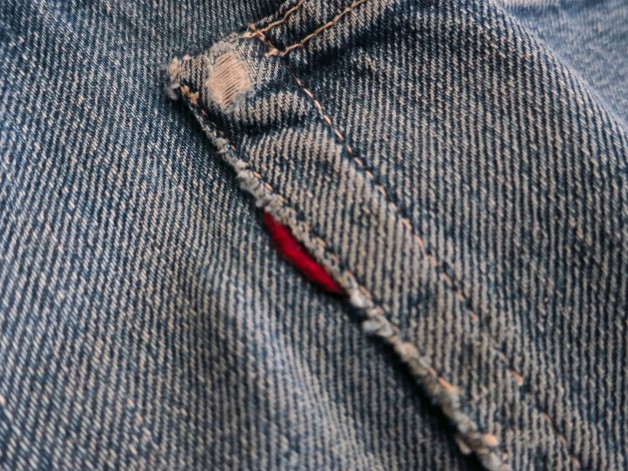 The jeans below is a pair of Levi's 505 from the late 60s in size 31×32 that Kasper bought for $92 on eBay. Their value is around $550-900, and as you probably know the 505 is pre-shrunked and the waist size 31 is a perfect fit for Kasper.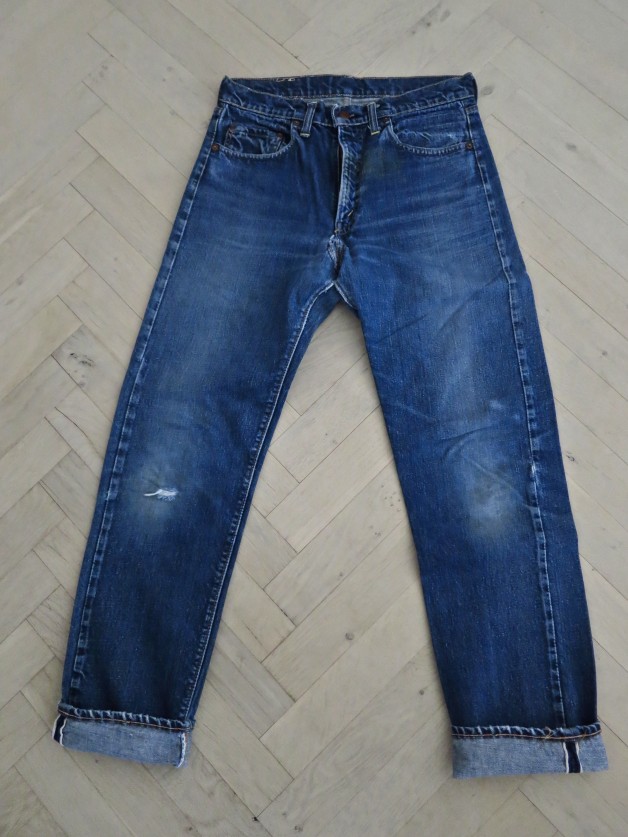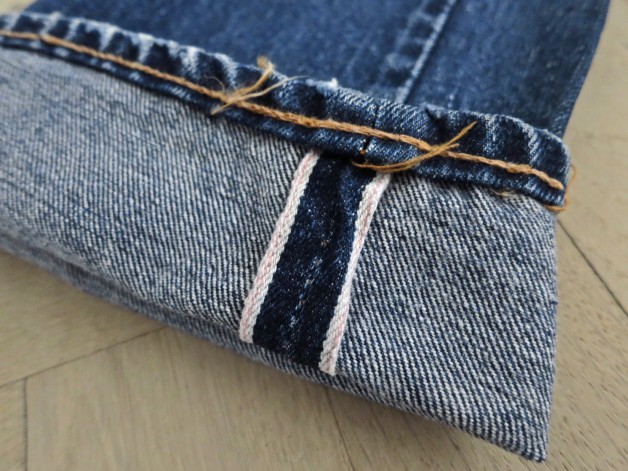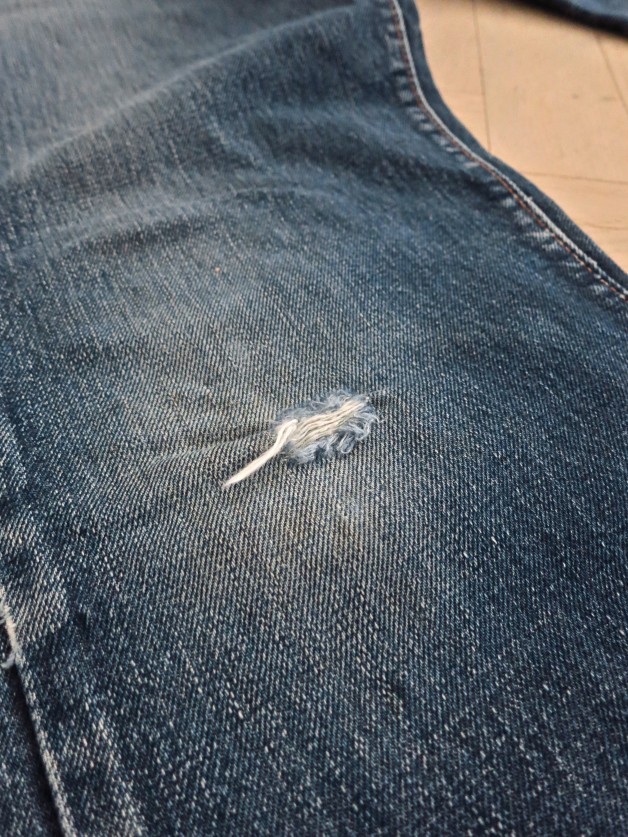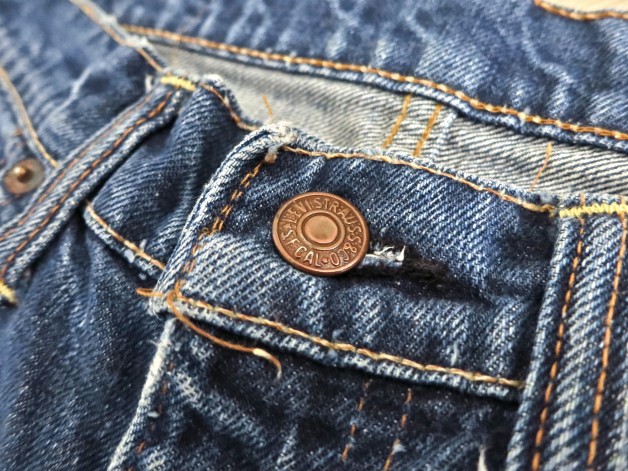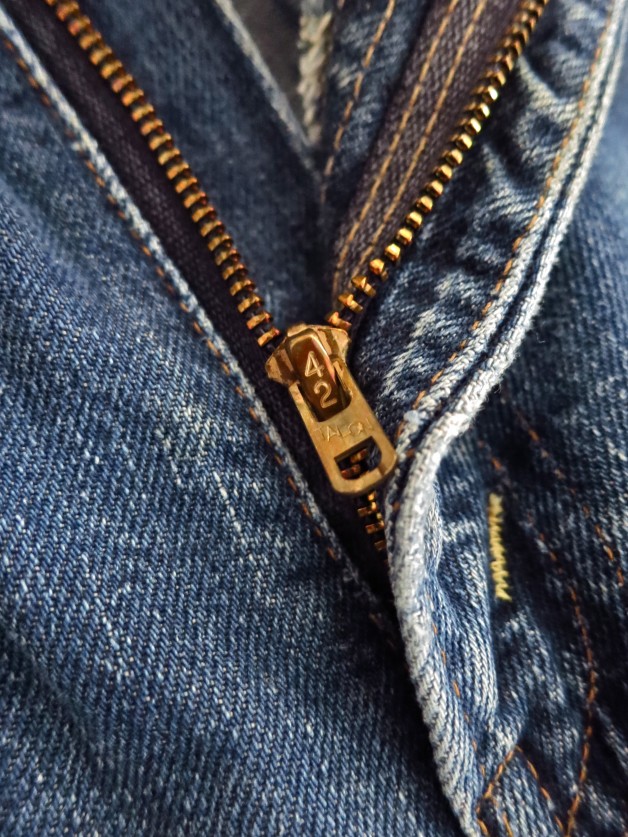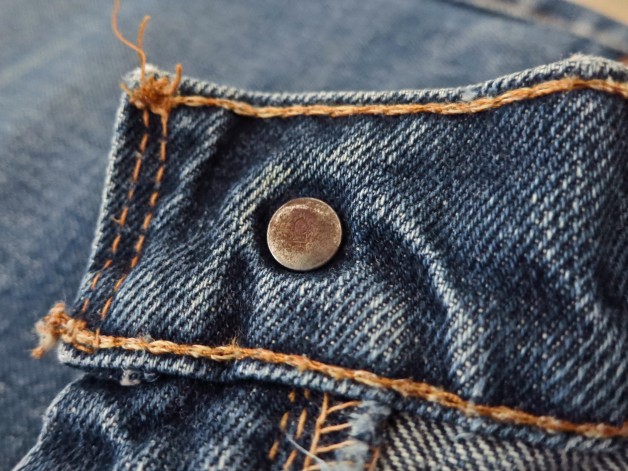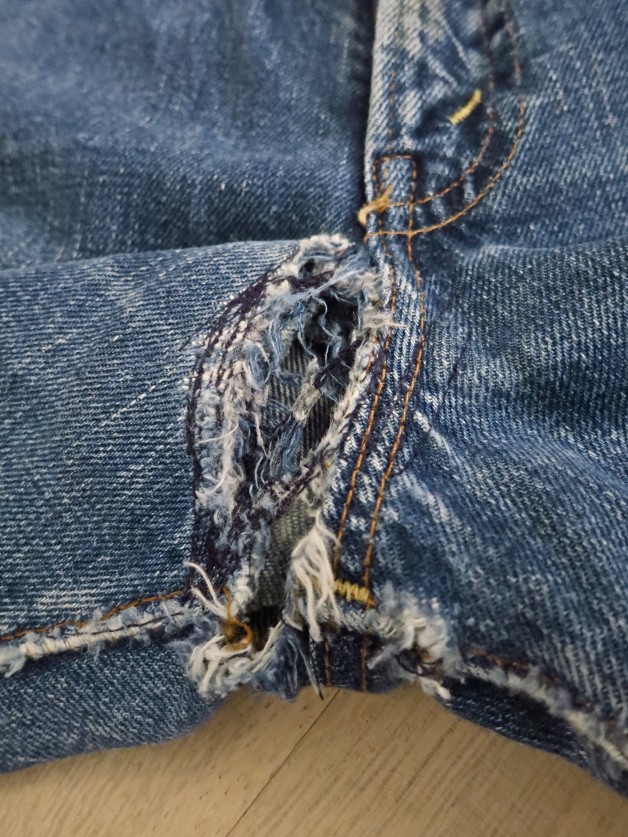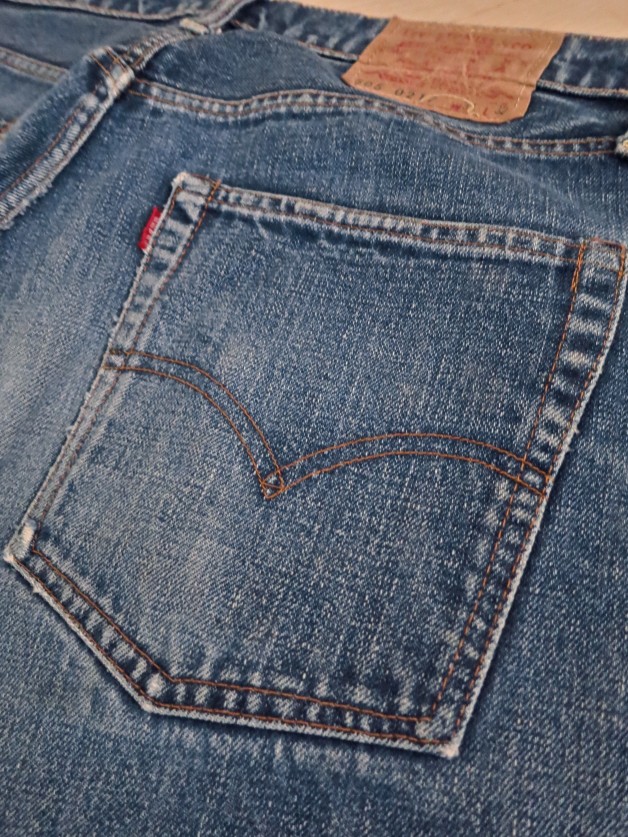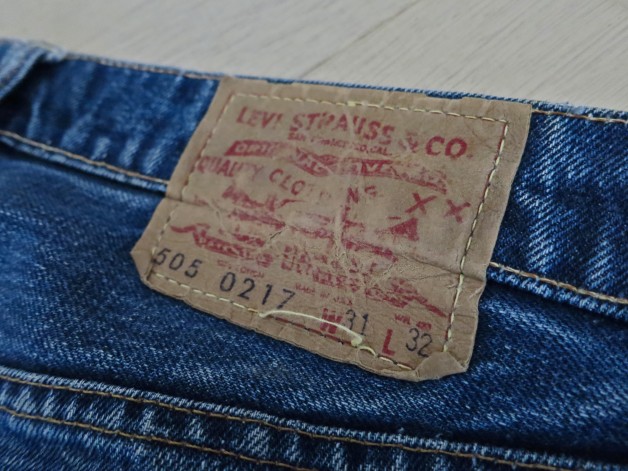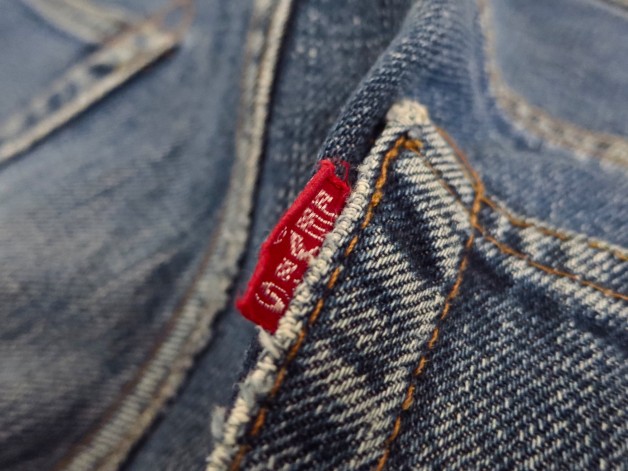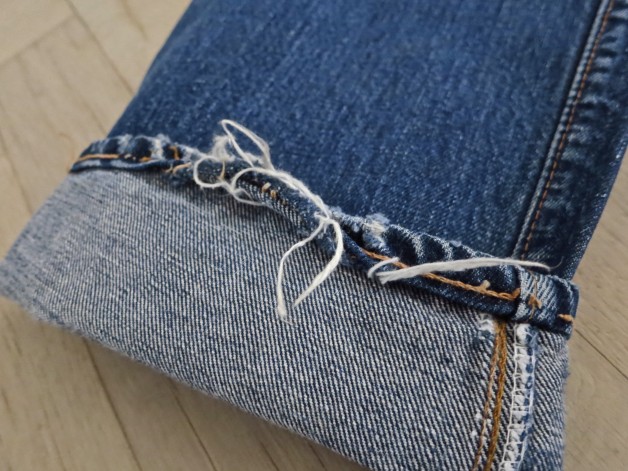 Below is another stunning pair of 501 jeans from the 60s. They feature Big E red tab and V-stitch among others, but no hidden rivets, which means they were produced between 1966-68.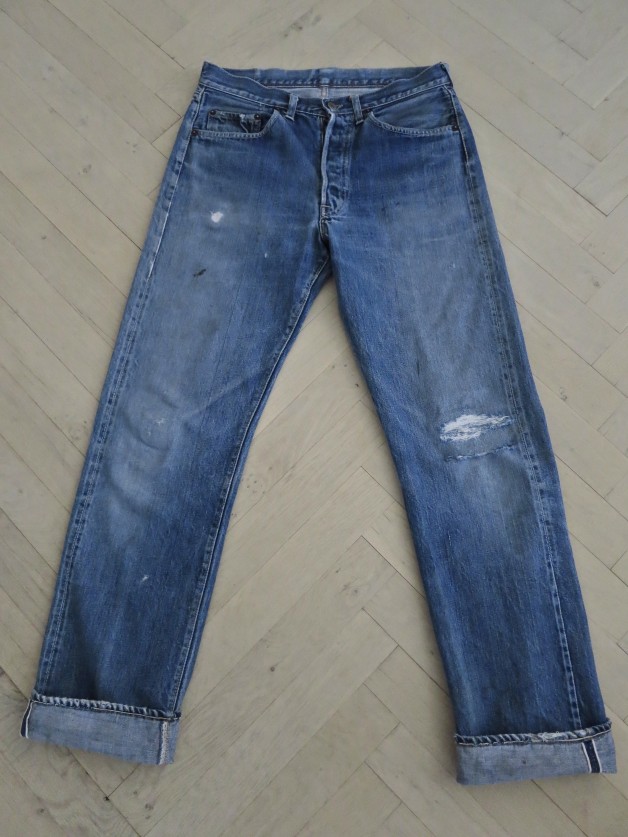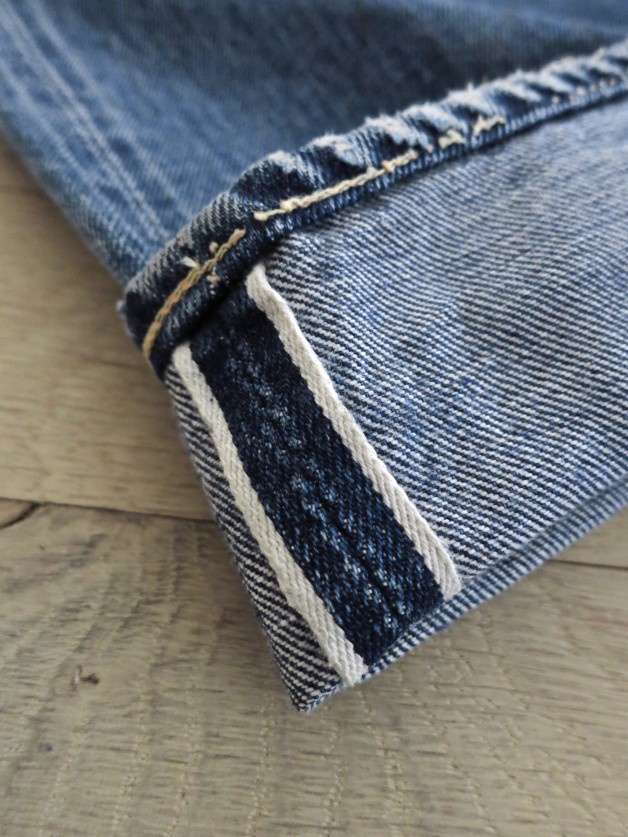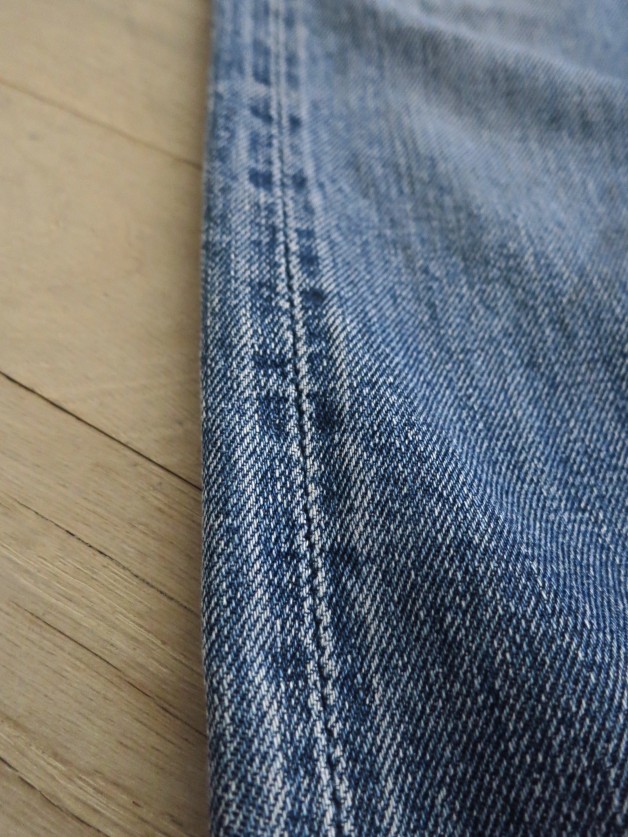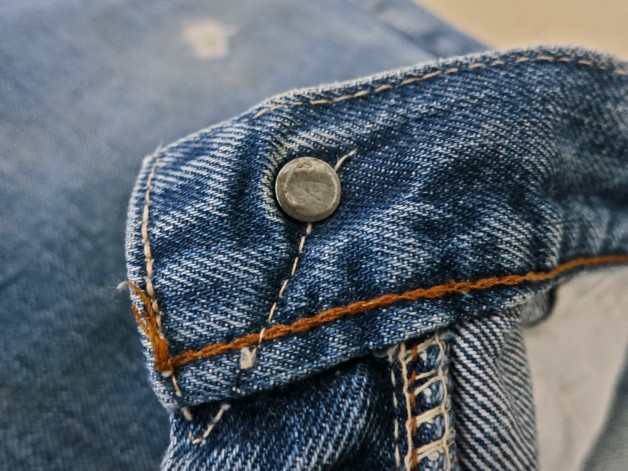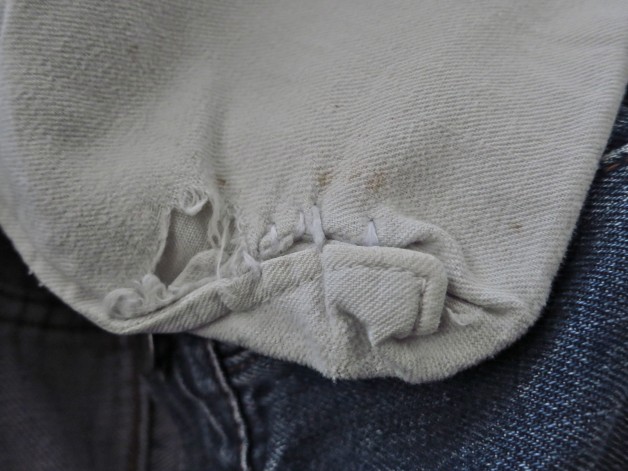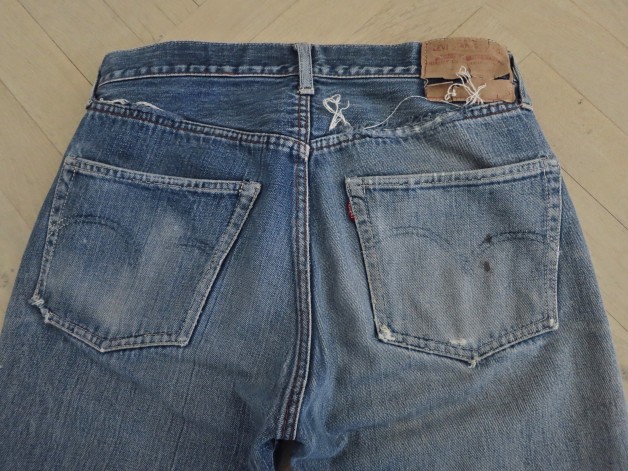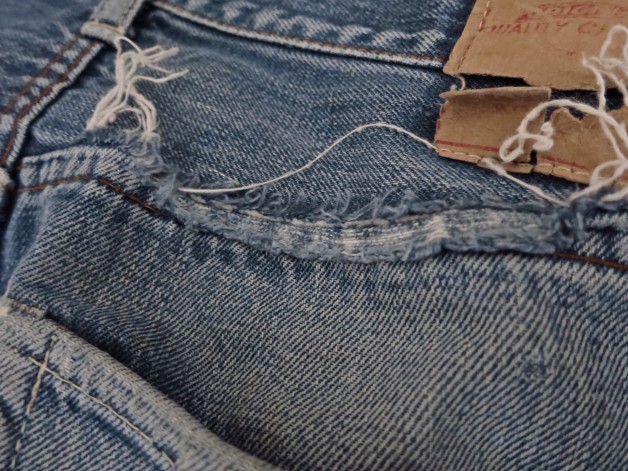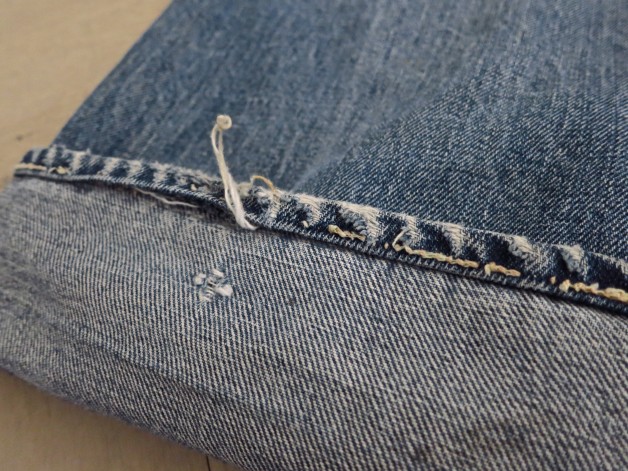 The jeans below are one of the more obscure pieces of Kasper's collection. They are rather difficult to date because of all the patches.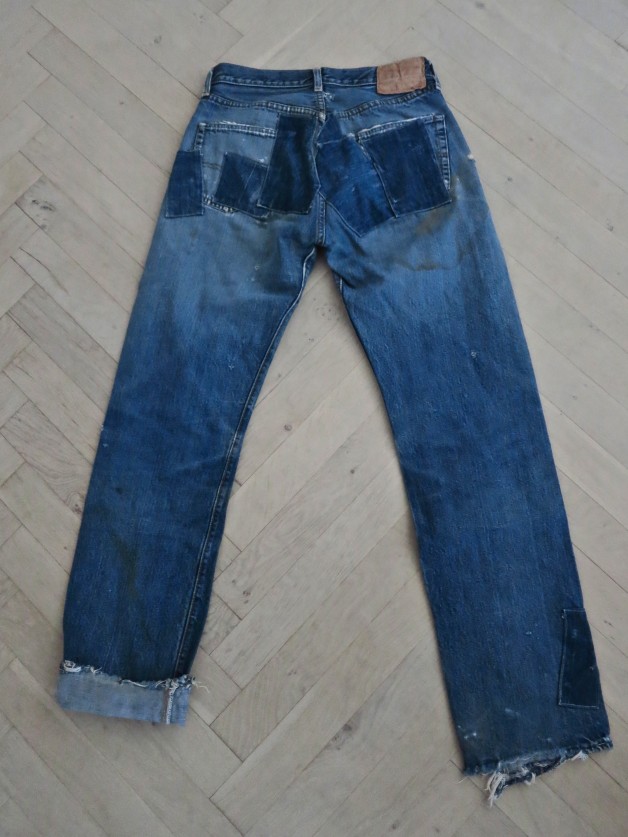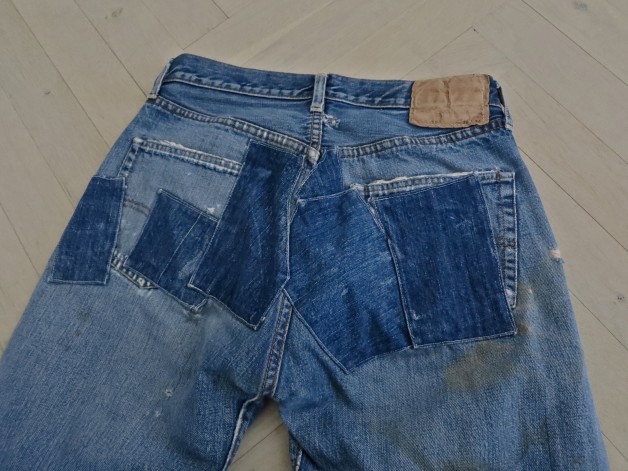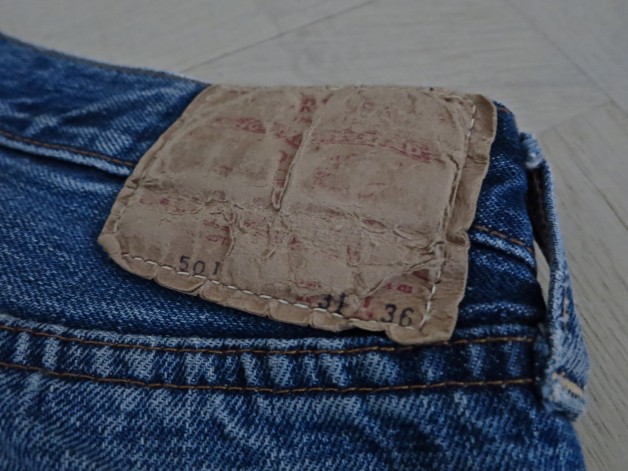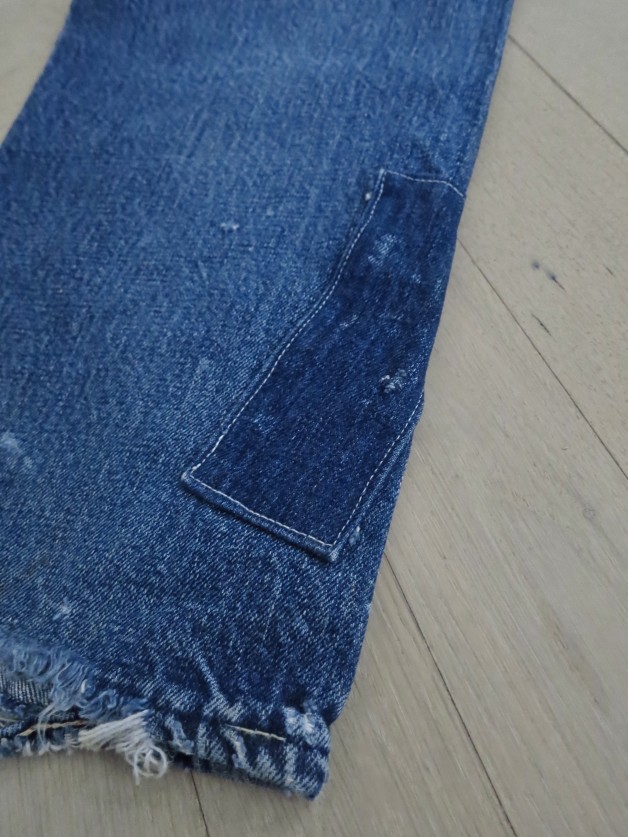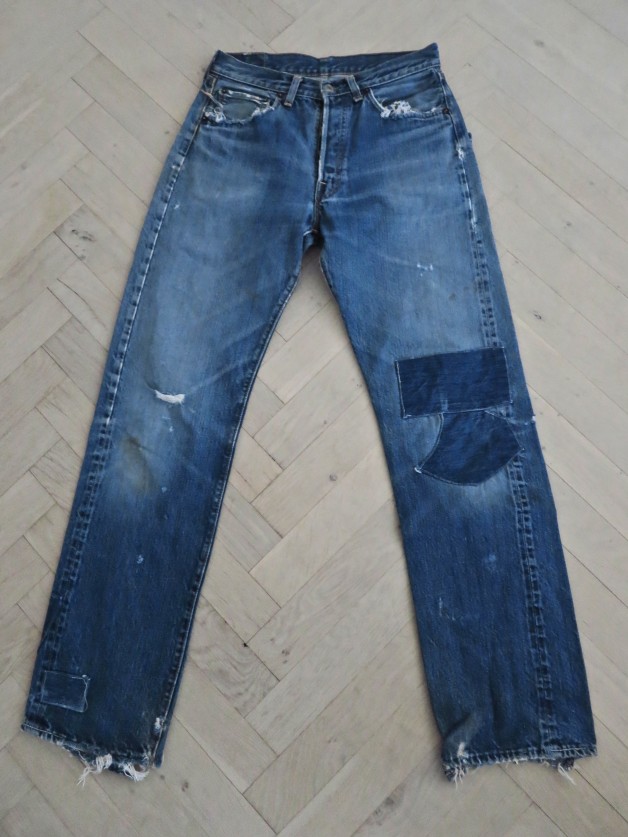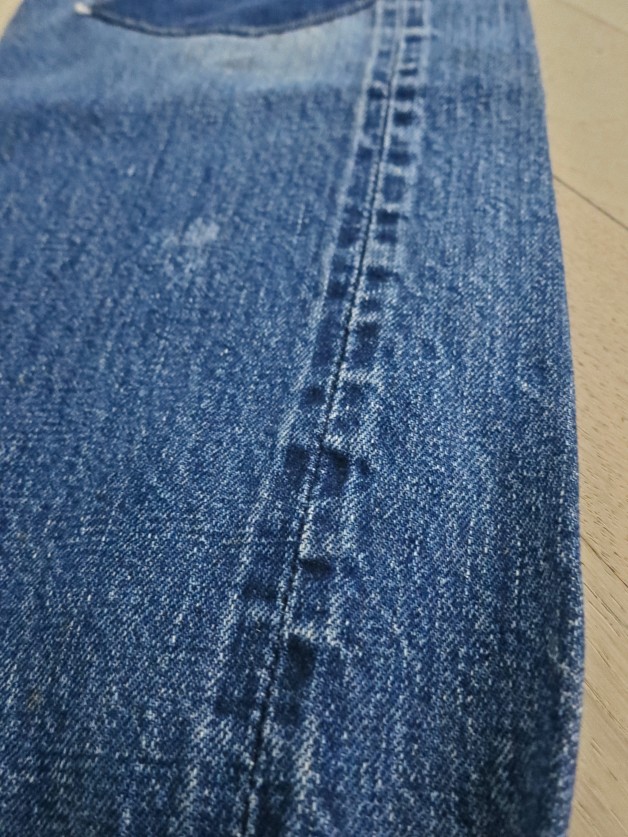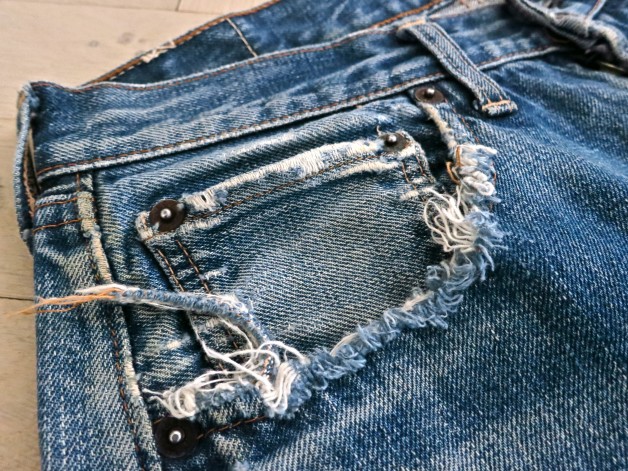 Some of you may remember the article about "The Mystery of the Printed Red Tab" – I think the mystery is solved. Chris Skitch of Blue Gold Blues hinted it to me when I interviewed him, but after seeing 4 pairs with the same printed red tab in Kasper's collection I've reached a conclusion; it was something the "524" factory did in the early 80s.