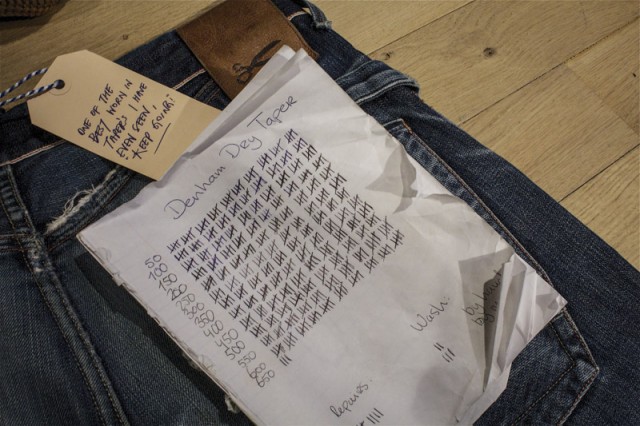 Entering de Rode Winkel in Utrecht, the oldest jeans store in the Netherlands, you're greeted by a 3.5 metre high image of one the best worn in pair of denims I've ever seen. "The Truth Is In the Details," is the headline and the footer, "Taper | DJS "Dry Japanese Selvedge" 511 days natural wear by Jeffrey Dupont," gives you a little more detail. Jeffrey is part of the sales team at de Rode Winkel and as a true denim purist he's always prepared to give his customers the best advice on wearing in raw denim. Here's his story.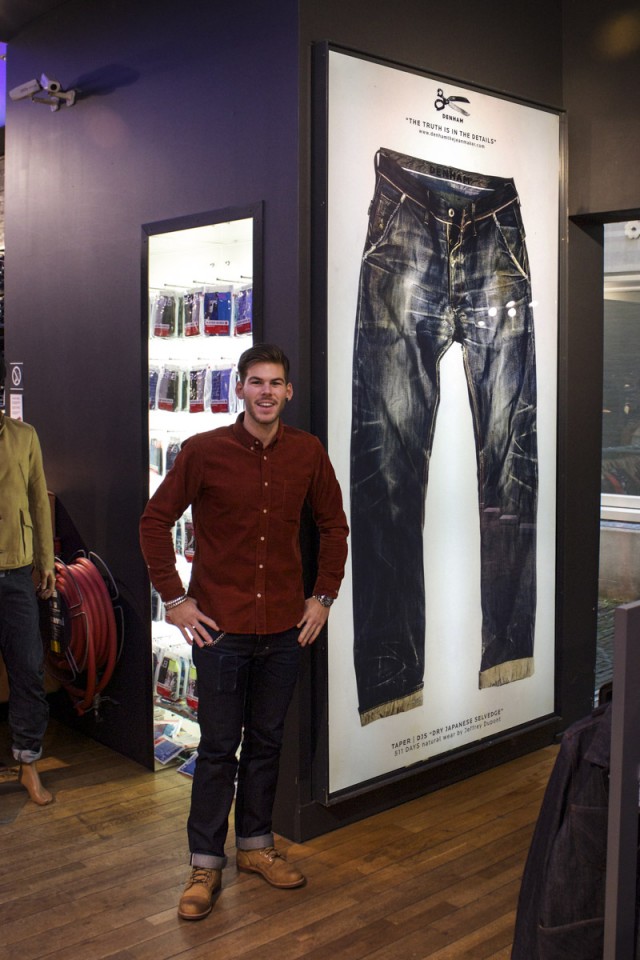 This is probably one of the nicest worn jeans I've seen so far. The poster says 511 days, but that was a while ago. What's the actual status now?
I have a notebook where I write down all the days I wear it, and the number and dates of washing and repairs. At the moment I've been wearing the jeans for 603 days, the first wash was after 433 days, I've washed them 2 times by hand and 3 times in the machine, and they've been repaired 9 times.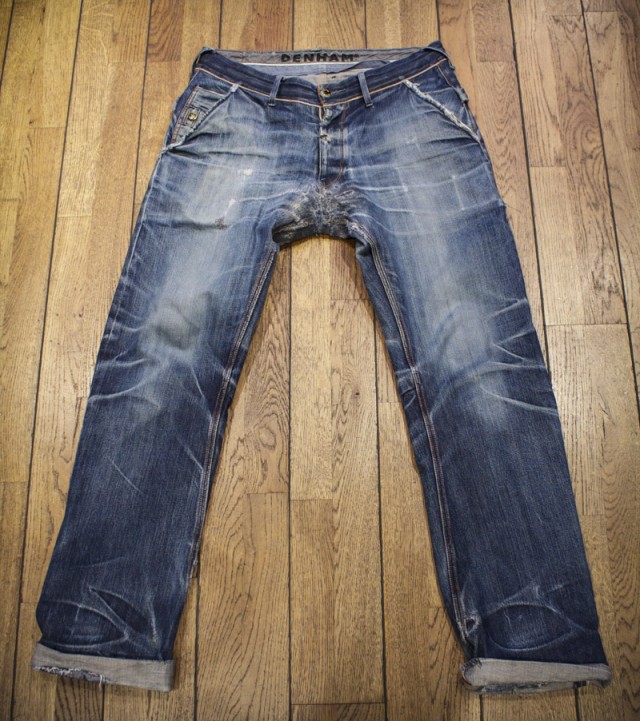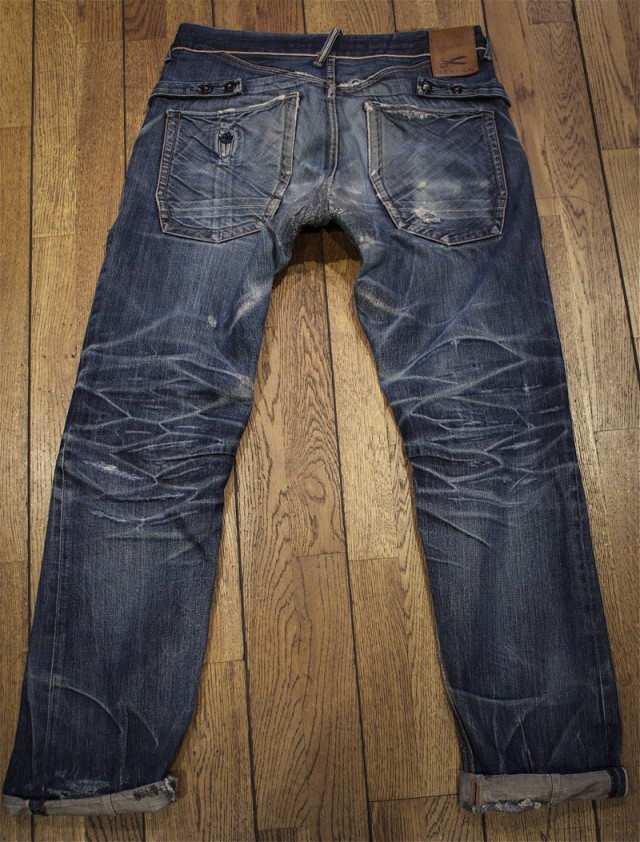 Jason Denham himself did the first wash after 433 days. It was really necessary because the jean was almost to filthy to wear. Jason told me that he never ever had seen such dirty water after washing a pair of jeans. But after that, he personally wrote me a note on a card saying: One of the best worn in taper's I have ever seen, "keep going!"Denham washed the jeans again after 511 days and to get more distinctive wear results I've machine-washed them every 2 months since. I know these jeans are high on Jason's wishlist, but I just can't get rit of them. Unless he makes me an offer I can't refuse.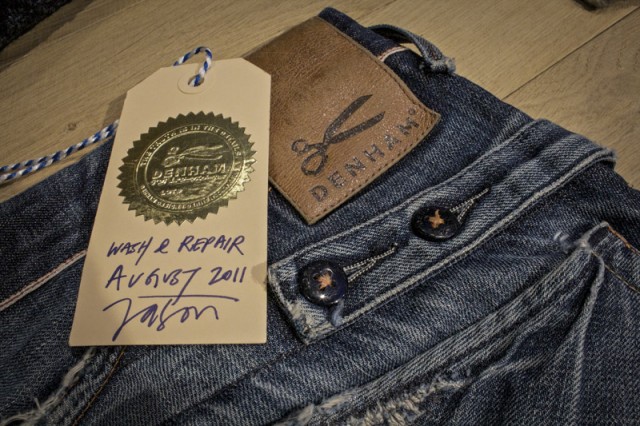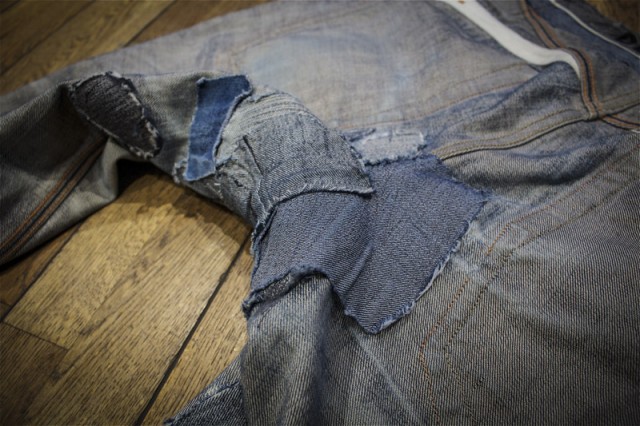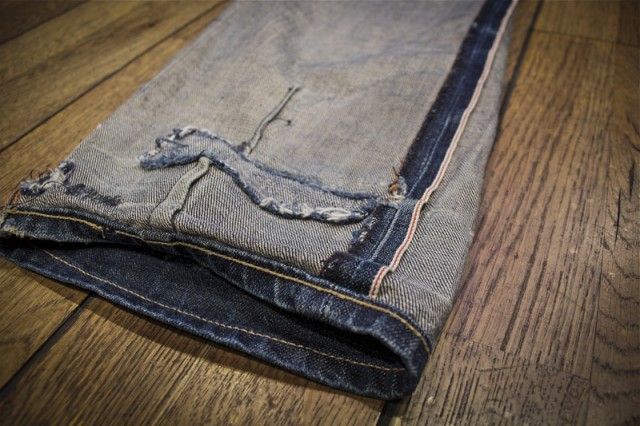 It's obvious you have a passion for denim. How does that all started?
It all began at high school. At that age everybody is watching and copying each others clothes and style. But not me! I always had my own style. At the age of 15 I saved enough money to buy my first dry denim, a pair of Evisu jeans that I bought here at de Rode Winkel. The night before I couldn't hardly sleep because of the excitement of buying that first pair.
What is your background?
My passion for denim started at the age of 15. It's kind of funny that I bought my first pair here at de Rode Winkel where I'm the assistant store manager now. I studied at the Amsterdam Fashion Institute for one year, but I decided to focus on working at the store instead. Sales is my passion and an excellent way to step up your career.
The first 3 years I worked at a local jeans store in my hometown Woerden. I was really focused and I had a lot of responsibilities and I often participated in the buying process. After 3 years I joined de Rode Winkel and had to start all over again to prove my worth. Soon I'll take another step up as I become manager of a de Rode Winkel store in my hometown and I'm really looking forward to it. It's a great opportunity and the perfect next step in my career.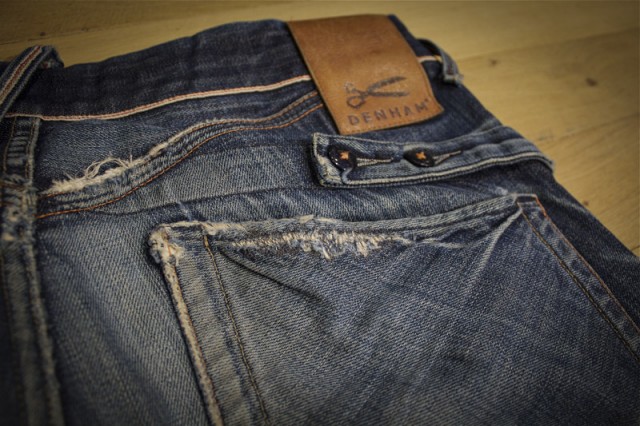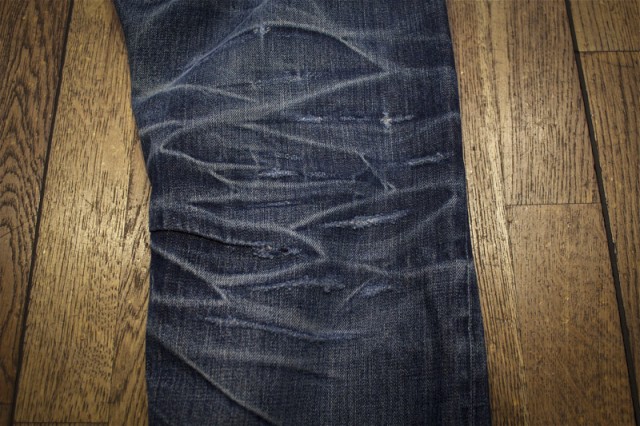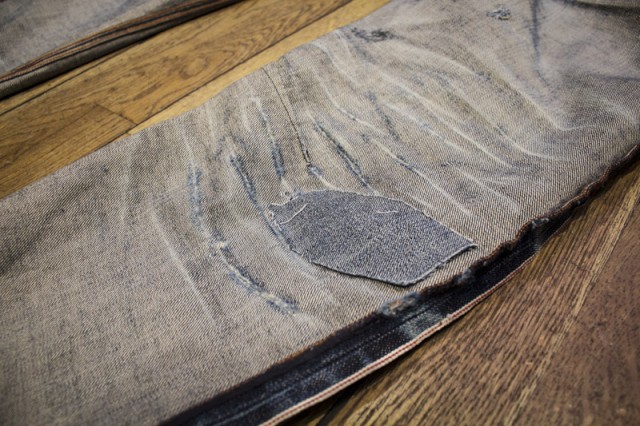 What can you remember about your first pair of jeans?
Not so much… The only thing I know for sure is that it was an Evisu.
What do you like the most about denim?
The best thing about dry denim is the aging and fading. The more you wear it the better the will fit and get it's unique appearance. At home I have a 1954 501ZXX Levi's Vintage Clothing jean hanging outside day and night. When I got it, it was actually too small to wear so within 6 weeks it had already been repaired twice. Therefore, I decided to hang it outside to see what the weather will do to it. It has been hanging there for 1.5 year now and it's actually getting nicer everyday. A complete different way of fading your dry denim.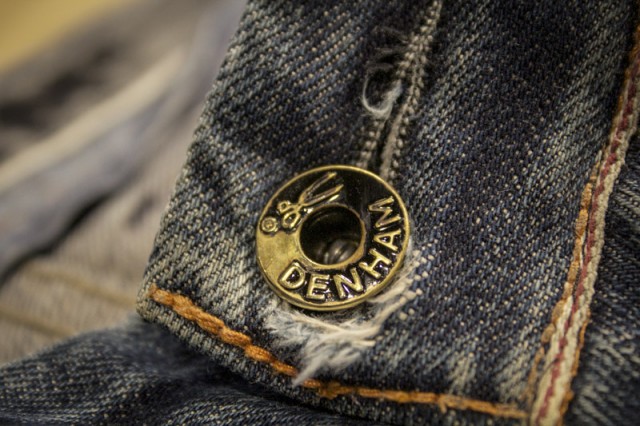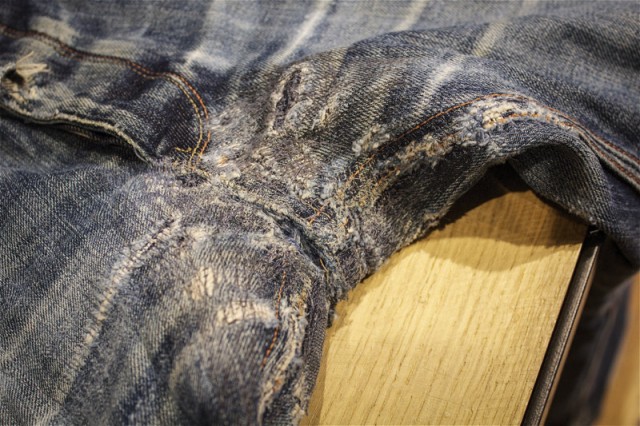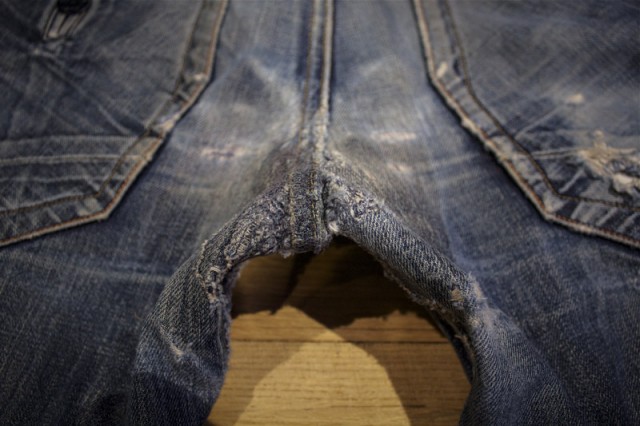 You've worn this Denham Taper for more then 600 days now, is that a personal record?
Yes, for it's a personal record indeed. I've worn several dry denims, but none this long.
Do you have a special routine of wearing in your dry denim?
The first 3 months I really try to avoid any contact with water. So with the Taper, I was wearing another jean on my way to the store when there was a chance of rain. But after 3 months it was getting really comfortable and as it had started to fade I decided to wear it everyday no matter what.
You're wearing a Lee 101 23oz at this moment. Are you going to break your Denham record?
Well, it's my goal to wear this Lee longer. The Lee is made from a really different denim then the Denham and will fade and bleed differently. The first 2 weeks were really hard, but now after 2 months it's the most comfortable pair of jeans I've ever had.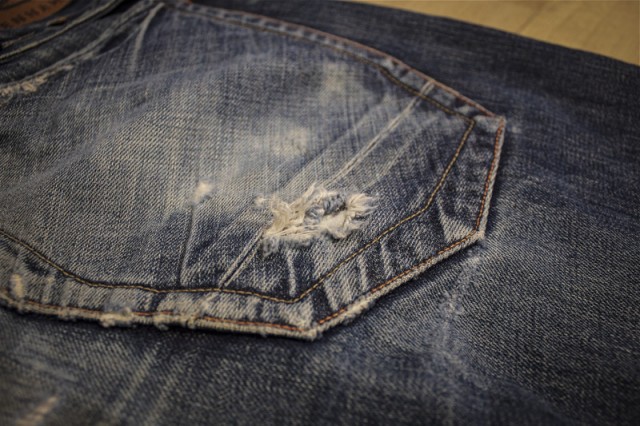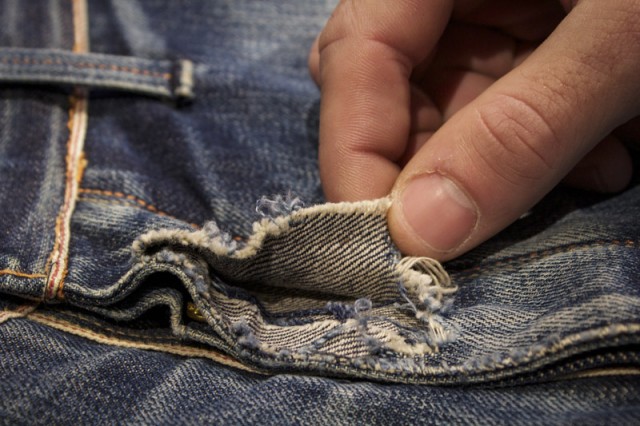 What is the 'most wanted' pair of jeans on your wishlist?
A 501-piece limited edition of the Levi's 501 from 1890.
Do you have any 'tips and tricks' for other dry denim lovers?
When you buy a pair of dry denim jeans for the first time be sure to get all the information you possible can about how to keep your them clean and fresh without washing. I generally advise my customers to hang their jeans outside in the morning dew, frosty weather or a night in the freezer to get the same effect. Also, don't rub to much on stains or spots because you will ruin the indigo and what's left is an ugly light spot.
How pair of jeans you got in your collection and are you really collecting them?
I've got about 30 pairs of jeans of which 15 are dry denim. Also, several Levi's Vintage Clothing jeans complete with all labels still attached. A few unique pairs of Nudie and Lee I'll always keep because of their limited character. I also have a few jackets.
Which pair of Jeans are you most proud of?
That is still my Denham Taper, it took me more than 3 years to get it like this.
Interview by Jan den Hartogh.