In Berlin you will find yourself spoiled for choice in just about every way. The possibilities to experience history, theatre, arts, cultural and simply a damn good time are in abundance. Whatever it is you are looking for Berlin caters for it all and more. It is no different when it comes to denim. You'll find the Usual Suspects within, quite literally, a ten minute walk of each other. Burg&Schild, 14 oz. and DC4 all carry a fantastic range of denim and gear; however if you stray a little bit further there are a few other haunts that are well worth a visit. Along the way you can see some of the best bits of Berlin, eat some good food and get a great coffee.
The first port of call would have to be Mitte. Although Berlin doesn't have a city centre per se Mitte, as the name suggests, is bang in the middle of the city. It is where you find the Fernsehturm, the majority of the museums and more importantly Burg and Schild, 14 oz. and DC4. You can orientate yourself around the Alexander Platz Bahnhoff (train station). From there you can easily walk to all three stores, Burg&Schild being the closest.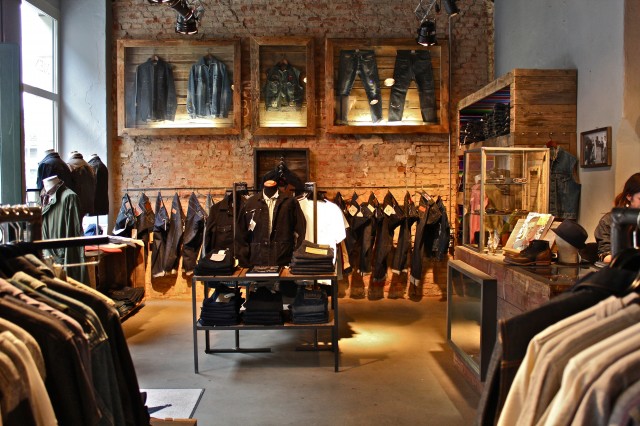 Burg&Schild
Rosa-Luxemburg-Straße 3, 10178 Berlin
Tel.: 0049 (0) 30 24 630 501
www.burgundschild.com
Opening hours: Mon – Fri: 11:00 – 20.00 Sat: 11.00 – 19.00
Closest Public Transport: U-Bahn/S-Bahn Alexander Platz.
Burg&Schild describes itself as, "a concept for real guys, denim aficionados, idealists, all those of character, who seek clothes, not costumes." And there is no better way to put it. To say the shop is well conceived doesn't really do it justice. You find that the range of clothing and accessories are more curated rather than stocked and the guys that work there know what they have to offer thoroughly.
Main Brands:
Edwin, Indigofera, Pike Brothers, Our Legacy, Filson, Seil Marschall, Aero Leathers, Mister Freedom, Eat Dust, Buzz Rickson's, Red WIng Shoes, Stetson Hatteras, Randolph sunglasses as well as selective Vintage pieces from the "Rose Bowl" flea market in Passadena/California
Next stop along the way would be:
14 oz.
Neue Schönhauser Straße 13, 10178 Berlin
Tel.: 0049 (0) 30 28 040 514
www.14oz-berlin.com
Opening hours: Mon – Sat: 11.00 – 20.00
Closest Public Transport: U-Bahn/S-Bahn Alexanderplatz.
The brainchild of Karl-Heinz Müller, the man behind the Bread and Butter trade show, 14 oz. offers a brand portfolio that is too vast to mention. It caters for both Men and women with every range perfectly selected to give the highest quality and authenticity possible. In summer the store opens its back doors for a kind of garage sale and outdoor café and downstairs in the basement the entire area is devoted to Nigel Cabourn.
Main Brands (bear in mind that this is only a small selection of what is on offer):
Anachronorm, Atelier La Durance, Denham, Edwin, G-Star Raw Essentials, K.O.I – Kings Of Indigo, Levi's Vintage Clothing, Momotaro, Nudie Jeans Co., Tellason, B.D. Baggies, Bergfabel, Dehen, Nigel Cabourn, Salvatore Piccolo, Windsor, Barbour, Canada Goose, Gloverall, Schott NYC, Spiewak, Woolrich, Alden, Dayton Boots, Red Wing Shoes, Viberg Boots, Wolverine, Filson, and Yuketen. A full list can be found here.
The last (but by no means least) stop in Mitte is: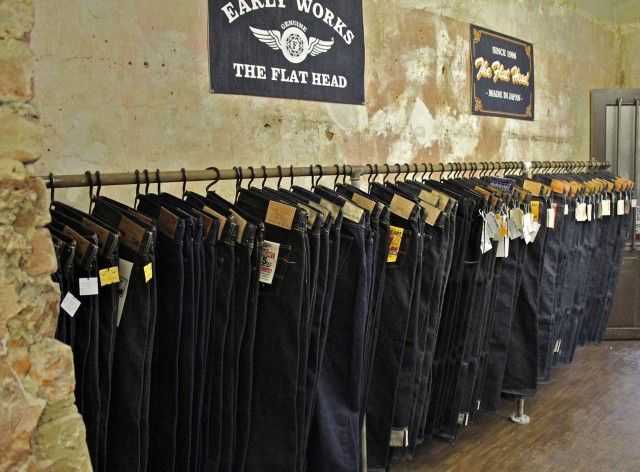 DC4
Tor Straße 95, 10119, Berlin
Tel.: +49 (0)170 6769201
www.dc4.de
Opening hours: Mon – Sat: 12:00 – 20:00
Closest Public Transport: U-Bahn Rosenthaler Platz (U8 Line)
Located on Tor Straße, DC4 is a veritable feast for denim addicts, carrying premium Japanese clothing and accessories all of which are designed and produced exclusively in Japan. As soon as you enter you are flanked on both sides by rows of crisp raw denim jeans. Further in you find accessories, T-shirts, shirts and outerwear. Here you can find rare pieces of clothing as well as exclusive colaberations between DC4 and a number of the stocked brands. However, the pièce de résistance has to be the original 1940s Union Special 43200 which they use to hem your jeans using only the specific thread sourced from Japan, they will even soak your new jeans to ensure the perfect fit when hemming. You can expect expert advice and excellent service from a staff that live and breathe denim.
Main Brands:
D. Lewis, DC4 Specials. Dry Bones, Iron Heart, Joe McCoy, Lee x The Real McCoys, Manifold, Momotaro, Mustang Paste, My Freedamn, Pure Blue Japan, R.J.B, Samurai, SOMET, Souvenir Jacket, Studio D' Artisan, The Flat Had, Union Special (for hemming).
For something to eat in this part of Mitte:
Dolores Burritos
Rosa-Luxemburg-Straße 7, 10178 Berlin
Tel.:  0049 (0) 30 28 099 597
www.dolores-online.de
Opening hours: Mo.-Sa. 11:30 – 22.00 Sun. and holidays: 13.00-22.00
Closest Public Transport: U-Bahn/S-Bahn Alexanderplatz.
Some of the finest gourmet burritos in Berlin. There is a wide range of fillings for carnivores and vegetarians alike. It is also highly recommended that you get one of their homemade fresh lemonades to go along with your meal.
Heading north from Mitte you find yourself in Prenzlauer Berg. The simplest way up there is to head back to Alexander Platz and pick up the U-Bahn. Line U2 in the direction Pankow will take you up there in no time. Eberswalder Straße is the best place to get off as you will find yourself equidistant from both Fein und Ripp and Peter Fields, two stores well worth the visit.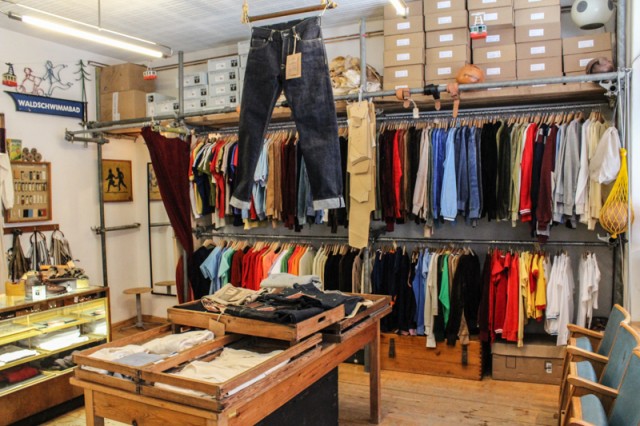 Fein und Ripp
Kastanienallee 91/92, 10435 Berlin
Tel.: 0049 (0) 30 44 033 250
www.feinundripp.de
Opening hours: Mon – Sat: 12.00 – 19.00
Closest Public Transport: U-Bahn Eberswalder Straße (U2 Line)
A family run shop, Fein und Ripp caters for men, women and children specialising in brand new deadstock garments produced between the 1920s and the 70s. It is slightly disorientating when stepping through the door, the store harks back to bygone times fitting perfectly with the historical wares on offer. Here you will also find the cream of the crop when it comes to clothing and accessories produced more recently but always adhering to the same philosophy, one of quality and a bygone aesthetic.
Main Brands:
Pike Brothers, Wolverine, Trabert Stiefel (boots), Blue Blanket, Frye as well as a large selection of high quality deadstock clothing from shirts, trousers to nightwear
If you take a short walk north east from Fein und Ripp you will come to Helmholtzplatz, the perfect place to have a coffee at any of the numerous cafes around the small park. It is also the location of our next stop.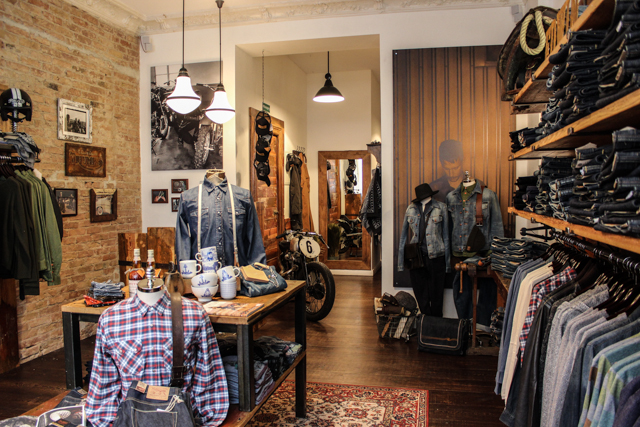 Peter Fields
Dunckerstraße 81, 10437 Berlin
Tel.: 0049 (0) 30 41 722 890
www.peter-fields.com
Opening hours: Mo – Fr 12.00-19.00. Sa 11.00-18.00
Closest Public Transport: U-Bahn Eberswalder Straße (U2 Line)/Tram M1
Directly round the corner from Helmholtz Platz you will find Peter Fields. Here you will find a warm welcome and a great selection of clothing and accessories for both men and women. The store looks fantastic, from the perfectly conceived window dressing through to the arrangements and use of space throughout. It all fits perfectly with what is on offer and gives the place a very comfortable feel and the friendly and knowledgeable staff will go out of their way to find you something special to go with your particular style.
Main Brands:
Edwin, Nudie Jeans, Revolution, Stetson, Deus ex Machina, Pace, LeChatVIVI, Iron and Resin, Fat Boy Clothing*, Dickies**, Pepe Jeans (for women), Ahoi Marie.
*Spring/Summer 2013, **Fall/Winter 2013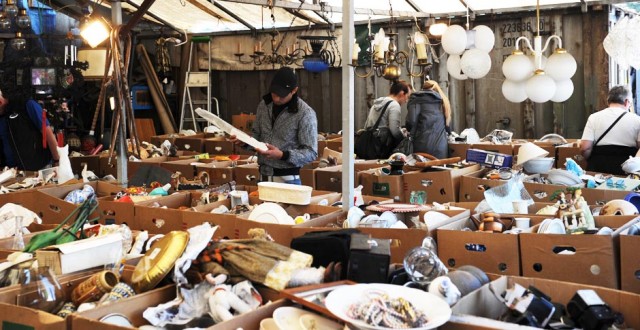 Mauerpark Flea Market
Gleimstraße 55, Prenzlauer Berg, 10435 Berlin
Opening hours: Every Sunday from 10.00
Closest Public Transport: U-Bahn Eberswalder Straße (U2 Line)/Tram M1
Each Sunday in Prenzlauer Berg you can also find one of Berlin's biggest flea markets. The Flohmarkt am Mauerpark. As the name suggests it is located within the Mauerpark. In recent years it has become a hive of overpriced food, cheap tourist tat and stolen bikes. Having said that there are stories of people coming across a pair of vintage Levi's for €10. So who knows, if you are patient you may well end up with a fantastic bargain. This tip comes with a warning however, please keep a close eye on your wallets, purses and bags, better safe than sorry.
And for a cup of coffee.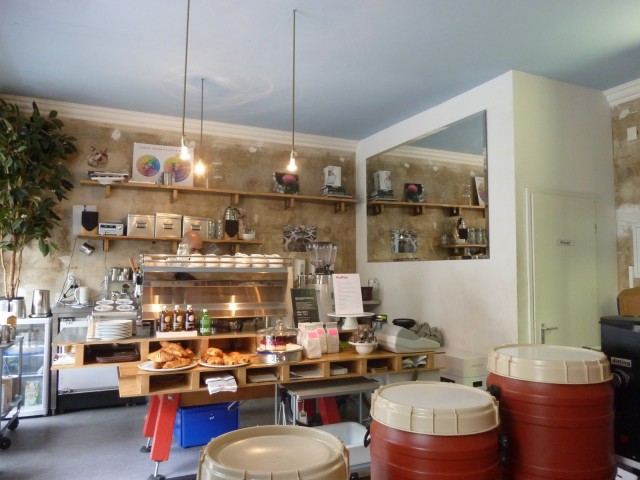 Bonanza
Oderberger Str. 35, Prenzlauer Berg, 10435 Berlin
www.bonanzacoffee.de
Opening hours: Mo – Fr: 8:30 – 19:00. Sa – So: 10:00 – 19:00
Closest Public Transport: U-Bahn Eberswalder Straße (U2 Line)/Tram M1
Right next to the Mauerpark you will find Bonanza where you will get one of the best cups of coffee in Berlin. Now, it is busy but justifiably so and the furnishings are uncomfortable in a very utilitarian way but go in, grab a coffee and if the weather permits take it across the street to the park.
The final stop will take you to Kreuzberg directly south from Prenzlauer Berg, now please bear with us, this sounds complicated but it is really a very simple hop. Head back towards Alexander Platz with the U2 direction Ruhleben. Once at Alexander Platz, change for the U8 line, direction Hermann Straße. Four stops later you will find yourself at Kottbusser Tor. From there it is a short walk to Akeef, our final stop. Alternatively, if you have been on your feet for too long you can catch the U1, direction Warschauer Straße, one stop to Gorlitzer Bahnhof, the closest station.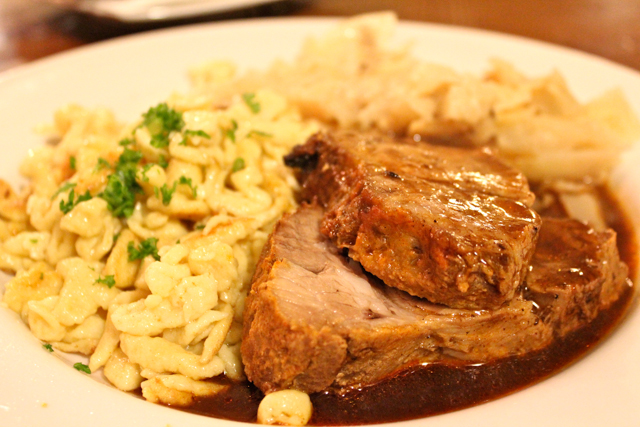 Spätzle & Knödel
Wühlisch Straße 20, 10247 Berlin.
Tel.: 030 27571151
www.spaetzleknoedel.de
Opening Times: Mo – Fr 17.oo – 23.00. Sa 15.00 – 18.00
Closest Public Transport: S-Bahn und U-Bahn Warschauer Straße (U1 Line/S3,S5,S75/Tram M10)
Spätzle & Knödel serve up fantastic traditional German dishes. Exactly what you need after a hard day's Denim Hunting. The beer is great and the food is guaranteed to fill you up and give you plenty of energy to see the rest of the city.
In and around all these stores there are plenty of sights and shops for any and all interests. You don't need to do all these in one day; in fact you may be hard pressed to get round them all in a single day. Take your time, enjoy Berlin and enjoy the denim.
To help you find your way around we've set up this Google map.