Brand Profile: Maple Motorcycle Jeans
I'm probably not the only denimhunter who's into vintage motorbikes too.
To me, denim clothes and old bikes are in fact part of the same mind set and culture, they've stood the test of time and they don't have to prove themselves or change every other day; we love them for what they are.
When I'm on my bike (a '79 Kawasaki Z650) I want to feel safe, but at the same time I want to be me. I care about what I wear, how it feels and how I look – also when I get off the bike. No one really likes to wear a pair of tight-fitted leather pants on a hot summer day, you want to wear denim!
These thoughts were on my mind when I was trying to find the perfect clothes for riding last year. After trying a pair of denim riding pants in my local bike shop I knew they weren't going to cut it. Luckily, I stumbled upon Maple Motorcycle Jeans and it was love at first sight. At that time they were still not available for purchase, but the website had great little video with the enthusiastic founder of the brand, Dave Fairbairn, who explained about his ideas and progress, and took a bunch of eager, potential customers through to the time when he was finally able to launch the webshop, and watch orders roll in, in early June 2012.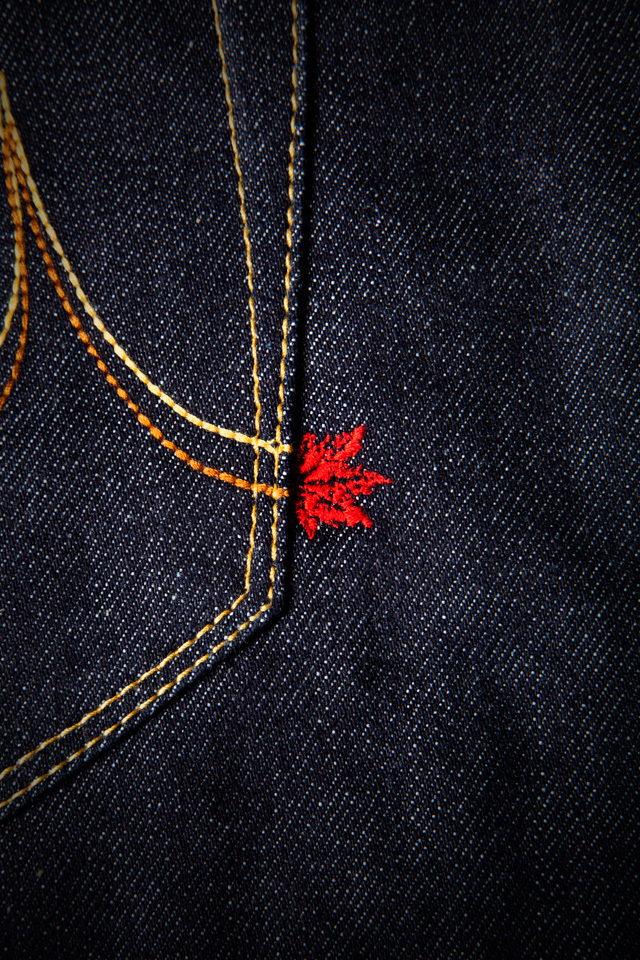 The fit is called 1941 and it's a true, raw, 13.5 oz selvage denim, in a fit seemingly inspired by the 501 of the 1930s and 40s. A straight fit, high rise and both cinch, suspender-buttons and belt-loops to satisfy every need. Two colour stitchings that really make the arcuates stand out together with the embroidered maple leaf at the end of the arcuate on the right back pocket. They don't just look good; the design is perfect for riding. Inside they're lined with Kevlar and have pockets for protecting pads on hips and knees – in the unfortunate event of a crash; it's hard to see how you could be protected any better.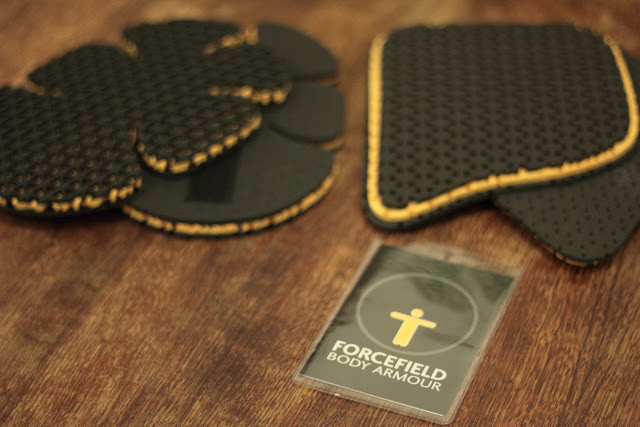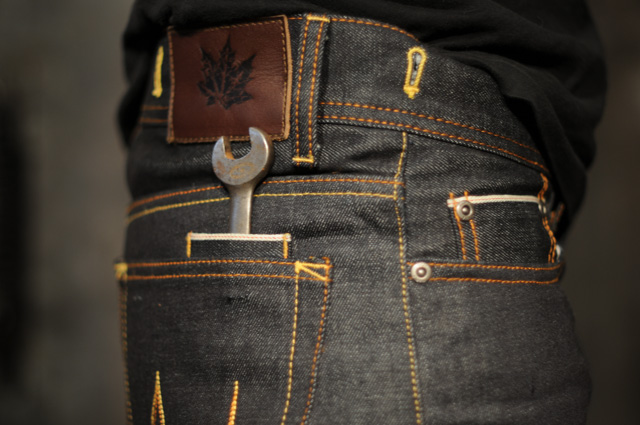 Along with launching the 1941s, a demand for a slim fit version grew. Launched in November 2012, the slim fits features the same denim quality, but a simpler, more contemporary design including belt loops and holes for attaching suspender buttons if so desired. Still, they have a high rise to avoid the gap between jacket and pants when crouching on the bike. A few other subtle details are the exposed selvage on the coin pocket and the wrench pocket in the right back pocket. The slim fits are meant to suit both men and women, whereas the 1941's probably are mostly suitable for men.
I was lucky enough to get a few minutes of Dave Fairbairn's time to interview him on the process of Maple Motorcycle Jeans.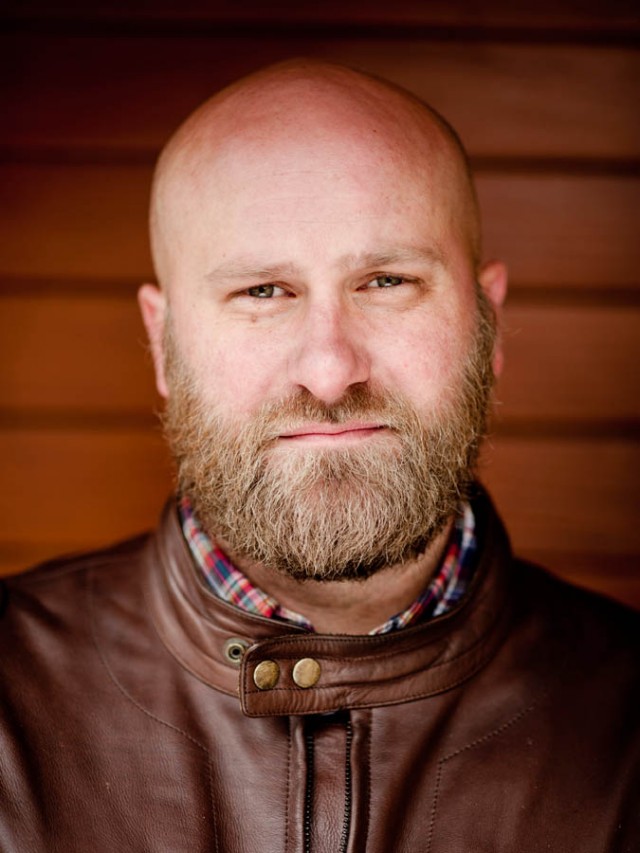 Where does your passion for denim come from? 
"Oddly enough, my passion for denim developed from starting Maple Jeans. I had never really been into premium denim until I started doing research for the business. I knew I wanted create a premium product, using the best materials. My designer, Satish Tailor convinced me to buy a pair of LVC 44s, and I was hooked."
What is good denim to you?
"To me, good denim is denim with character, denim that can tell a story. I think what attracts me to premium raw denim is that after wear each pair is unique. Each pair has its own story on how it came to be."
How is your take on denim – do you only wear raw denim? And how do you handle your jeans?
"As the owner of a premium denim brand, I have dozens of pairs of jeans. I generally get all of the prototypes and production samples made in my size, so I can test them out. As such, I only wear raw denim. My approach to denim care is pretty hands off.  My current pair of 1941s was worn unsoaked and unwashed for 9 months of everyday wear. By 9 months, they were pretty disgusting, they stank (even after freezing), and had a greasy feel to them. A cold shower wearing them did wonders, but after being thrown up on by Monty, my six-month-old, they were thrown in a cold wash and hung to dry."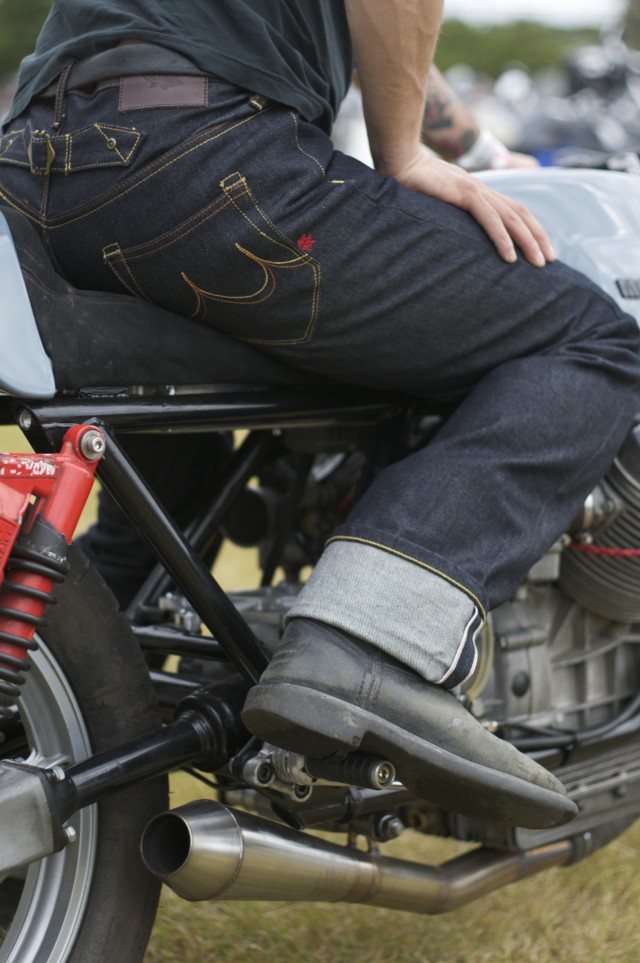 Where did the idea to make the Maple Motorcycle Jeans come from? 
"The idea came out of wanting a product that wasn't available at the time, and being naïve and ignorant enough to think it would be easy to develop. I used to commute into London everyday on my motorcycle, to a job I hated. I found myself going out with friends after work in London, and having to bring a change of clothes with me everywhere I went. It was annoying. I got to thinking that it would be great to have a pair of jeans that would protect me when I was on my bike, but were stylish enough to be wearing out to nice restaurants and pubs in London. When I started looking for them, I found that they didn't exist. There were protective motorcycle jeans, but none that suited my taste. They all used cheap denim, and looked terrible. I saw a gap in the market and for some reason decided that I'd go after it."
How did you get from the first thoughts to finished product? 
"I've been very fortunate. There have been many factors that needed to come together to make Maple Jeans happen. Very soon after having the idea, I was introduced to my designer Satish Tailor (HSTCreative.co.uk). Satish is the most knowledgeable denim head I've ever met. Mix that with his experience leading the team at PUMA who designed their MotoGP race suits and you've got quite probably the perfect man to design stylish, armoured motorcycle jeans using premium denim."
"Another major factor to getting a finished product was being naïve to how much work, effort and stress would be involved, and how difficult it would be to source a supplier willing to work with a start-up on an unproven product. It's cliché, but if I knew how much work it would take to get this far, I would have never started."
"Another cliché, but the most important factor has been the unrelenting support and motivation from my wife Holly. Not many women would let their husbands take a massive mortgage on their house, while not bringing in an income for more than 2 years in order to chase an unproven concept."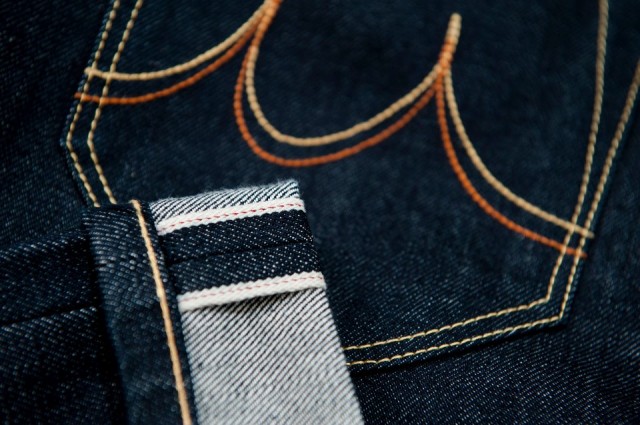 Where is the selvage denim that you use for the jeans produced?
"For the current runs we're using 13.5 ounce unwashed Kurabo selvedge denim. As a small producer, we don't have much buying power. As we grow, I'll be looking at developing a relationship with a Japanese mill. Whether that's Kurabo or not is up in the air."
You've recently launched the slim fit model. Have you got any plans on doing more fits?
"Yes absolutely, I'm just getting started. We're currently developing 6 new styles. I'm really excited to get into women's jeans, and experimenting with different colours and weights."
Do you have any current plans on extending the collection? Doing jackets, shirts or other riding gear?
"I want Maple to be known as the "Premium Motorcycle Denim Brand." I believe in specialising, and doing one thing really, really well. As such, Maple's focus is on providing the world with premium, stylish motorcycle denim (including jackets), and denim accessories. There are plenty of other companies out there who do fantastic riding gear, like Lewis Leathers, and Ruby Helmets. We'll let them do their thing, and we'll do ours. Together it means that there are better choices for riders."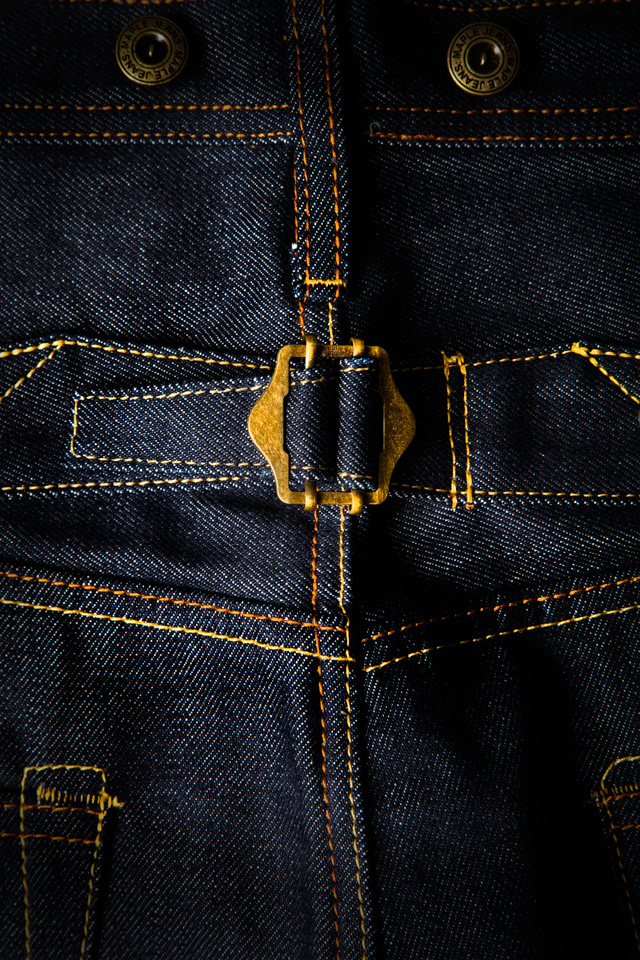 Do you sell everything through your website, or do you have retailers? – If not, are you planning to?
"At the moment everything is sold at www.maplemoto.com. As a one man band, I've had to be careful not to spread myself too thin, so while I've been approached by retailers, I've had to turn them down. Being known for our jeans is very important to me, but equally important to me is providing an incredible client experience. I go out of my way to make sure my clients are happy with their jeans, and want to do further business with my company. Whether it's the attention to detail in design, the intricacy with which each pair of jeans is packaged, or the personal interaction I have with each client. I'm obsessed with service. At the moment I can't provide that same level of service to retailers."
Aside from that, what does the future for Maple hold?
"The future is bright! I'm really excited to grow Maple Jeans, by expanding our line, and letting the world know that they don't have to settle for ugly motorcycle jeans, or risk going out without protection. I've got some really cool projects under way including bringing on some help, and a collaboration with an iconic motorcycle brand."
I remember you telling about the first pair of 1941s – can you tell a bit about them? For how long have you been wearing them? How many times have they been washed?
"This story is tragic. My original pair of Maples was worn for over a year, unwashed. For research and development I took a job as a London motorcycle courier. It was a crazy job, which, I've read, is rated as one of the most dangerous jobs in the world. I'd believe it. Anyways, I wore those jeans for over 50,000 miles on the road. One day I came home to find that my beautiful wife had mistakenly washed them, not just any wash, a 90 degree wash. Bless her! They were ruined. The fades had all been diluted – a tragedy! I've since been wearing the unlined jeans for nearly a year – my wife now knows not to wash my denim."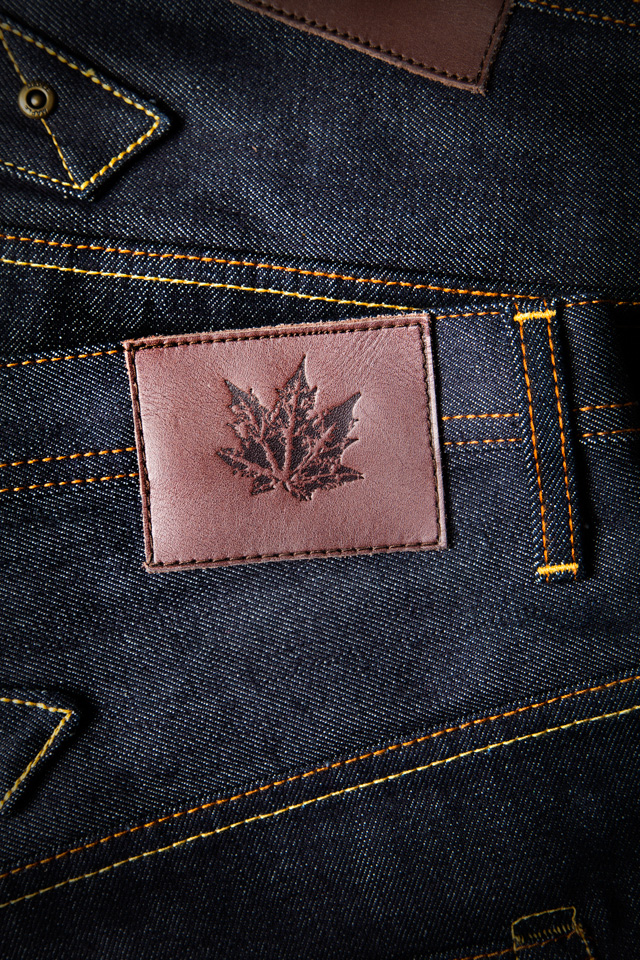 Get your own pair of Maple Motorcycle Jeans here.
Pictures: Aaron Graubart.