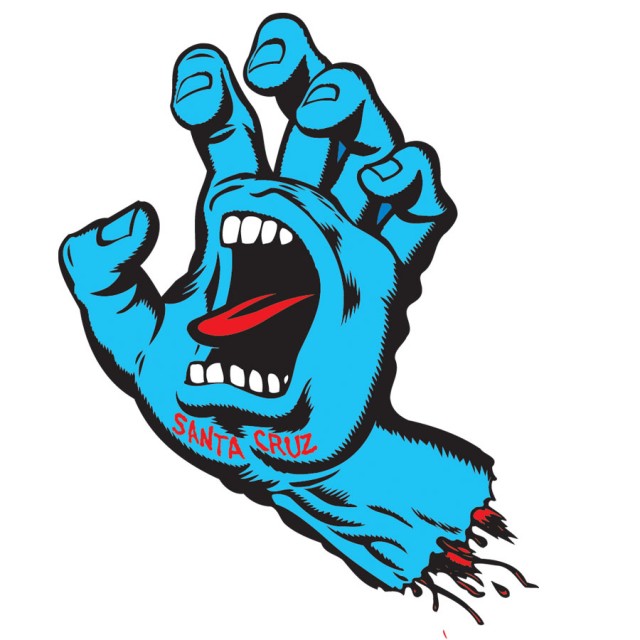 Skateboarding as a kid in high school, Ande was inspired by art work like Jim Philip's screaming hand for Santa Cruz and in art class he would print t-shirts. After graduating high school Ande found a job working at an embroidery factory and worked his way from the factory floor into the art room digitising logos. He did a streetwear brand on the side and had hundreds of designs programmed, yet he had a hard time working with factories as, "no one wants to know you when you are some kid that wants ten pairs of pants made." Instead, Ande enrolled at the local Polytech Fashion Design and Technology course.
How did you get into the denim business?
"I guess it was a natural development from the streetwear days. The Ande Whall brand which I started after Polytech was sort of high-end streetwear sold to local boutiques. I got more and more interested in jeans, so around 2004-05 I was solely concentrating on denim."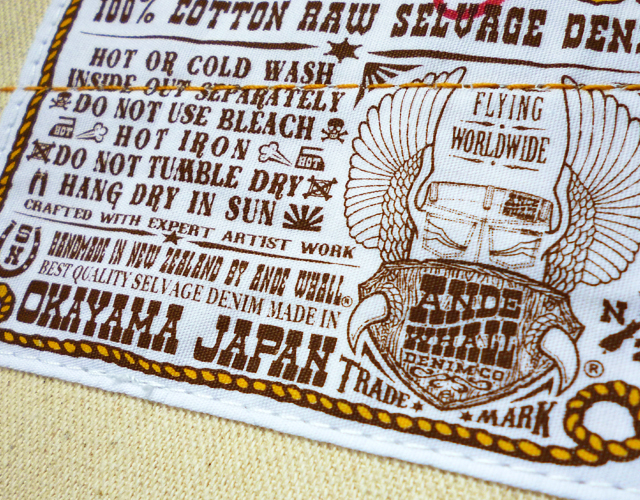 For Ande it's important that his customers recognise the passion and hard work that goes into each piece; on his website there's a very thorough "a-z guide" about how he turns a roll of denim, a bunch of thread, a little leather and a little metal into a pair of jeans, mainly using a single stitch sewing machine. Since the early beginnings, Ande's motivation with the brand has been to make the best garments possible. "It's really hard work and quite addictive, solving problems and developing products is a tough but rewarding process," he explains.
How did you learn to make jeans?
"Once I had the basics of pattern making and sewing sorted out, it was really just a case of trial and error. At Polytech they don't teach you specifically how to make jeans, so it's up to you to figure it out with research and development. I did loads of research on how jeans were made and how the construction processes changed with new developments in sewing machines; I'm really obsessed with single needle made garments. In hindsight it's probably better to work for a denim brand to get some experience, but job opportunities like that are quite hard to come by, especially in New Zealand."
Ande Whall Denim Co. jeans feature details such as:
Single stitch sewn 'wing' back pocket signature.
Donut buttons.
Bronze finish rivets.
4 mm thick full grain leather patch.
Peek-a-boo selvage detail on coin pockets.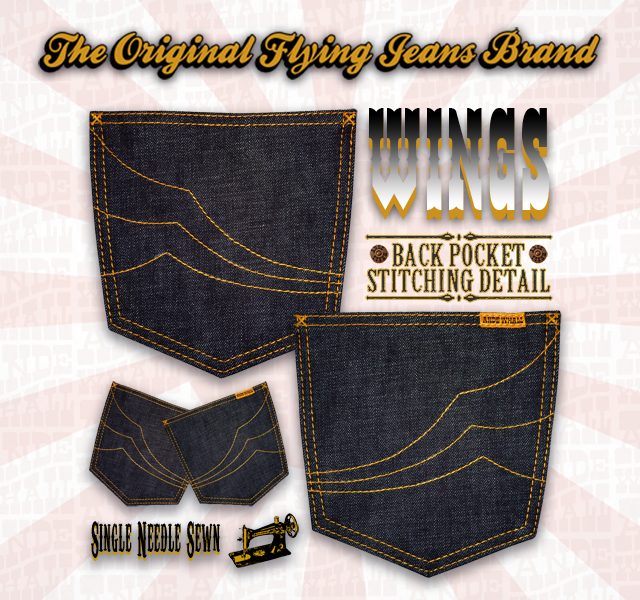 What is it with jeans that appeal so much to the modern man?
"I think it's just the ease and comfort they give. There's some emotional stuff going on too, everyone has a favorite pair of jeans, like a buddy that's been through stuff with you."
What is your favourite denim?
"A nice tight weave, crisp with the right amount of slub. I personally prefer and old school looking denim, not overdone with crazy slub or weight; something around 13-14 oz. that fades to a really light shade of blue. It's all personal preference though. A lot of people are into denim on steroids, super heavy and super slubby. I really like it and enjoy checking it out, but it's not for me when it comes to my own jeans, maybe a Special Roll, never say never."
The mainline denim Ande's uses has the following specs:
Milled in Ibara in the Okayama prefecture of Japan.
13.5 oz. 3×1 denim with redline selvage ID.
Yarn is double ring-spun of long fibre Zimbabwe cotton for a soft hand and small slubs.
Rope dyed in pure synthetic indigo without any cast.
How should inexperienced buyers evaluate jeans?
"You know there are a lot of great labels around today using high quality denim. It's best to do some research, see what's going to fit your body shape well and find a brand that you really like that resonates with you in some way."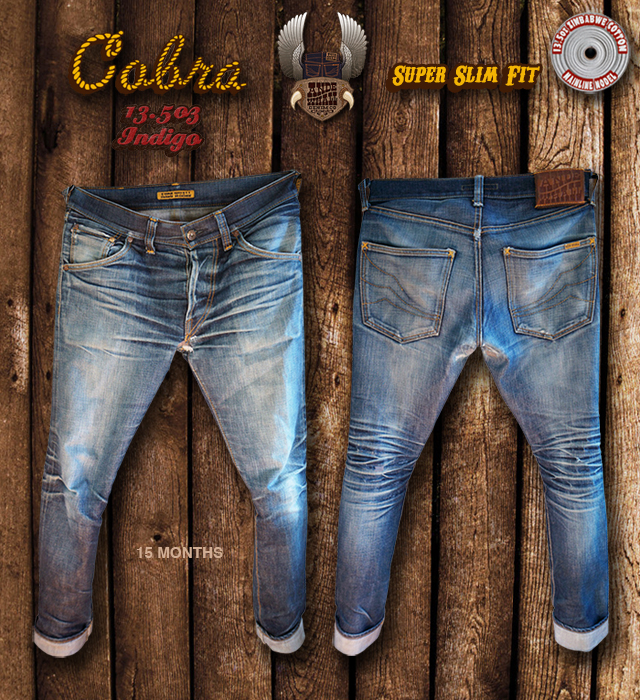 How do you wear in your jeans?
"I usually just wear one pair for a long time until they get to delicate for everyday wear, usually after quite a few repairs too. Then I will retire them and hang 'em up in the workshop. As for wash and wear, I seem to have a different approach each time. The pair I am wearing at the moment, I didn't wash them for the first 4 -5 months, after that I have been washing them quite frequently. The plan was to get the fades set in and then to get them worn into a really nice light blue. Washing more often keeps them stronger too."
Do you collect anything?
"I tried collecting little star wars figures, but I was rubbish at it."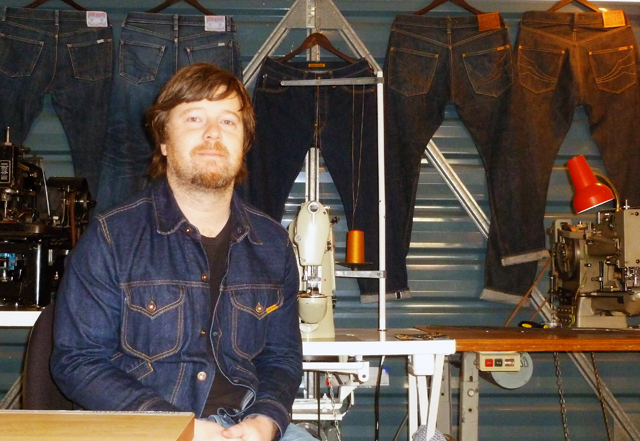 How many pairs of jeans do you have in your private collection?
"Not that many really, probably eight or nine pairs. Six of those are one of each of the Special Roll models released over the last two years, it's good to keep them in the archive for future reference. I lost a lot of old stuff in the 2011-earthquake, I had pairs going right back to the start all hanging on the wall as a sort of visual evolution of the brand, bit a shame. My favorite old well-worn Cone Mills denim jeans were in there too, so that was a bummer. I haven't bought any jeans since 1999."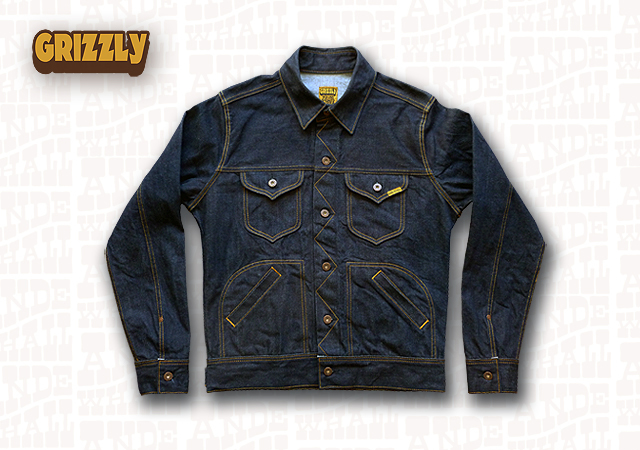 Which item are you most proud of?
"I'm actually the most proud of the Grizzly jacket. When I started designing it, I wanted to make the coolest jacket ever that fit and functioned really well. It took almost a year of going back to the pattern and resampling once a month to get it right. I found most denim jackets are cut fairly old school, short in the body with quite baggy sleeves, so the Grizzly is more of a modern interpretation fit wise but with a vintage look. I dig hand warmer pockets to, so it had to have them! As a very small operation with basically zero budget I figure the best asset you have is design power."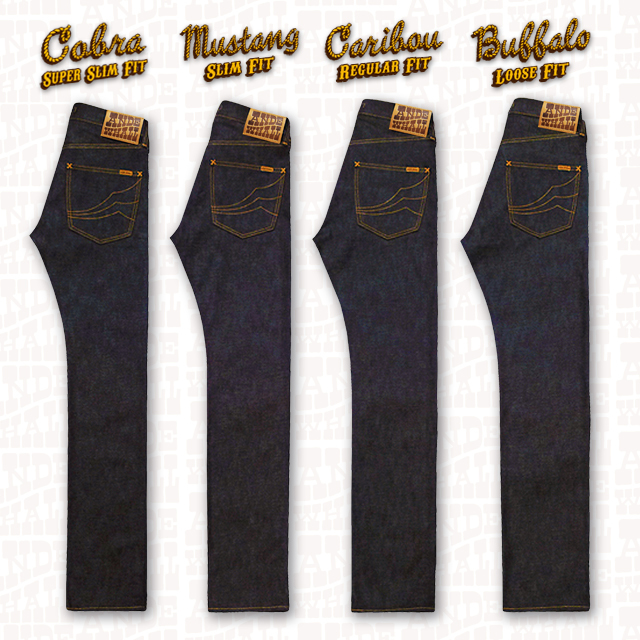 Finally, where do you see Ande Whall Denim Co. five years from now?
"I'm enthusiastic about the future, I have a lot of ideas and designs to come yet, with much development time, it's just the tip of the iceberg, as they say. I have been going back and forth with ideas of larger contract factory production or setting up my own bigger scale, but still small, sort of boutique factory. My goal is to get the core range fully sorted first. I still have a few jackets and shirts in development, so once I get it all together I will be looking at some different production options to get more into the wholesale-retail market."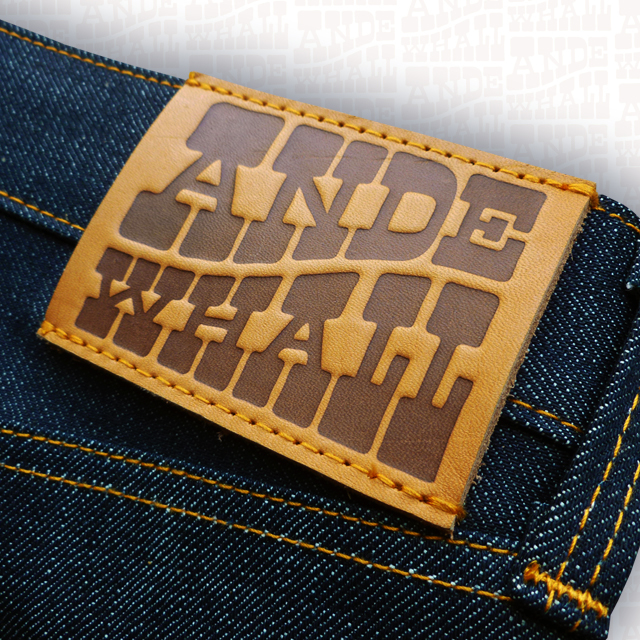 Ande Whall jeans are sold exclusively through Ande's website as well as Wakefield Hotel in Wellington.