Nils Johansson is a fan of Tanner Goods – and when you see how beautifully he has worn in his leather gear you'll understand why.
Nils is 35 years old and he works as an engineer, which means he spends most of his time sitting behind a computer screen. He's also the father of two and his kids keep him quite a lot on his knees.
Nils lives in Sweden and he shops Tanner Goods at Meadow. Both his Workman Wallet and his Standard Belt have been worn for 14 months – and both are made from Tanner's natural vegetable tanned leather.
Enjoy the results of Nils' patience – if you want your Tanner Goods gear to look just as great there's only one thing to do; wear it! Below is a picture of a brand new natural Workman Wallet and Nils' worn wallet – courtesy of Christopher Åkesson.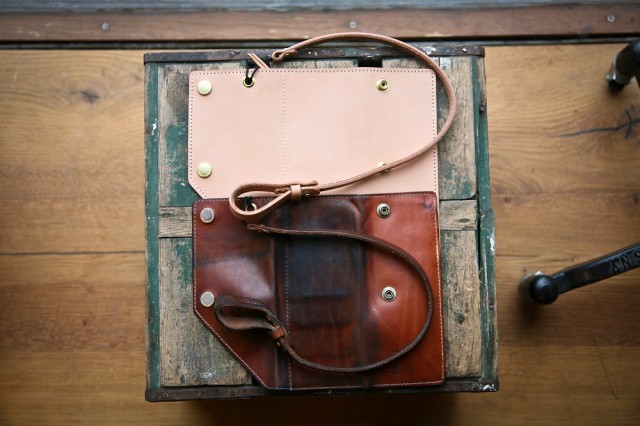 In addition to his leather accessories, Nils also owns a well-curated collection of good looking broken-in denims, which includes the IHSH-76 shirt and the IH-666S jeans from Iron Heart and the ED49 Rainbow Selvage from Edwin – a few pairs of classic Red Wing boots, a lovely vintage Certina DS Camino, and a few hand-knitted woolen sweaters made by his mother in the 70s.
Some of the more unique items in his collection include the worn 'Burro' denim jacket and the leather key holder made by an old school leather craftsman in Helsingborg, Sweden who has been in the trade for 40 years or so.
To get more updates about the gear Nils wears you can follow him on Instagram.
If you have proper worn in garments or accessories you think your fellow readers would enjoy don't hesitate to send them to our editorial staff at [email protected].