Shop Review: A small Jeans Company
Hardcore denim stores can be intimidating for the uninitiated.
This certainly isn't the case with Copenhagen's newest denim shop A small Jeans Company (ASJC). Tempted by the offer of coffee, and the obligatory Danish pastries, I met up with owner Carsten Frederiksen for an interview.
A small Jeans Company is a very personal project for Carsten.
As its name suggests he wants to keep things, well, small. His background, however, is working in sales for large brands such as Tommy Hilfiger and Tiger of Sweden in the more formal tradition of gents' tailoring. As Carsten admits though,
"When working with formal wear I started realizing that clothes go way deeper. Suddenly I found myself much more drawn to denim."
Carsten has observed how most end-consumers know that tailoring, the combining of fabrics and fits, is a sort of science. As he argues, the same counts for denim in general. What really triggered Carsten is denim's longevity: a place where denim beats formal wear any day.
"Personally I prefer a mix of denim and formal wear. Add a leather jacket and I'm a happy guy."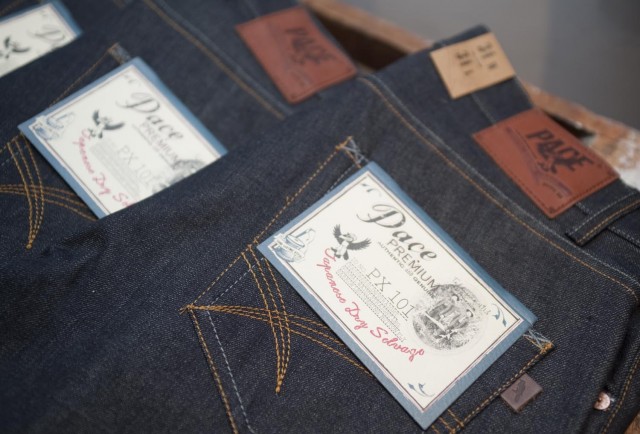 Indigo, Craftsmanship, Stories
Talking to Carsten, it's clear he applies formal tailoring's high standards to what he stocks at ASJC. Yet, his relaxed attitude informs what he wants to achieve with the shop,
"We have no ambition of becoming a big jeans company or getting rich and famous. We focus on providing good, long-lasting stuff for our customers: we prefer products before branding.

When I opened up I thought well-known commercial brands were important. Luckily they are not. The end-consumer has become much more aware of what they're buying. Therefore we focus on production, country of origin, fabrics and brand DNA."
This means brands such as Tellason, Pace Jeans, Tanner Goods and Lewis Leathers take precedence over more commercial fodder.
ASJC's motto is Indigo, Craftsmanship, Stories. The provenance and quality of a garment is more important than than the branding it carries – perhaps a surprising approach for a shop only a stones throw form Copenhagen's main shopping drag 'Strøget.'
To his credit, Carsten is not interested in compromising on the quality of what ASJC stocks,
"Quality denim is for me a solid and clean product in every detail. With this I mean what is the purpose of making a fantastic heavy ounce denim then putting in cheap buttons or compromising on pocket lining or rivets?"   

Starting any new business is hard and mistakes are easy to make. Despite the shop's central location traffic flow has been one of ASJC's biggest challenges,
"Copenhagen is a big city and knowledge (of us) is still small. We are growing every day and becoming more settled. Customers come back and that is a good thing!"
Carsten is candid about the initial difficulty getting the mix of brands right, but argues the shop will benefit from it in the long run,
"A small Jeans Company will only get better and more interesting for denim orientated guys."
A 'small' Passion
Despite these challenges, after working for the big boys A small Jeans Company represents a refreshing change, with Carsten's motivation stemming from doing something he genuinely loves,
"I'm doing this now and hopefully for the rest of my life. I have had good jobs and been happy about them but this career choice is by far the best decision I've made."
So what brand is he most proud of? Carsten acts as an agent for the Swedish brand Pace Jeans, so they're perhaps not a surprising choice. However, I get the sense he means it,
"I love the way their denim ages and they don't compromise on quality. The philosophy of keeping pace and moving on is fantastic. On a bad day I would prefer a less visible stitching on back pockets. But that's how it is with visual branding I guess. At the moment the PX-04 from Pace is keeping my legs warm."
With regard to breaking his own jeans in Carsten doesn't have any special routines, preferring to simply break his jeans in from dry,
"For me it's all about getting them on and when they don't work anymore it's time for a change."
For his customers, Carsten recommends they have patience and simply just wear them whatever they are doing. In his opinion it is up to the single person if they want to rub their dirty hands in them, work in the garage or garden – or even wash them (always inside out) because they have an office job.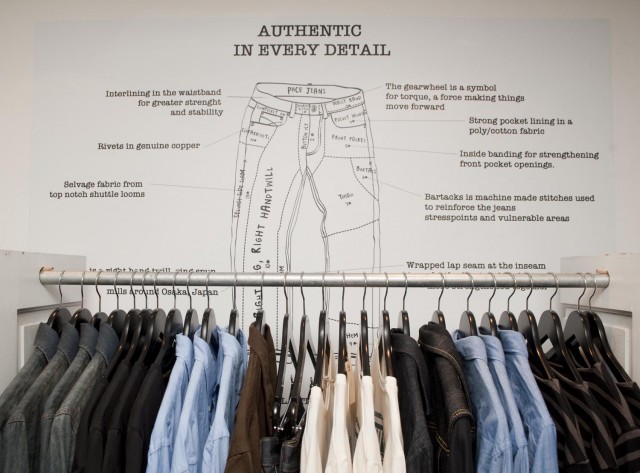 Carsten brings a life-long passion for clothing to A small Jeans Company, and it seems to be working for him. Copenhagen shops are not known for friendly customer service, so vibe in ASJC is good news for Danish denim-heads. As Carsten says,
"I don't expect for people to be blown away but if they don't find it relaxed and feel welcome for shopping or hanging out – then I am doing something wrong. "
There's normally always a pot of coffee on and regular beer evenings, so if you're after some new denim why not pop in for a chat? If you can't make it, check out ASJC here.
All images © Mark Larner