Workshop Denim: UK-Made With Clean British Aesthetics
The growing popularity of selvedge denim is leading more and more fashion brands to launch their own lines.
A chance meeting during Copenhagen Fashion Week in January turned me on to Universal Works; a small independent English label specialising in simple workwear inspired garments.
The big news, they just launched their first UK-made selvedge denim line, Workshop Denim.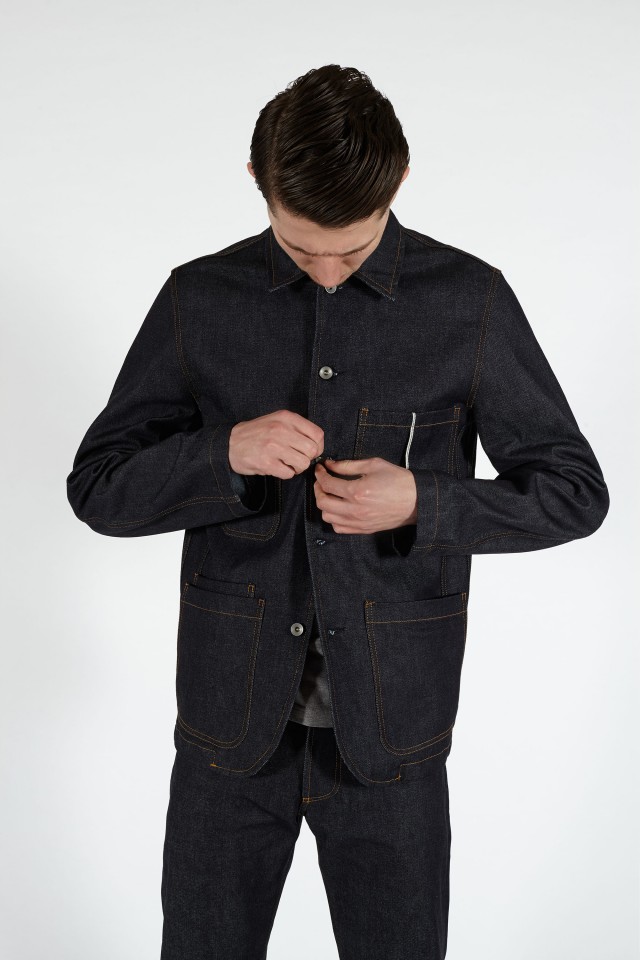 Made In the Old Heart of the British Textile Industry
Founded in 2008 by David Keyte, the company has its roots in the Midlands – the old heart of the British textile industry. Universal Works' guiding principle is to produce garments that, "reflect the personality of the owner; real honest menswear that defies the trends and whims of fashion."
Their new selvedge denim collection, Workshop Denim, launched this week, perfectly exemplifies this approach. The garments are all UK-made from 13 oz. denim woven on vintage shuttle looms in Portugal.
The two fits of jeans, regular and slim, and the two jackets, the Bakers Chore Coat and Trucker, all sport a very deliberate lack of branding. Rivets and buttons are completely plain and there's an inside "ghost patch" – only the stitching is visible on the outer waist line.
Universal Works put together this funny little video about how they make the jeans. It's almost magical.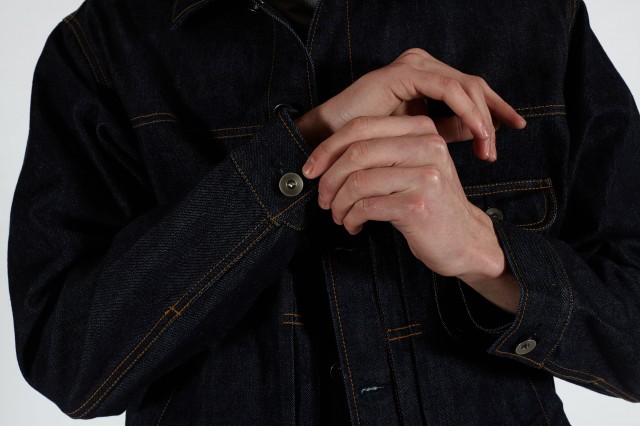 Four Garments to Meet Your Needs
The relaxed regular fit is Universal Works' take on the classic 5 pocket jean, featuring a mid rise and a slightly tapered leg. The slim fit has a lower rise but a straighter leg.
The Trucker Jacket, double-pleated with a single buttoned breast pocket, has more in common with the earlier Levi's 506 style than the 557 or the 70505, though looks to be cut slightly longer for a more contemporary fit.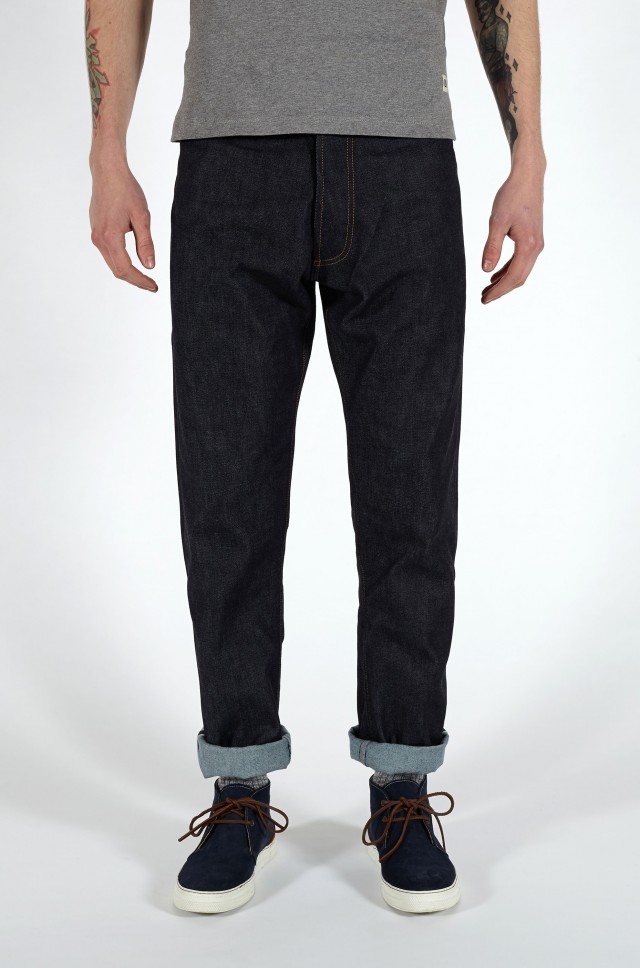 The Appeal of Simply Aesthetics
The Bakers Chore Coat is beautifully simple, with three large patch pockets and a rise-and-fall collar. I'm not convinced about the selvedge detailing on the breast pocket though, but that's purely personal preference.
However, if, like me, you dislike brands that plaster their products with labels and arcs then the otherwise strictly simple aesthetic of Workshop Denim will appeal to you. (I can't help but think of the protagonist in the William Gibson novel Pattern Recognition – obsessively having the branding ground off the buttons of her jeans by a locksmith.)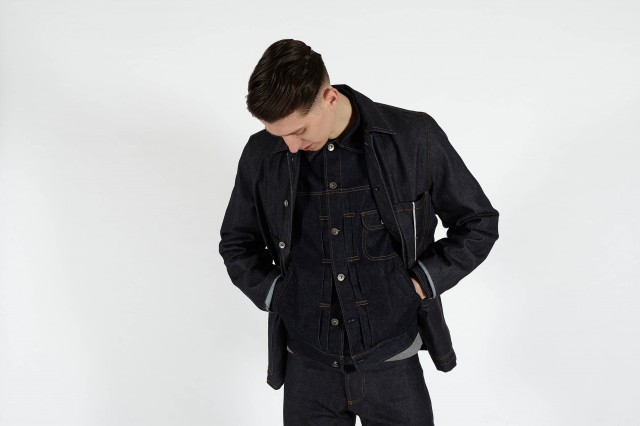 A Typically Understated English Approach
For Universal Works' first venture in to the world of selvedge denim, David wanted to achieve something distinctly different to the established Japanese and American labels.
The results are unashamedly British jeans. As David explains they take into account, "the needs of contemporary men, keeping them unwashed so you can make them your own. We have kept our jeans humble, modest and honest – kinda like us."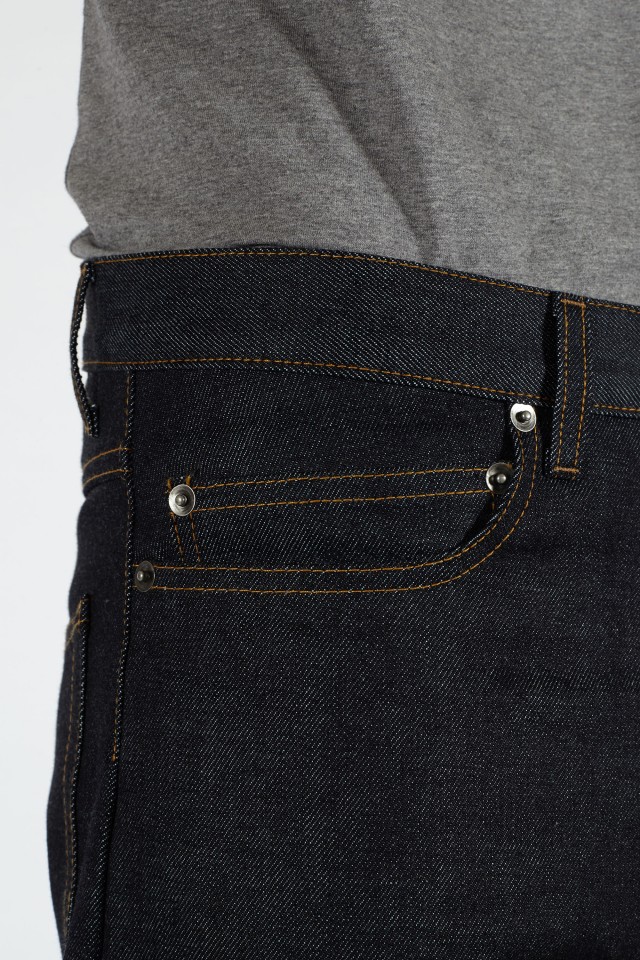 What's the Price and Where Do I Get Them?
The jeans are priced at £135 a pair, so not overly expensive for decent selvedge denim, and entirely inline with David's wish that his clothes should remain affordable – universal indeed.
It's really positive to see a British brand do this and I look forward to seeing how Workshop Denim will develop in the future. Definitely one to watch.
If you are interested, check out Workshop Denim here or pop in to their London flagship store here.