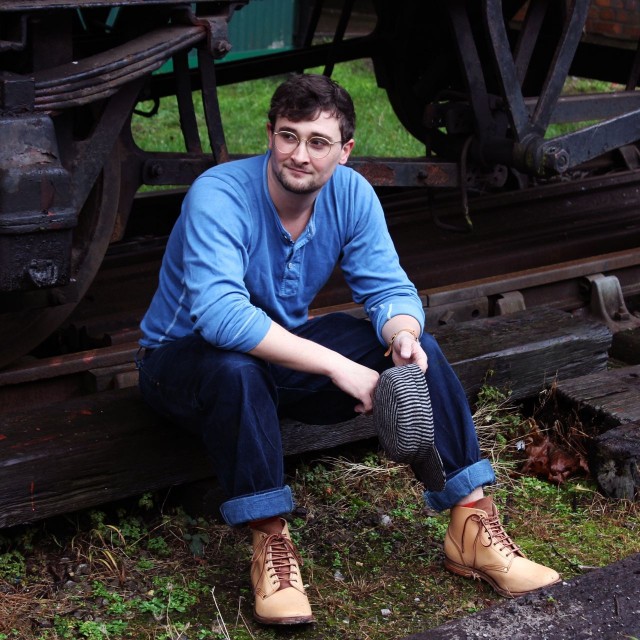 Rivets, denim, five pockets, fading indigo, a whole bunch of history and that special "stick it" attitude: all characteristics we know and love from jeans. Designers are often rather constrained by the conventions of the classic five pocket design, but after years of research Tender's William Kroll has created a new template for the design of jeans. In this extensive article we explore the brand, the products and ideas behind them in depth, and we also had a chance to get an exclusive interview with the man with the ideas.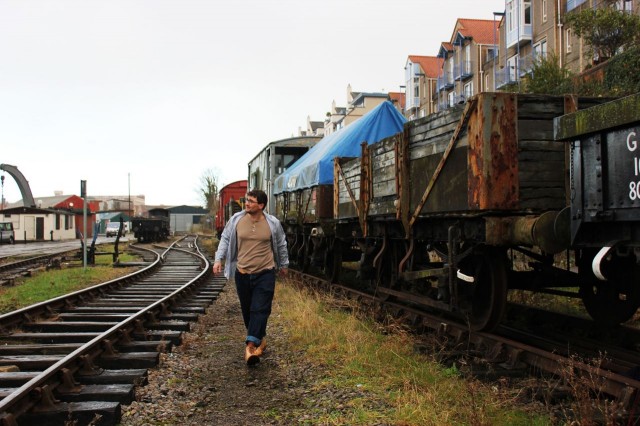 There are two faces and symbolic meanings of "the tender." One is found in the work clothing and machinery of the Great British Steam Age. On a steam train, the tender is the truck that carries the coal and water to power the locomotive. Originally, tenders were built incredibly solidly, mostly from riveted cast iron. The other face of Tender's English-made clothing is found in the nurture and care with which a gardener tends to a vegetable patch or a shepherd tends to a flock of sheep.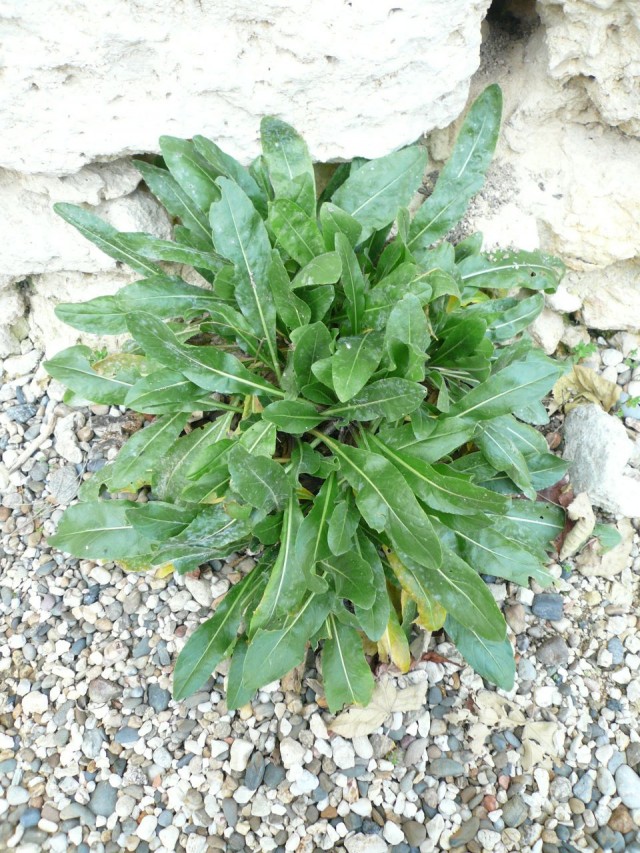 As one of few jeans manufacturers, William Kroll uses woad grown in the south of France to hand dye his jeans blue and other garments. The plant woad is a member of the brassica family, which also includes cabbages, and is native to Europe, where it is has been cultivated since the Stone Age.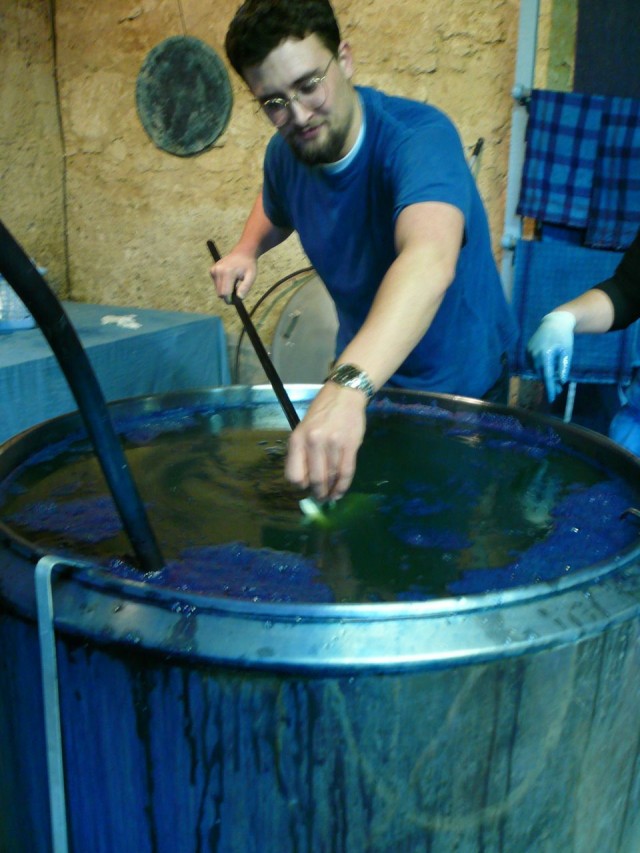 Woad dyeing is a long lost art that peaked with the French monarchy in the 18th century as the colour of the French nobility. The French Revolution in 1789-99 caused the fall of many previously royal or bourgeois industries, but when Napoleon declared himself Emperor in 1804, he took to wearing blue (woad dyed) silk as the Imperial colour. With the increase of slave ships arriving from the French Antilles into the port of Nîmes, carrying cargoes of cotton and indigo pigment, cheaper blue dyed fabric started to become available, and commoners started to adopt indigo dyed cotton to imitate the woad dyed silk of the ruling class. Serge de Nîmes gradually became the staple that it is today, and the much more expensive and complex art of woad dyeing died out.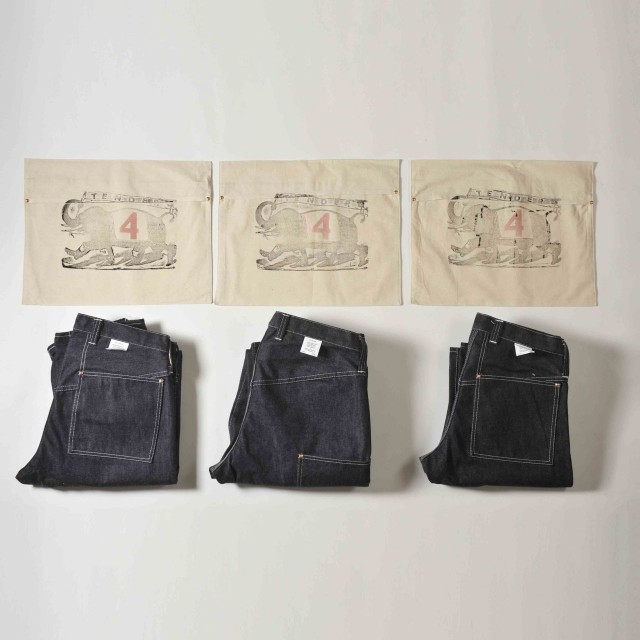 Tender has three fits, the tapered 130, the straight and slightly wide fitted 132D with driver's pockets on the back of the thighs and the slim/straight 129. All Tender jeans are cut long for the special double cuffs (illustrated below) using 16 oz. ring-spun rope dyed and unsanforized Japanese selvage denim made from unbleached cotton, which will reach 17 oz. once shrunk. The 'Unborn' jeans (above) are shrink-to-fit.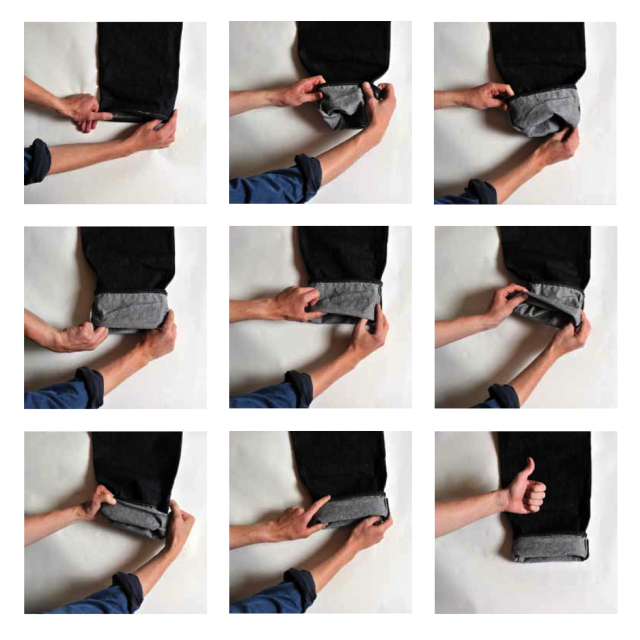 Other than that all jeans feature some unique details including; big square lined hip pockets are single stitch and the straight front pockets will stretch to curve with wear; 'snob's thumb' coin pocket with a selvage calico facing; 6 lined belt loops; 2-button kick-pressed 'Universal' copper dome riveted fly; removable top button hand-cast in England from solid brass; lowered V-yoke for ergonomic fit; and triple stitched and long lasting seat seam. Each pair of accompanied by a signed letter from William Kroll.
These are the 130, 132D & 129 dip-dyed woad jeans. The denim is shrunk in the woad dyeing process.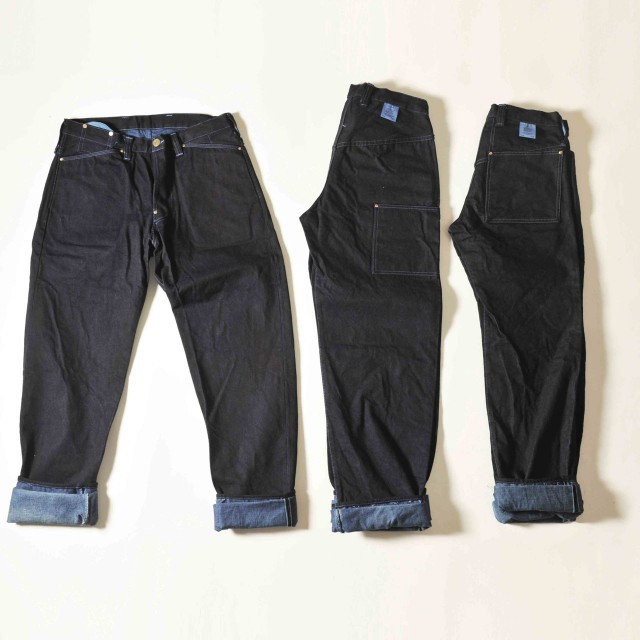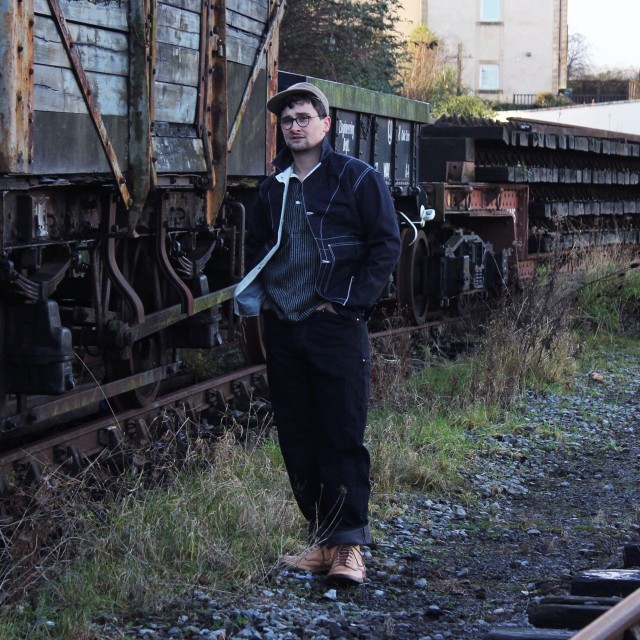 As mentioned above, we had a chance to do an exclusive interview with the founder and design of Tender, William Kroll, one of the most skilled and creative guys in the industry.
You seem to have a passion for the history of clothing, how did it all begin?
"I've always enjoyed making things, so my interest in clothing started with wanting to make some trousers for myself. For a few years, when I was a teenager, and then at college, I was pretty much just interested in how things were put together. Then after 2 years at college I took a year out to study with a bespoke cutter and coat-maker. As I found out more about traditional bespoke clothing, I got more and more interested in historical garments. When I would see a very old garment and realise that it had been put together in just the same way that I was learning to make things, I found that very exciting."
What's your background?
"Originally, when I was in high-school, I liked making furniture, and I wanted to be a product designer. I went to the foundation course at Central St Martins, and decided to switch to fashion. I did my Menswear BA at St Martins. During my last year there I was working in the Evisu shop on Savile Row in London, and when I graduated I started working for them as an assistant designer, and then as a designer, doing the Evisu Deluxe and Evisu Heritage lines. I learned loads about jeans, and about the fashion world, while I was there, and I loved it! But after 3 years it was time for something new. So I started doing Tender! After I left Evisu I went for 2 months to Kojima, in the south of Japan, to study indigo dyeing. This was a huge privilege, and really exciting. I wanted to do more with dyeing, and using natural dyes, and I brought some of what I learned into the beginning of my brand. I'd loved my previous job, but I wanted to do something which was purely on my own terms. I think jeans brands, particularly, can be very personal, and I wanted to do something in my own way."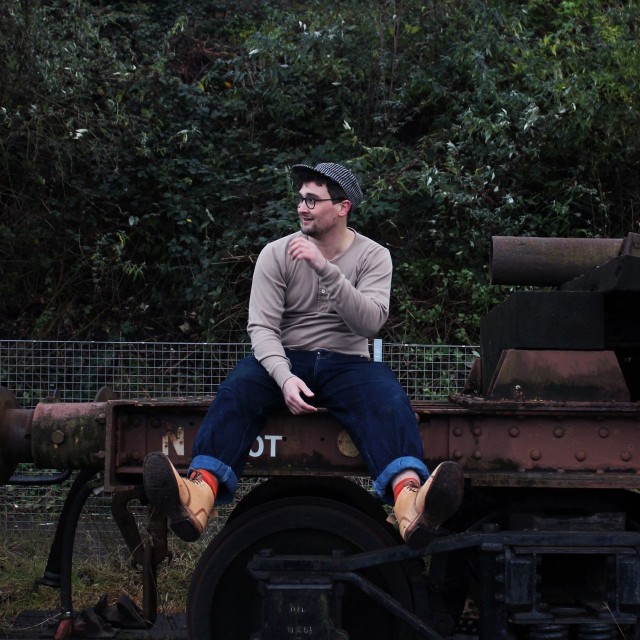 Do you remember your first pair of jeans?
"My dad brought me back a pair of OshKosh B'Gosh jeans, lined with red check flannel, from a trip to the US. I don't think I can have been more than about 4 years old, but I still remember them. The first pair of jeans that I bought for myself, when I was 14, were a pair of Evisu. They cost £105 and I had to save for two months of paper round money to afford them. I loved those jeans, and it was them that made me have a go at making my own in the first place."
Why do you think denim has become so popular recently?
"I think denim's been doing alright for itself for a while now! But in menswear, the type of denim that you and I are interested in (I think) has had a real boost from the engagement it's had with bloggers and forums, and access to the internet in general. The type of people who are going to get excited about jeans tend to be really into details, and the internet's allowed huge amounts of niche detailed information to be available to everyone, and for people to share their collections and opinions. Of course there's also a general feeling at the moment that good quality basic items, in clothing and everything else, are worthwhile, which is really nice!"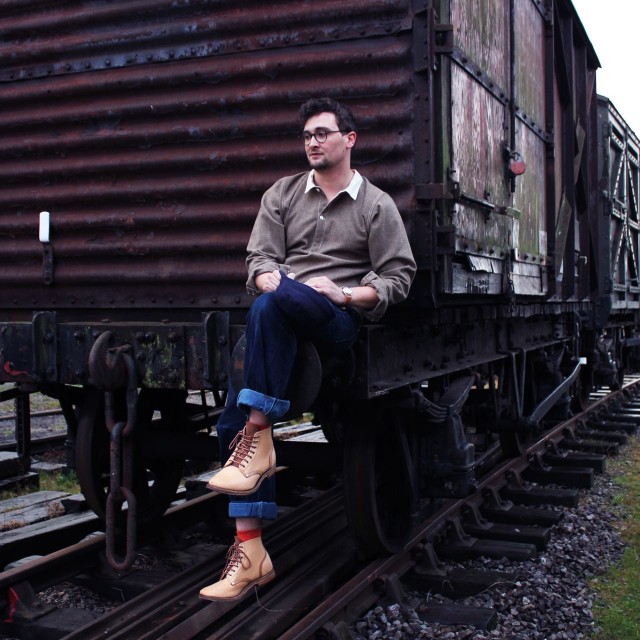 What do you love the most about denim?
"Like many people who are into denim, I love how personal jeans become, and the fading of indigo (and in Tender's case, of course, other vegetable dyes as well). I also love the wider concept of 'open' denim construction. Whereas with tailoring you try to hide the manufacturing processes within the garment, by sinking stitches into the cloth, matching patterns across seams, and hiding pocket bags and inlays inside a lining, with denim-style construction things tend to be as presentable (or unpresentable) on both sides of the cloth. A felled jeans seam is basically the same on both sides, and patch pockets are put on directly on the outside, so there's nothing to hide on the inside."
"Tender has now taken me quite a way beyond making only jeans, which I'm really happy about, but I try to take a denim-philosophy approach to design and construction, whether it's  an unlined jacob-sheep's-wool jacket with facings sewn directly on to the outer fabric with contrasting thread, or a mouth-blown glass tumbler with the mark still visibly where it was broken away from the punty iron."
How do you care for your jeans – any special routines?
"When I got my first pair of raw jeans, the Evisu ones which I saved for, I loved the dark blue and I didn't want them to fade, so I deliberately didn't wash them. It seems silly now, but I'd never heard of trying to achieve fades in denim. When they started fading in the creases where they were worn I was heart-broken, and I remember thinking perhaps I should just bleach the whole thing white so they wouldn't have these marks all over them. I'd not read anything about denim, and none of my friends were interested, they just couldn't believe I'd spent so much on a pair of jeans. I gradually came to like the fades though, and later I found out that not washing your jeans was something that people like to do. I went with that route for a while, but since before Is started doing Tender I've been washing my jeans whenever I feel like they need it really."
"I do tend to wear only one pair of jeans, until they're ready to retire, and I move on to another pair. This is just laziness though, largely- it means I don't have to empty out my pockets in the evening and I always know where my keys are! The only weird ritual I have with my jeans is I like to lay them out flat on the floor when I take them off to go to bed. My wife Deborah thinks this is really funny, but I like to admire them at the end of the day, and then come back to them nice and rested in the morning…"
What do you recommend your customers to do regarding breaking in and caring for their jeans?
"It sounds lame, but I really think it's up to each owner. It can be difficult to hear when you pay a lot of money for an expensive garment, which has had a lot of work and love put into it, but really it's just a pair of jeans. Each garment will develop more specially if it's a genuine reflection of the way the wearer lives their life, than if it's too planned out and orchestrated."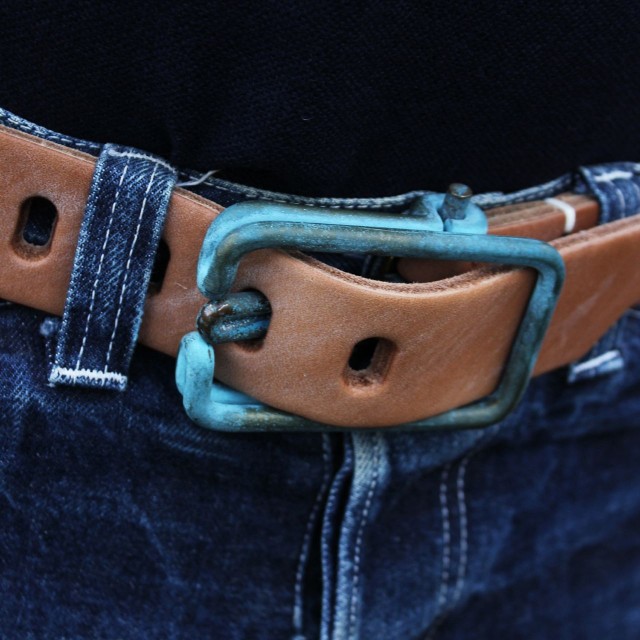 Do you collect anything?
"Not seriously. I have two quite nice vintage watches, and I love reading about watches and looking in shops at old models- doing my own for Tender was amazing! I also have quite a lot of pairs of old spectacles. I still buy cd's (second hand- I like having the box, you don't get that with a download!) and I have a whole cupboard full of them, and of course lots of books.  I have a couple of ceramic railway track tethers- I always keep an eye out for them, but to date I've only found two nice enough to hang onto."
How many pairs of jeans do you have in your private collection?
"I suppose about 15 or so, not too many. I've never bought a pair of jeans without intending to wear them straight away, and I tend to wait until the last pair's pretty much done before moving on.Which pair are you most proud of?
 I like that jeans show an ongoing story, so each pair really becomes part of a larger whole. It wouldn't make sense (well I suppose it might) to pick out a particular favourite fade or mark on one pair of jeans, so maybe you could expand that out and make each pair part of a larger collected narrative?"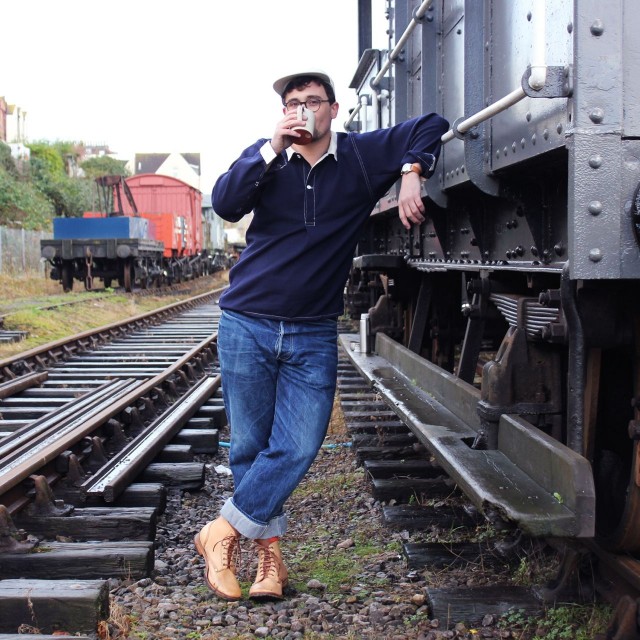 Are there any up-coming or unknown denim brands that you think are worth looking into?
"It's not exactly a jeans brand, but my friend Morten's For Holding Up The Trousers is definitely a favourite. He's a great guy and it a lovely brand, doing very nice products."
What's the next big step for Tender?
"As always, there seems to be far too much going on all the time. Deborah (William's wife) and I have been working on a new website for www.madebytender.com which will go live soon. There have been a lot of new products, both in the main line and for the Trestle Shop, and there are more coming- for me the products themselves are always he most important thing. One nice thing about getting  very slightly bigger over the last 3 years is that I can now start to design my own fabrics. There's a lovely Jacob sheep's double-faced woollen fabric, woven in England, in the current production, and more things to come. I'm also starting a very exciting new project in Japan, which will take a little while to come to fruition, but there's a lot of exciting stuff happening!"
From the Trestle Shop you can also buy coffee mugs handmade of red clay from Stoke in a one-man pottery in Southern England as well as 18-months traditionally oak bark tanned leather belts that are also made in England.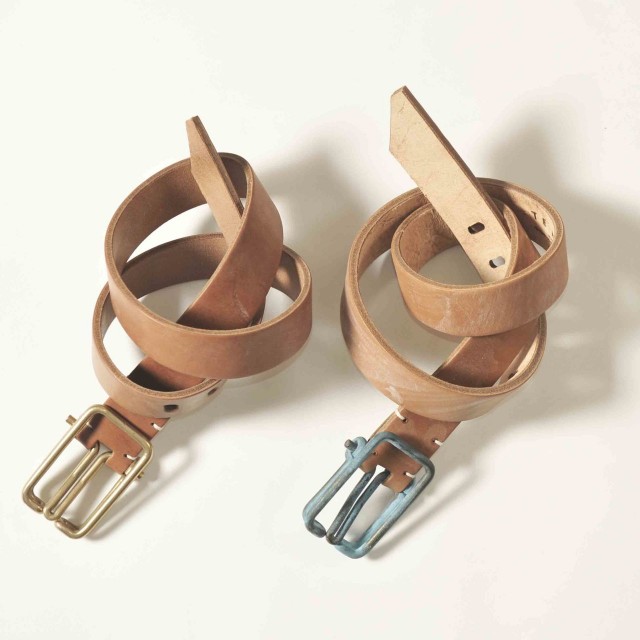 Photos by Flora Maclean, David Tett, and Tender.