Nudie Jeans Co – A High Quality Product Made In A Fair Way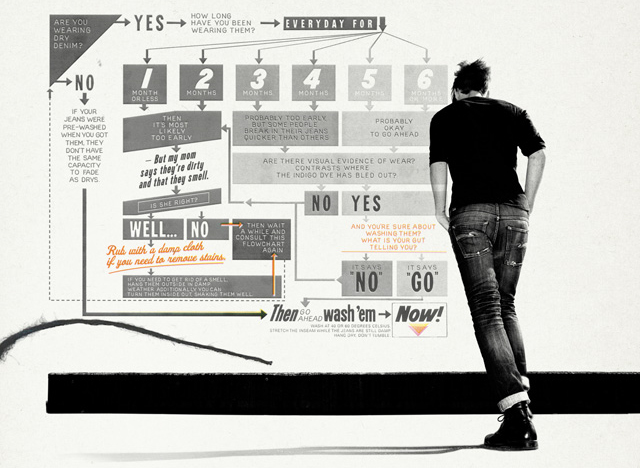 Nudie Jeans Co (often just referred to as 'Nudie') was one of the frontrunners in the commercialisation of dry denim by making the concept of breaking in your dry denim jeans easily accessible and understandable to the average fashion consumer. Based in Sweden, the no. 1 denim nation of the world, the Swedish sense of caring is vividly visible in every aspect of the company's conducts. Not only do they care about the details of the products they ship out, they also care about how they're made. Just 12 years after it's foundation, Nudie has fully incorporated an environmentally friendly cradle-to-grave philosophy of how they produce and reuse – and even repair – their jeans. This spring Nudie is adding a range of colourful twill jeans to their existing dry and pre-washed denim programmes.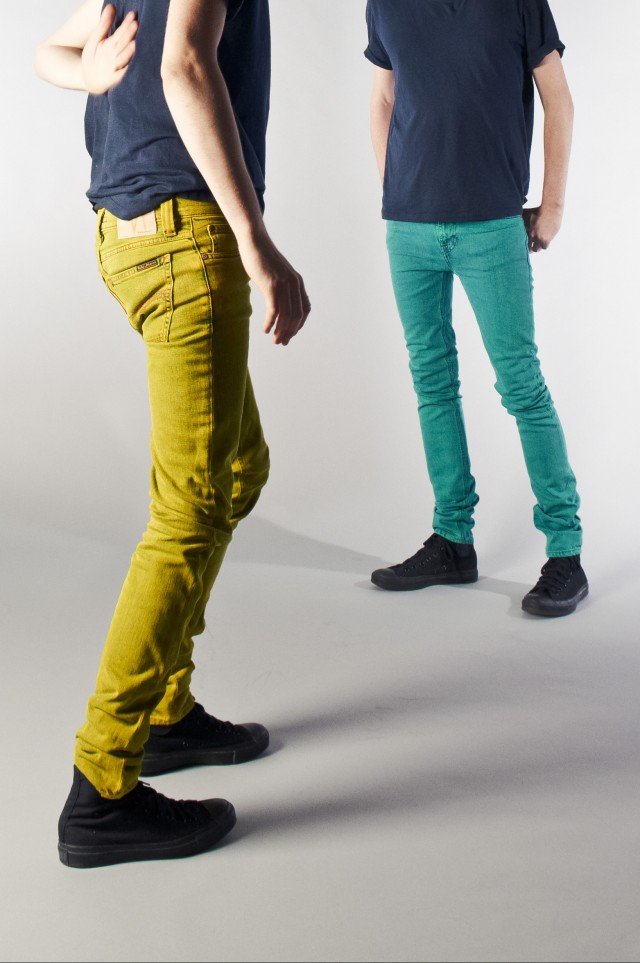 The Nudie cradle-to-grave philosophy is based on fundamental considerations about:
1) The product and all parts and components it consists of, its aesthetics, and its quality.
2) The working conditions of all people involved in the manufacture of the product.
3) What impact the production and sale of the product has on the environment.
4) The product after sales; how to take care of the product, how to make it become like a second skin and how to repair it.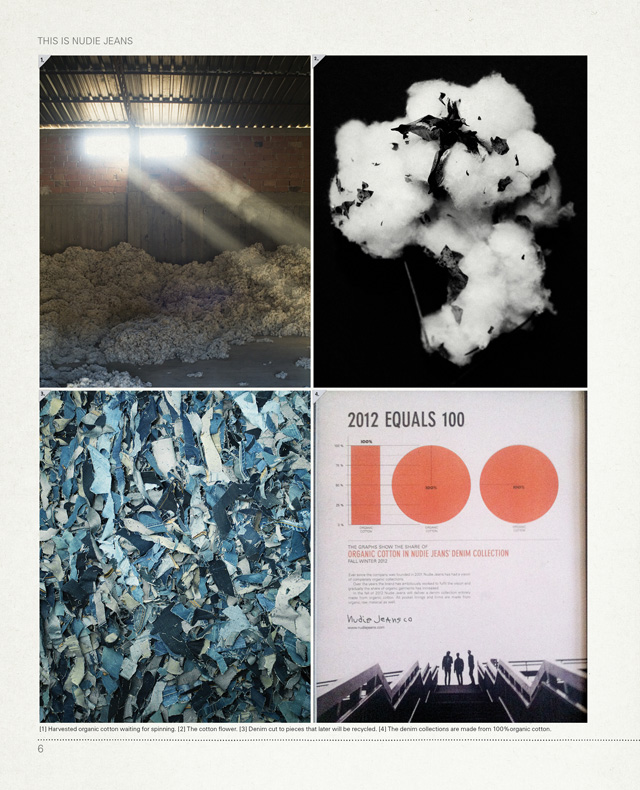 The heart and soul of Nudie is dry denim, and they are experts in simplifying how to wear and wash it to get the best possible fades. When you think about worn in dry denim you often think about smell. To Nudie the smell of crispy new dry denim is the smell of craftsmanship. At every stage, from the harvesting of the cotton, through the indigo dyeing and the weaving, down to the sewing, men and women have used their hands to create the jeans.
For some people (like us), breaking in jeans is a sport, but we probably all agree that it's fun even though it may prove a bit challenging some times, especially when it comes to when – and if – to wash. In the Nudie terminology you'll always hear the notorious "wear your jeans six months before washing." In our opinion this is a bit simplified and not necessarily the only way to achieve great fades. You can read our recommendations here.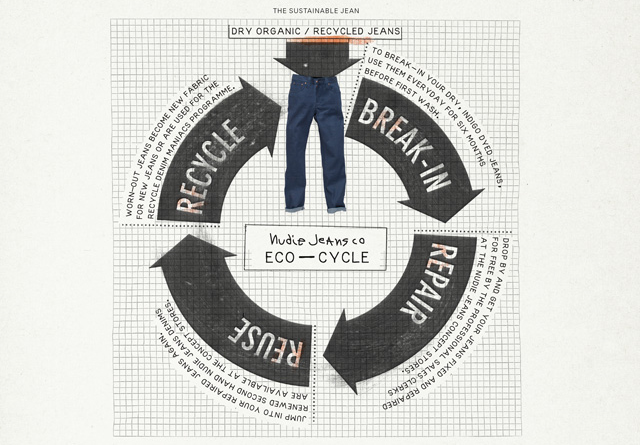 However, we do agree with Nudie that sitting around at the office won't grace your denim in the same way that using it while repairing motorcycles will. Regardless of your lifestyle, your jeans become a log of the time gone by and you might even end up with a few amusing anecdotes about the different stains, abrasions, or scrapings of your jeans. When you've come this far, you and your drys will have gone from being separate entities to a unity – a second skin as Nudie calls it – which leads us back to the smell. By this time even Nudie would agree that it's time to wash.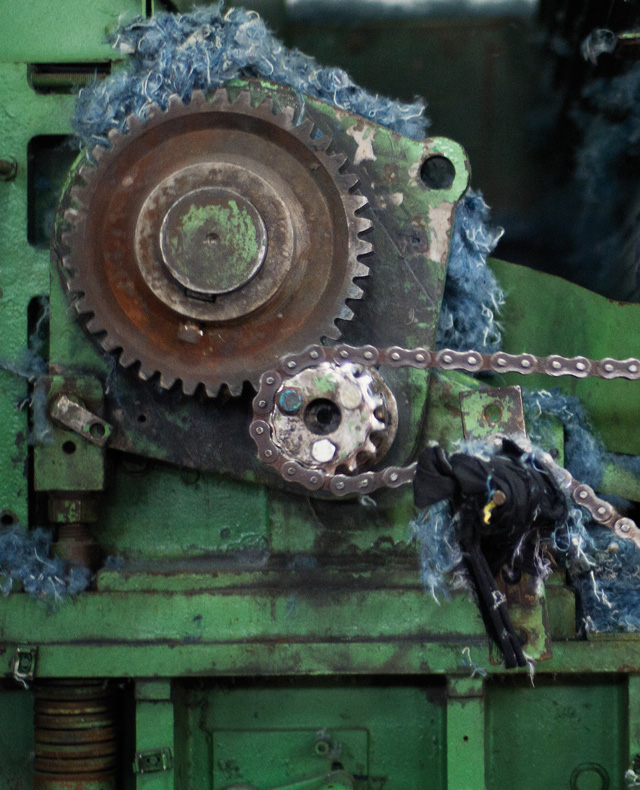 In short, this is the Nudie guide on how to break-in a pair of dry denim jeans (with our comments in brackets):
1) Start with a pair of dry jeans. For best results, choose mid- to heavyweight denim of at least 13 oz.
2) Wear your jeans every day for at least six months (we don't completely agree with this one). The longer you wear them the more character and attitude they acquire (this is true, however).
3) Rub with a damp cloth (without soap or detergent) if you need to remove stains.
4) If you need to get rid of a smell, hang your jeans outside in damp weather. Additionally, you can turn them inside out, shaking them well. (Notice that Nudie don't advice you to put your jeans in the freezer!)
5) When it's finally time to wash your well-worn in jeans, wash them inside out at 40 or 60 degrees celsius. If needed, stretch the inseam while the jeans are damp. Hang them dry, and don't tumble dry them!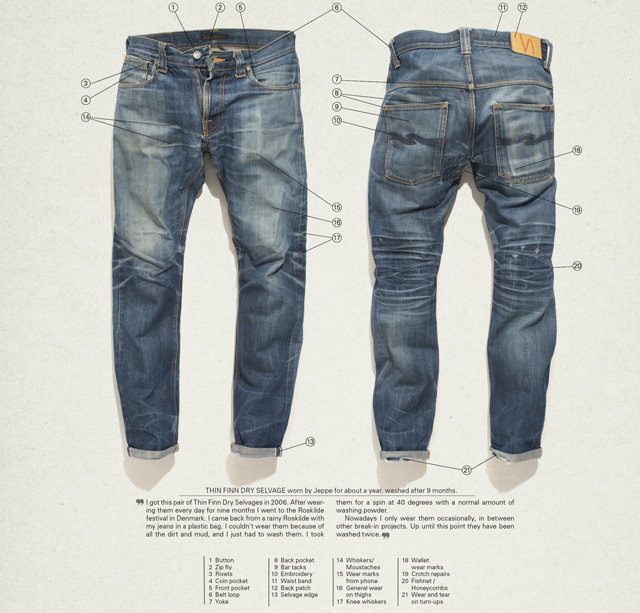 Now, the question is, why does indigo dyed denim fade? Some of you probably know this, but naturally Nudie has the answer and it's actually rather simple. During the dyeing process, the natural cotton warp yarn is dipped into a number of indigo dye baths where it gradually turns to a deep blue colour. As the indigo dye isn't completely fixated onto the cotton fibres, the colour will bleed and fade as long as the denim is worn.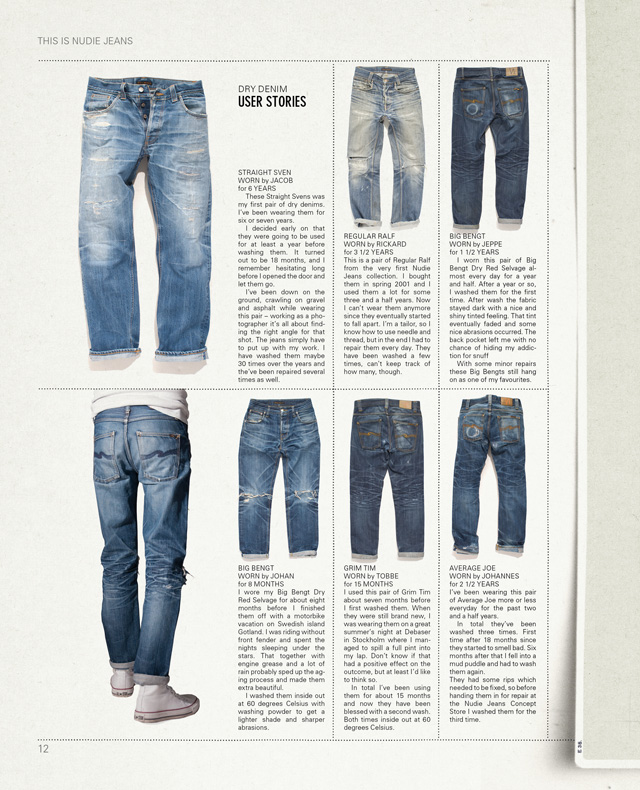 Unwashed dry denim has a tendency to break where it creases and where it's exposed to friction, and Nudie acknowledges that no jean lives forever. No other cotton fabric goes through the same treatment as a pair of jeans worn everyday and even though they are made of a tightly woven durable cotton twill it has a limited life. Also, all pre-washed and pre-treated denims have a shorter lifetime compared to dry denim as the cotton fibres are softer and thinner after treatments.
When you're about to repair your beloved companions, use a patch of denim as similar to your jeans as possible. Attach it on the inside. If you repair a pair of washed jeans with a dry denim patch you might get strange shrinkage effects between the two fabrics. Use two different shades of blue thread colours as close to the blue shade of your jeans as possible.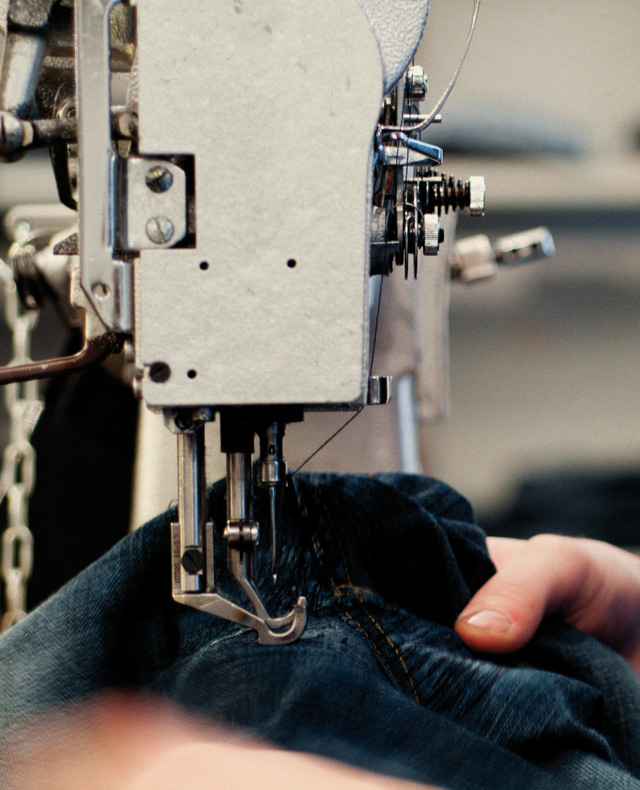 The Nudie Jeans Concept Stores offer free of charge repairing of worn Nudie Jeans denims. In Göteborg and Stockholm worn second-hand jeans are even offered for sale. Customers handing in their old favourites get a discount on new purchases and the shop clerks will repair each pair and sell them again. The second-hand Nudie Jeans have even achieved the Swedish "Good Environmental Choice" eco label.
Get your Nudies here. or browse through the complete spring/summer lookbook.