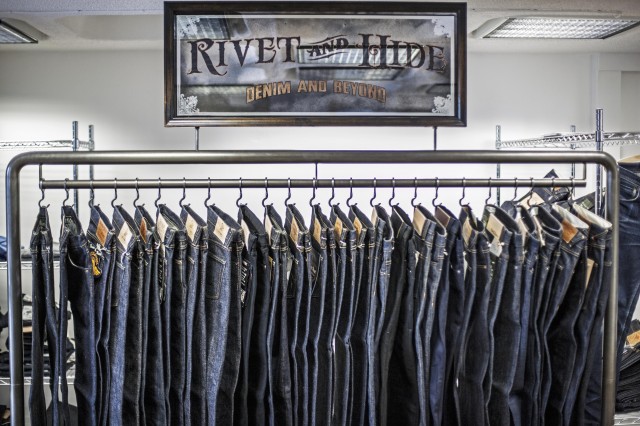 London's Rivet and Hide is slowly but surely putting the British capital on the raw denim map. Operated as workshop open by appointment only between 10am-7pm any day of the week, the main focus of the business is the well-functioning webshop, rivetandhide.com. The concept of the shop is centered around raw denim and unique apparel from small batch and specialist brands whose focus on quality is almost obsessive. Being able to trace every stitch and know who has made the garments is fundamental. In the effort not to 'carbon copy' any other specialist denim shop, Rivet and Hide has brought in small batch brands with a growing following such as Steel Feather, bybeatle and Railcar Fine Goods that offer something very different. As founder Danny Hodgson puts it, "we don't just sell raw denim, we sell rare denim."
Danny started Rivet and Hide in 2012 initially as an online shop only. The shop is dedicated to sourcing the rarest of raw denims. He travels to Japan twice a year to nurse the relationships he has built there and to deepen his knowledge of Japanese denim and craftsmanship. Having a background in customer service Danny is highly aware of the value of making customers feel comfortable and confident when contacting Rivet and Hide. Not everyone can visit the showroom but that doesn't mean online customer can't receive the same very bespoke service and support with their enquiries.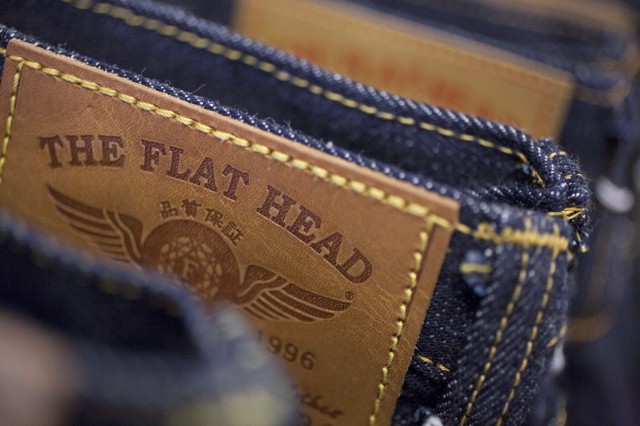 Being born and bred in London Danny has always been exposed to different styles of clothing. As a student in the late 80s he explored the city's rich culture of vintage shops. Later, travels to the USA and Japan introduced him to some specialist clothing retailers whose focus was on old style construction and unique fabrics. His first visit to Self Edge in San Francisco in 2007 made a huge impression. Having a coffee down the road afterwards he dwelled on the denim and other clothes there.
"I was impressed with how well the guys in there knew the brands they carried. Not just about how a fabric would wear and tear but the provenance of it, the artisans who had made it, and even down to the bloody machinery used in its construction. The narrative of the store is very cohesive and an inspiration. I became hooked on Self Edge and any trip to the city demands a visit."
After a while, Danny found himself asking why a store with a similar focus on Japanese denim did not exist in the UK. We had a chat with Danny to learn more about his prospering British rare denim business.
Beside your personal fascination with denim, what was your motivation to open Rivet and Hide?
"Coffee fascinates me in the same way as denim does. I almost opened a coffee shop the year before Rivet and Hide started. But I kind of felt that there were lots of great coffee shops opening up all over the place but a woeful lack of great denim shops in the UK. That just did not make sense to me and I wanted to change the situation. The biggest buzz I get from my business is sharing the excitement of my customers at having a UK based store devoted to great denim. There is a lot of genuine support."
The setup of Rivet & Hide is slightly different from that of most other retailers, how does it work on a day to day basis? 
"The workshop is multi-purpose. I operate the online from there, do photography and meet customers by appointment. The denim hangs on an iron rail that was made especially for me. On top sits the Rivet and Hide sign made from old wood and distressed mirror. Faded denim sits behind the letters. It showcases the iconic denim very well. Being by appointment I can give the customers undivided attention. They can have a coffee or a beer or just hang out for as long as they like."
As one of the few places in London, Rivet and Hide offers custom jeans hemming on an original 43200G Union Special.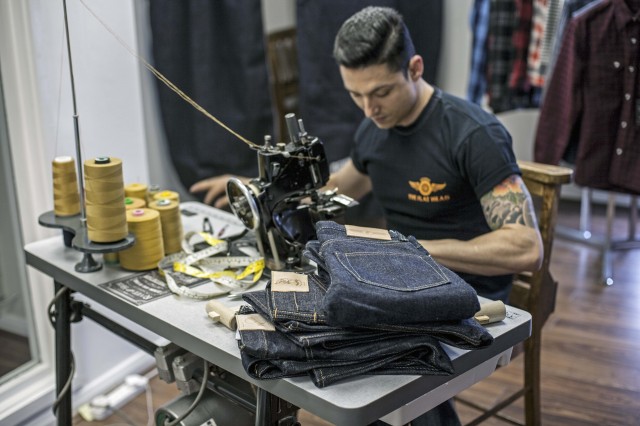 Raw denim is clearly here to stay, what do you think made it so popular?
"The trend towards raw denim has had a big impact. Seeing the evolution of your own pair as it ages with you is far more rewarding than wearing jeans that have been artificially distressed. It fits better too. People soon learn only raw delivers that. Most guys will just buy mass produced raw denim and care little for the finer details that mass produced denim ignores. But then most people like to step up their denim choice and that is where retailers like me can help with the brands we carry and the specialist customer service. We tell the story of the brand, explain the origins of the fabrics, share our experiences of the factories that make the garments from Okayama to Los Angeles to Cardiganshire in Wales. We bring the person who made the garment to the consumer. We know and understand every product we sell and can offer accurate advice on sizing, stretch, shrinkage and other factors that will determine whether an item suits the customer."
The big question is always how and when to wash. What do you recommend your customers when it comes to taking care of their denim?
"Just wear them. Wait a few months before washing. Wash them if they are dirty. Use a non bleach detergent to minimize indigo loss. I wash mine by hand then spin them dry in the machine."
You must have quite an extensive collection of rare denim yourself, what's your favourite brand?
"I get asked this frequently by customers and it is a question I love to answer as I guide them down the denim rail. Every denim brand we carry offers something unique and that is what I look for. So it is hard to pick a favourite. I genuinely love them all or would not consider them for the store. What do I love about them? The unique fading qualities and vintage details of Steel Feather. The insane quality of Railcar's construction. Hiut for their fits and the fact the jeans are made in Wales. Pure Blue Japan for its crazy slub and rare production. I could go on."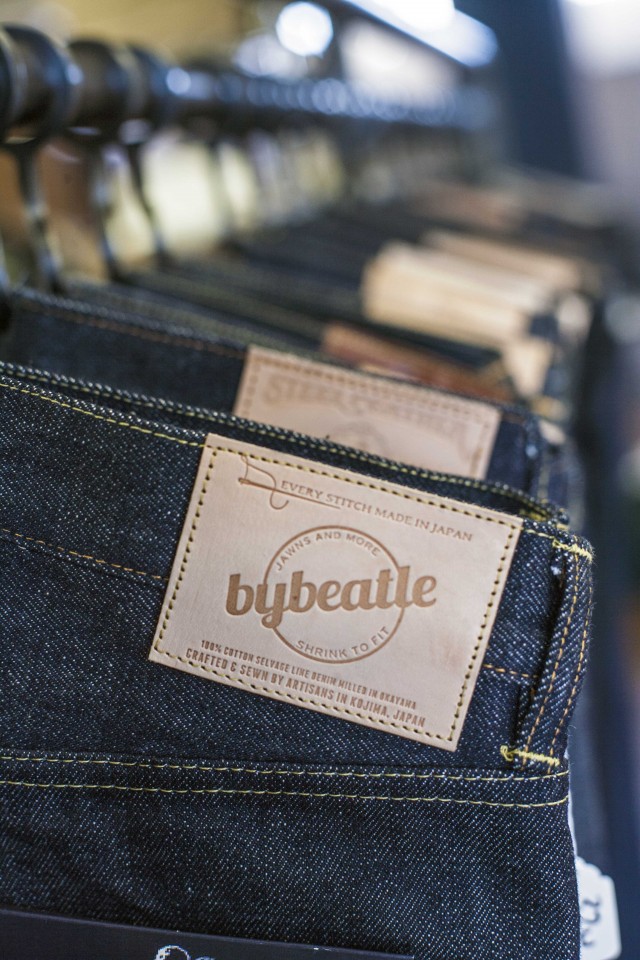 Are there any brands you think we should keep an eye out for?
"Bybeatle. This is our newest brand and the quality is insane. The denim has been dipped 24 times in indigo. The fabric has a deep rich hue. The construction details are top notch including a crotch reinforcement patch already sewn in. Great for anyone who leads a very active life in their jeans. It is one of the best slim fitting jeans on the market."
Where do you see Rivet and Hide five years down the road?
"The workshop developed very quickly from just having an online presence. This will no doubt lead to a shop if the support for Rivet and Hide continues."
Photography: Horst Friedrichs.