Raw denim was surely become popular in mainstream culture. But raw denim jeans for women is still somewhat uncommon in comparison to raw denim jeans for men. It may be because of the break in process, or the common lack of stretch, but the market for raw denim jeans for women is still somewhat small, yet growing.
Companies like Tellason, imogene + willie, and Baldwin are churning out some great women's denim that will age very well. Take these along with brands Samurai and Railcar Fine Goods and our other halves have an all star set of choices to choose from to make their own imprint in the denim culture.
This is Denimhunters' 2013-list to women's raw denim.
Tellason Bird Straight
The great American jean makers Tellason have just released a new fit, the Bird Straight, specifically for women. The fit is a mid-rise straight leg with a slight taper. Constructed out of the 12.5 oz. non-stretch Cone Mills selvedge denim, the Bird is a great place for women to start with denim.
Retail for $220 at Tellason.com.
Railcar Fine Goods
Railcar Fine Goods was started by a passenger train mechanic, Steven Dang, so the attention to detail and quality if the pants is expected. They offer two women's fits, a slim skinny fit with a medium rise and a slim skinny fit with a high waist, named the Viper (the right photo) and the Donna (the left photo) respectively. Both of these fits are offered in a raw, selvedge denim from Cone Mills ranging from 10.75 oz. to 13.5 oz. There is also a stretch selvedge denim offered as well.
Retail ranging from $168 to $198 at railcarfinegoods.com.
Samurai
The world renowned denim craftsmen at Samurai also offer a women's raw selvedge denim. This denim comes in at a heavier 16 oz. Japanese selvedge.
Offered in both a boot cut and slim cut, made in Japan, and dyed with pure indigo makes this the perfect pair for a enthusiastic raw denim loving lady. The Samurai Geisha is an exceptional pair for the denim savvy women out there.
Retail for $315 at blueingreensoho.com.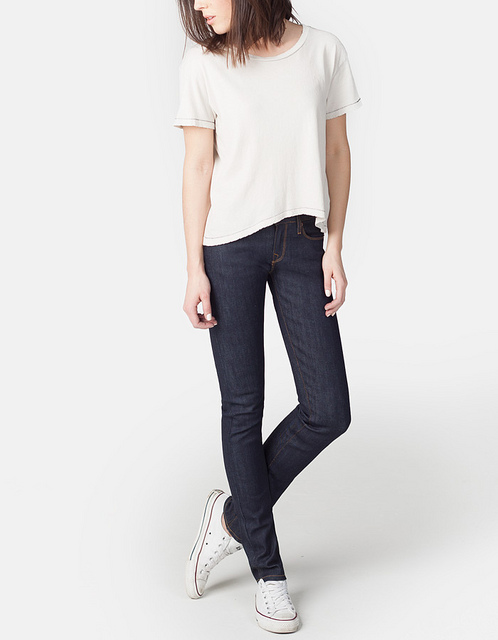 Baldwin
Named one of the Best New Menswear Designers of the year by GQ, Matt Baldwin has been making waves. His signature minimal denim design is not devoted to just men, but also women. Baldwin offers two fits, the EJ, a classic straight leg with a medium rise, and the Ten, a skinny fit with a medium-low rise. Both these fits available in a raw, selvedge denim. The simplicity of the pant makes these great choices for a more fashion forward, minimal look.
Retail for $220 at baldwindenim.com.
Raleigh Denim
North Carolina is home to the famous Cone Mills Whit Oak Plant, but it is also home to the last pair of women's denim on the list; Raleigh Denim. The Haywood Raw is Raleigh's take on a women's raw denim. This non-selvedge 11.5 oz. pant comes in a high rise skinny fit featuring all the details of five pocket jean. The denim also contains 2% stretch to make them more comfortable and fitting. Every pair of jeans Raleigh makes is limited, hand signed and numbered, and the Haywood is not different. A limited, Cone Mill stretch raw jean made for a comfortable fit and extended wear.
Retail for $225 at needsupply.com.
imogene + willie
Carrie Eddmenson, one half of the couple behind imogene + willie, said she wanted to make the perfect fitting pair of jeans. This included women's denim. imogene + willie has six women's fits and all but one of these fits is available in a rigid, raw denim. The jeans are made right in Nashville, TN in a restored gas station so the jeans are built to take a beating.
Retail for $225 at shop.imogeneandwillie.com.