It is always exciting to see a brand we know and love do something new, different, and innovative. Naturally, we were thrilled to see Edwin bring a full women's collection this season – taking the core values of the brand and segwaying them seamlessly into a distinctly feminine line. What we took as immutable and archetype we saw effortlessly reinvented with bold textures, patterns and silhouettes. We even see some of the influence bleeding over into the men's collection.
The woman responsible for this is one Frenchman by the name of Pascale Koehl. Her background made her the perfect choice for Edwin Europe to expand their women's offering. Cutting her teeth at April77 for seven years, in 2010 she moved on to create of her own label MOONCHILD, a brand realised by the handcraft artisans of Peru where fair trade and ethical practice was of the highest importance.
Now, as head designer of Edwin's women's line, Pascale has a tight schedule and a lot of responsibility. Fortunately, she was kind enough to take a little time off to have a chat with us about how she managed the melding of the masculine and the feminine.
Designer by heart
Being a fashion designer, having passion for clothing is a given.
Pascale doesn't recall a specific or significant event that triggered her passion; it's just something she has always had. Her career path has been drawn quite naturally. From a very early age she had clear ideas about what she did and did not like.
In her youth she used to dance and do gymnastics. She would design her own leotards and her mum would make them for her. "What interested me was to create and realise my ideas. I think I could have easily followed another creative path," she explains. "In the past I wanted to be a choreographer, and at one point during my studies I had a penchant for product design and visual communication." Pascale is drawn in by all kinds of creative fields.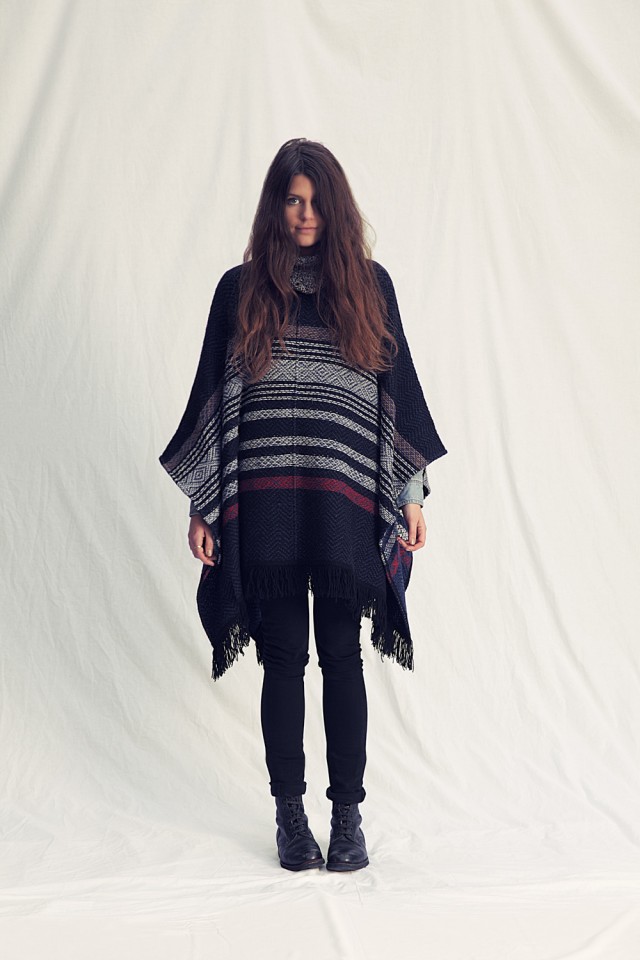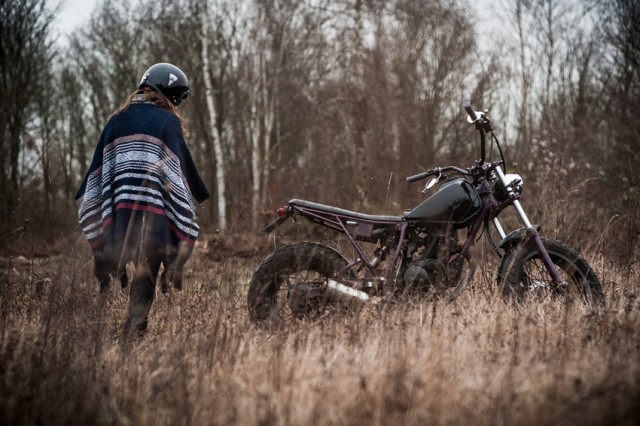 The job with Edwin
Just like it's the case with so many other jobs in the fashion business, Pascale got this one through her network. Creative director of Edwin Europe, Rey Gautier was looking for someone to develop the woman's line. A shared business contact made the introduction, and they hit it off right away.
Her aim with this first womenswear collection was to follow the same path as the Edwin men's line and give it a feminine touch. The key items for Edwin women's are 5-pocket jeans, biker pants, ponchos, western shirts and jackets. The collection is inspired by the spirit of the road movie with its sense of freedom and new found nostalgia.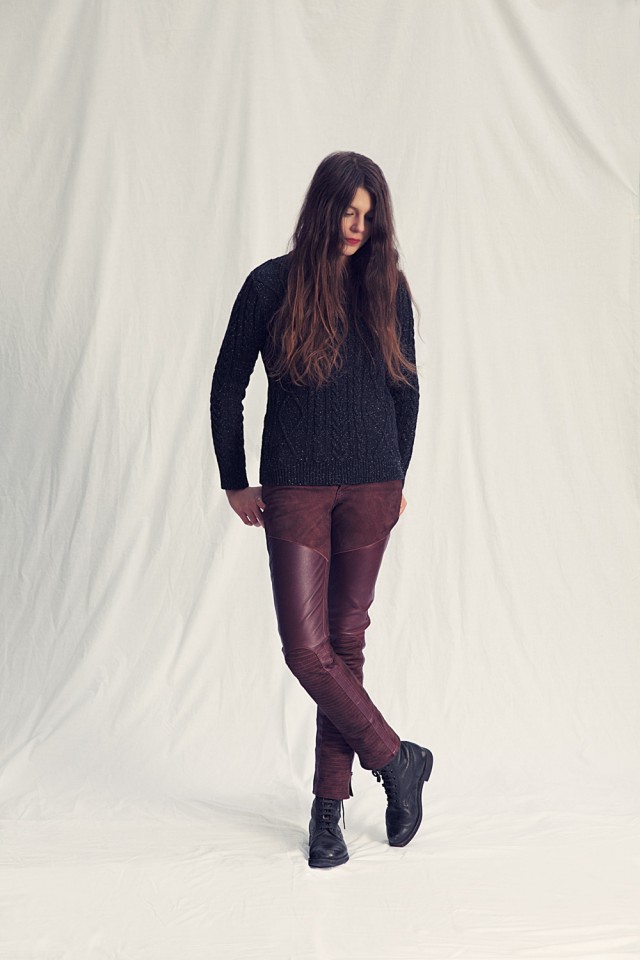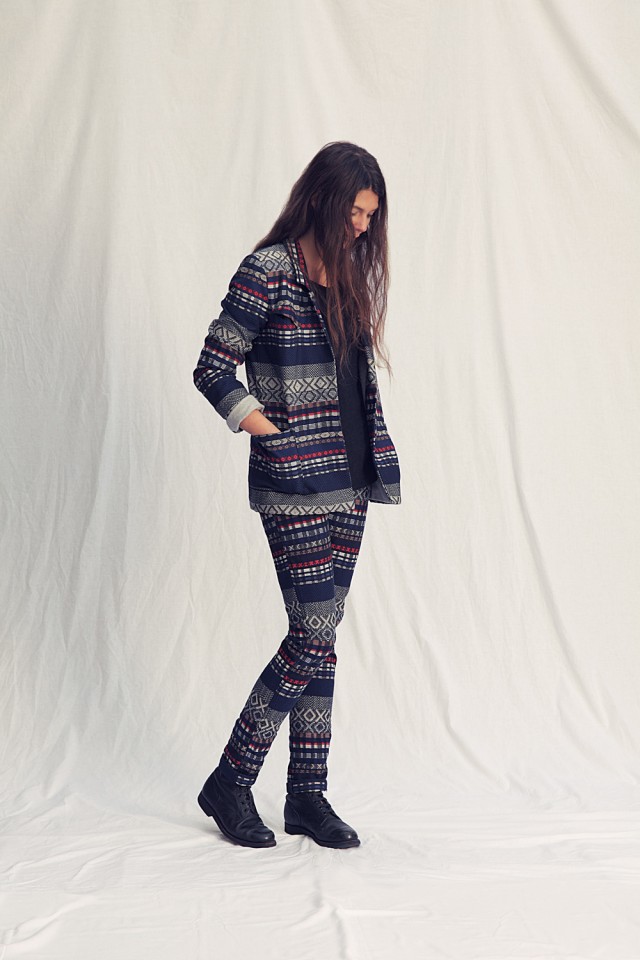 Highlights from Pascale's first women's collection for Edwin
Pascale is equally proud of each piece in the collection.
Still, she points out a few pieces that capture the essence for the entire collection: the complete Jacquard outfit (above); the bordeaux leather "Crash" pants; and the 5-pocket high waisted skinny jeans (below). In a different way they each item is a crossover to the Edwin men's collection, Pascale's knowledge, and her passion.
At the heart of Edwin is high quality, and almost archetype denim fits and styles. Something that is less transitory than seasonal fashion. The aim for the women's line is to build on the foundations of the brand and the men's line. Pascale finds it essential to highlight the denim and 5 pockets jeans line, offering perfects fits, authentic and clean washes and treatments.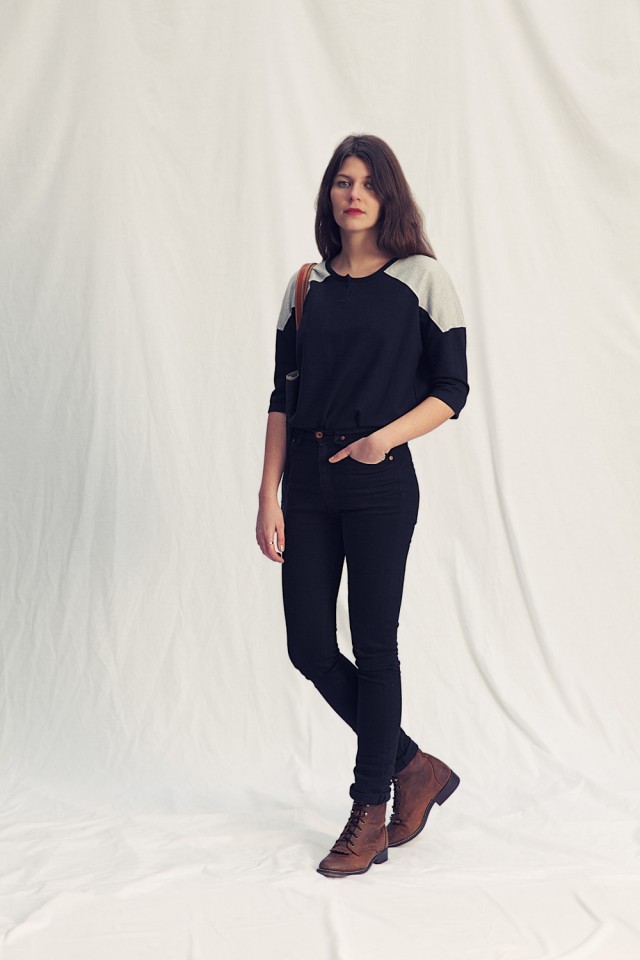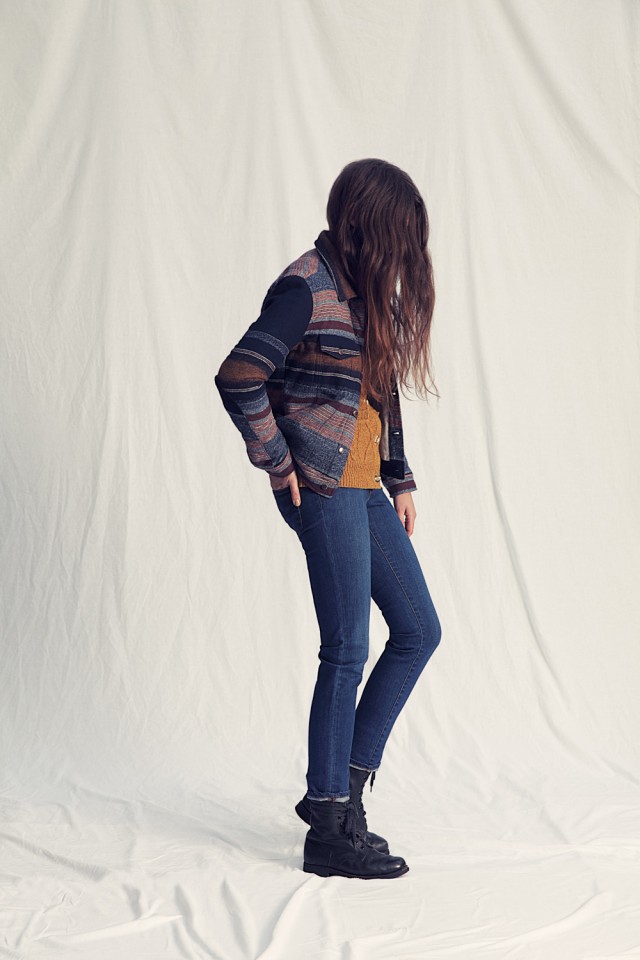 Raw women's denim
The last few years have seen a sharp rise in the popularity of raw, untreated denim. Certainly in menswear.
With the Edwin women's line, Pascale Koehl hopes to see this transitioning into women's wear as well. She argues that the appreciation for raw, unwashed denim, and clean aesthetics are also distinguished in women's wear. Personally, Pascale has always preferred to wear raw and very clean denim; to break it in over time. In her opinion nothing is more authentic.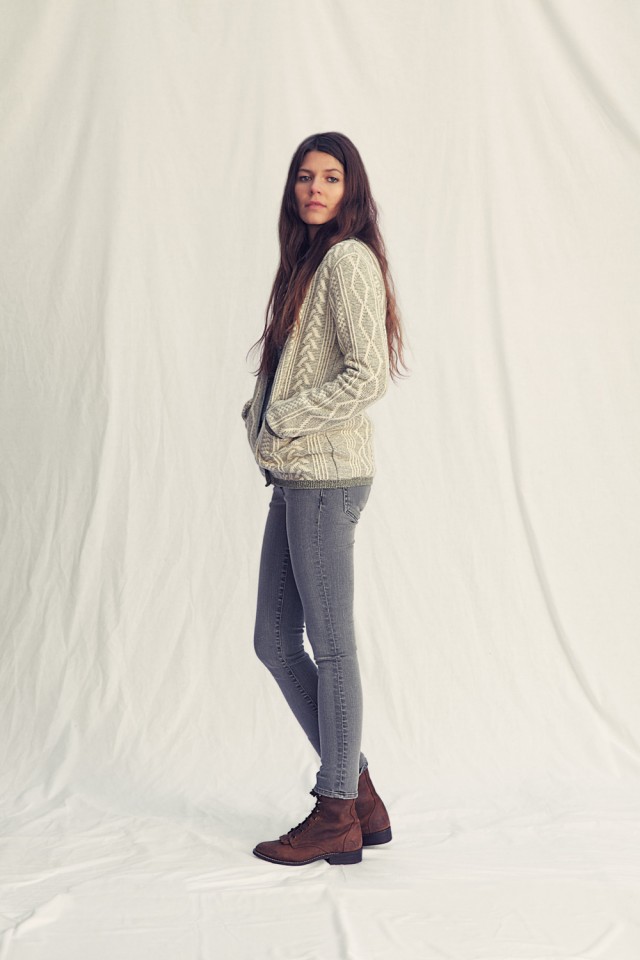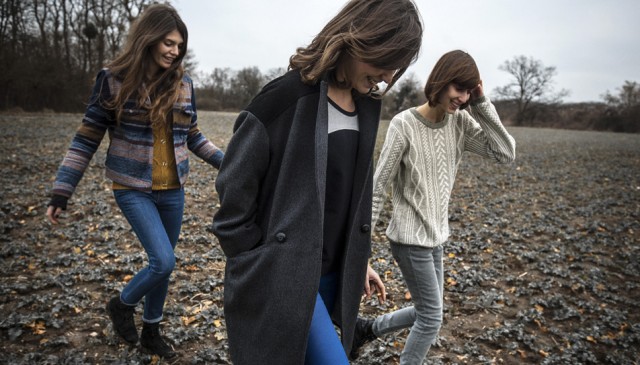 For the future, Pascale and the rest of the Edwin team hope that the women's line will become a brand in its own right. The way to get there is by building its image on the solid Edwin foundations and utilising the same values.
You can have a good look through the full Edwin womenswear collection here. Get your hands on the pieces through their webstore and selected retailers. We look forward to what Edwin and Pascale will bring to the world of denim in the future, one thing is for certain. This is a good start.